(
This post may have affiliate links. Please see my disclosure.
)
---
What's easier than dumping a handful of ingredients into a blender and making dessert? I guess just dumping them straight into your mouth, but that's not as…satisfying. This quick chocolate chia seed pudding is whipped up in just a minute or two in a high speed blender.
Most chocolate chia seed pudding recipes ask for the dish to be cooled overnight or long. There's some truth to it: the longer you have it chilled, the more pudding-like it will become. Here, we're just cooling the pudding for an hour in the fridge. Feel free to leave it in longer.
If you're worried about this recipe being too much of a guilty pleasure, chill out. It's healthy. What you're working with in this recipe include: chia seeds, unsweetened cocoa powder, and 4 dates for sweetness. That's it.
All of your ingredients are plant-based, vegan, and incredibly healthy. With the chia seeds, you're getting a variety of nutrients in just one serving (2 tablespoons/28 grams). That includes 11 grams of fiber, 4 grams of protein, and 18 percent of magnesium. Additionally, they're loaded with antioxidants.
Chia seeds are essentially flavorless, so this pudding will pick up any flavor you add to it. For example, you're getting a chocolate pudding made from cocoa powder and you're adding sweetness from the dates.
Did You Know?
Because chia seeds contain all nine of the essential amino acids, they are a complete protein.
Pro-Tip:
You can use chia seeds as an egg replacement. Additionally, you can throw them into smoothies, top them on yogurt, or to thicken pancakes.
What To Expect From This Chocolate Chia Seed Pudding Recipe:
You're going to get a robust, chocolate flavor.
The perfect amount of natural sweetness
Loaded with nutrients
A dessert that's low in calories but high in flavor
It's easy and quick
Seriously, it's effortless
Ready for some puddin'?
Recipe Notes
Makes about 1 serving
If you want your pudding to be more sweet, add more dates.
If you want your pudding to have a deeper chocolate profile, add more cocoa.
It needs to be chilled for at least 30 minutes to achieve a pudding texture.
The longer you have the pudding sitting and chilling, the thicker it will become.
It's best to use a high-speed blender to ensure the pudding is completely smooth
If you want a creamier texture, use a thicker liquid like coconut milk instead of water
Don't have dates? Use ½ tablespoon of maple syrup or honey instead.
Ingredients
¾ cup water
4 dates, pitted
Directions
First, combine all ingredients in a high-speed blender. Blend until smooth.
Next, pour mixture into a container, cover, and cool for at least 1 hour.
Serve with your favorite toppings.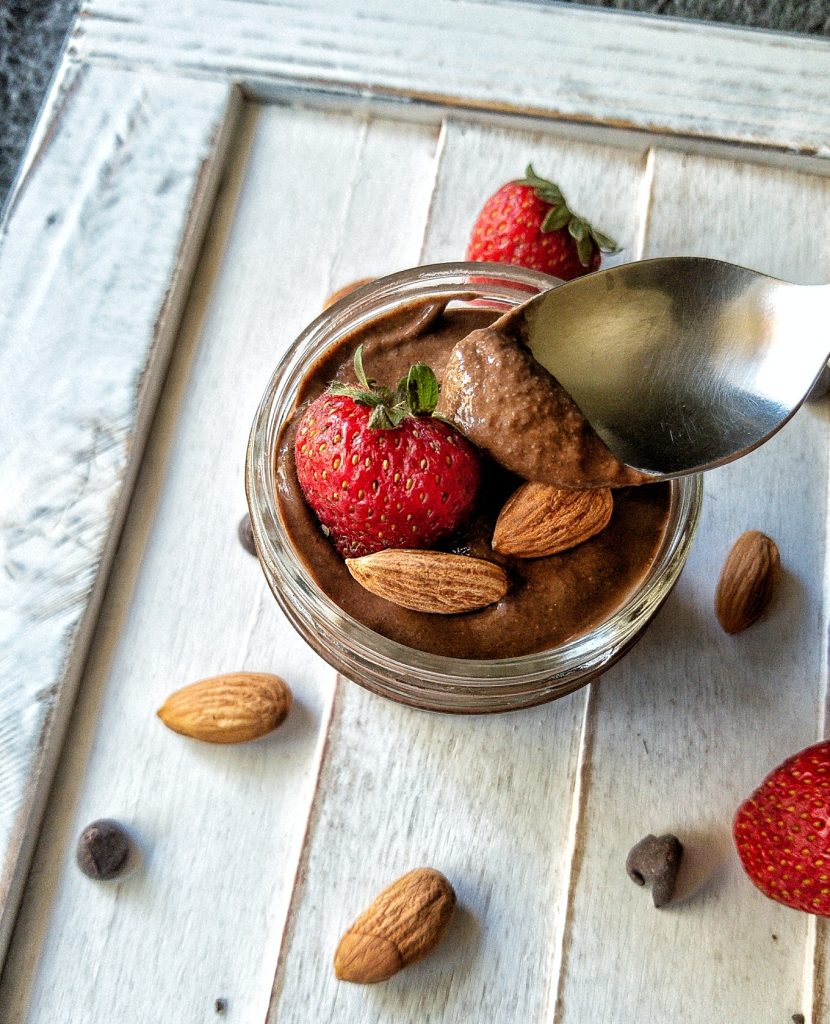 Check out our most popular recipes:
How useful was this post?
Click on a star to rate it!
Average rating / 5. Vote count:
Please follow and like us: