(
This post may have affiliate links. Please see my disclosure.
)
Chocolate chia seed pudding is smooth, rich, and convenient. No cooking with this recipe and we can pack them into cute mason jars for on-the-go breakfast.
The best perk: no need to have these little breakfast deserts to chill overnight – an hour is fine enough. However, it's perfectly fine to leave them in the refrigerator overnight or for a few days until you're ready to enjoy them.
With the chia seeds, you're getting a variety of nutrients in just one serving (2 tablespoons/28 grams). That includes 11 grams of fiber, 4 grams of protein, and 18 percent of magnesium. 
Tastes like dessert, but good for your body.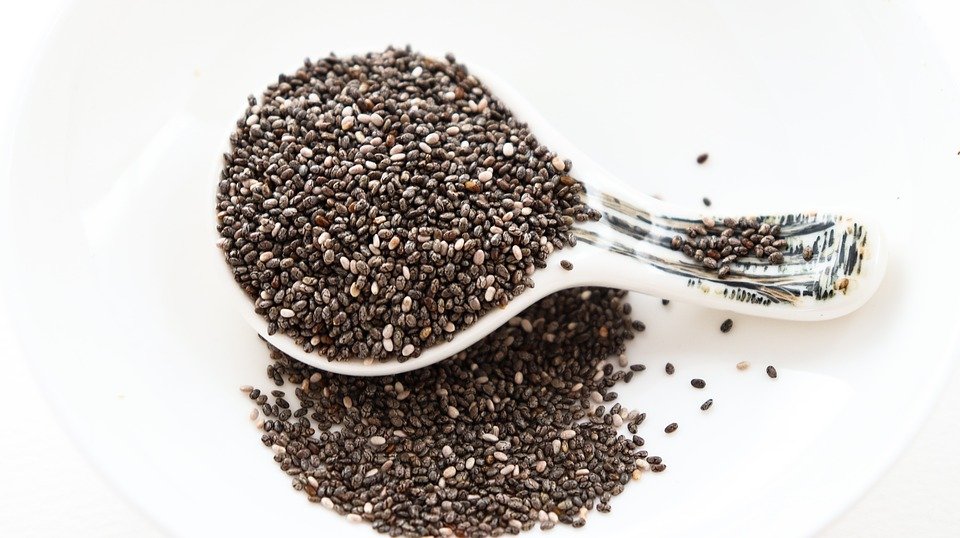 Why Use Ground Chia Seeds For Pudding?
I use ground chia seeds for this recipe for a lighter, smoother pudding texture. When chia seeds come in contact with water, they soften and become gel-like. When left whole in a pudding recipe, the seeds are apparent and they create a lump-y texture.
So, I opt for ground chia seed for the kind of pudding I remember as a kid – silky, light, and delicious.
Fun fact about ground chia seeds: the nutrients contained in ground chia seeds are better absorbed by the body.
How To Grind Chia Seeds
All you need is a dry blender. I prefer using a high-speed blender like Nutribullet. Pour the chia seeds into the blender and blend until you get a soft flour-like texture.
If you do not have access to a blender, grinder, or food processor to break down the chia seeds, you can use whole chia seeds instead. It won't be the end of the world, however, the chia seed pudding simply won't be as smooth.
Toppings To Use For Chia Seed Pudding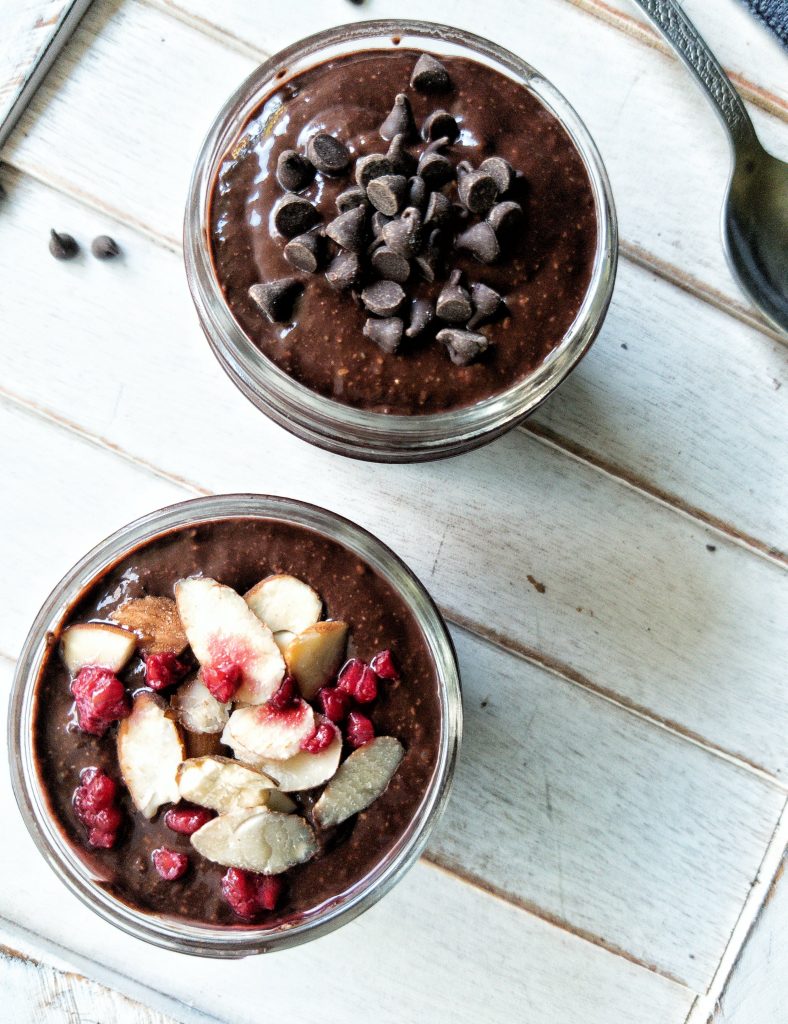 If you want your chocolate chia seed pudding to be a lot more fun, here are some ideas for toppings:
Sliced almonds
Berries
Chocolate chips
Coconut flakes
Crushed walnuts
Granola
Banana slices
Chopped peanuts
A dollop of peanut butter
What To Expect From This Chocolate Chia Seed Pudding Recipe:
A robust, chocolate flavor.
The perfect balance of natural sweetness
Loaded with nutrients including all the essential amino acids
A dessert that's low in calories but high in flavor
It's easy and quick
More Recipes With Chia Seeds
Type Of Milk To Use
Any non-dairy milk will do in this recipe. Personally, I prefer a thicker, protein-packed one like soy milk. Cashew milk is another thick and creamy non-dairy milk.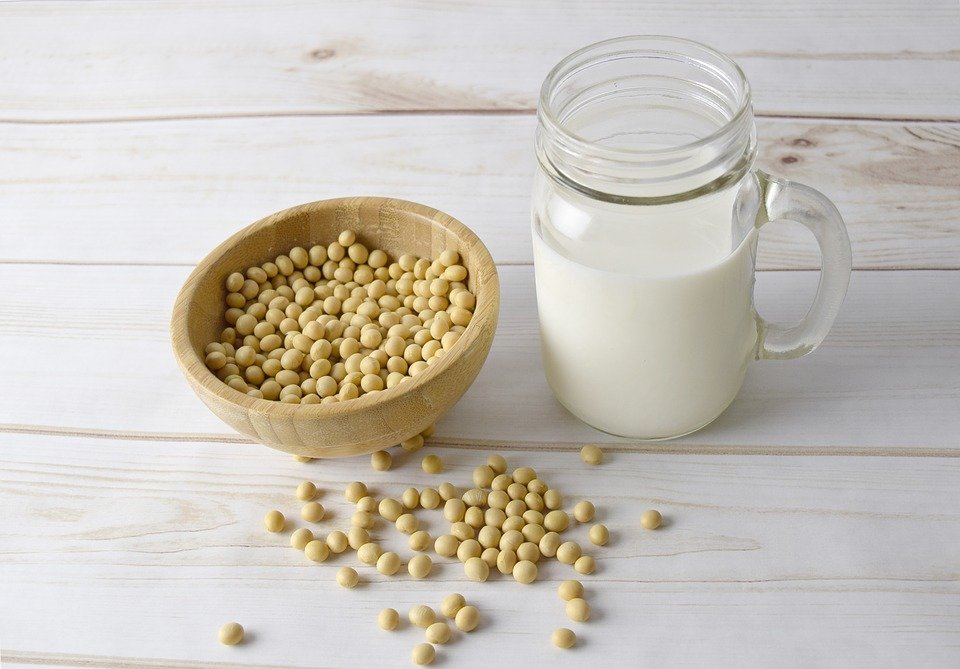 Coconut milk is also an option, however, it might be too thick. You might want to water it down a tad with equal parts water.
Speaking of water, water can be used in lieu of milk – it's just not as fun.
For more breakfast recipes, check out 18 Frugal Plant-Based Breakfast Recipes. We have sweet, savory, and everything in between!
Quick Chocolate Chia Seed Pudding
Homemade chocolate chia seed pudding made with plant-based, vegan inredients. No cooking required! Easy recipe that's great as a snack or dessert.
Ingredients
4

cups

non-dairy milk

1/2

cup

ground chia seeds

1/2

cup

cocoa powder

12

pitted dates
Instructions
Next, pour the mixture into a container, cover, and cool for at least 1 hour.

Serve with your favorite toppings. 
Notes
Makes about 1 serving
If you want your pudding to be sweeter, add more dates.
If you want your pudding to have a deeper chocolate profile, add more cocoa. 
It needs to be chilled for at least 30 minutes to achieve a pudding texture. 
The longer you have the pudding sitting and chilling, the thicker it will become. 
It's best to use a high-speed blender to ensure the pudding is completely smooth
 
Don't have dates? Use maple syrup or honey instead. 
Directions on how to make ground chia seeds is in this post above the recipe section. 
---
Did you try out this Quick Chocolate Chia Seed Pudding recipe?
Please leave a comment below, share it, rate it, or tag a picture @plantbasedandbroke on Instagram and hashtag it #plantbasedandbroke. Show off that creation with us