(
This post may have affiliate links. Please see my disclosure.
)
It tastes indulgent, but this 4-ingredient chocolate chia seed pudding is 100% plant-based, made with good-for-you ingredients.
Growing up, the store-bought desserts like boxed cake mixed and chocolate chip cookies were a must-have in our kitchen pantry. That included pre-made chocolate pudding.
These days, I'm making my favorite childhood snacks homemade and wholesome.
Besides, homemade sweets can be healthier, since you have more control over the kind of ingredients and how much of them you want to use. And if you indulge in have this dessert for breakfast – it's a great morning meal, too.
For a classic pudding, check out our cream of rice recipe.
How To Make Chia Seed Pudding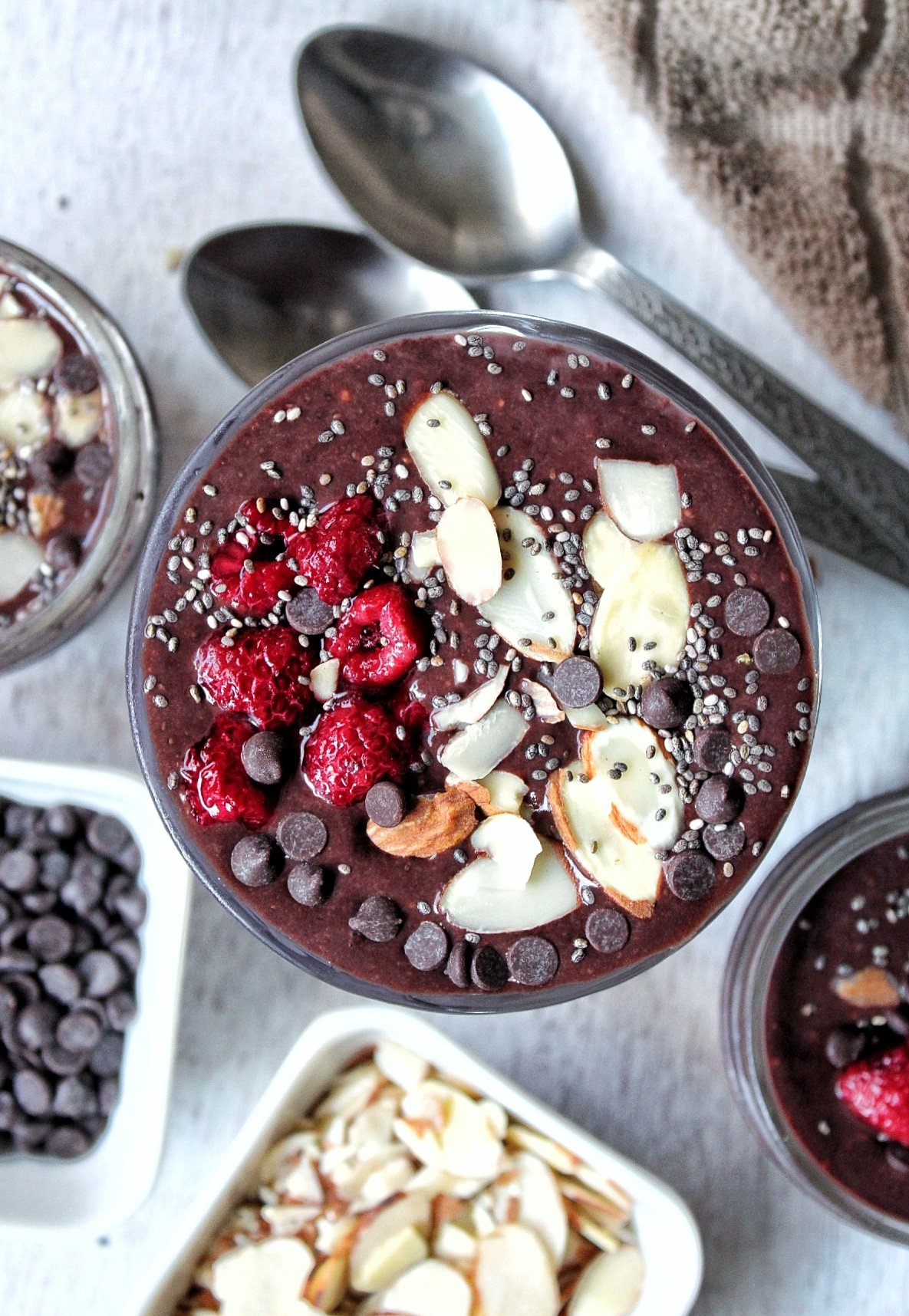 This recipe is raw and there is no cooking is required. Additionally, the ingredients will be simply tossed into a blender to whip up a smooth and creamy batch of pudding.
The ingredients include chia seeds, cocoa powder (Dutch-processed), dates, and non-dairy milk.
As the chia seeds sit in liquid, it will gel up and become pudding-like. The longer it sits in the liquid, the thicker it becomes.
So although we are not cooking anything, patience is still necessary.
Dutch-processed cocoa powder will be used instead of natural for this recipe. Dutch-processed cocoa powder has a more intense chocolate flavor, a darker color, and the acidity is toned down. However, if you prefer natural cocoa powder – go for it.
I recommend allowing the chocolate chia seed pudding mixture to mingle with each other for at least 4 hours, or overnight.
To keep this vegan dessert healthy, we're opting for a natural sweetener: dates. If you prefer a sweeter pudding, add more dates. If you prefer a mildly-sweet pudding, add fewer dates.
You can taste the pudding before chilling – it's safe!
More Chocolate Recipes Recipes :
Recipe Notes
I suggest using a high-speed blender like Nutribullet to grind down the ingredients until smooth.
Any non-dairy milk will work for this recipe. If you're opting for coconut milk, just keep in mind that's very high in saturated fats. Which means it's also high in calories. I would just tone down the thickness and its calories with water.
I think we can call this a superfood? This recipe is packed with plant-based protein and fiber from the chia seeds, dates, and cocoa powder. Depending on the kind of milk you go with – it'll also pack on a ton of protein.
Topping Ideas For Pudding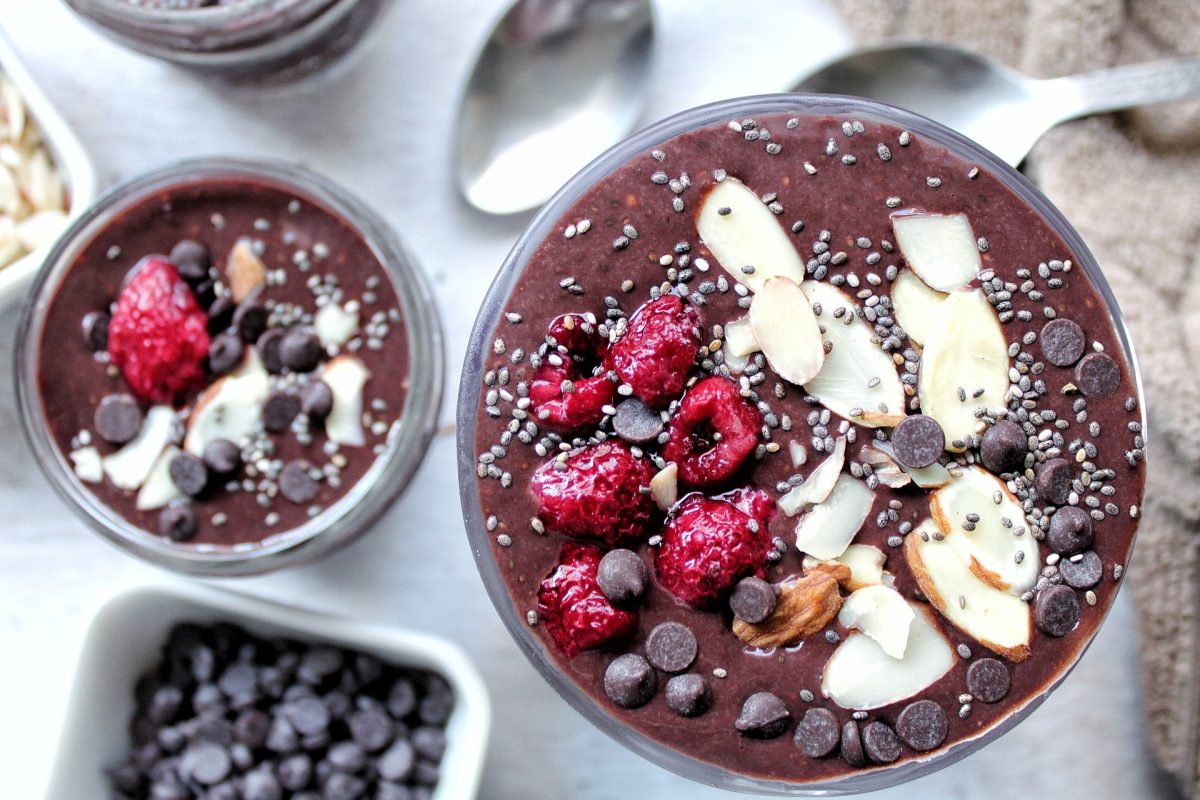 You can add any kind of toppings you want for your pudding. I usually go for what I always have around the kitchen: chocolate chips, sliced almonds, and sometimes more chia seeds on top.
Here are other toppings to consider:
Honey
Peanut butter
Raspberries
Strawberries
Bananas
Whipped cream
Sprinkles
Any seeds or nuts
How To Store
Store the pudding without the toppings in an airtight container. It can keep in the fridge for up to 4-5 days.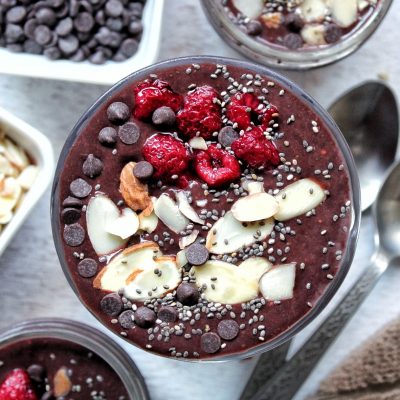 4-Ingredient Chocolate Chia Seed Pudding
It tastes indulgent, but this 4-ingredient chocolate chia seed pudding is 100% plant-based, made with good-for-you ingredients. Great as a snack, dessert, breakfast, or anytime in between.
Instructions
Next, pour the mixture into a container, cover with a lid, and chill in the refridgerator for at least 4 hours or overnight. Serve with your favorite toppings. 
Nutrition
Serving:
1
-Serving
Calories:
367
kcal
Carbohydrates:
59
g
Protein:
13
g
Fat:
13
g
Saturated Fat:
2
g
Polyunsaturated Fat:
8
g
Monounsaturated Fat:
2
g
Trans Fat:
1
g
Sodium:
124
mg
Potassium:
917
mg
Fiber:
15
g
Sugar:
38
g
Vitamin A:
1010
IU
Vitamin C:
17
mg
Calcium:
509
mg
Iron:
5
mg
---
Did you try out this 4-Ingredient Chocolate Chia Seed Pudding recipe?
Please leave a comment below, share it, rate it, or tag a picture @plantbasedandbroke on Instagram and hashtag it #plantbasedandbroke. Show off that creation with us