(
This post may have affiliate links. Please see my disclosure.
)
Jump to:
When we're craving chocolate, we go for a heaping bowl of chocolate chia pudding. It's the perfect grab-and-go snack or treat that's made with healthy ingredients.
The best part about chia pudding is all of the toppings and additions you can include. Personally? I am really into adding sliced roasted almonds, chocolate chips, vanilla extract, maple syrup, and sliced strawberries.
This plant-based treat may be low in calories (137 per serving, to be exact), but it's satiating and filling - all thanks to chia seed's protein and fiber.
Chia seeds are also a great source of:
Omega-3 fatty acids
Iron
Calcium
Antioxidants
Why You'll Love This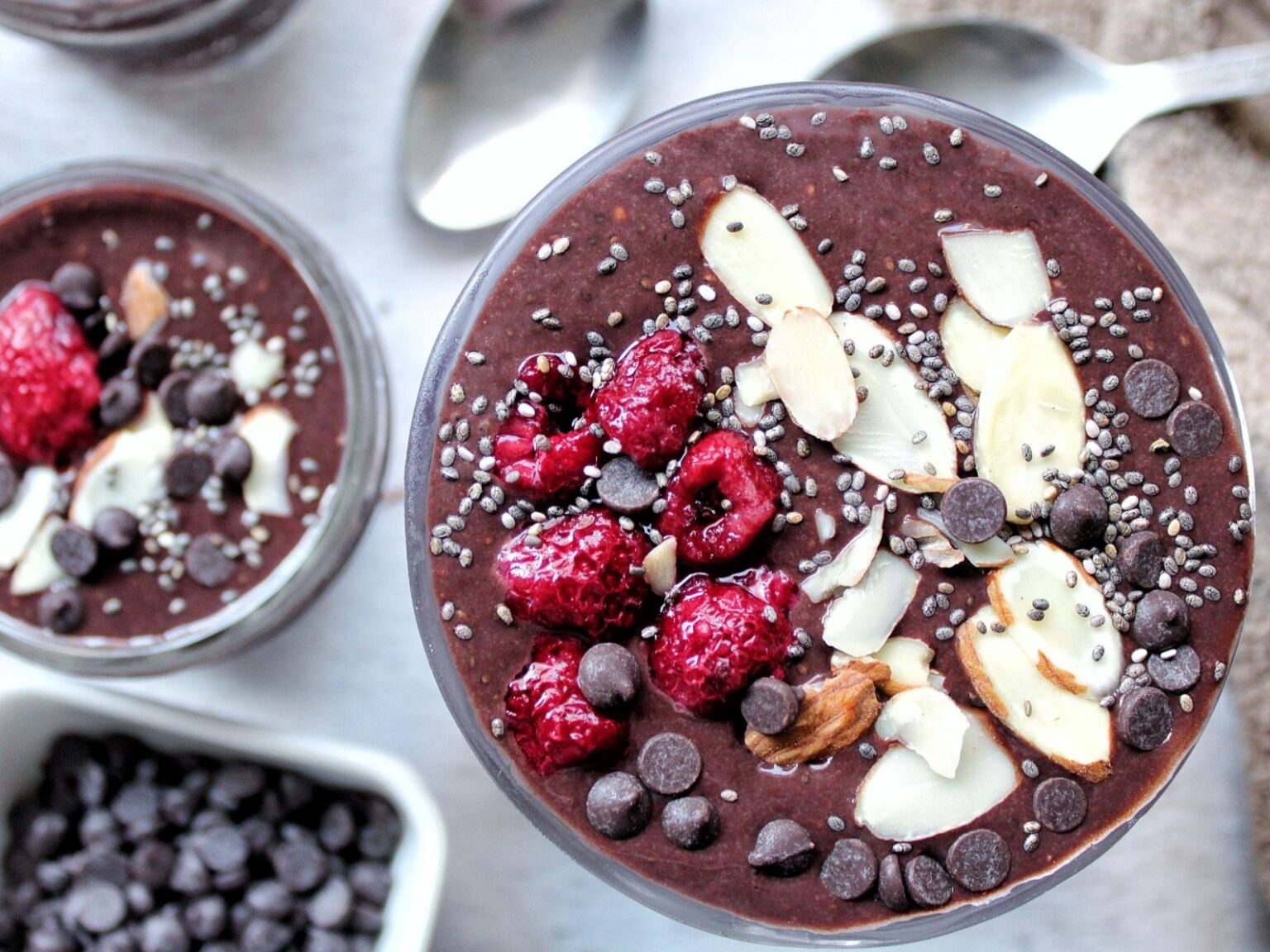 It's incredibly EASY to make! Just 2 steps, a blender, and some time for the ingredients to mingle and thicken.
This chia pudding is dairy-free, vegan, gluten-free, low-carb, keto-friendly, refined sugar-free, and nut-free!
It's a great to-go snack or meal. Make chia pudding in bulk or meal prep - once it's done, you can scoop some out and add your favorite toppings.
For more chia recipes, check out our Chia Seed Pumpkin Muffins and Chia "Egg."
Ingredients & Substitutions
Soy milk - Feel free to use any non-dairy milk of choice including almond milk, coconut milk, oat, or cashew milk. Water may also be used. If you go for coconut milk - it'll be EXTRA creamy!
Chia Seeds - white or black chia seeds will do!
Cocoa Powder - This will be the ingredient that puts the "chocolate" in chocolate chia seed pudding! We need it! For a less bitter cocoa powder, I highly recommend going with Dutch-process cocoa powder.
Pitted Dates - If you're not into dates, go for any sweetener of choice (maple syrup, stevia, maple syrup, etc.) Or, totally opt-out and you can naturally sweeten the chia seed pudding with toppings like fruit or chocolate chips.
Recipe FAQs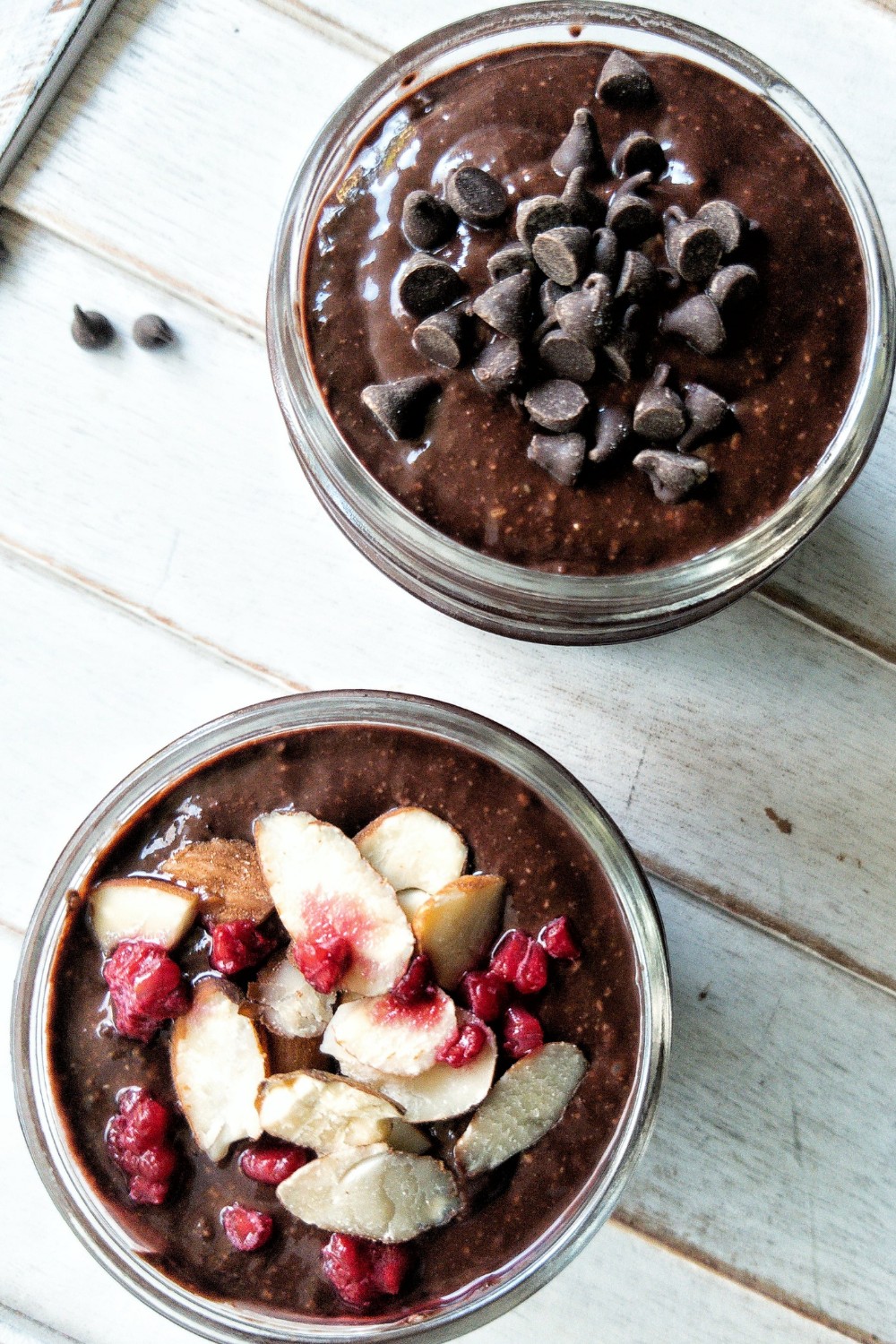 How To Make Chia Seed Pudding
This recipe is raw and there is no cooking required. Additionally, the ingredients will be simply tossed into a blender to whip up a smooth and creamy batch of pudding.
Pour all ingredients into a high-speed blender. Blend until smooth and well-combined.
Transfer mixture into a container and cover with a lid. Chill and rest for at least 4 hours to overnight (8 hours).
How Long Does Chia Seed Pudding Last In The Fridge
Chia seed pudding can last a few days in the refrigerator - making this the perfect scoop-and-eat breakfast treat.
Chia pudding may be stored in an air-tight mason jar, container, or Tupperware for up to 4 days in the fridge.
What Does Chia Seed Pudding Taste Like
Chia seeds on their own are bland with a very mild nutty flavor. This means that chia seed pudding will taste like whatever you add to it.
In this case, it will be sweet and chocolatey!
Feel free to add any flavors or toppings to your chia pudding for a boost of flavor and texture.
Speaking of texture, chia pudding has a similar texture to the traditional pudding. It's thick and creamy. However, the difference is that it has a somewhat gritty texture from the chia seeds.
How Long Does Chia Pudding Take To Set
For the kind of pudding-like texture, you're looking for, the chia seeds need a few hours to set and absorb the liquid (non-dairy milk, water, your choice of liquid). I recommend at least 4 hours to overnight.
As the chia seeds sit and thicken, be sure to stir the pudding from time to time to prevent clumping.
The longer the chia seeds sit in the liquid, the thicker they will become. And around 4 hours is a good baseline.
How Many Calories in Chia Seed Pudding
There are 8 servings of chia pudding in this recipe. One serving is about 137 calories - nice!
What To Eat With Chia Pudding
Just like your usual pudding, you can top it off with whatever you enjoy.
That includes granola, coconut flakes/shavings, nuts, seeds, dried fruit, fresh fruit, chocolate chips, peanut butter, whipped cream, maple syrup, chopped dates, cinnamon, and toasted oats.
If you opt-out of the dates in this recipe - go for it! You can always add sweetness later.
Why Is My Chocolate Chia Seed Pudding Bitter?
The trick is to use Dutch-process cocoa powder. Natural cocoa powder tends to be more bitter - which will yield a bitter outcome in this recipe.
Tried out this Chocolate Chia Seed Pudding recipe?
Please leave a comment below, share it, rate it, or tag a picture @plantbasedandbroke on Instagram and hashtag it #plantbasedandbroke. Show off that creation with us.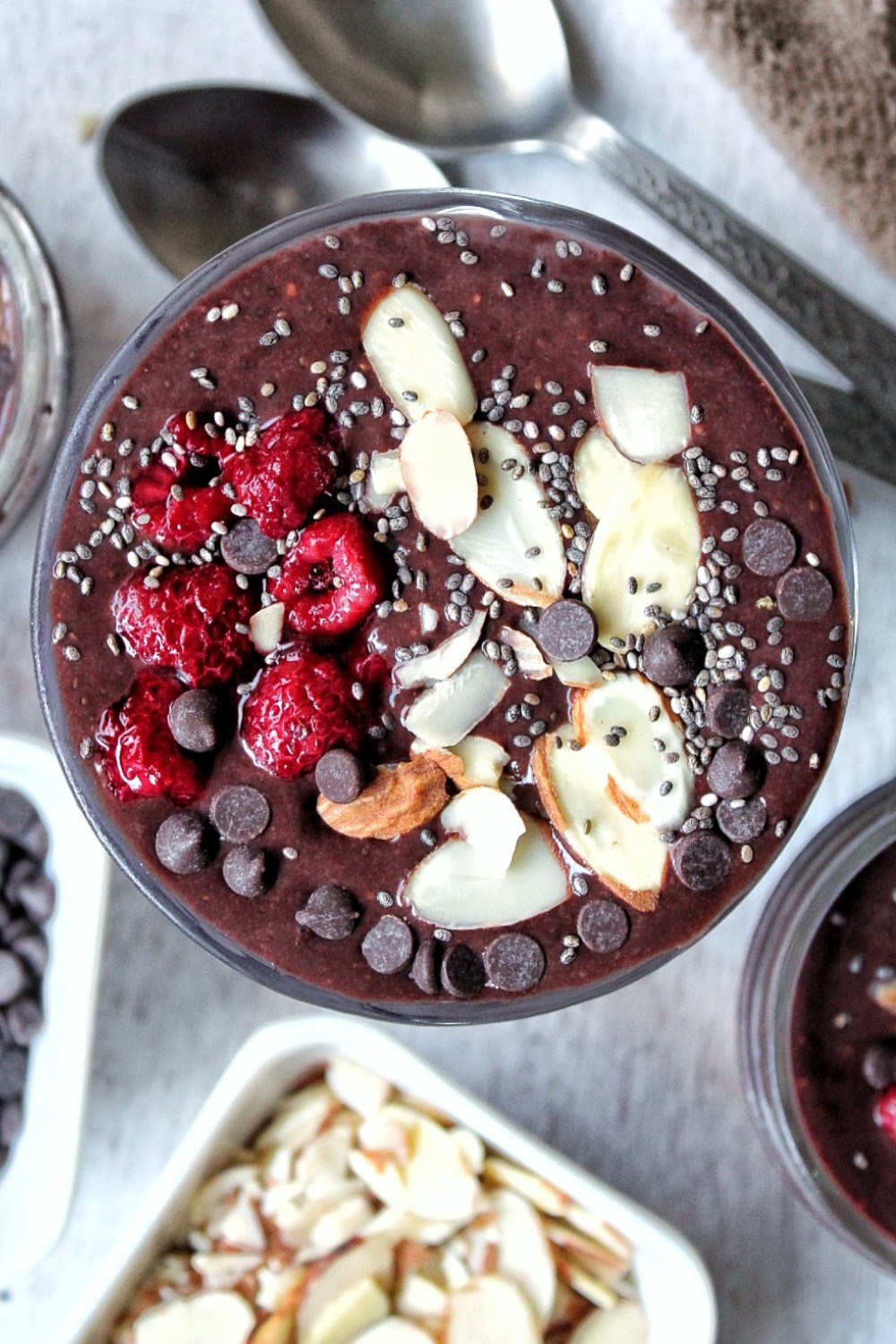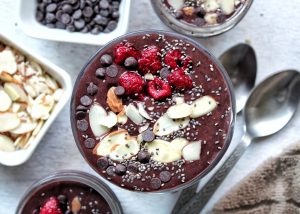 4-Ingredient Chocolate Chia Seed Pudding (Gluten-Free & Vegan)
Get your chocolate fix with 4-Ingredient Chocolate Chia Seed Pudding made with soy milk, chia seeds, cocoa powder, and pitted dates. It's a healthy breakfast treat, dessert, or snack, packed with fiber, protein, and healthy fats.
Instructions
Next, pour the mixture into a container, cover with a lid, and chill in the refridgerator for at least 4 hours or overnight. Serve with your favorite toppings. 
Nutrition
Serving:
1
-Serving
Calories:
137
kcal
Carbohydrates:
17
g
Protein:
6
g
Fat:
6
g
Saturated Fat:
1
g
Polyunsaturated Fat:
4
g
Monounsaturated Fat:
1
g
Trans Fat:
1
g
Sodium:
62
mg
Potassium:
337
mg
Fiber:
7
g
Sugar:
8
g
Vitamin A:
470
IU
Vitamin C:
9
mg
Calcium:
242
mg
Iron:
2
mg
---