(
This post may have affiliate links. Please see my disclosure.
)
Let's be real – pasta is life.
So, I decided to switch things up from my boring bowls of pasta and make something that was partnered up with something savory, textured, and a little bit on the fancier side.
And by fancy, I mean, do more work than just dumping a jar of pasta sauce onto noodles and calling that dinner (which I also love sometimes).
I try to keep my recipe short and simple, but this one does take a little bit more effort and ingredients. But, when I tell you it's worth it – I mean it.
What I really dig about this recipe is that a whole bag of this incredible pasta was $1 (which I only used about 3 servings' worth). Additionally, a lot of these ingredients are pretty affordable. If need be, switch out some of the fresh items like garlic or onion for the dry stuff.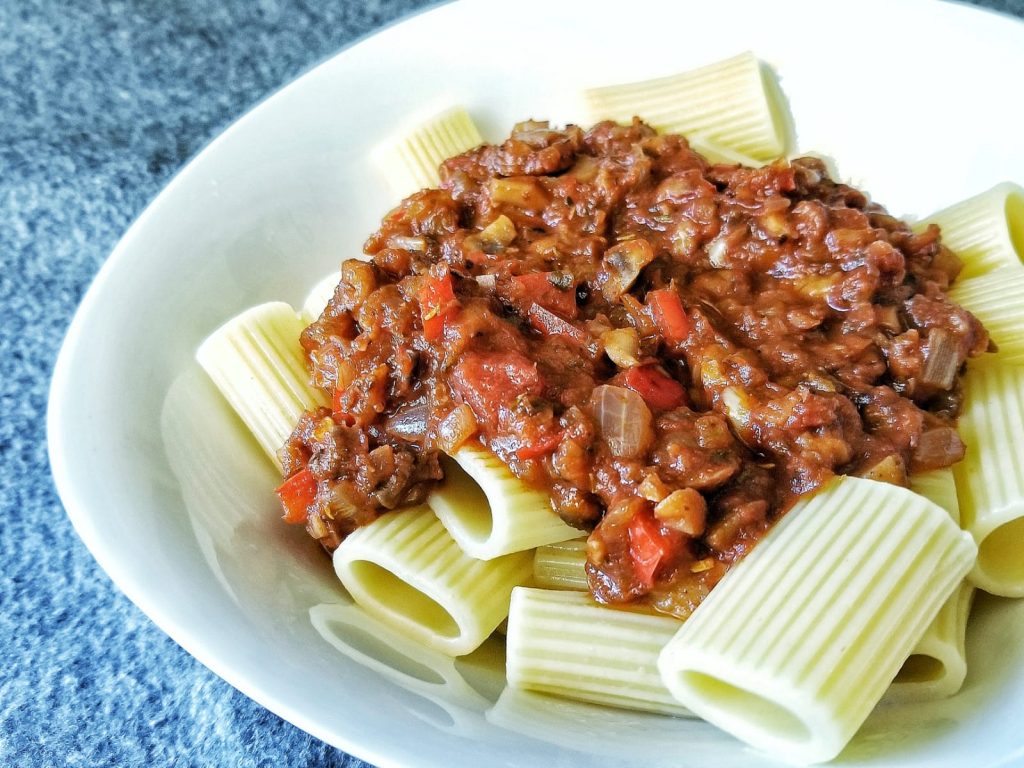 ---
Meatless Bolognese Sauce
Spaghetti and bolonese sauce – the perfect food for when dinner needs to be done fast and easy.
Ingredients
2

cups

pasta sauce

1.5

cups

common mushroom

chopped

1/2

sweet onion

chopped

1/2

red bell pepper

chopped

1

garlic clove

crushed, minced

1/4

cup

walnuts

finely chopped

1

tablespoon

tomato paste

1

tablesppon

Italian seasoning

1

tablespoon

garlic powder

1/2

teaspoon

fennel seeds

1/4

teaspoon

sugar

optional

1

tablespoon

olive oil
Instructions
Toast your chopped walnuts in a toaster oven at 350F degrees for 1 – 1.5 minutes. Set aside.

In a pan over medium heat, add olive oil and onions. Cook until tender, about 5 minutes.

Then, add the mushrooms and red bell pepper to the saucepan. Cook and stir for 8 minutes, or until the water from the mushroom has been cooked off.

In the same saucepan, add your tomato paste, marinara sauce, Italian seasonings, roasted walnuts, fennel seeds, and garlic powder, garlic. Mix well.

Finally, reduce heat to low and allow the sauce to simmer for about 5-8 minutes.

Taste, add a pinch of sugar if the sauce is too acidic. (optional)
Notes
If you don't have fresh garlic. No big deal. Just skip out of it and use more garlic powder.
I used rigatoni pasta. However, feel free to use whatever you have.
The best way to get started with this recipe is to just have everything prepped and chopped prior to the actual cooking.
When you're toasting the walnuts, keep an eye out. Otherwise, they can go from toasty to burn quickly.
If you don't have a toaster oven, you can toast your walnuts on a stovetop.
If the recipe ends up too acidic, add a pinch of sugar.
This recipe makes about 3 servings
Did you try out this Meatless Bolognese Sauce recipe?
Please leave a comment below, share it, rate it, or tag a picture @plantbasedandbroke on Instagram and hashtag it #plantbasedandbroke. Show off that creation with us.