(
This post may have affiliate links. Please see my disclosure.
)
Jump to:
There's nothing better than a bowl of spaghetti and a vegetarian bolognese sauce at the end of a hungry day!
One of our dinner-friendly staples in our household, like many, is pasta. It's typically easy to make and does not take much time to make. This vegan bolognese with mushrooms recipe is a time-savor and a crowd-pleaser.
Why You'll Love This
We're going with pantry-friendly, affordable, easy-to-find ingredients! We won't be having you go on a hunt for rare or special ingredients. The goal is to make something delicious with what we can find.
It's the perfect addition to your choice of pasta (gluten-free totally allowed).
Done in just 30 MINUTES! Making this recipe the perfect weekday dish, that's also kid-friendly and delicious.
This recipe is meatless, gluten-free, and plant-based.
Essentially, this vegetarian bolognese sauce is AMAZING as a quick and easy dinner comfort food.
For more vegetarian pasta-related recipes:
Ingredients & Substitutions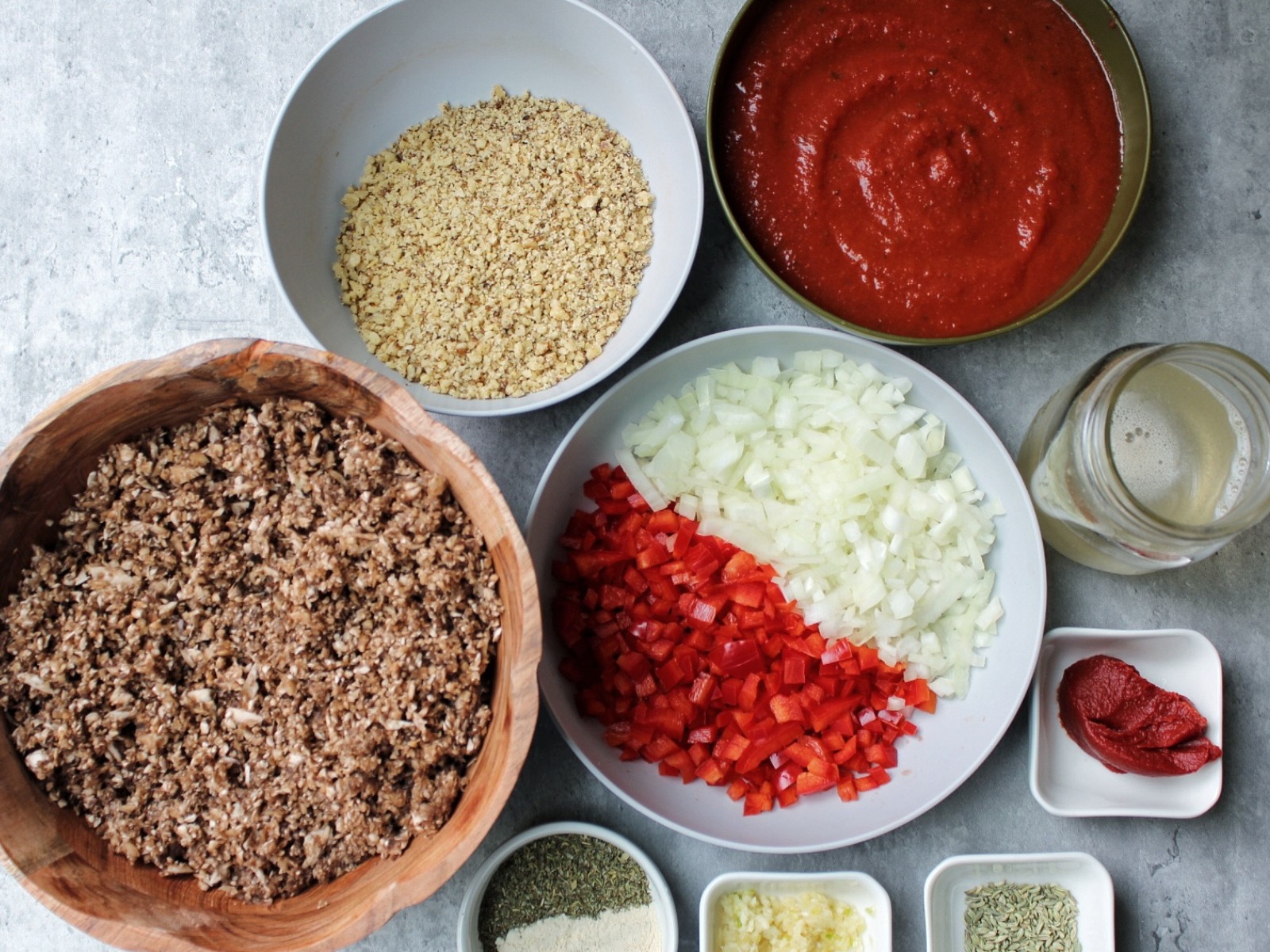 Pasta Sauce - Go for your favorite pasta/spaghetti red sauce! Or, make your own sauce with real tomatoes.
Common Mushrooms - We're using common mushrooms because they are affordable and easy to find. They can either be brown or white mushrooms. Mushroom caps work well, too!
Sweet Onion - Other onions that can be used include white, red, or sweet.
Red Bell Pepper - Red bell peppers bring some sweetness and color to this vegetarian bolognese sauce.
Garlic - Fresh garlic is best! But if you don't have fresh garlic, simply omit it. We have garlic powder in this recipe, too. Feel free to add more.
Walnuts - Providing texture and healthy fats, walnuts are a great addition to your meatless bolognese sauce! It's a must-have in this recipe.
Tomato Paste - Adding thickness and umami to this sauce!
Italian Seasonings - dried basil, oregano, rosemary, thyme, and parsley can also be used separately. Check out this homemade Italian seasoning.
Garlic Powder - Add as much or as little as you like!
Fennel Seeds - One of my favorite ingredients to give this sauce incredible flavor!
Sugar - Sugar, white or brown, will help any bitterness from the spaghetti sauce. If your sauce already has sugar in it, you don't need the sugar. Unless, of course, you'd like to add more.
Olive Oil
What To Eat With Bolognese Sauce
This bolognese sauce doesn't have to be just used with spaghetti. The list is long for what you can do with this sauce.
This can be used as a "meat" filling for lasagna or Shepherd's pie. It can be used for a savory pie. Top off your baked potatoes and rice with this protein-packed side.
If you're looking to use leftovers for breakfast, add the sauce to toast.
Gluten-free? Go for gluten-free pasta. Or, use spaghetti squash or zucchini zoodles.
Recipe FAQs
How To Make Vegetarian Bolognese Sauce
Cook the onion, mushroom, bell pepper, and fennel seeds until tender. Then add and cook crushed garlic for 30 seconds.
Add tomato paste, pasta sauce, mushroom broth, Italian seasoning, garlic powder, and walnuts.
Bring to a boil, then lower to a simmer for 15 minutes with a lid. Remove the lid and simmer for another 5-7 minutes.
Full recipe below!
What's the difference between bolognese and meat sauce
Traditional Italian bolognese is a meat-focused sauce with just a small touch of tomato paste/sauce. It's also made with a sofrito mixed (minced vegetables including onion, celery, carrot, and sometimes garlic).
The sauce may also include cream or milk, along with a broth and/or wine to simmer in. Additionally, the sauce will be served with a flat pasta like pappardelle or fettuccine.
A meat sauce is a lot more flexible and forgiving in its recipe. There are many ways to prepare this dish - depending on what you enjoy. American meat sauce is often made with quite a bit of tomato sauce or paste and milk are not often seen in the recipe.
This vegetarian "meat" bolognese sauce takes an unauthentic and non-traditional approach in its ingredients and pasta combination. Even then, it's still delicious!
Is bolognese sauce vegetarian
Traditional bolognese sauce is meat-based. However, this bolognese sauce is 100% vegetarian AND vegan! We're only using plant-based ingredients here. No meat, dairy, or animal products are used here.
How To Store
This vegetarian bolognese sauce may be stored for leftovers!
Store the soup in an airtight container or reusable silicone bag for up to 3-4 days in the refrigerator.
More recipes with mushrooms: Mushroom Pernil, Mushroom Oat Bran, Mushroom Lentil Loaf, Mushroom Bacon.
Tried out this Vegetarian Bolognese Sauce recipe?
Please leave a comment below, share it, rate it, or tag a picture @plantbasedandbroke on Instagram and hashtag it #plantbasedandbroke. Show off that creation with us.
Recipe update: this recipe has been updated with better, tastier cooking instructions. With 8 servings.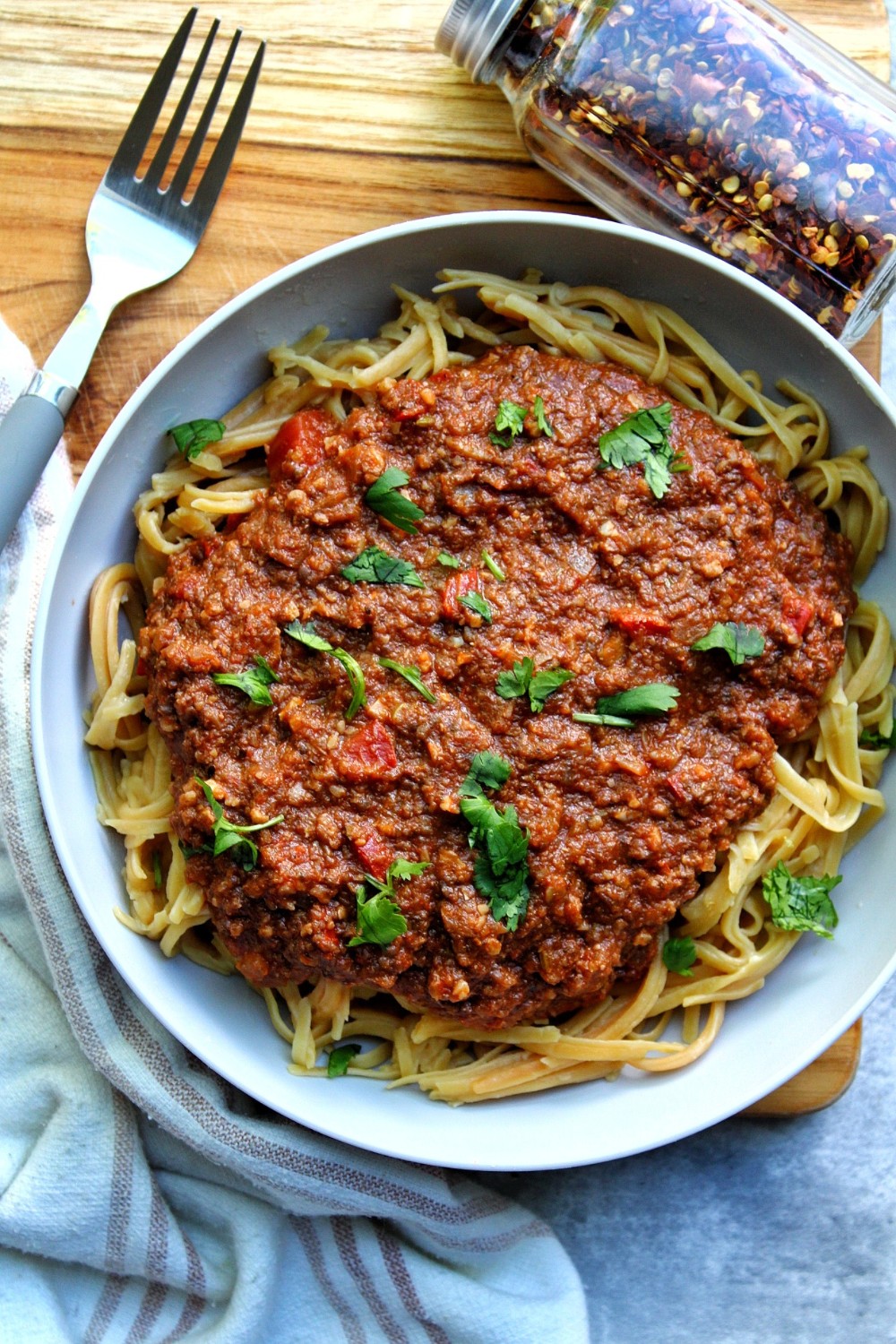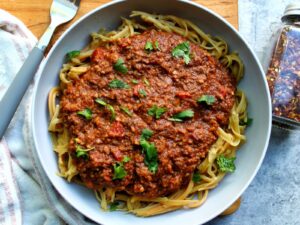 Vegetarian Bolognese Sauce (Made with Mushrooms)
Craving spaghetti? Go for an easy Vegetarian Bolognese Sauce made with easy-to-find, affordable mushrooms. It's packed with flavor and loaded with plant-based ingredients including bell pepper, onion, walnuts, and spices
Ingredients
2

tablespoons

olive oil

1

onion

chopped

16

ounces

common mushroom

washed, patted-dry, chopped by hand or in a food processor

1

red bell pepper

chopped

1

teaspoon

fennnel seeds

4

garlic cloves

crushed

2

tablespoons

tomato paste

2 ½

cups

pasta sauce

1

cup

mushroom broth

or broth of choice

1

tablespoon

Italian seasoning

1

tablespoon

garlic powder

1

cup

walnuts

toasted, finely chopped - by hand or with a food processor)

Chopped cilantro or parsley

to garnish

spaghetti

for serving
Instructions
In a deep skillet, wok, or saucepan over medium heat, add olive oil. Once shimmering, add the onion, mushroom, bell pepper, and fennel seeds. Add a pinch of salt. Cook for about 5 minutes, or until vegetables are tender. Add the crushed garlic and cook for 30 seconds, or until fragrant.

Add tomato paste, pasta sauce, mushroom broth, Italian seasoning, garlic powder, and walnuts. Mix well.

Bring to a boil. Then, cover with a lid, reduce heat to low and allow the sauce to simmer for at least 15 minutes. Remove the lid and simmer for another 5-7 minutes.

Serve with spaghetti and garnish with parsley.
Notes
To pan-toast walnuts:

In a dry skillet or pan over medium heat, pan-toast the chopped walnuts until fragrant. Should only take 1 minute, or so. Remove from the pan and set aside.

I reccommend using a food processor

for the mushrooms and walnuts. It will make this dish 100% times easier and faster to make.
Nutrition
Serving:
1
-Serving (sauce only)
Calories:
179
kcal
Carbohydrates:
13
g
Protein:
6
g
Fat:
14
g
Saturated Fat:
1
g
Polyunsaturated Fat:
7
g
Monounsaturated Fat:
4
g
Sodium:
517
mg
Potassium:
590
mg
Fiber:
4
g
Sugar:
6
g
Vitamin A:
935
IU
Vitamin C:
28
mg
Calcium:
46
mg
Iron:
2
mg