(
This post may have affiliate links. Please see my disclosure.
)
Making a homemade vegan spaghetti sauce 100% doable and EASY! Made with real tomatoes and a handful of real ingredients, you'll have fresh homemade spaghetti sauce that's packed with flavor.
When I score a large bag of Roma tomatoes, I already know what's on the dinner menu. I go for a classic bowl of spaghetti topped with fresh spaghetti sauce. 
As much as I love the convenience of pre-made vegan spaghetti sauce, which I sometimes still use, I love being able to control all of the elements that go into a spaghetti sauce. This includes the texture, spices, and ingredients.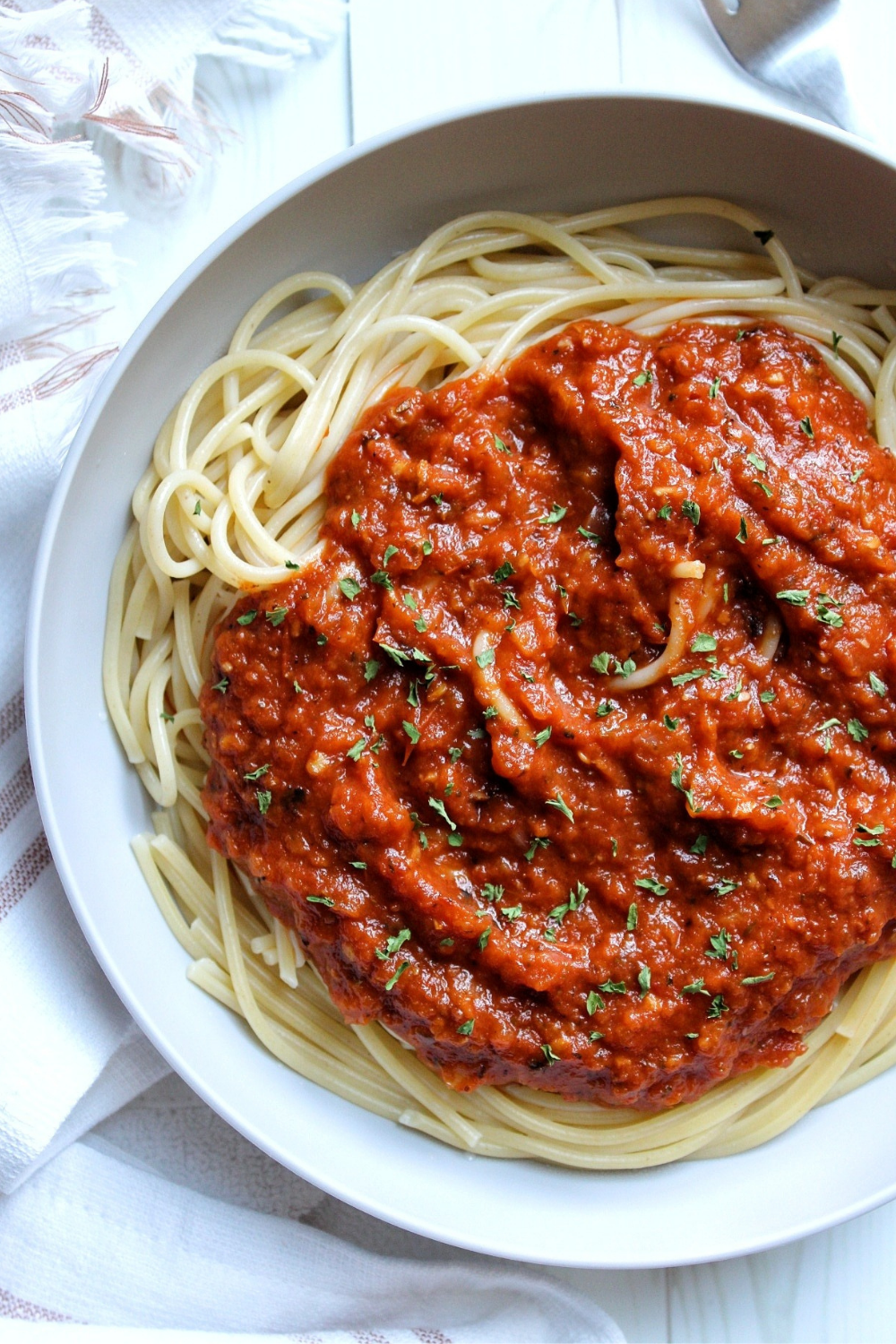 Why You'll Love This
This recipe is 100% plant-based, using everyday ingredients. I love fresh herbs, but I don't always have it on hand (definitely thinking about a small herb garden soon, though). So, I use dry herbs including parsley in this recipe. 
It can be stored in an air-tight container or mason jar for later use. Making a great dish to incorporate any time of the busy weekday.
It's a delicious, healthy recipe that's kid-friendly. 
Made with FRESH tomatoes!
If you're not in the mood for spaghetti, you can use this spaghetti sauce with homeade pizza, breadsticks, lasanga, and other pasta dishes.
How To Make Homemade Spaghetti Sauce
There are three important steps to making homemade spaghetti sauce. First, you'll want to air-fry or roast the tomatoes to enhance their flavor.
Second, you'll want to combine all ingredients and simmer for at least 30 minutes. Third, blend until you're left with a more uniform texture.
Let's break it down.
Air-fry the tomatoes for 15-20 minutes at 450 degrees F.
Transfer tomatoes to a bowl and crush them with a potato masher or fork.
In a sauce pan, cook the chopped onions until soft. Then, add and combine the spices, tomato paste, broth, bay leaf, and sugar.
Add the roasted tomatoes to the saucepan. Bring to a boil then reduce heat to a simmer. Simmer for at least 30 minutes.
Next, transfer the spaghetti sauce to a blender or use an immersion blender and blend for a few seconds on low. Serve!
Recipe FAQ
What Kind Of Tomato Variety Should Be Used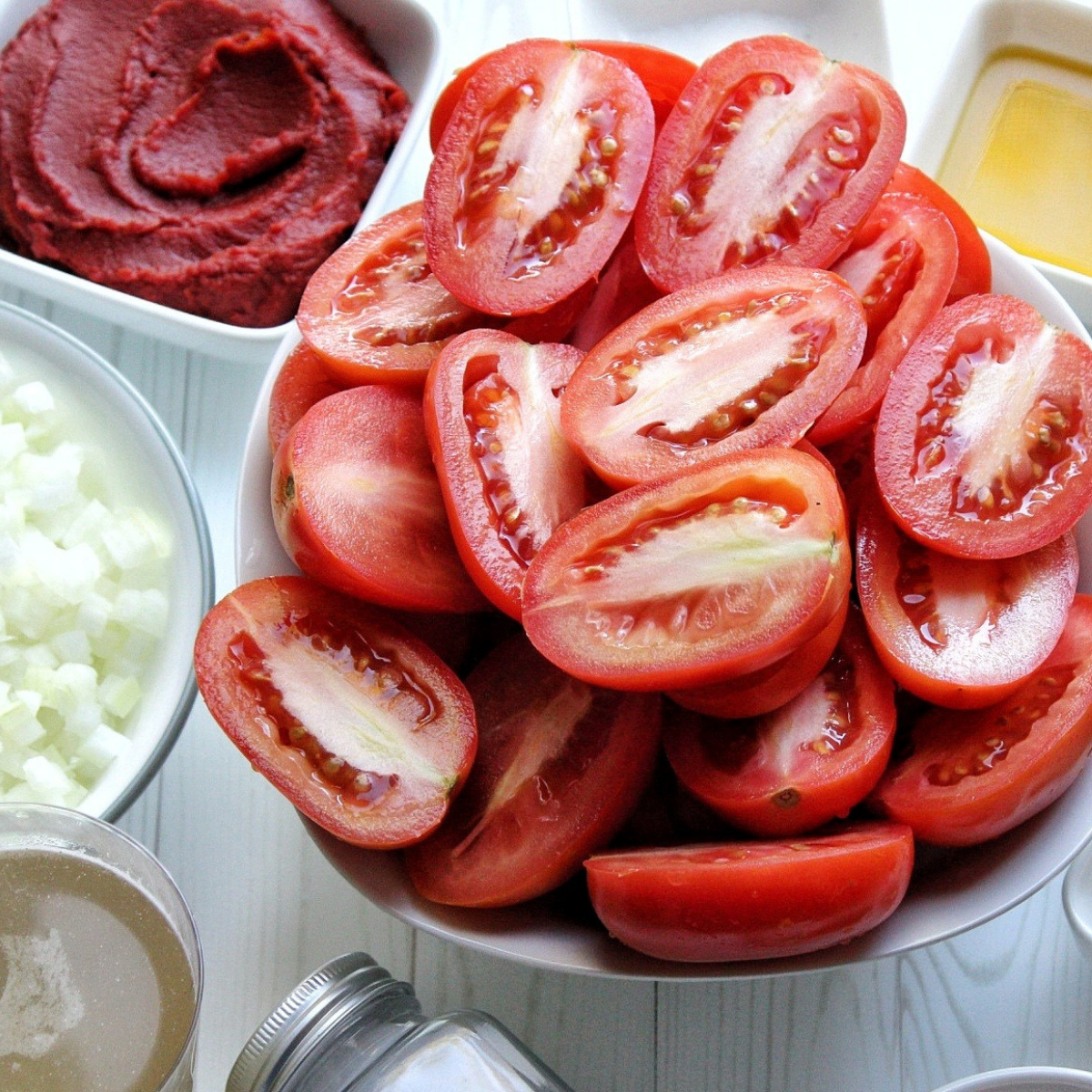 Any variety of plum tomatoes work great in a spaghetti or red pasta sauce. That includes Roma tomatoes, San Marzano tomatoes, and Big Mama tomatoes
Plum tomatoes are naturally on the sweeter side and less acidic.
I chose to use Roma tomatoes because I find they are the easiest plum tomato variety to find and their price is always right. However, I encourage you to use your plum tomato of choice.
How To Freeze Spaghetti Sauce
Need to make spaghetti sauce in advance? Well, you're in luck. The sauce can be stored frozen until you're ready to use it.
My favorite way to store homemade spaghetti sauce is in a mason jar. Just be sure to leave about 1 inch of room from the top, as the spaghetti sauce will expand a bit as it freezes.
Additionally, the spaghetti sauce can be stored in freezer-safe bags, jars, or containers for up to 3 months.
To thaw, transfer into the fridge overnight. Or, run it under warm water.
Why Add Sugar To Spaghetti Sauce
A touch of sugar will help balance out the acidity. Feel free to taste as you can and add much or as little sugar you prefer.
Alternatively, you can leave the sugar out completely if you're going sugar-free.
What's The Difference Between Marinara Sauce and Spaghetti Sauce
Marinara originated from southern Italy and it's a sauce that can be served with spaghetti, seafood, as a dip, or used as a pizza sauce.
The sauce is typically made with garlic, onions, and herbs. It is then simmered for a bit. It's considered a basic tomato sauce, it never has meat in it, and is made relatively thin.
On the other hand, spaghetti sauce is often thicker, takes longer to cook and simmer, and is primarily used for spaghetti. It often includes meat.
Either way, both spaghetti sauce and marinara sauce can be used for spaghetti – go for what you like.
Do You Have to Peel Tomatoes for Sauce
Some recipes might call for tomatoes to be peeled. However, this recipe keeps the peels on for a couple of reasons. First, tomato skins or peels are rich in lycopene – a plant nutrient with antioxidant properties, which has been linked to plenty of healthy benefits like protecting against sunburns. [Source]  
Additionally, tomato peels have a significant amount of fiber.
Other reasons why we keep the skins on is to reduce food waste, add texture to the sauce, and skip over the tedious task of removing them.
How To Store
Store in an air-tight container or mason jar for later use. It will keep in the refrigerator for up to 4 days or months in the freezer.
Recipe Tips
To add more creaminess and richness to the spaghetti sauce, feel free to add a dollop of vegan butter towards the end of the recipe. Not necessary, but it helps.
For a boost of umami, add a touch of soy sauce. Might sound off, but it's legit.
Although I used pantry-friendly herbs in this recipe, you're welcome to use fresh instead.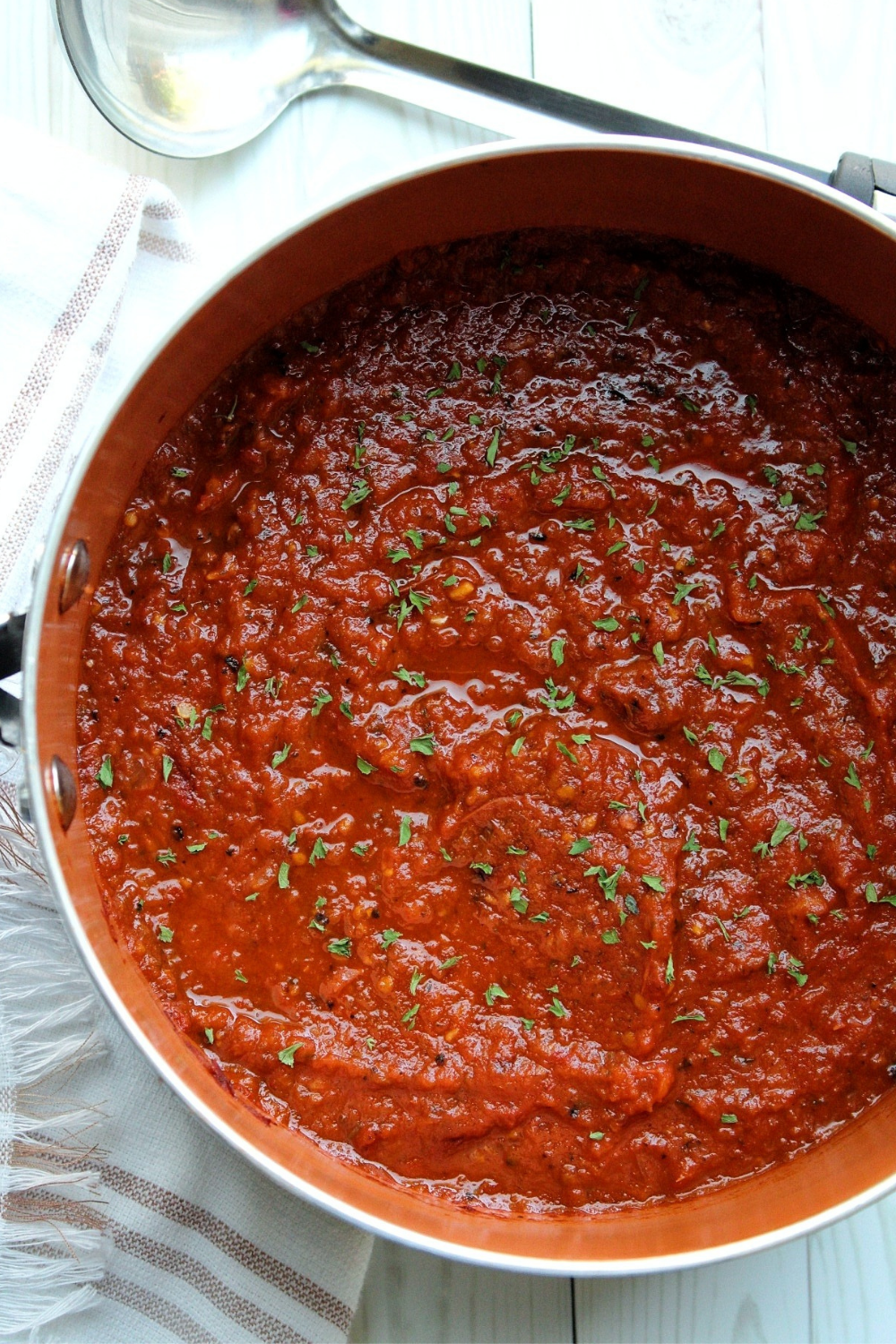 If you love this recipe, check out our other pasta recipes:
Tried out this Vegan Spaghetti Sauce With Real Tomatoes recipe?
Please leave a comment below, share it, rate it, or tag a picture @plantbasedandbroke on Instagram and hashtag it #plantbasedandbroke. Show off that creation with us.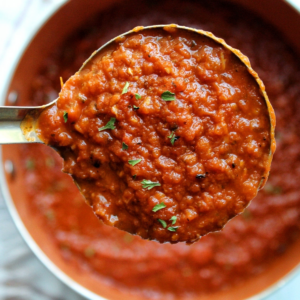 Vegan Spaghetti Sauce With Real Tomatoes
Vegan Spaghetti Sauce with Real Tomatoes is my favorite way to serve a quick and easy spaghetti dinner meal. We're using Roma tomatoes along with pantry-friendly spices and ingredients – making this an affordable, plant-based dish.
Instructions
Cut Roma tomatoes into halves, lengthwise. Then, toss the tomato halves in 1 tablespoon of olive oil and salt.

Air fry for 20 minutes at 450 degrees F. To roast tomatoes in the oven, pre-heat oven to 450 degrees F. Roast for 30-35 minutes, or until edges have browned/charred.

Once done, set aside in a bowl. Crush with the back of a fork or potato masher. Set aside.

Set a non-stick saucepan over medium heat. Add two tablespoons of olive oil. Add onion and cook until soft.

Then, add the garlic, chili flakes, Italian seasoning, tomato paste, sugar, broth, and bay leaf. Add the crushed Roma tomatoes and stir all together.

Bring sauce to a boil then reduce heat to a simmer for 30 minutes with a lid. Transfer the sauce to a blender or use an immersion blender and blend for a few seconds. Serve with your favorite spaghetti or pasta and top with chopped herbs.
Notes
Feel free to use your choice of broth. I enjoy using

mushroom broth

 because I love the umami flavor it brings. 

If you want to switch the dry herbs for fresh, go for it! 

To add more richness and depth to the sauce, add a bit of butter towards the end and a splash of soy sauce.

Store in an air-tight container or mason jar for later use. It will keep in the refrigerator for up to 4 days or months in the freezer.
This recipe pairs perfectly with Puerto Rican Spaghetti! 
Nutrition
Serving:
1
-serving
Calories:
213
kcal
Carbohydrates:
25
g
Protein:
5
g
Fat:
11
g
Saturated Fat:
2
g
Polyunsaturated Fat:
1
g
Monounsaturated Fat:
8
g
Sodium:
361
mg
Potassium:
1184
mg
Fiber:
6
g
Sugar:
15
g
Vitamin A:
3169
IU
Vitamin C:
52
mg
Calcium:
71
mg
Iron:
3
mg