(
This post may have affiliate links. Please see my disclosure.
)
Jump to:
Roasted Roma tomatoes are my favorite ingredient to add to nearly any recipe that calls for a stew or pasta. Especially summer recipes!
The combinations of sweet, savory, smokiness, umami, and flavor, bring any dish to the next level. All from Roma tomatoes.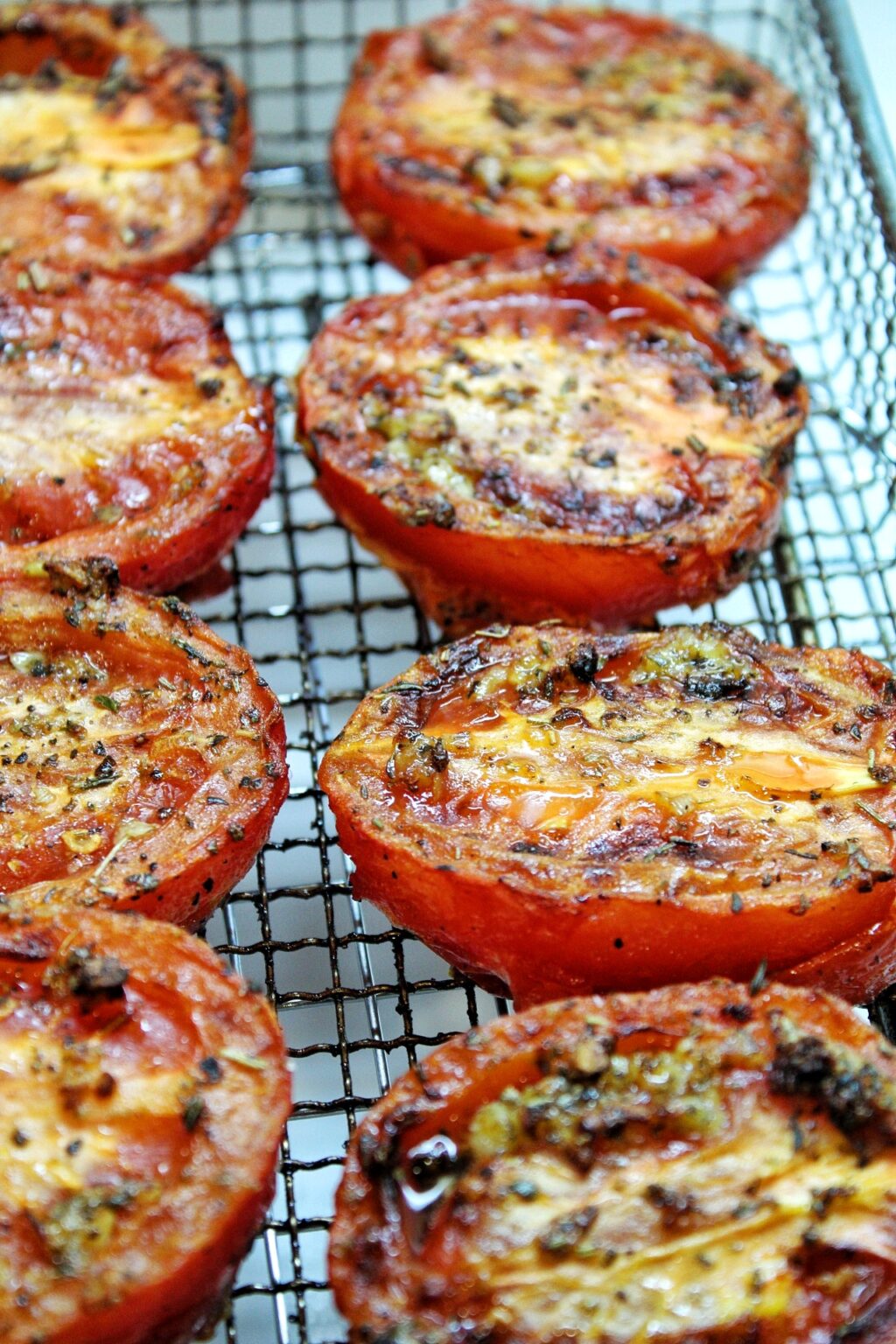 Speaking of summer recipes, if you're in the mood for more summer-appropriate dishes, check out our chilled rigatoni with avocado sauce, chickpea salad sandwich, and dairy-free potato salad.
If you have a surplus of Roma tomatoes (um, I am in the market of accepting free Roma tomatoes) this is a great way to use them up. Similar to pesto, roasted tomatoes can also be jarred and stored for later use.
I recently purchased an air fryer and I have been obsessed with it. Making everything from quickly roasted broccoli to crispy tofu. It cuts down the cooking time for many dishes. Additionally, I don't have to heat up my entire kitchen with a cranked-on oven.
Looks like I have a new cooking assistant for summertime meals. Because let me tell you - turning on the oven in the middle of the heatwave is not worth it. Especially when air conditioning isn't an option like it was in my former apartment for many years.
I noped out of that apartment when the lease was done and got an air-fryer. Making some strides here.
Why You'll Love This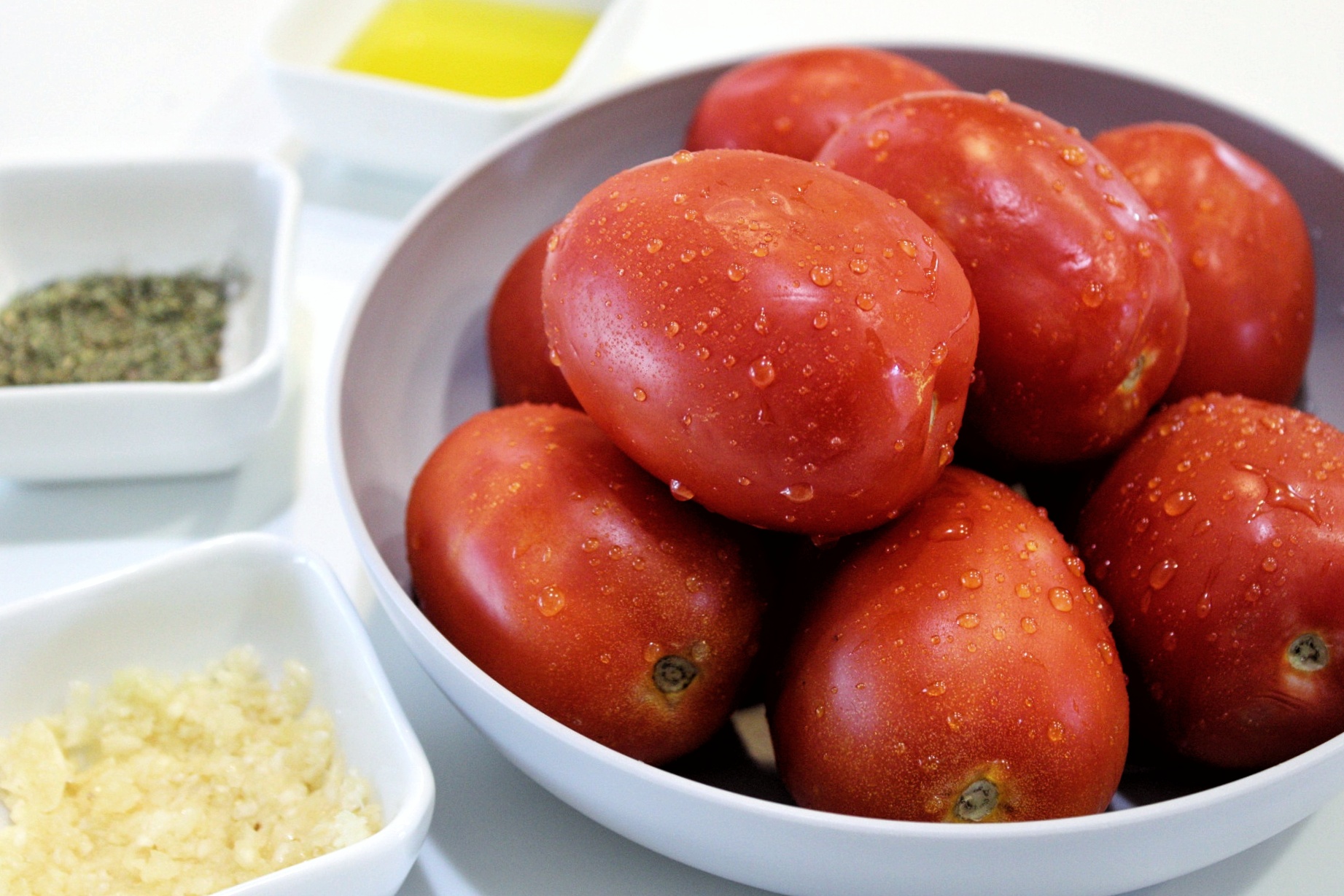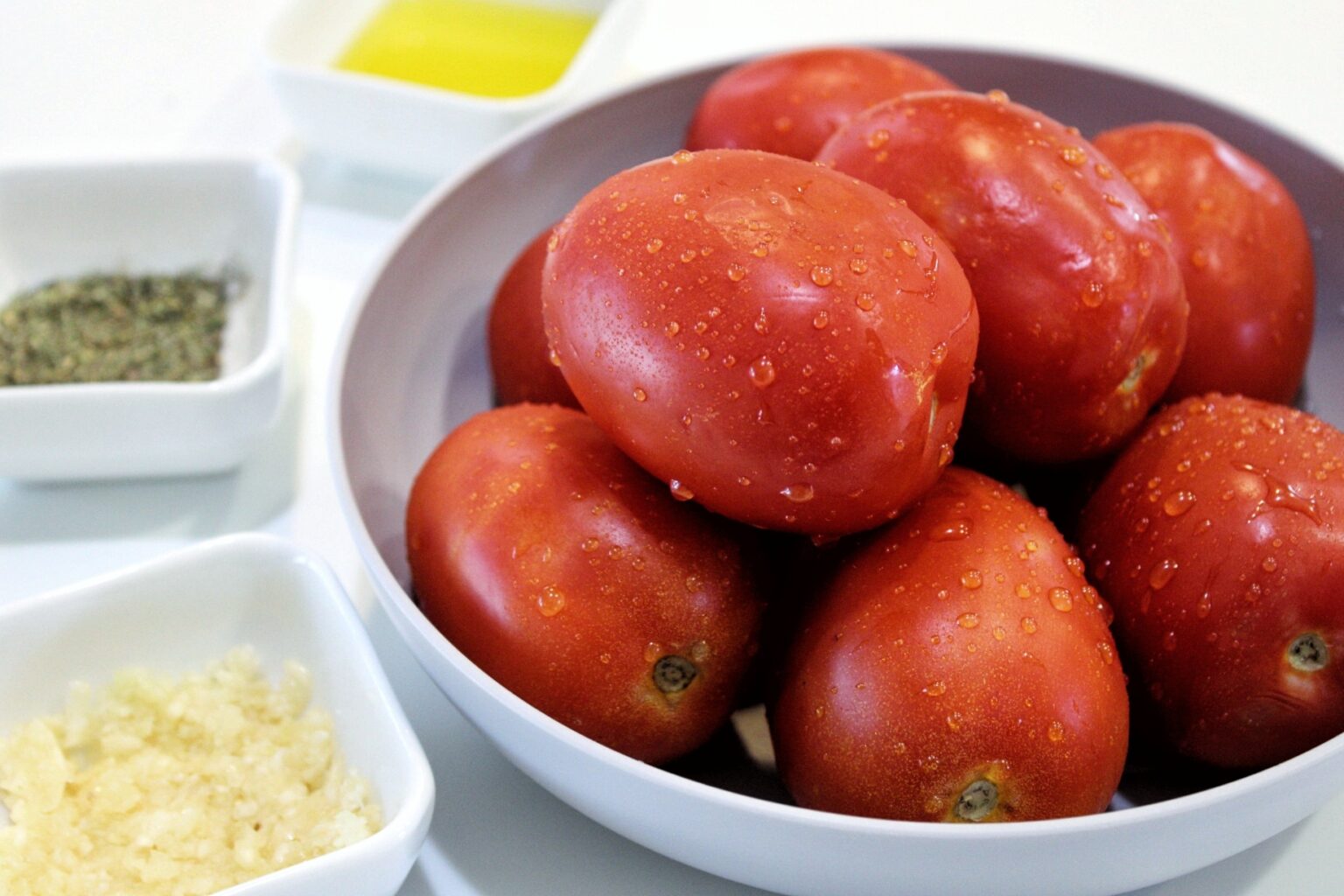 These air fryer roasted tomatoes only take 20 minutes to make. Additionally, you don't need any special ingredients - just tomatoes, some olive oil, and a bit of salt. However, you can take it to the next level and add other fragrant herbs and base vegetables, like garlic.
If you're in need of fire-roasted tomatoes in a recipe, but don't have a can of the stuff hanging around, you can just pop a few Roma tomatoes into an air fryer. It's a great substitute and fresh is always nicer than canned.
According to Healthline, roasted tomatoes are a great source of vitamin C, potassium, folate, and vitamin K. And in 100 grams, you're just looking at 18 calories.
Pair this sauce with lentil meatballs or protein-packed tofu meatballs.
If you're looking for more tomato-based recipes, check out our Lemon Garlic Spaghetti with Asparagus, Lentil Potato Stew, and Tomato Basil Soup.
Recipe FAQs
Do I Need To De-Seed Tomatoes
De-seeding tomatoes is a personal preference that won't significantly change the outcome of your roasted tomatoes.
I like to leave the seeds alone for a few reasons:
It eliminates that extra prep step.
I am reducing food waste. However, if your Roma tomatoes come with stems, they need to be removed.
I am using every part of the tomato (seeds + skin), bringing me all of their health benefits.
How To Crush Roasted Tomatoes
If you're making a sauce out of the roasted tomatoes, you'll want to break them down.
The tomatoes can be crushed with a wooden spoon or even the back of a fork. A blender can also help with turning the tomatoes into a puree. If you're using a blender, it'll just need to blend for a few seconds.
How To Store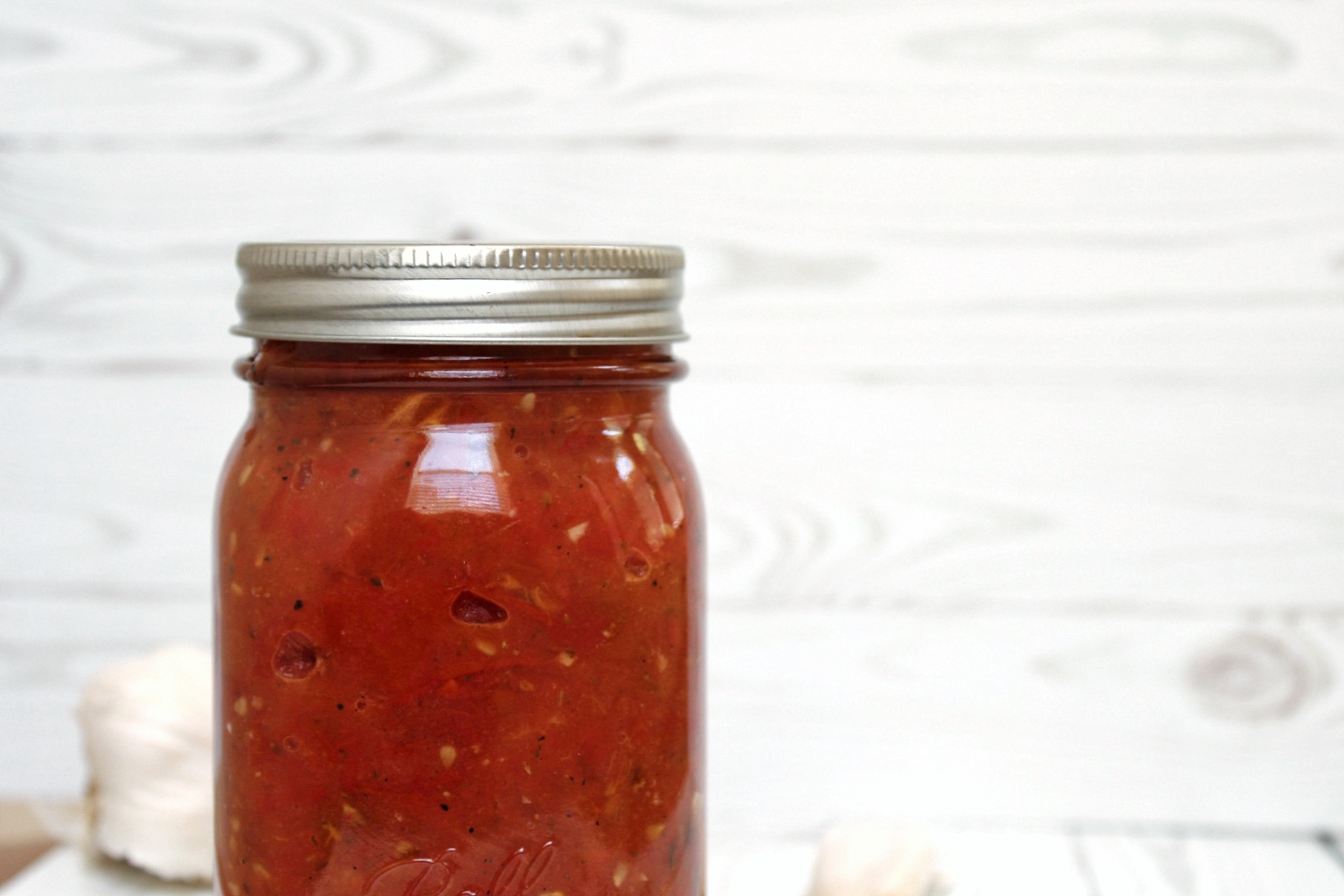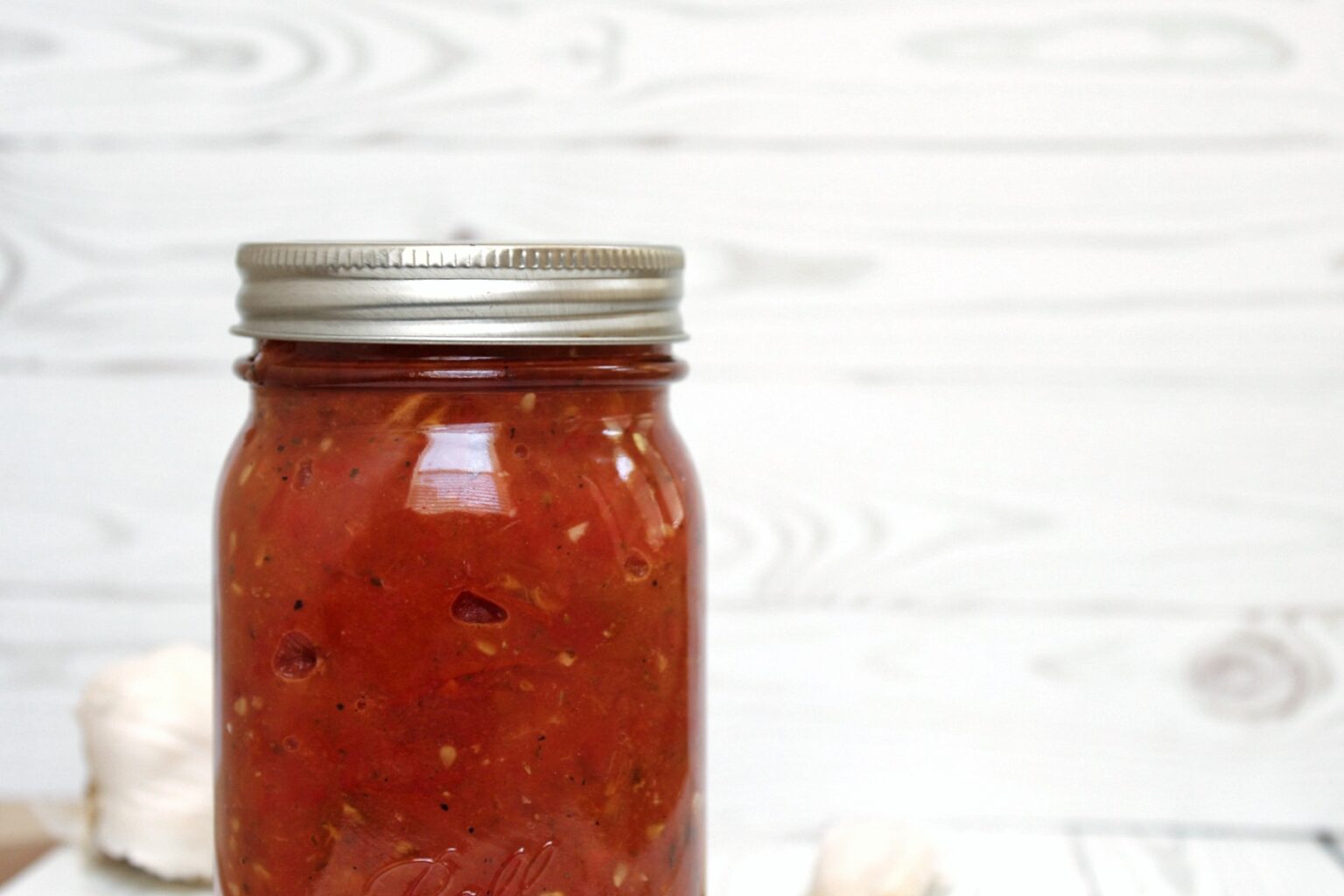 Roasted tomatoes can be stored in the refrigerator in an air-tight container, reusable silicone bag, or mason jar for up to 5-7 days.
Additionally, they may be stored in the freezer for up to 6 months.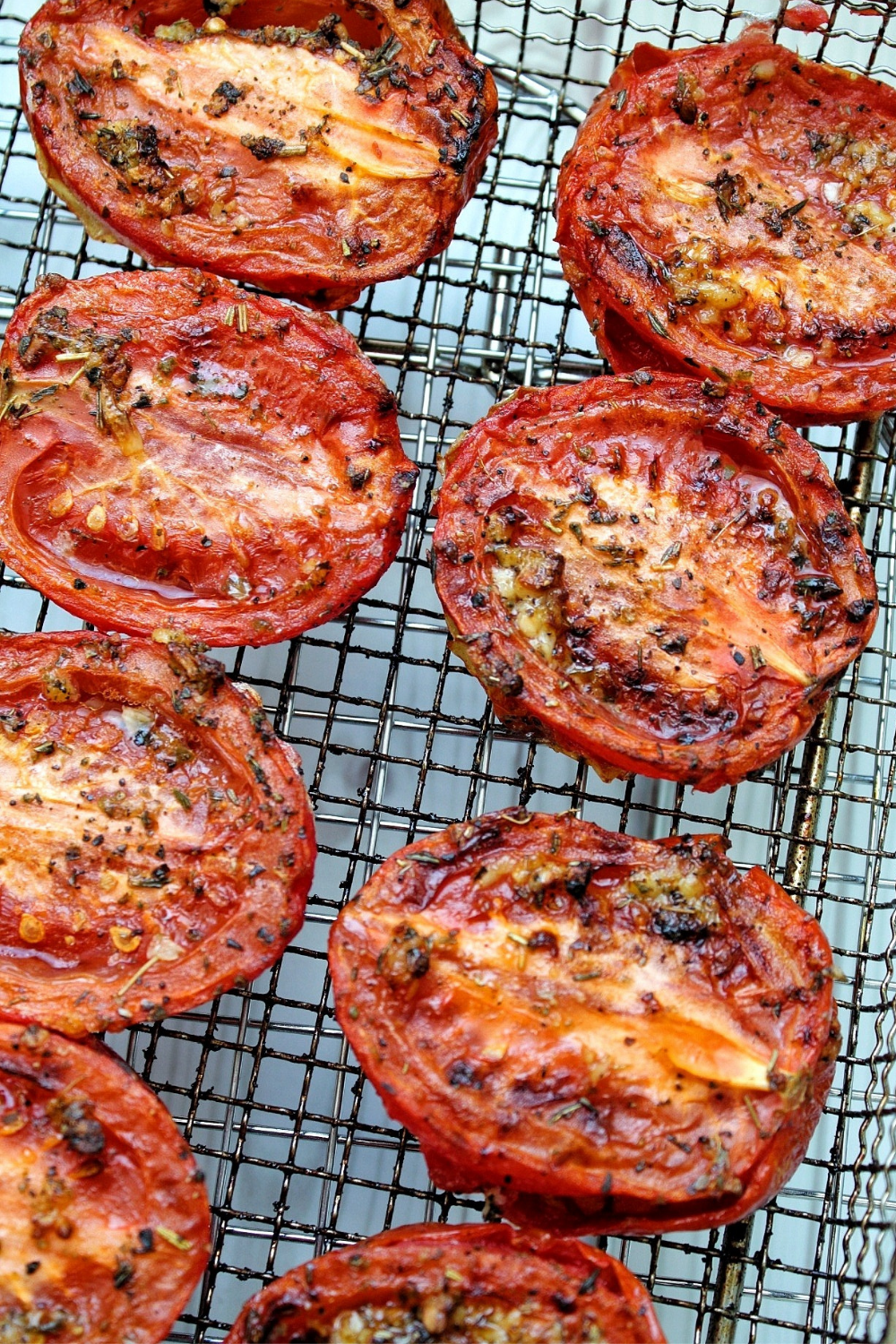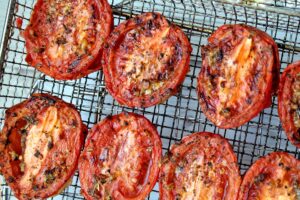 Air Fryer Roasted Roma Tomatoes
Easy, 20-minutes Air Fryer Roasted Roma Tomatoes! With a hint of sweetness, smokiness, and packed-full of good-for-you nutrients, these roasted tomatoes make for a great addition to stews, soups, pastas, and rice recipes.
Ingredients
2

pounds

Roma tomatoes

1

tablespoon

olive oil

2

garlic cloves

crushed

½

teaspoon

Italian seasoning

or herb of choice

Salt and peper to taste
Instructions
Transfer the tomatoes into the air fryer rack and place them with the cut side facing up. Cook at 450 degrees F for 20 minutes.
Notes
Use any herb you prefer, spices, or seasonings you enjoy with your roasted tomatoes. Other ideas include 

oregano, parsley, rosemary, and thyme. 

Cook them for less or more time, depending on how you prefer them to come out. I like them a bit more charred, so I keep them in for 20-25 minutes. 

Two pounds of fresh tomatoes will yield a little over one pound of roasted tomatoes. 
If your air fryer is not large enough, you can do them in batches. Or, cut the recipe in half. I use a Cuisinart Air Fryer Toaster Oven that can fit about 15-16 tomato halves. 
This recipe can be turned into a vegan spaghetti sauce! 
Nutrition
Calories:
75
kcal
Carbohydrates:
9
g
Protein:
2
g
Fat:
4
g
Saturated Fat:
1
g
Polyunsaturated Fat:
1
g
Monounsaturated Fat:
3
g
Sodium:
12
mg
Potassium:
547
mg
Fiber:
3
g
Sugar:
6
g
Vitamin A:
1894
IU
Vitamin C:
32
mg
Calcium:
29
mg
Iron:
1
mg
Did you try out this Air Fryer Roasted Tomatoes recipe?
Please leave a comment below, share it, rate it, or tag a picture @plantbasedandbroke on Instagram and hashtag it #plantbasedandbroke. Show off that creation with us.