(
This post may have affiliate links. Please see my disclosure.
)
Jump to:
Winter is here and it's time to slide out the pantry stuff to make a flavor-packed cozy lentil potato stew.
During the colder months, there's nothing better than a cozy, hearty stew to keep the body warm and belly content.
I typically load up on potatoes during the winter, because they last much longer in the cooler temperatures - sometimes lasting up to 2-3 months, when carefully stored. Besides, potatoes are great in many plant-based recipes to keep things cheap and healthy.
More Stew Recipes:
Recipe Notes:
Chop the potatoes in the size and shape you prefer. The smaller the chunks, the less time they'll take to cook through. I cut these potatoes into 1-inch thick coins and then cut those coins in half.
Roma tomatoes are naturally sweet and have a delicious tomato-y flavor - I suggest using this tomato variety. They should be sweet enough that the stew won't need any sugar for the acidity. But if you find the lentil stew too bitter, add a pinch of sugar.
What Kind Of Potatoes To Use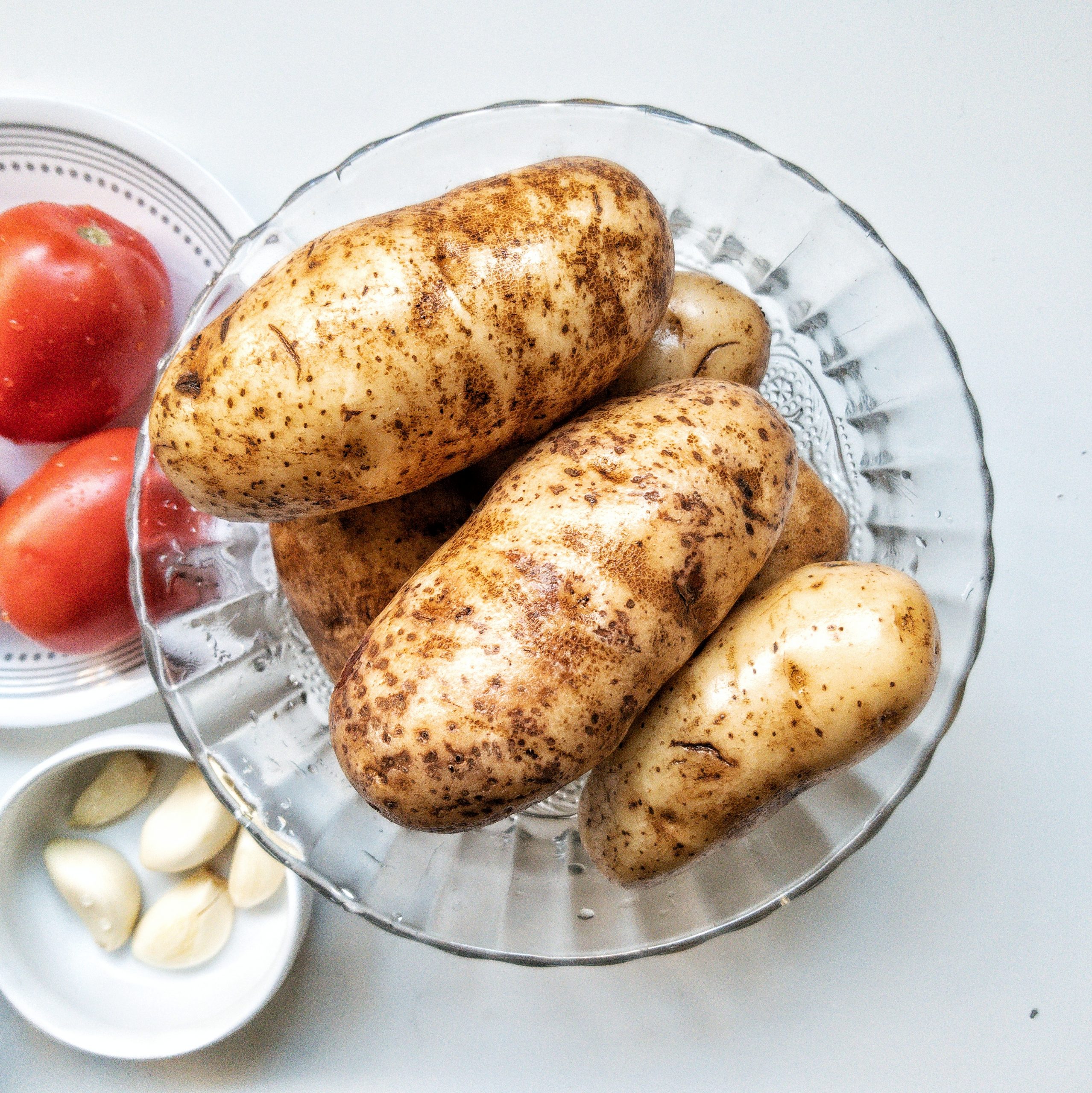 Many potato varieties are great in stews, primarily waxy. Waxy potatoes include baby potatoes, new potatoes, and fingerlings. However, russet potatoes are fine to use, especially in vegetarian-based stews, since we won't have them simmering for too long.
I chose to use russet potatoes because they are affordable and can be found almost anywhere. They work great, for example, in a Puerto Rican-style mushroom "beef" stew.
If you choose to use a different potato variety, that's great. Use what you have available to you. However, if you are ever going for a stew recipe that will have the potatoes simmering for longer than 20 minutes, then use waxy.
If potatoes simmer/boil for too long, they can end up too soft, mushy, and can fall apart.
What To Do If Stew Is Too Salty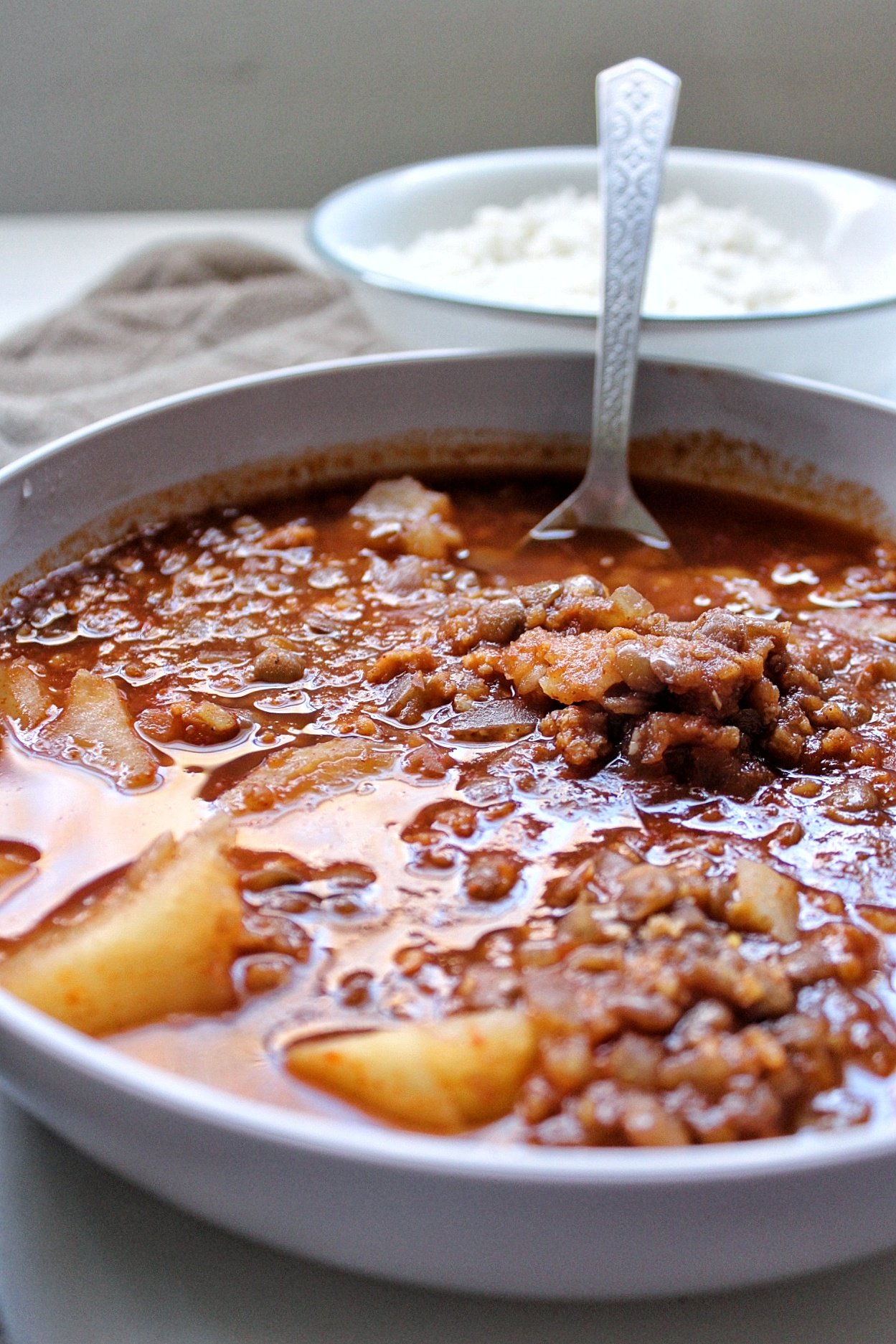 If the stew is too salty for your liking, add more water and use a flour + water mixture to thicken it up. On the other hand, if it's not salty enough, add a pinch at a time until it suits your tastebuds.
What To Pair With Stew
This stew is flavor-packed with a zing of umami. Because of this, the dish pairs well with a mild and mellow side dish. My favorite is serving fresh, white or brown rice straight from the rice cooker.
Other options include roasted vegetables, biscuits, dinner rolls, or a salad.
How To Store
After cooling down the stew, transfer it into an air-tight, freezer-grade container or reusable silicone bag.
Refrigerate the stew for up to 3-4 days.
Love this stew? Check out our protein-packed vegetarian chili.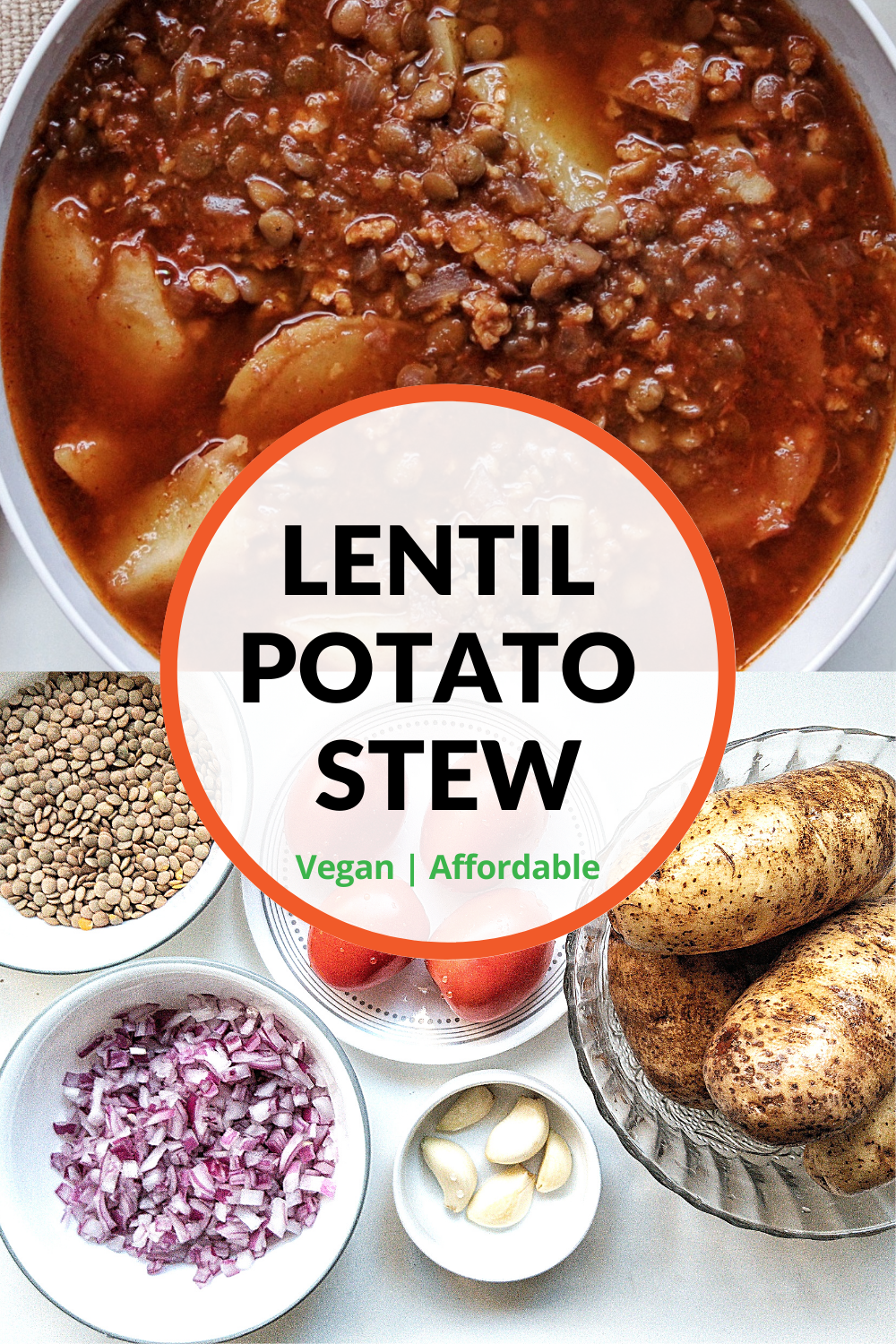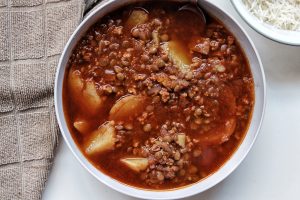 Lentil Potato Stew
Delicious, plant-based lentil potato stew made with affordable ingredients. It's a healthy comfort food that's perfect for the winter season.
Ingredients
1

cup

green lentils

3

cups

water

1

teaspoon

salt

1

tablespoon

olive oil

1

small red onion

chopped

5

cloves of garlic

crushed

4

Roma tomatoes

blended

2

cups

stock/broth

3

cups

water

1

teaspoon

salt

2

bay

leaves

1

tablespoon

chili powder

2.5

pounds

potatoes

chopped, 1-inch thick

2

cups

vegan ground
Instructions
Combine water, lentils, and salt into a medium pot and bring to a boil. Once at a boil, reduce heat to simmer. Cover the pot with a lid and cook for 15-20 minutes until lentils are tender. Remove pot from heat, drain any remaining water, and set aside.

Heat olive oil in a large pot or dutch oven over medium heat. Add the onion and cook for five minutes until tender. Add the garlic and cook for 30 seconds.

Add the blended tomatoes, broth, water, salt, bay leaves, and chili powder. Combine and for 5 minutes. Then, add the potatoes and bring to a boil. Once at a boil, lower heat to a simmer.

Simmer the stew for 15 minutes, until potatoes are fork-tender. Add the cooked lentils and vegan ground. Simmer for another 5 minutes.
Notes
I used russet potatoes because they are the more affordable and accessible type of potato. However, I recommend using waxy potatoes if you can, for example, new potatoes, fingerling, or red potatoes. If you opt to use russet potatoes, check on them often to be sure they do not overcook/simmer. 15 minutes should be enough time to get them fork-tender. 
Vegan ground is a vegan ground beef sold by plenty of vegan brands. Choose what you prefer - I used Gardein. 
Nutrition
Serving:
1
-serving
Calories:
341
kcal
Carbohydrates:
60
g
Protein:
18
g
Fat:
4
g
Saturated Fat:
1
g
Polyunsaturated Fat:
1
g
Monounsaturated Fat:
2
g
Trans Fat:
1
g
Sodium:
942
mg
Potassium:
1316
mg
Fiber:
17
g
Sugar:
4
g
Vitamin A:
777
IU
Vitamin C:
47
mg
Calcium:
68
mg
Iron:
6
mg
Did you try out this Lentil Potato Stew recipe?
Please leave a comment below, share it, rate it, or tag a picture @plantbasedandbroke on Instagram and hashtag it #plantbasedandbroke. Show off that creation with us.