(
This post may have affiliate links. Please see my disclosure.
)
Jump to:
Sometimes, a classic, cozy dinner recipe is everything we need at the end of a long day. We're going plant-based for our stovetop vegan tofu meatballs recipe to accompany our piled-up spaghetti.
Tofu's texture flexibility and its mild flavor work as a great base for any protein-packed dish including burgers, crumbles, or scramble.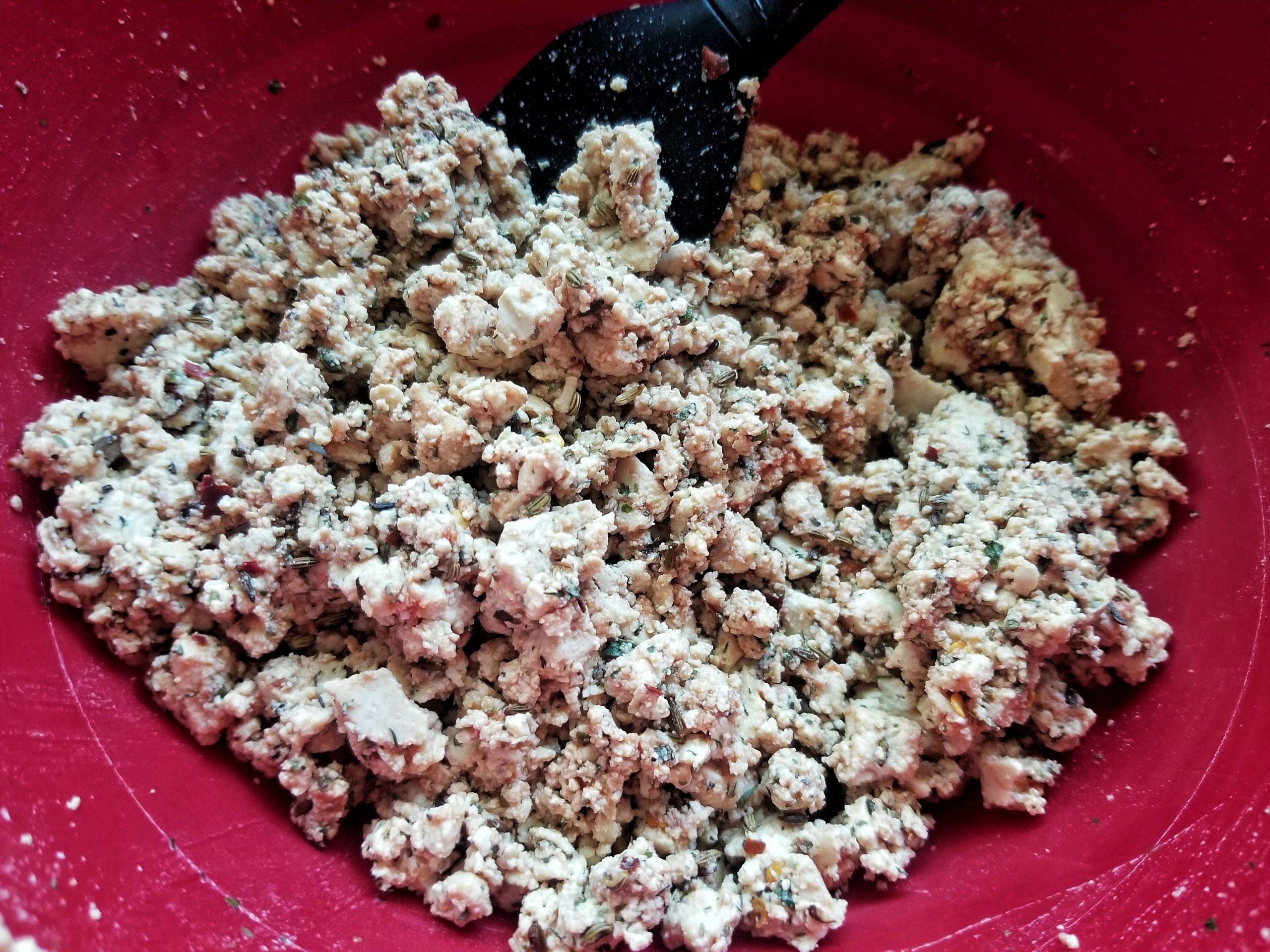 To make this recipe approachable, most of the ingredients are made up of affordable, pantry-friendly food items including tomato paste, oat flour, and seasonings.
Because our grocery trips are limited, we have been focused on stocking up our pantry to the brim.
We don't have to worry about spoilage, refrigeration, or cost as much with pantry-friendly groceries.
More Tofu Recipes :
If you're looking for a plant-based ground "beef" recipe, check out our post using walnuts.
Recipe Notes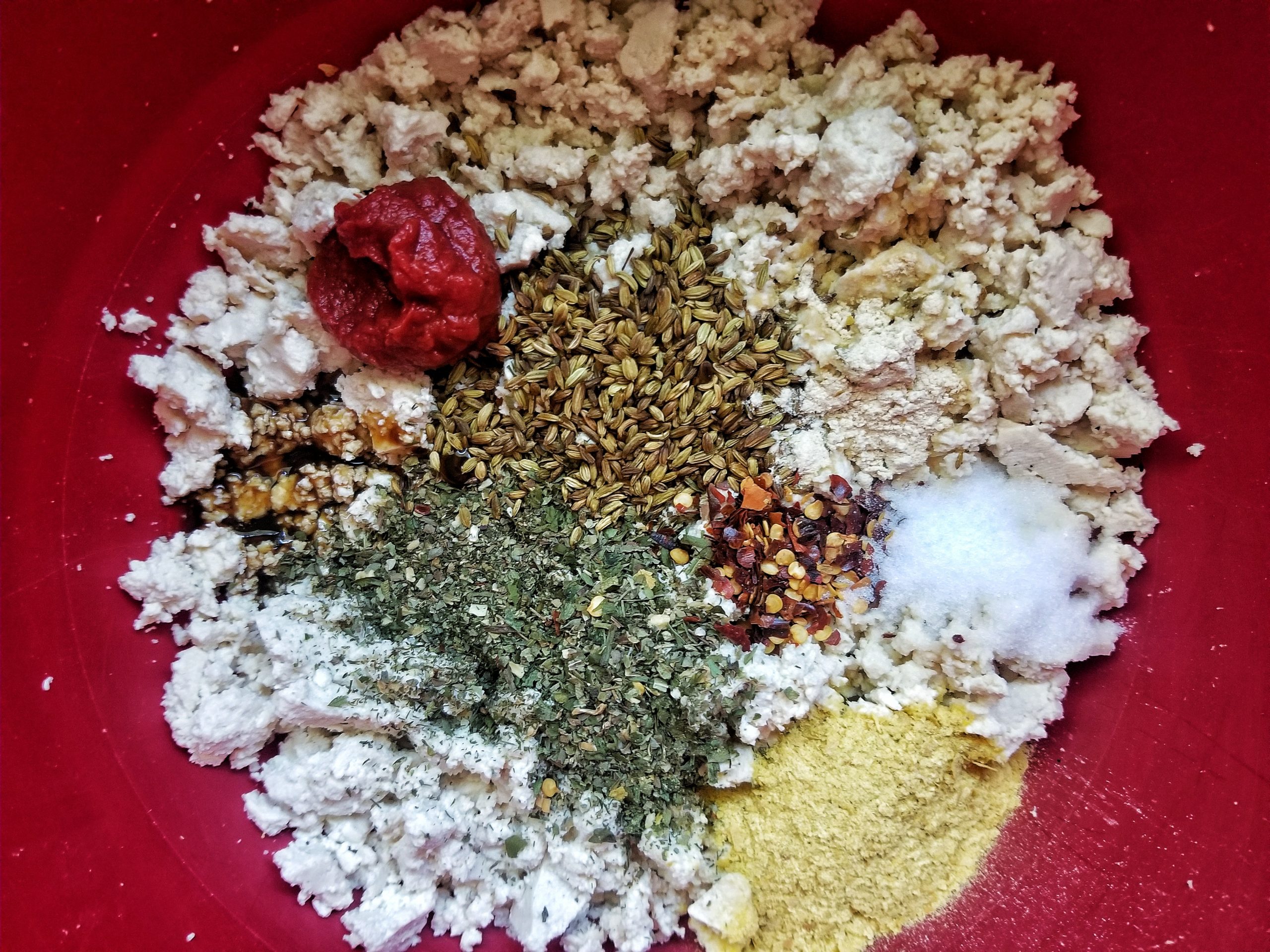 Most fennel seeds are sold toasted. You'll know they are toasted if they are slightly brown and golden. If raw, they'll be bright green. If this is the case, you'll need to dry toast them in a non-stick pan over medium heat for a couple of minutes until a deep green-gray color.
Making oat flour is easy. All you need is a blender and oats. I find old-fashioned oats and oat bran works best as a binder. Simply measure out how much flour you need, pour it into a blender, then blender until flour-like.
Nutritional yeast is optional in this recipe - it's not a deal-breaker. It's can be difficult to find, depending on your access, so feel free to leave it out.
How To Make Tofu Meatballs Oil-Free
This recipe is oven-approved! Just pop these meatless meatballs into the oven and bake them at 350 degrees F for 30 minutes.
To firm up a bit more, broil the veggie balls for about 20 minutes.
After they are done baking, pour and coat the tofu balls evenly with your favorite sauce.
Type Of Tofu To Use
I used super firm tofu from Trader Joe's for this veggie meatball recipe. Extra-firm tofu also works, you'll just need to press as much of the liquid out as possible.
If you can, I highly recommend purchasing tofu from Trader Joe's. I find the tofu there to be of great quality at a great price.
If you were wondering - silken tofu is out of the equation for this recipe. The texture is too soft but makes for great vegan ricotta. Leave the silken tofu for another recipe.
How To Bind Crumbled Tofu
We're using two things to bind the crumbled tofu into meatless balls. This includes chia "egg," which is water combined with chia seeds and homemade oat flour.
When chia seeds and water are mixed, they become gel-like after a few minutes, with a texture similar to eggs.
Another binder in this recipe is gluten-free oat flour, mentioned above in the recipe notes. Oat flour will help soak any excess moisture and create a crumble-like texture for the tofu.
Oat flour can be made with old-fashioned oats (also known as rolled oats) or oat bran. I use these two interchangeably, depending on what I have on hand.
However, I find that rolled oats yield a bit of a softer and lighter texture than oat flour.
What To Serve With Tofu Meatballs:
Anything goes with tofu meatballs just like the meat version. Enjoy it as a side, in a sub, or with your favorite sides.
Or, check our below other ways to accompany your tofu meatballs.
As much as I love pasta, my favorite way of having tofu meatballs is with a side of plain, salted, white rice.
How To Store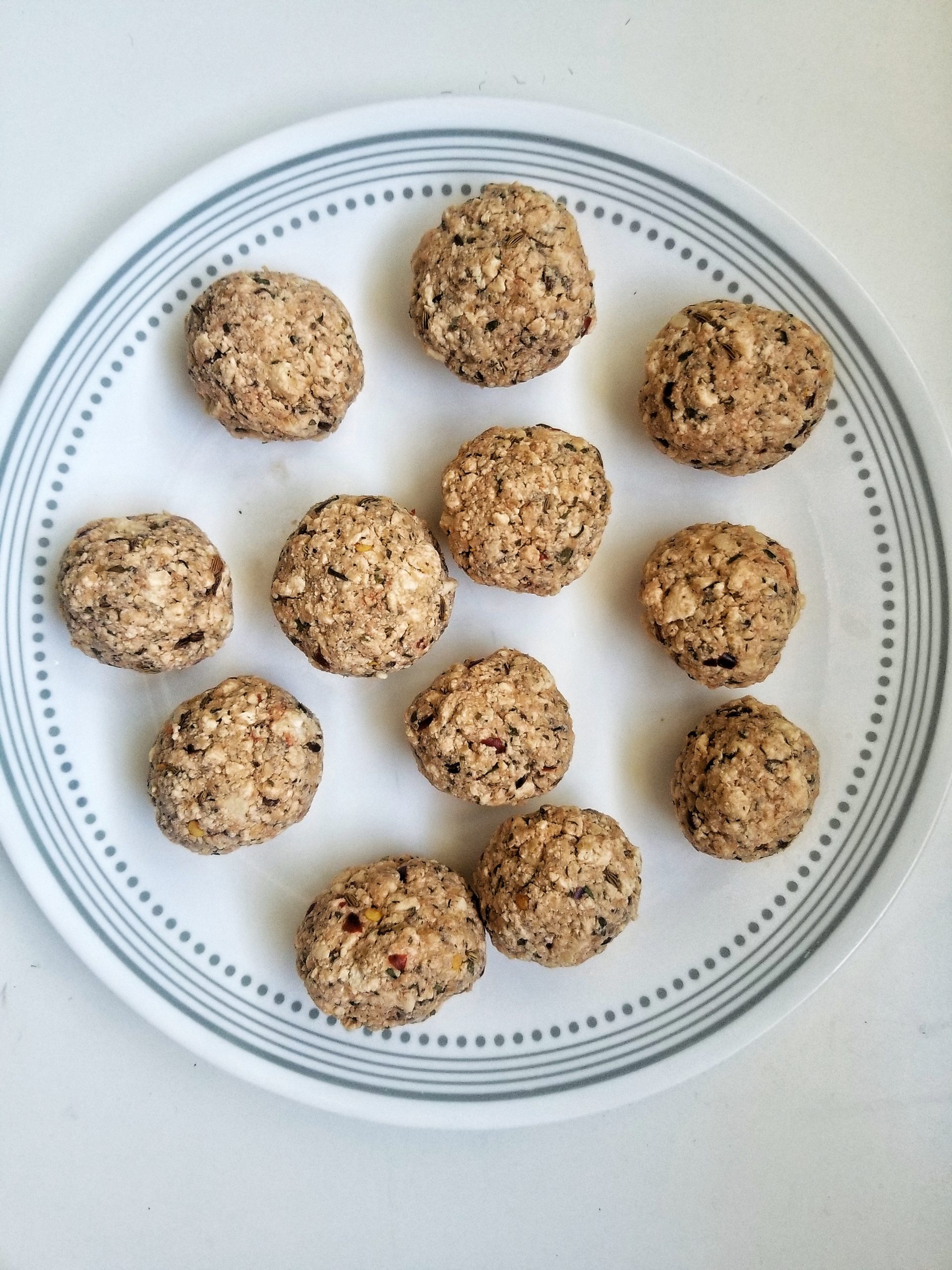 I recommend eating the vegan tofu meatballs right away to prevent getting soggy from the sauce.
However, if you're not ready to eat them, I suggest frying them later and holding off adding the pasta sauce to keep its texture intact.
If you prefer to switch it up, you can use gravy instead of spaghetti sauce. I have an oil-free, mushroom gravy recipe that pairs well with tofu meatballs.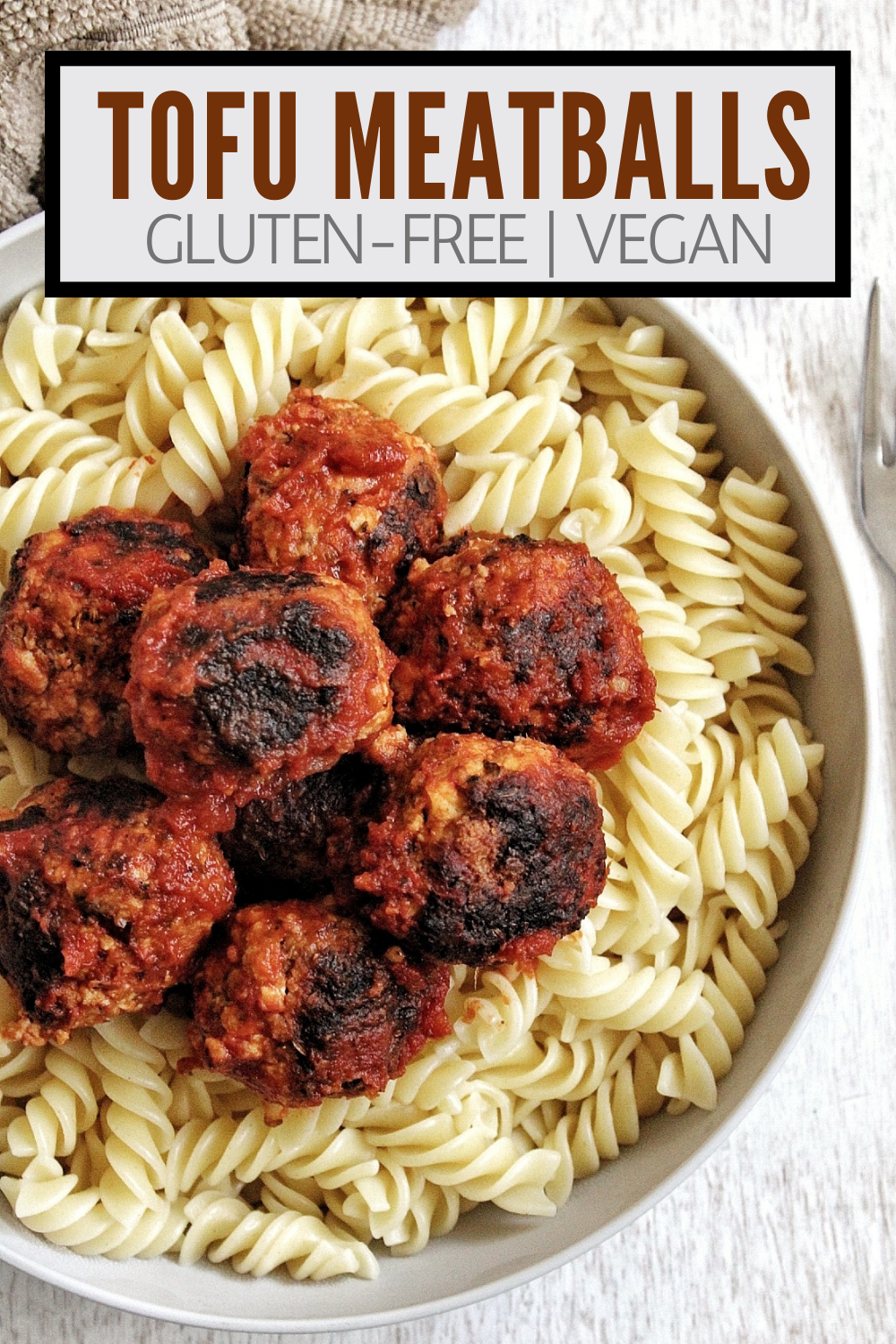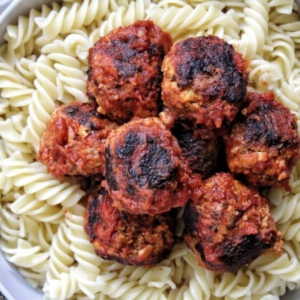 Stovetop Vegan Tofu Meatballs
Sometimes, a classic, cozy dinner recipe is everything we need at the end of a long day. We're going plant-based for our homemade vegan tofu meatballs recipe to accompany our piled-up spaghetti. 
Instructions
Press and squeeze the water from the tofu. Transfer tofu into a large mixing bowl. Next, crumble the tofu with your hands or with a fork. 

Add the Italian seasoning, garlic powder, nutritional yeast, red pepper flakes, toasted fennel seeds, salt, and oat flour. Combine. Then, add to combine the Worcestershire sauce, tomato paste, chia "egg."

Make small, golf-size balls with the tofu crumbles. Be sure to tightly pack the balls. If it's too wet, add another couple of tablespoons of oat flour until it's easy to roll into balls.  

Take enough of the mixture to make a meatball - about the size of a golf ball. Tightly pack and shape. This mixture should make about 20-22 vegan balls.

Next, add pasta sauce - add as much or as little as you prefer. Simmer for 5 minutes on low. Carefully remove from the skillet and serve. If you prefer you can add the sauce later without simmering the tofu meatballs in it.
Notes
Careful! These tofu meatballs are delicate. Gently turn and cook the vegan meatballs on all sides. 
I highly recommend using super firm tofu, specifically from Trader Joe's. If you want to use extra-firm or firm, you'll need to press the tofu as much as possible. And more oat flour might be needed. It should be dry enough to mold into meatless meatballs. 
Worcestershire sauce is traditionally made with anchovies or fish sauce. Check to make sure the one you're buying is vegan - many brands are vegan. 
To make this recipe oil-free, choose to bake these tofu meatballs. Line a baking sheet with parchment paper, place the tofu meatballs, and bake for 30 minutes at 350 degrees F, flipping halfway. Then, broil them for about 2 minutes. Pour over and coat them with your favorite sauce. 
Nutrition
Serving:
1
-Meatball
Calories:
40
kcal
Carbohydrates:
4
g
Protein:
3
g
Fat:
2
g
Saturated Fat:
1
g
Polyunsaturated Fat:
1
g
Monounsaturated Fat:
1
g
Sodium:
218
mg
Potassium:
128
mg
Fiber:
1
g
Sugar:
1
g
Vitamin A:
112
IU
Vitamin C:
1
mg
Calcium:
20
mg
Iron:
1
mg
Did you try out this Stovetop Vegan Tofu Meatballs recipe?
Please leave a comment below, share it, rate it, or tag a picture @plantbasedandbroke on Instagram and hashtag it #plantbasedandbroke. Show off that creation with us.