(
This post may have affiliate links. Please see my disclosure.
)
Jump to:
Switching out eggs and going for a tofu scramble was one of the best plant-based breakfast swaps I ever made.
You'll just need a block of firm tofu along with your favorite spices. Also, there is no need to press the tofu in this recipe! This recipeis packed with protein, keeping you feeling satisfied until it's time for the next meal.
Why You'll Love This
No pressing necessary! All you'll need to do is remove the tofu from its packaging, drain out some of the excess water, and get right into cooking!
This recipe takes only TEN MINUTES! No chopping, slicing, or complicated steps are needed for this tofu scramble.
Scrambled tofu is vegan, gluten-free, dairy-free, and packed with protein!
For more breakfast recipes, check out our tempeh bacon, mushroom bacon, oat bran porridge, and air fryer red potatoes.
Ingredients & Substitutions
Firm Tofu - Firm tofu or extra-firm tofu works great for a tofu scramble. Especially if you enjoy a meatier or chewier texture. For a softer tofu scramble, regular tofu is great.
Vegan Butter - Or, go for olive oil or a spritz of non-stick spray.
Nutritional Yeast - Nutritional yeast helps brings a touch of umami to this dish - I highly recommend adding it in and not holding back!
Turmeric Powder - Turmeric powder will provide some color to the tofu scramble. You'll only need a little bit. You can skip this spice altogether, you'll just end up with a color closer to egg whites.
Garlic Powder - Optional, but a great addition!
Salt - Add as little or as much as you want. Even consider sea salt or garlic salt. For a more "eggy" flavor, you can also go with black salt.
I highly recommend getting super-firm tofu or extra-firm tofu. These blocks have less water in them. However, regular firm tofu works, too. They may have some more water to them – but you might prefer it. Either way, you won't have to press the block. Win-win.
Recipe FAQs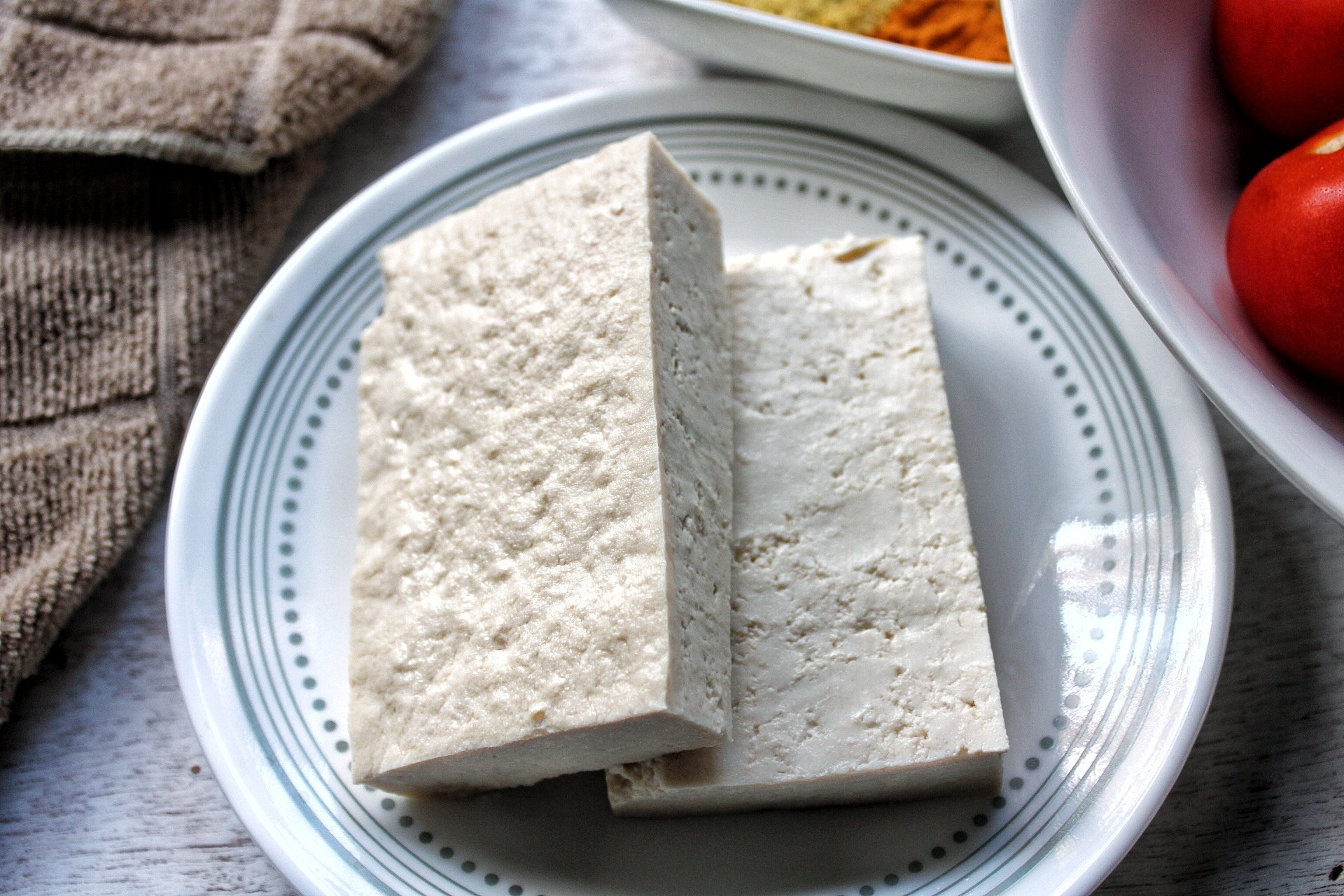 How To Make The Best Tofu Scramble
Drain excess water from the tofu block.
Crumble tofu into small pieces - either by hand or with a fork.
Heat butter in a skillet and add the tofu.
Cook tofu for a couple of minutes.
Add spices. Cook for another 6-8 minutes.
I love to serve tofu scramble as-is with a side of toast and sliced avocado. Other ways to serve scrambled tofu is in a breakfast taco or burrito - add some hot sauce and your favorite vegetables!
What Is Tofu
Tofu is a vegan, soy-based product that is made by curdling milk and molding it into a tofu block. Tofu can be made from scratch, but it's becoming widely available in stores and it'll save you time by just buying it prepared.
What Is A Vegan Tofu Scramble
A tofu scramble is a vegan take on the traditional egg scramble. Cooked similarly, tofu scramble is cooked in a pan or wok and seasoned with your favorite spices, vegetables, and flavors.
What Does Tofu Taste Like
Tofu by itself tastes rather bland and takes up the flavors you add to it. Out of the package, tofu has a subtle smell – almost clay-like.
When preparing the tofu block for a tofu scramble, all you have to do is drain the excess water from the packaging. There is no need to press the tofu block for this recipe – a bit of water is a-okay.
What Kind Of Tofu To Use For Scrambled Tofu
Firm tofu or extra-firm tofu works great for a breakfast tofu scramble. Medium/normal tofu can also be used, but it may be more water. If you opt to use this type of tofu, drain any excess water before, during, and after cooking the tofu.
Can You Keep Leftover Tofu Scramble
Yes! Once your tofu is done cooking, transfer it to an air-tight container. It can be stored in the refrigerator for up to 3 days. To reheat the scrambled tofu in the microwave, heat for 60-90 seconds.
To reheat by stovetop, transfer the tofu into a non-stick skillet and cook over medium until warm all the way through.
What To Add to a Tofu Scramble
Just about anything can be added to a scrambled tofu. Just like an egg scramble, a tofu scramble is versatile.
Some of my favorite additions include:
Tomatoes
Mushrooms
Black beans
Red Onion
Red Bell Pepper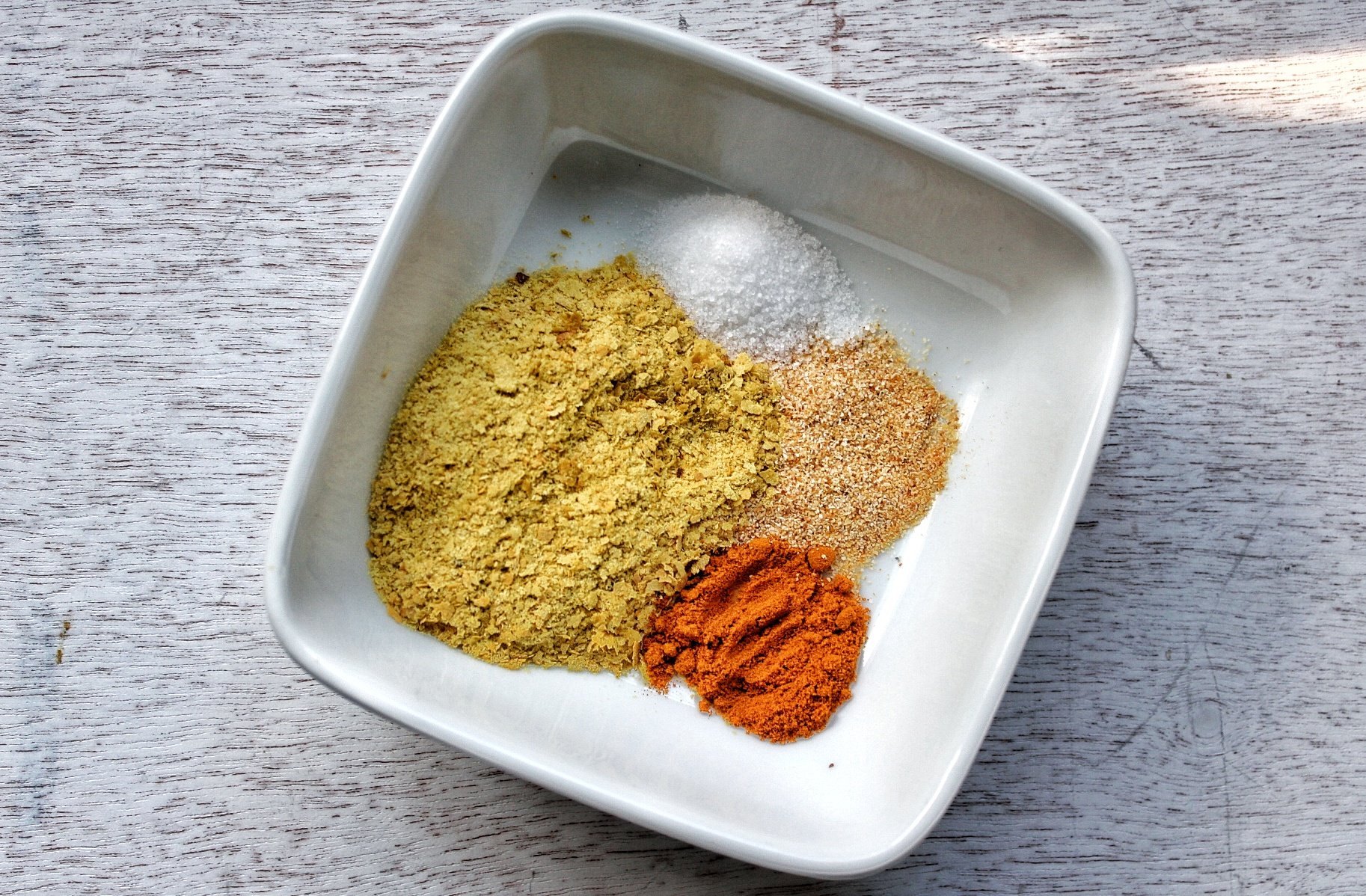 Spices to add:
Onion Powder

Garlic Powder
Smoked Paprika
Garam Masala
Salt /Black salt
Black Pepper
More Tofu Recipe:
Tried out this Tofu Scramble recipe?
Please leave a comment below, share it, rate it, or tag a picture @plantbasedandbroke on Instagram and hashtag it #plantbasedandbroke. Show off that creation with us.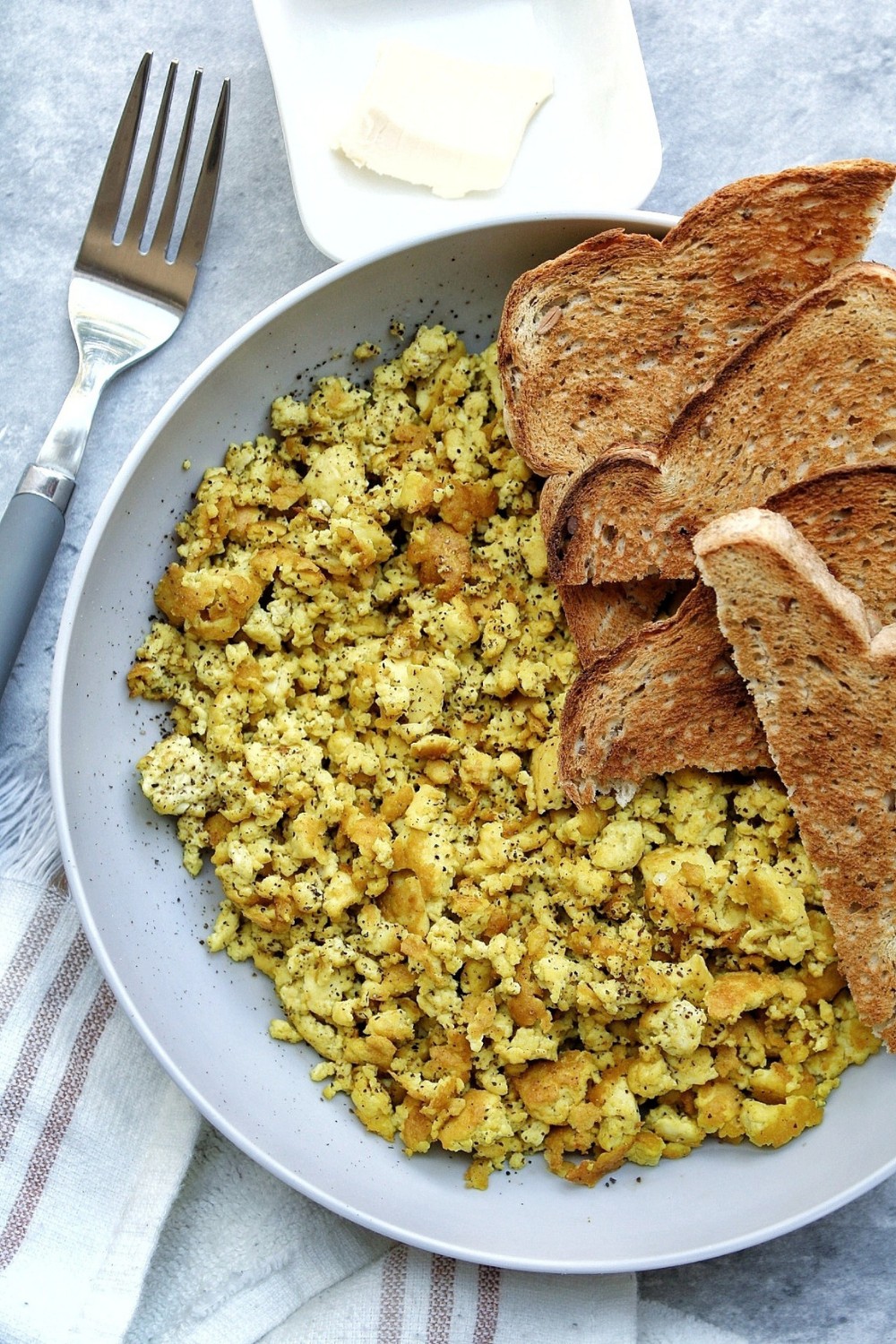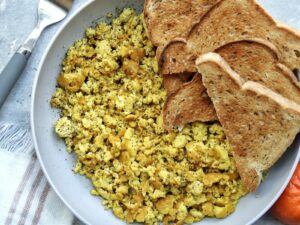 Easiest Breakfast Tofu Scramble Recipe
This super easy breakfast tofu scramble recipe is everything you want it to be: delicious, ready in 10 minutes, and satiating! This recipe is with just 6 ingredients and is 100% vegan!
Instructions
Drain the excess water from tofu. Crumble tofu with your hands or with a fork. Set a pan over high heat. Add vegan butter.

Once vegan butter had melted, transfer the crumbled tofu pieces directly to the pan. Cook tofu for 3 minutes.

Next, add the nutritional yeast, turmeric powder, garlic powder, and salt to the tofu. Stir tofu and seasonings all together. Cook for another 6-8 minutes.

Add salt and pepper. Serve.
Notes
To go oil-free, use a non-stick skillet/pan. To reduce oil, use a cooking oil spray. 
I recommend using either firm, super-firm, or extra-firm tofu. Siken tofu is very soft and will change the texture of this dish. However, go for what you enjoy. 
Nutrition
Serving:
1
-Serving
Calories:
85
kcal
Carbohydrates:
3
g
Protein:
9
g
Fat:
4
g
Saturated Fat:
1
g
Polyunsaturated Fat:
2
g
Monounsaturated Fat:
1
g
Trans Fat:
1
g
Sodium:
10
mg
Potassium:
69
mg
Fiber:
1
g
Sugar:
1
g
Vitamin A:
38
IU
Vitamin C:
1
mg
Calcium:
100
mg
Iron:
1
mg
Did you try out this 10-Minute Breakfast Tofu Scramble?
Please leave a comment below, share it, rate it, or tag a picture @plantbasedandbroke on Instagram and hashtag it #plantbasedandbroke. Show off that creation with us