(
This post may have affiliate links. Please see my disclosure.
)
---
Sometimes, I just want to eat like a king, without having to do so much work in the kitchen. I love cooking, but most days, I'd consider myself the type of cook that wants something quick, cheap, and not complicated. And this is why I whipped up this basic breakfast tofu scramble.
This tofu recipe yields about 3 servings, but honestly,  if you have my kind of appetite, you can probably eat this whole thing. Just depends what else you're having with this egg-less, tofu scramble.
---
Basic Breakfast Tofu Scramble Recipe
Cooking Notes:
Use firm tofu – that's going to get you that egg-y bite you're looking for.
If you're using extra/super firm tofu, you might need to chop in small pieces. It'll be tough tearing it apart.
Be sure to drain and pat dry the tofu as much as you can.
For this recipe I used vegan butter, but oil is fine too.
To crumble the tofu, just pull apart pieces from the block.
This takes about 10-12 minutes to cook.
Ingredients:
Directions:
Drain the excess water from tofu. Pat dry with a clean towel or paper towels.
Over a medium-hot pan, add vegan butter/oil.
Next, pull apart tofu into crumbly pieces and add directly to the pan.
Cook tofu for 3 minutes.
Add the nutritional yeast, smoked paprika, turmeric powder, salt, and garlic powder to the tofu.
Stir tofu and seasonings altogether.
Cook for another 5 minutes over medium. Then, cook at medium-high heat for another 3 minutes.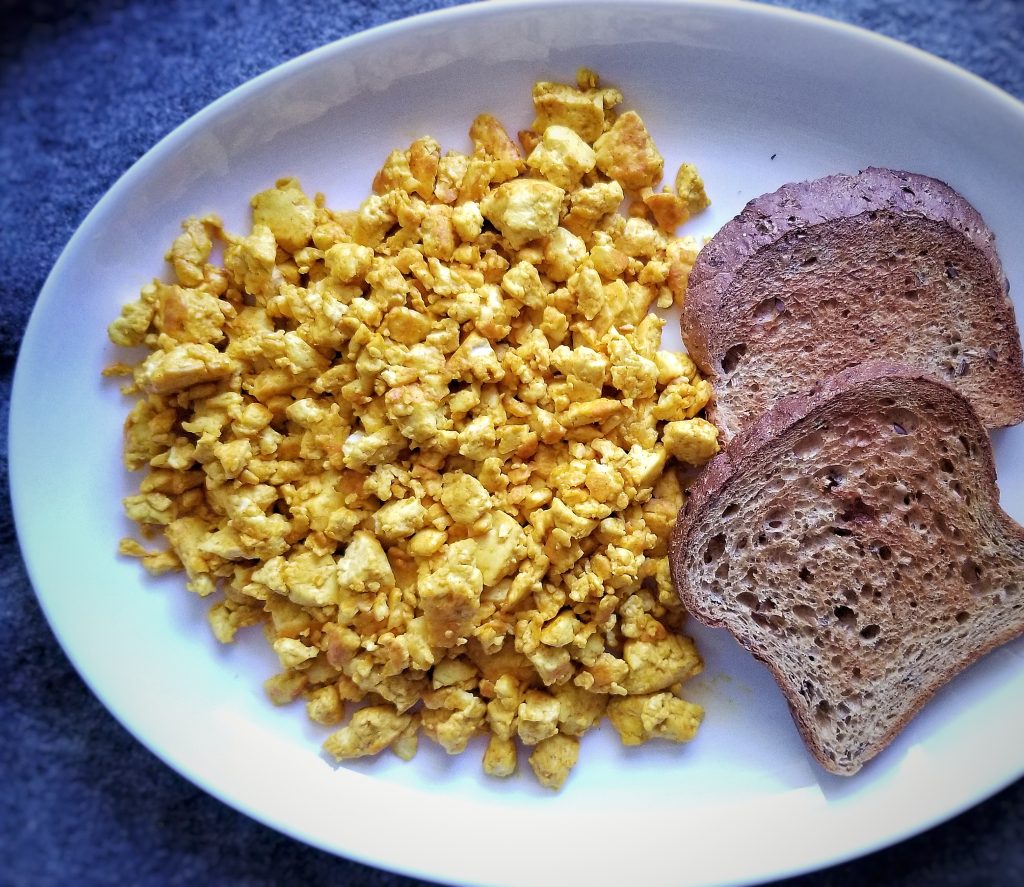 Want to bulk up your basic breakfast tofu scramble with something else? Try out these recipes:
Savory Oat Bran Bowl With Tofu
English Muffins With Black Beans
Easy Savory, Creamy Oat Bran Recipe
Be sure to check out our growing community on Facebook!
How useful was this post?
Click on a star to rate it!
Average rating 5 / 5. Vote count: 1
Please follow and like us: