(
This post may have affiliate links. Please see my disclosure.
)
If you're looking for a vegan or vegetarian equivalent to Puerto Rican pollo guisado, look no further. I've whipped up a comforting recipe using tofu. So, I am calling this Puerto Rican Tofu Guisado.
This recipe + post has been updated for clarity, a more optimal cooking technique, and additional ingredients.
Growing up in a Puerto Rican household and switching to a plant-based diet, I find myself recreating some of my favorite childhood recipes to meet my needs.
Hands down, my favorite Puerto Rican dish is pollo guisado, or also known as Puerto Rican chicken stew.
Pollo guisado is a dish with braised chicken, carrots, potatoes, green Spanish olives, sofrito, and Puerto Rican spices. We're remaking this recipe and switching out the chicken for tofu instead.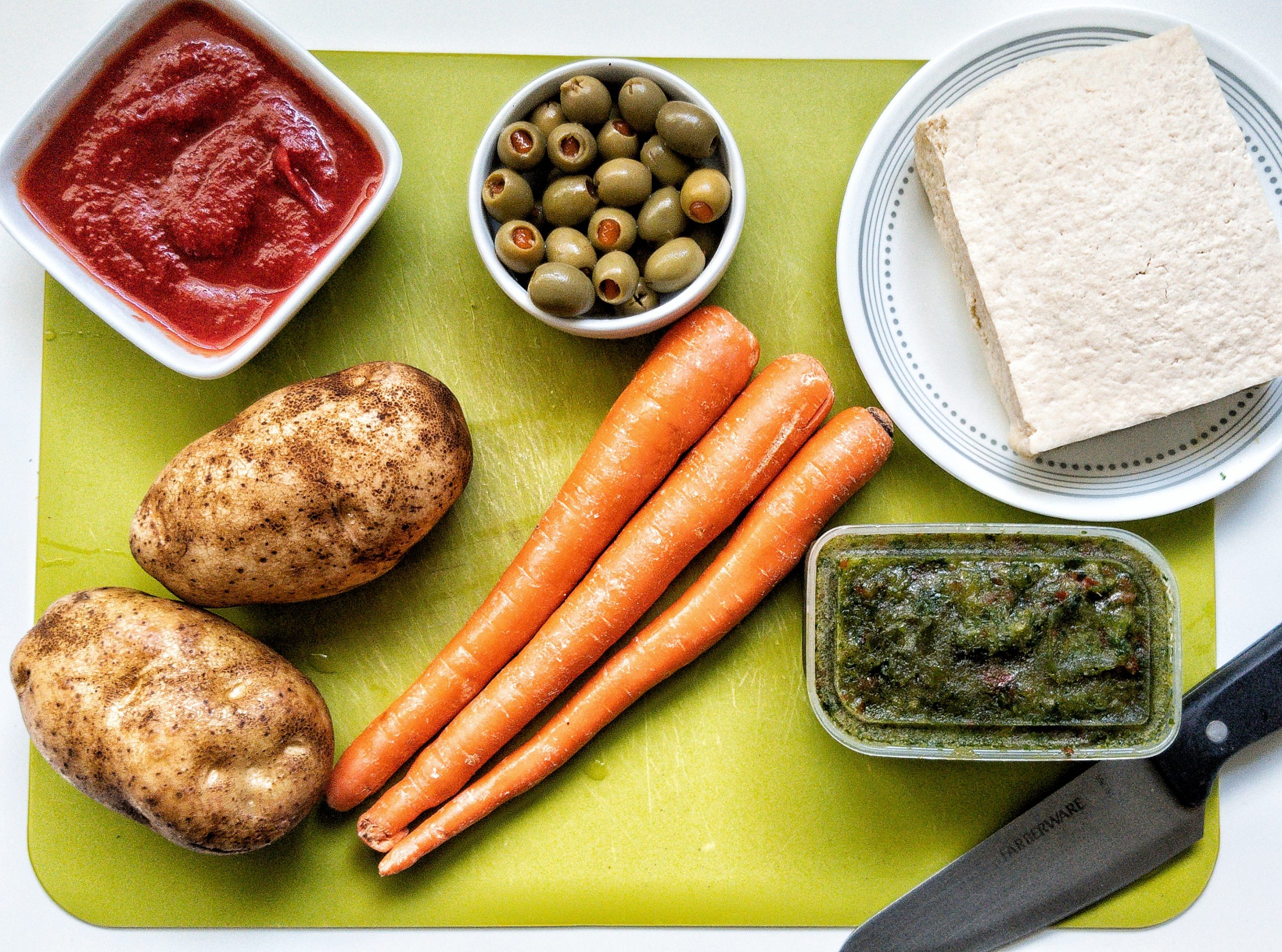 More Puerto Rican Recipes:
Cooking Puerto Rican Tofu Guisado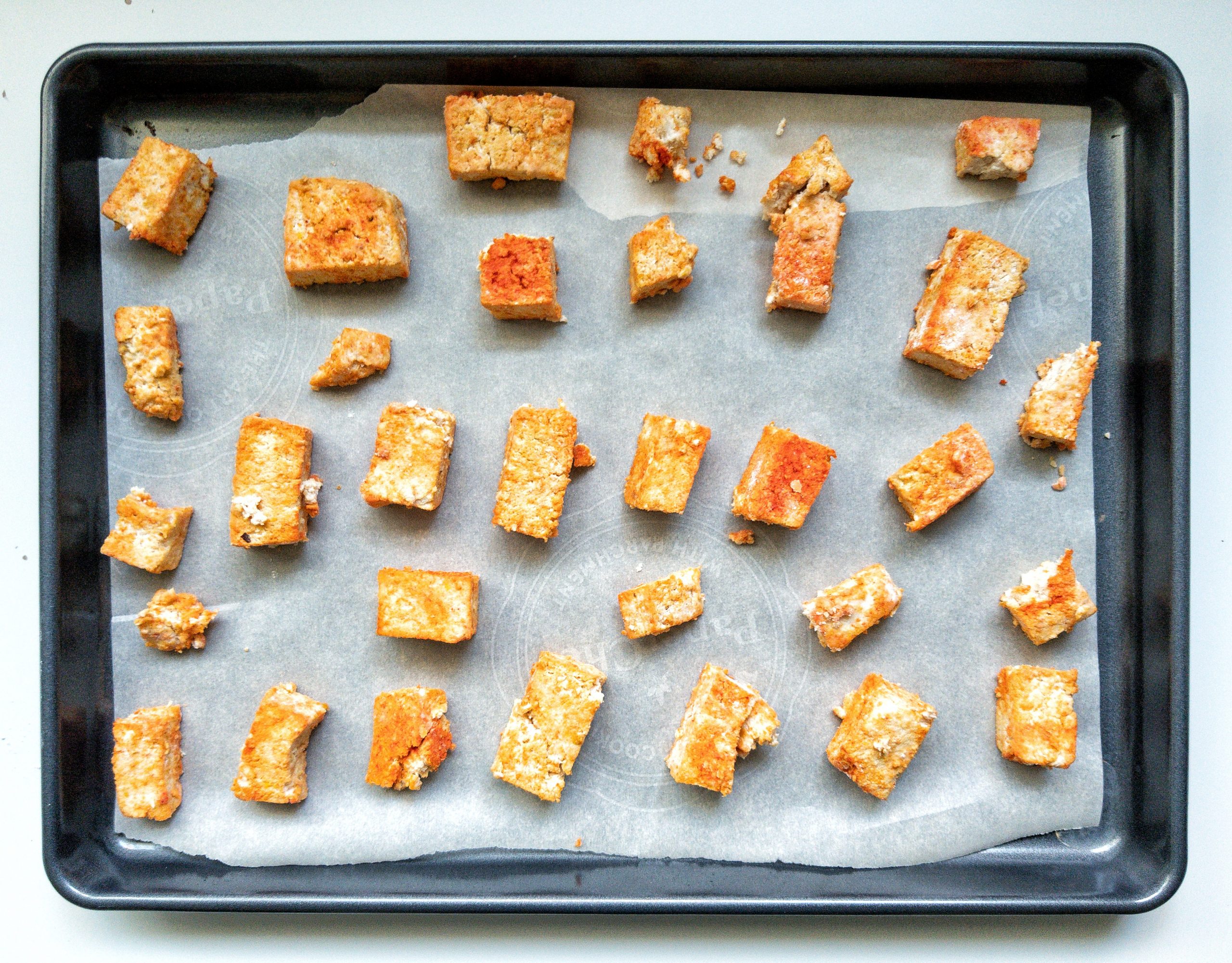 To keep things as legit as possible, we're using the same spices and ingredients traditionally used in a Puerto Rican chicken stew.
All of those are vegan – so we won't have to worry about changing anything else but the chicken.
The difference between this vegan pollo guisado and the traditional version of it is that we won't be able to cook everything together. This recipe is typically a one-pot recipe.
However, we will need to cook the tofu separately in order to achieve that "meaty" texture we're looking for.
Don't worry – we sill won't have much to clean up. Perhaps just a dutch oven/saucepot and a baking sheet.
Recipe Notes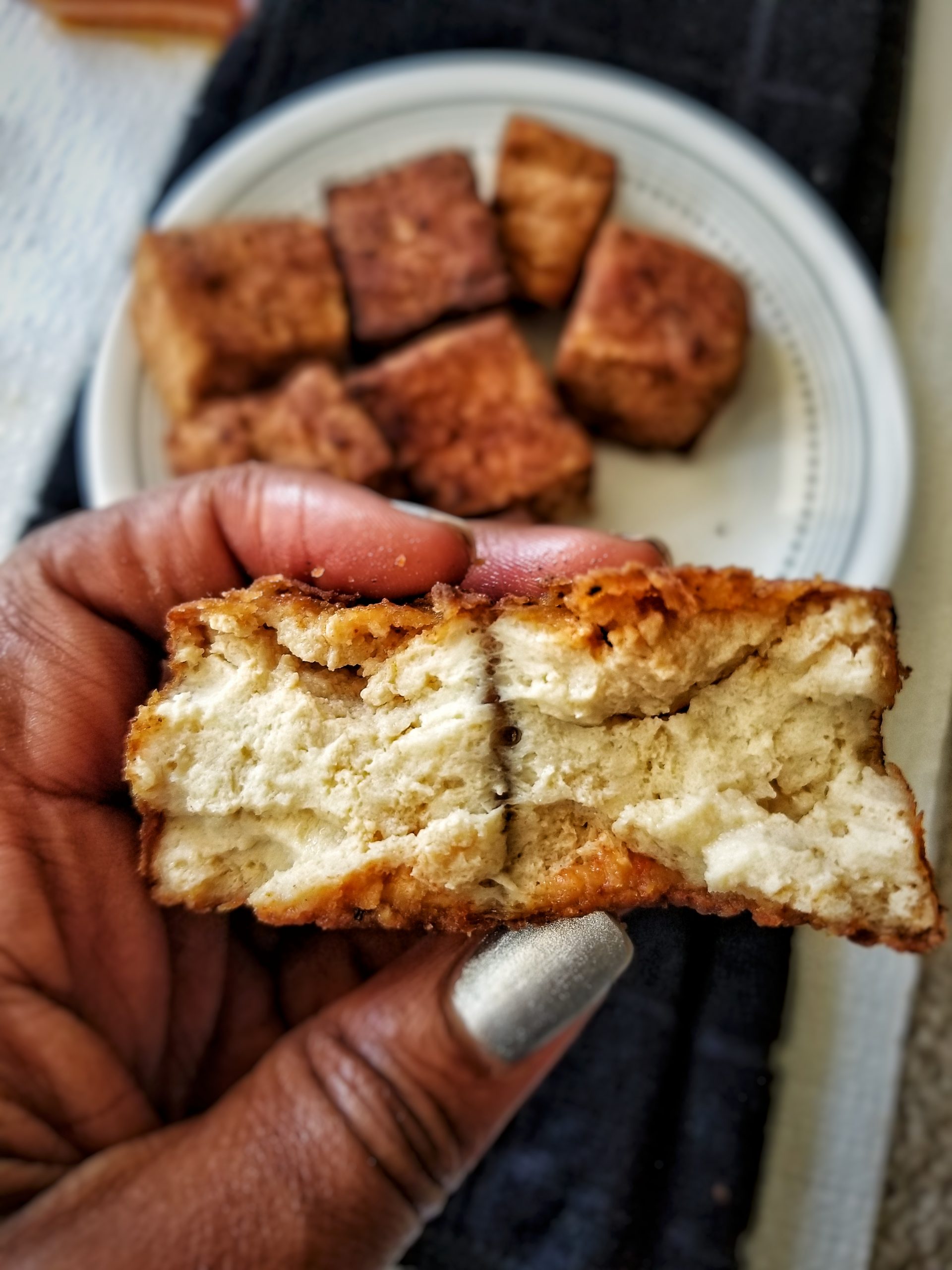 It's very important to use firm tofu that has been frozen and then thawed. This the "meat and bones" of our recipe – just vegetarian. You can just throw the entire pack into the freezer and freeze overnight, or longer. No need to remove the tofu from its packaging.
You'll want to use extra-firm or firm tofu for this recipe. This will help with texture. If you want to use more tofu for this recipe – you can just adjust the ingredients accordingly.
What To Serve With Tofu Guisado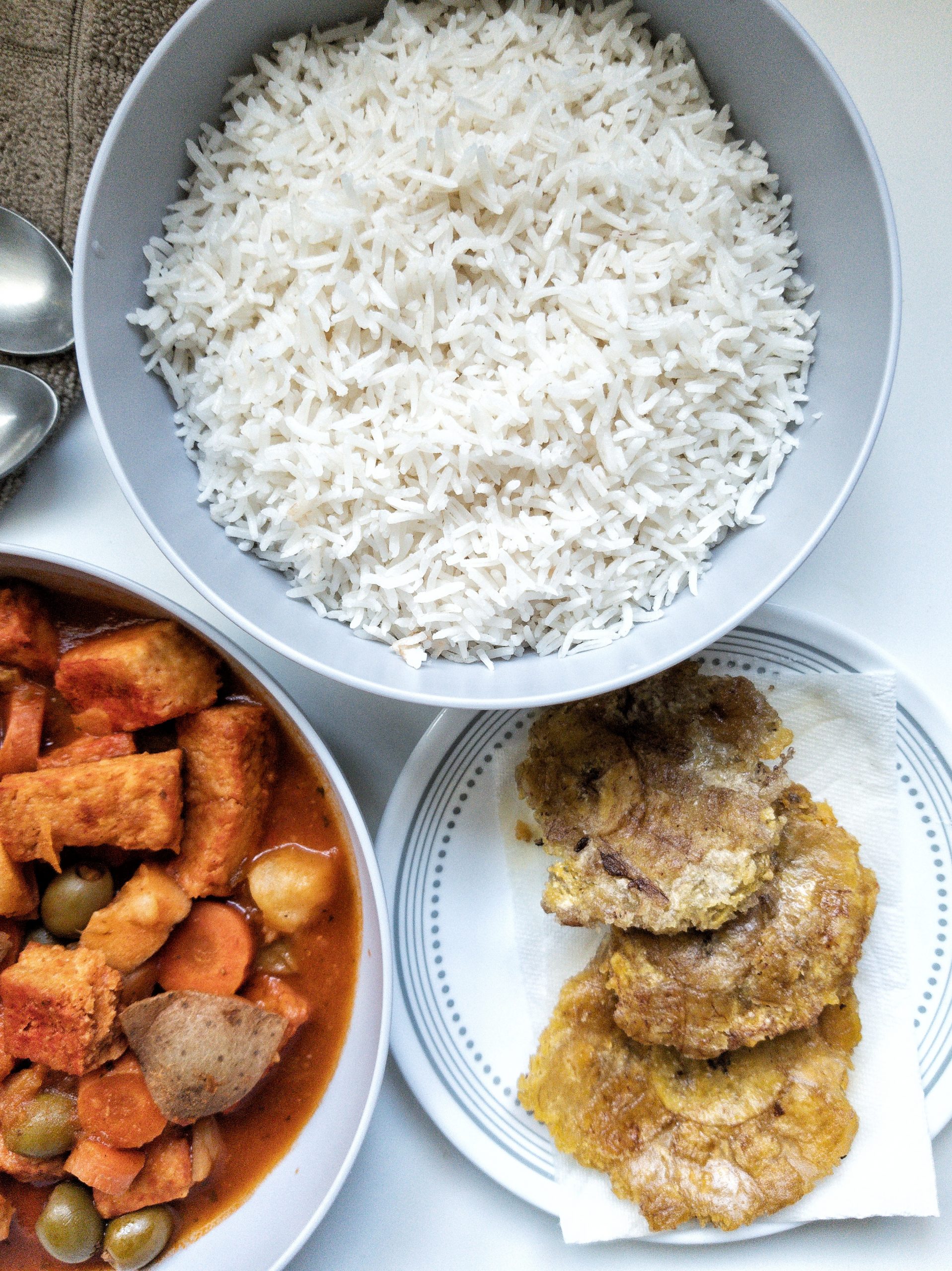 Tofu guisado is served with many different Puerto Rican side dishes.
My favorite dishes to serve with the stew include plain white rice, sliced ripe avocado, and salty/sweet plantains.
If you want to keep it simple, you can also use sides including fresh bread, mashed potatoes, or a refreshing salad.
I like to use plain white rice because it's easy to make and it complements this flavorful dish perfectly.
Where To Find Puerto Rican Spices + Sofrito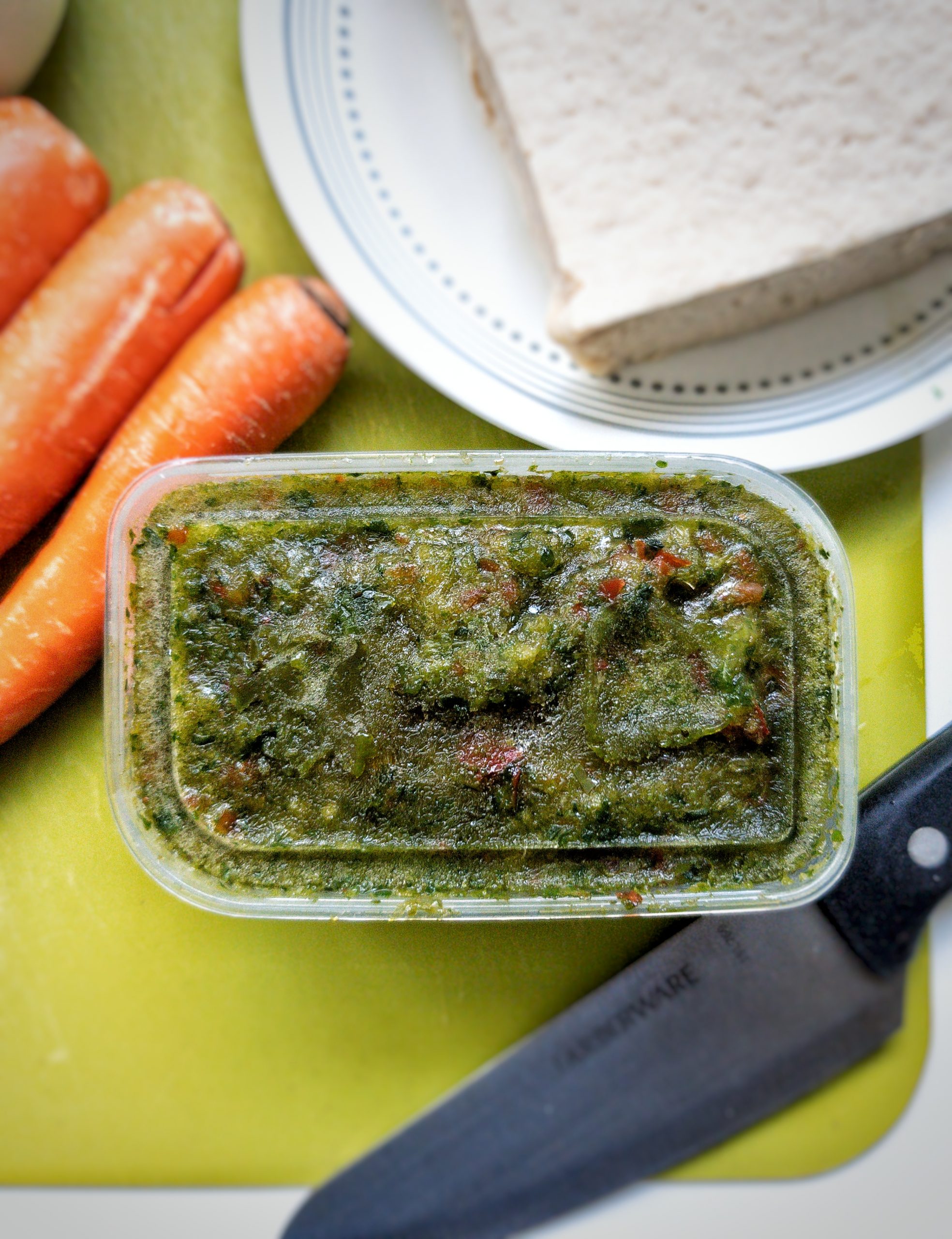 Puerto Rican spices like adobo and sazon can be found in many big-box grocery stores in their "Hispanic" or "ethnic" aisles. However, they can also be found online at Amazon.
I recommend making sofrito from scratch. It might look intimidating, but I promise it's not. It's essentially a bunch of aromatics blended until chunky and sauce-like.
Many recipes include ingredients that may be difficult to find if you're not in close proximity to grocery stores that carry a wide range of vegetables.
However, I make my sofrito with affordability and accessibility in mine. The ingredients in my homemade sofrito include onions, bell peppers, garlic, and cilantro.
Some grocery stores may sell sofrito already pre-made. I don't really recommend those, but if you don't have much of a choice, they can do.
Just a warning: they don't taste nearly as good as the homemade stuff.
If you want to learn more about sofrito, check out my What Is Sofrito post.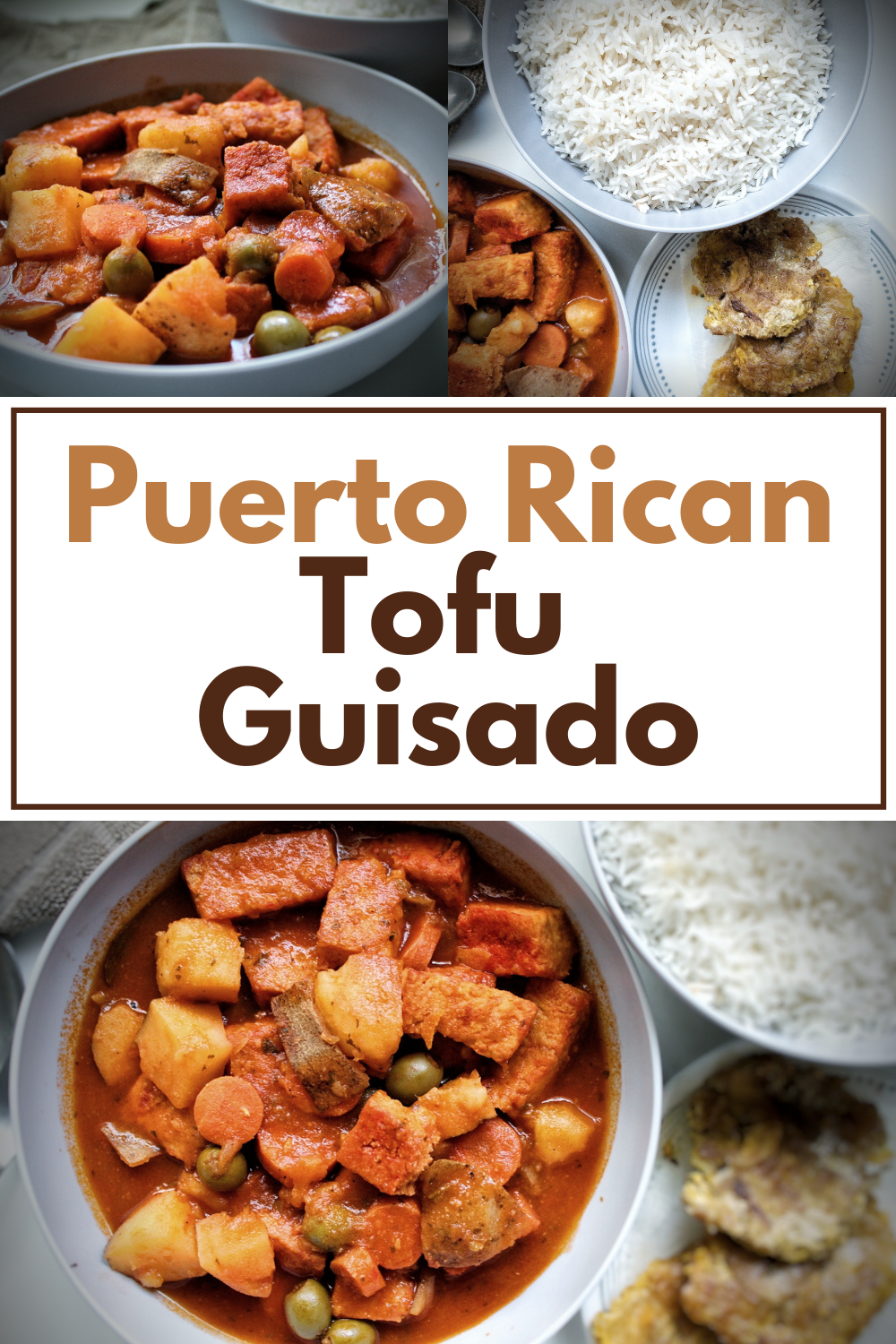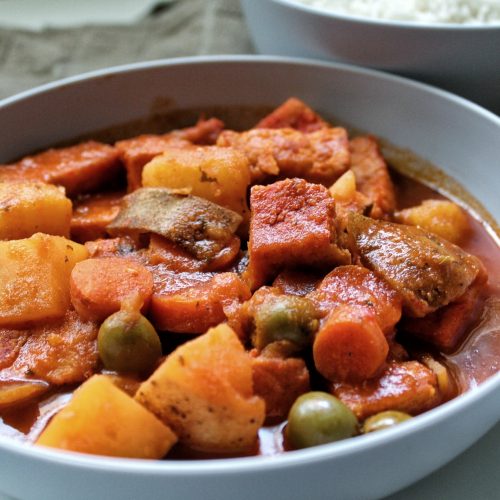 Puerto Rican Tofu Guisado
Puerto Rican Tofu Guisado made with plant-based ingredients. We're recreating a meat-heavy Puerto Rican stew and turning it into something that's still delicious, yet meat-free.
Ingredients
Tofu "Chicken"
19

ounces

frozen firm tofu

2

tablespoons

oil

1/2

teaspoon

sazon

1/2

teaspoon

nutritional yeast

(optional)

2

tablespoons

all-purpose flour
Puerto Rican Tofu Guisado
1

tablespoon

oil

1/4

cup

sofrito

4

ounces

tomato sauce

1

teaspoons

sazon

1

teaspoon

adobo

1

teaspoon

chili powder

1/2

cup

Spanish olives

(optional)

3

cups

water

1

large russet potato

chopped, bite-sized

2

large carrots

chopped, bite-sized

1

Bay leaf

Pinch of sugar

(optional)
Instructions
Tofu "Chicken"
Preheat oven to 400 degrees F. Line a baking sheet with parchment paper and set aside.

Remove the frozen tofu block from the freezer. To thaw, heat in the microwave for 10 minutes or for however long it takes to defrost. Once soft, let it cool for a couple of minutes. Then, gently press the water from the tofu with the backs of two plates.

Cut the tofu into "chicken" chunks. Then, transfer the tofu into a mixing bowl. Add the oil and evenly distribute the oil by carefully mixing onto the tofu. Add the sazon and nutritional yeast and carefully mix it again.

Next, add the flour and mix again. Place each tofu "chicken" piece onto the baking sheet with space in-between each chunk. Bake for 30 minutes, flipping halfway.
Puerto Rican Tofu Guisado
Heat a large pot or dutch oven over medium-high heat. Add oil and once hot, add the sofrito and cook for one minute. Next, add the tomato sauce, sazon, adobo, chili powderand olives. Stir and cook for another minute.

Add the water, potatoes, carrots, bay leaf. Bring stew to a boil, then reduce heat to low to a simmer and cover with a lid. Cook for 20-25 minutes, or until carrots and potatoes are tender.

Stir in the tofu "chicken" chunks into the stew. Add a pinch of sugar if the stew is too acidic from the tomato sauce. Cook for another 5 minutes. Serve.
Did you try out this Puerto Rican Tofu Guisado recipe?
Please leave a comment below, share it, rate it, or tag a picture @plantbasedandbroke on Instagram and hashtag it #plantbasedandbroke. Show off that creation with us