(
This post may have affiliate links. Please see my disclosure.
)
I scored a very large batch of basil and was trying to figure out what to do with it.
I already had made a homemade pizza with some of it, but the pesto wasn't a hard decision. It was something I've been craving for a while now.
The best part? I can store it in the freezer to stretch out its life. No need to worry about how many days left until the basil leaves become a wilted, smelly mess.
If you're a garlic fan, you're in for a delicious surprise – this recipe also pops in a heaping 5 cloves of garlic – because garlic is good in anything.
If you're used to buying store-bought pesto, I promise homemade is very esay and fast to make – ready in just 5 minutes – you have a fresh batch of pesto using the ingredients you love most.
I like to be in control of what goes into my food, so making it at home is the best way to do that. In this case, we're going nut-free, dairy-free, plant-based, and boosting up the garlic.
Similar to sofrito, basil pesto is a blend of aromatics and fresh herbs turned into a paste. Pesto is usually made with nuts, including pine nuts, walnuts, cashews, and almonds.
However, sofrito is used as a cooking base, for example, Puerto Rican rice. On the other hand, pesto is typically used raw with other recipes – we'll get to how it's used later in this blog post.
Recipe Notes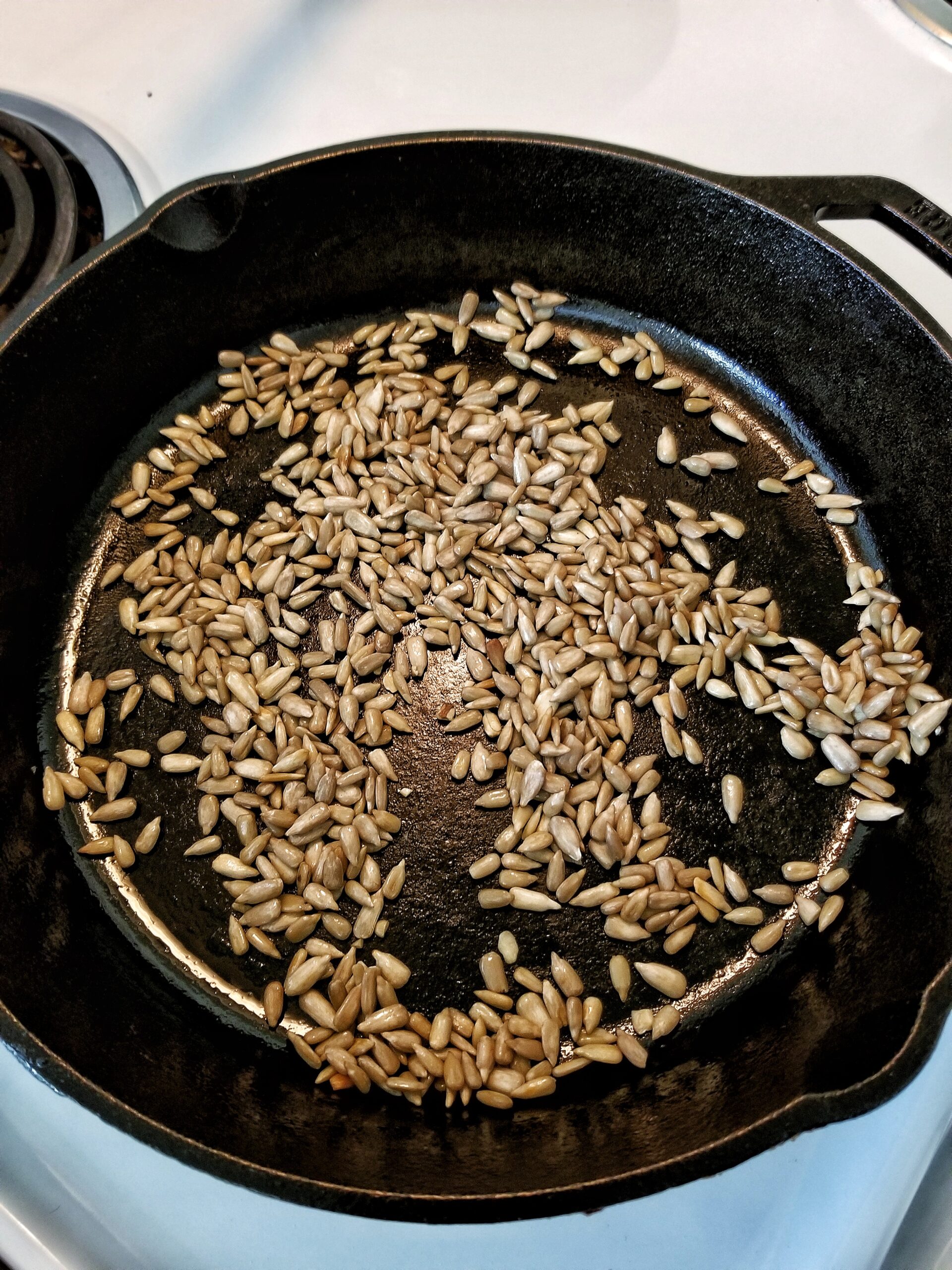 Although pine nuts are the go-to for traditional basil pesto, I opted for toasted sunflower seeds instead. I wanted to go nut-free and use what I had in abundance in my pantry – which happened to be raw sunflower seeds. The sunflower seeds were dry roasted on a skillet for a couple of minutes until golden and fragrant.
I used a blender. However, other kitchen tools that can be used to grind up pesto include a mortar and pestle and a food processor. I have a blender, so that's what I will be using. Be sure to scrape the sides and push down the ingredients in between blends (make sure the blender is not actively blending while doing this).
What To Eat With Pesto?
I love using pesto as a healthy, full-bodied spread in sandwiches or veggie wraps/burritos. However here are a few other ideas:
How To Freeze & Store?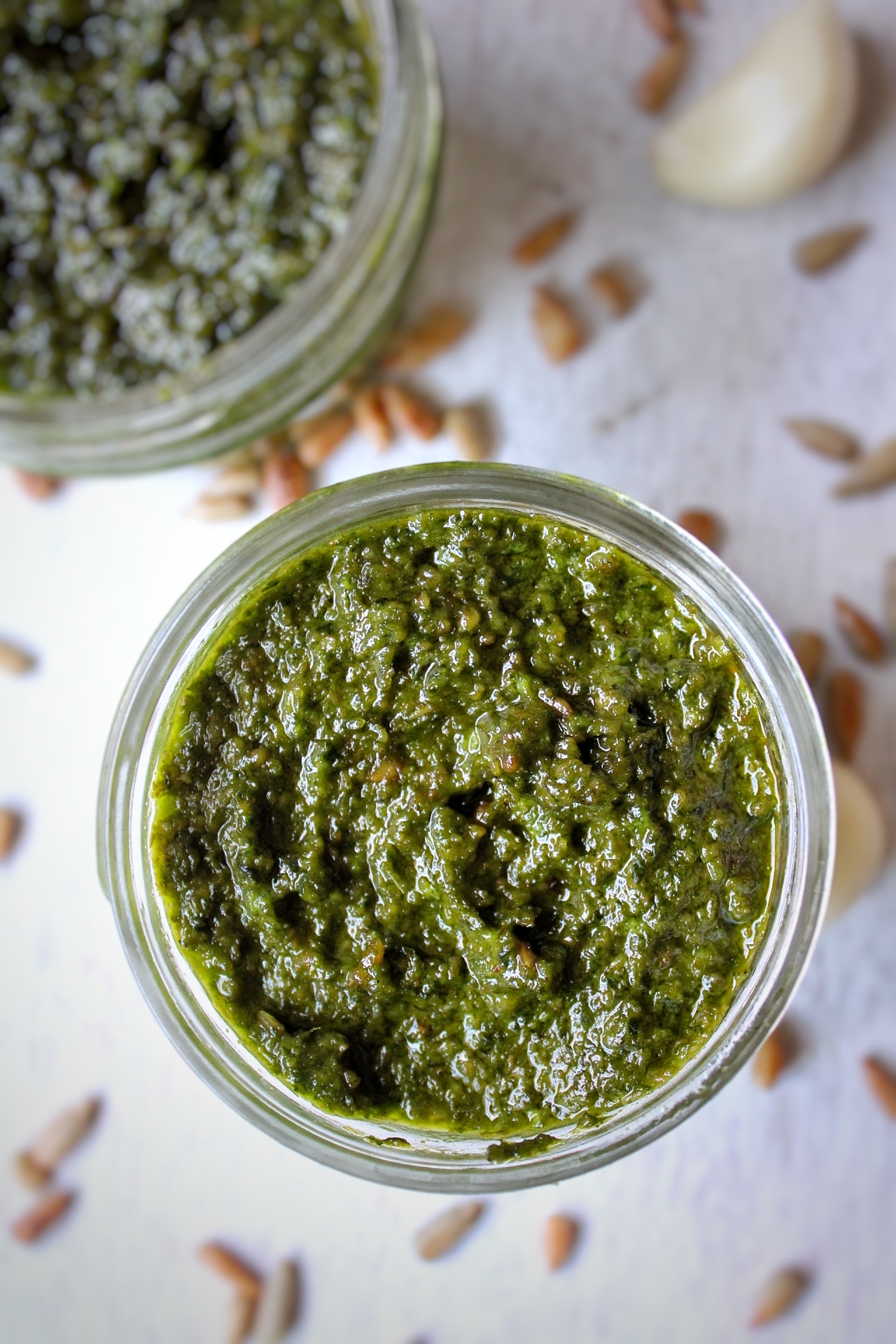 This recipe makes about 8 ounces worth of pesto. I like to use two, 4-ounce canning jars to store.
They can keep in the refrigerator for up to 5 days, or in the freezer for several months.
The pesto can turn brown or dark from exposure to oxygen – this is normal.
However, to prevent the basil pesto from turning brown/dark on top, fill a 4-ounce canning jar with the pesto to nearly to the top. Then, pour a bit of olive oil, enough to cover.
The olive oil will act as a seal to prevent oxidation.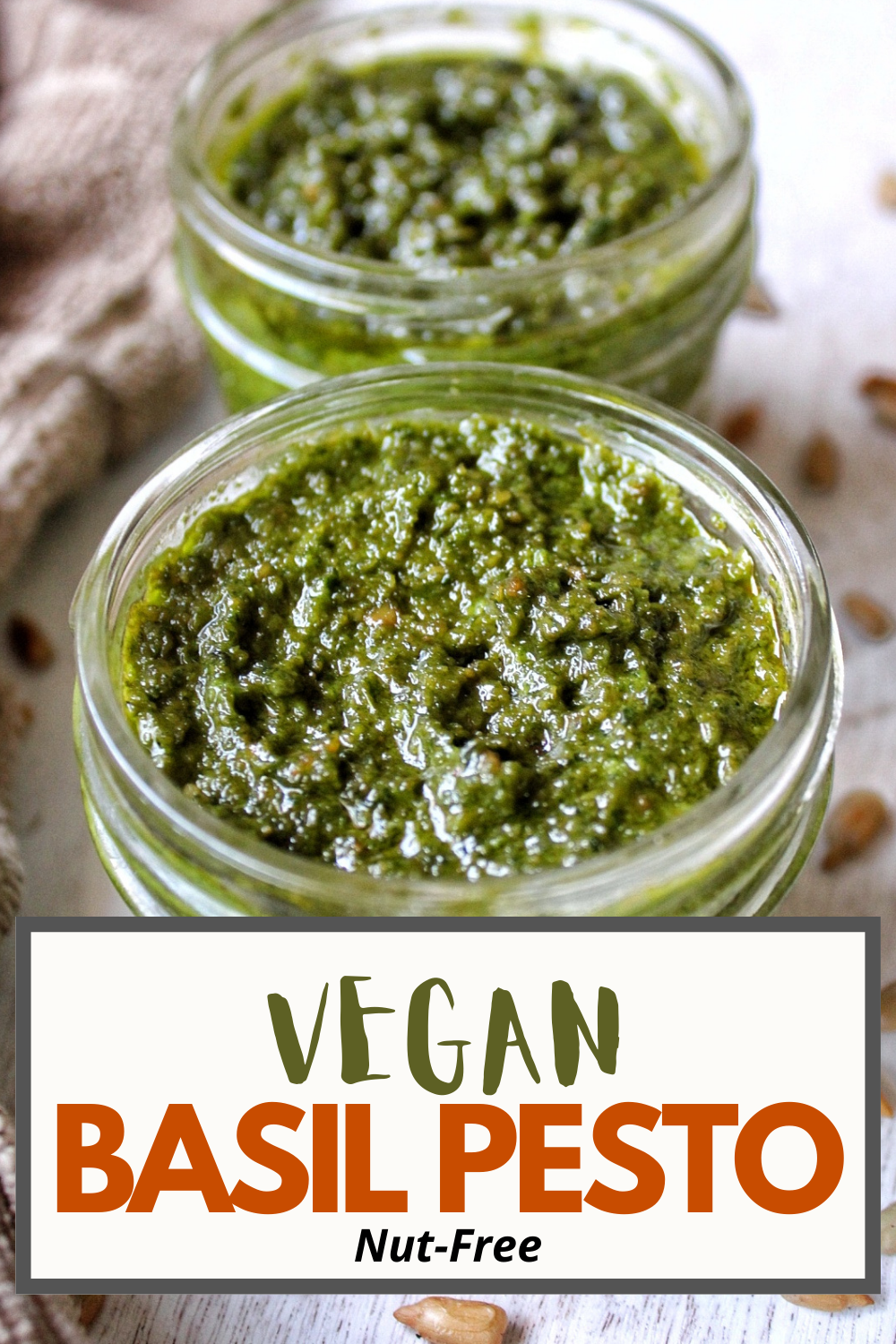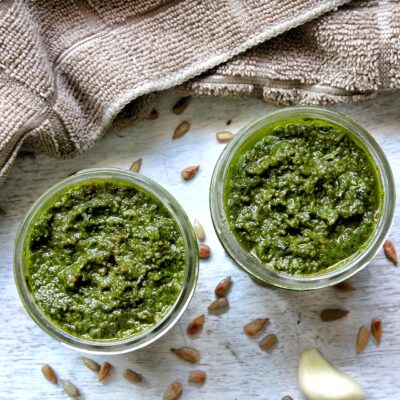 Nut-Free Vegan Basil Pesto
Easy, nut-free, garlicky, vegan basil pesto done in just 5 minutes. The perfect sauce to dress up your pasta, sandwiches, veggie wraps, or soups.
Ingredients
1/3

cup

raw sunflower seeds

no shell

2.5

cups

fresh basil packed

or 2.5 ounces

5

garlic cloves

1/2

teaspoon

salt

1/3

cup

olive oil
Instructions
In a blender or food processor, add the fresh basil, toasted sunflower seeds, garlic cloves, salt, and olive oil. Blend until you have a paste. Scrap the sides and push the ingredients towards the blade in between blends – when the blender is not active.

Use immediately, or store in the refrigerator for up to 5 days, or store in the freezer.
Notes
To freeze, pour the pesto into a 

mason jar and add a bit of olive oil on top to act as a seal to prevent oxidation. Then, close with a lid.

I blend my pesto on a low "liquid" setting on my blender. 

If you want a boost of umami or "cheesiness" in this pesto recipe, add 1-2 tablespoons of nutritional yeast. 
Did you try out this Nut-Free Vegan Basil Pesto recipe?
Please leave a comment below, share it, rate it, or tag a picture @plantbasedandbroke on Instagram and hashtag it #plantbasedandbroke. Show off that creation with us.