(
This post may have affiliate links. Please see my disclosure.
)
Ready for these epic, crispy buffalo cauliflower wings? Time to pull out those big sweatpants and leave room for seconds and thirds.
These wings have the perfect about of crispiness, tenderness, and flavor – these vegan buffalo cauliflower wings will send you over the moon.
They are the perfect snack for a daytime party, game day appetizer, or just a snack to have that you prefer not to share.
These cauliflower wings are pretty easy to make. They don't require a lot of ingredients and you'll have them ready in under an hour.
Cooking Ingredient I Want To Highlight
For this recipe, I used a thick and rich batch of buffalo wing sauce made by Sweet Baby Ray's. What I love about this buffalo wing sauce is that it's hot – but not too hot. I can handle some heat, but I prefer not to cry while eating wings.
Additionally, it's packed with a deep flavor including garlic and a "buttery" finish.
This sauce is also vegan, gluten-free, and it's a popular brand that's sold in most grocery stores. Sweet Baby Ray's Buffalo Wing Marinade and Sauce may also be found online.
Other Sauces To Use For Cauliflower Wings
Hot Sauce
Honey BBQ Sauce
Honey Soy Sauce
Lemon Pepper Sauce
Teriyaki Sauce
Honey Sriracha Sauce
Honey Mustard Sauce
Sweet Chili Sauce
Mango Habanero Sauce
Hickory Smoked BBQ Sauce
Curry Sauce
This recipe can be modified for a homemade sauce or switched out for a different sauce.
Sides To Include With Buffalo Cauliflower Wings
A buffalo cauliflower wing recipe is not complete without a side that's pile-high. A few of my favorites include baked, seasoned potato wedges and crispy onion rings.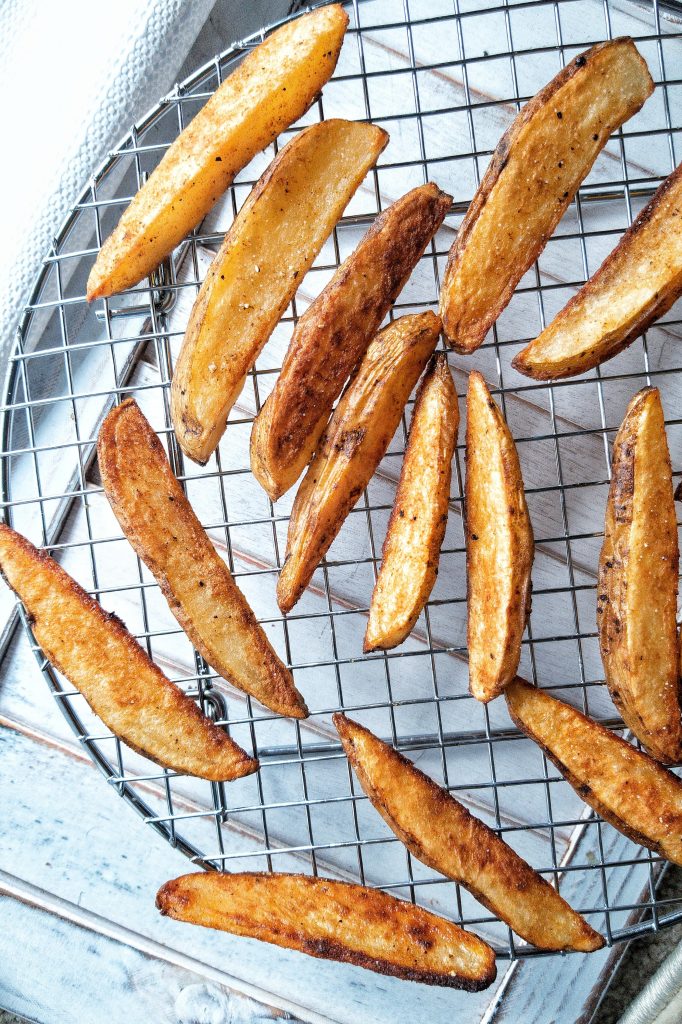 Here are a few ideas for sides:
Other sides include avocado fries, cornbread, and macaroni salad. If you're looking for something new, go for homemade potato chips. They are easy to make and you have complete control over the flavor. I bake mine, but they can also be fried.
Or, you can skip the sides and reinvent this dish and incorporate it into something else. One way to use buffalo cauliflower wings is by building a hearty veggie burrito.
Let's show the world that a vegan burrito is more than just a bed of lettuce and salt – it can be built mean and green and a dinner winner for both vegetarian and meat-eaters alike with these buffalo cauliflower wings.
Add cooked brown rice, lettuce, and vegan sour cream to balance out the heat. How ever you choose to have your wings, just sit back, turn up some tunes, and enjoy what you've created right in your kitchen.
---
Crispy Buffalo Cauliflower Wings
Crispy, tender, and packed with flavor. These crispy buffalo cualiflower wings are a great party snack, or as a kid-friendly meal. Pile up those plate with these spicy and "buttery" wings that'll satisfy vegetarians and meat-eaters alike.
Ingredients
1

head

cauliflower

1

cup

all-purpose flour

1

cup

panko bread crumbs

1

cup

buffalo sauce

1

cup

dairy-free milk/water

1

tablespoon

vegan butter

1

tablespoon

garlic powder

1

teaspoon

smoked paprika

1/2

teaspoon

salt
Instructions
First, preheat oven to 450 F. Line baking sheet with parchment paper.

Rinse and cut cauliflower into bite-sized pieces. Pat dry.

In a large bowl, combine the flour and vegan milk. Whisk until smooth.

Next, In another large bowl, combine the bread crumbs, garlic powder, smoked paprika, and salt.

Drip each cauliflower floret into the batter and coat evenly. Tap the excess off 2-3 times against the inside of the bowl.

Then dip the floret into the dry bowl with bread crumbs. Coat evenly.

Next, lay the florets on the baking sheet lined with parchment paper. Giving space between each floret.  

Bake for 10 minutes. Flip. Then bake the other side for another 10 minutes.

During the second ten minutes, in a small saucepan over low heat, add the buffalo sauce and butter. Stir until butter has melted.

Coat the wings with the buffalo sauce. Then, add them back onto a baking sheet.

Finally, bake for another 10 minutes. Flip. Then bake the other side for another 10 minutes.
Notes
You'll want to use parchment paper. This will provide maximum crispiness. It's non-stick and will prevent the result of soggy wings. Note, wax paper is not the same as parchment paper, nor are they an alternative to use in an oven. They will burn/melt/catch on fire. Don't use those.
When it's time to batter up your wings, make sure to tap the wings a few times against the bowl to remove any excess batter.
When placing the wings onto a baking pan lined with parchment paper, give them space. One inch apart should do. If they are too close together, they'll steam and you won't get that crispiness your mouth deserves.
If you're looking for something gluten-free, you can use gluten-free flour, like almond flour.

Side note: I tested these wings with oat flour – it's not my favorite. Additionally, It didn't quite soak up the buffalo sauce, the taste of oats is detectable, and it wasn't crispy.  However, feel free to experiment.

If you're using a whole cauliflower, cut them into small florets. Smaller florets mean more flavor, crispiness, and fun.
---
---
Did you try out this Crispy Buffalo Cauliflower Wings Recipe?
Please leave a comment below, share it, rate it or tag a picture @plantbasedandbroke on Instagram and hashtag it #plantbasedandbroke. Show off that creation with us