(
This post may have affiliate links. Please see my disclosure.
)
Jump to:
When I need a dish that can serve a crowd, my go-to is a Mushroom Lentil Loaf. Whether served during the holidays or for large family gatherings - a great way to satiate those hungry bellies.
Because this thing has FIBER (thanks to the lentils + oat flour).
To make this dish a full meal, I enjoy adding sides including mashed potatoes, stuffing, mushroom gravy, or green beans. For a gluten-free gravy, check out our onion gravy.
Growing up, we had meatloaf here-and-there, mostly cooked by my abuela. It was one of my favorite meals to have. There was just something about the mix between sweet and umami that really fired up my tastebuds.
Sometimes, we'd have it for Thanksgiving because my abuela wasn't big on turkey (I get it - I thought it was overrated, too).
Anyway, I decided to make a meatloaf my way - 100% plant-based.
Why You'll Love This Recipe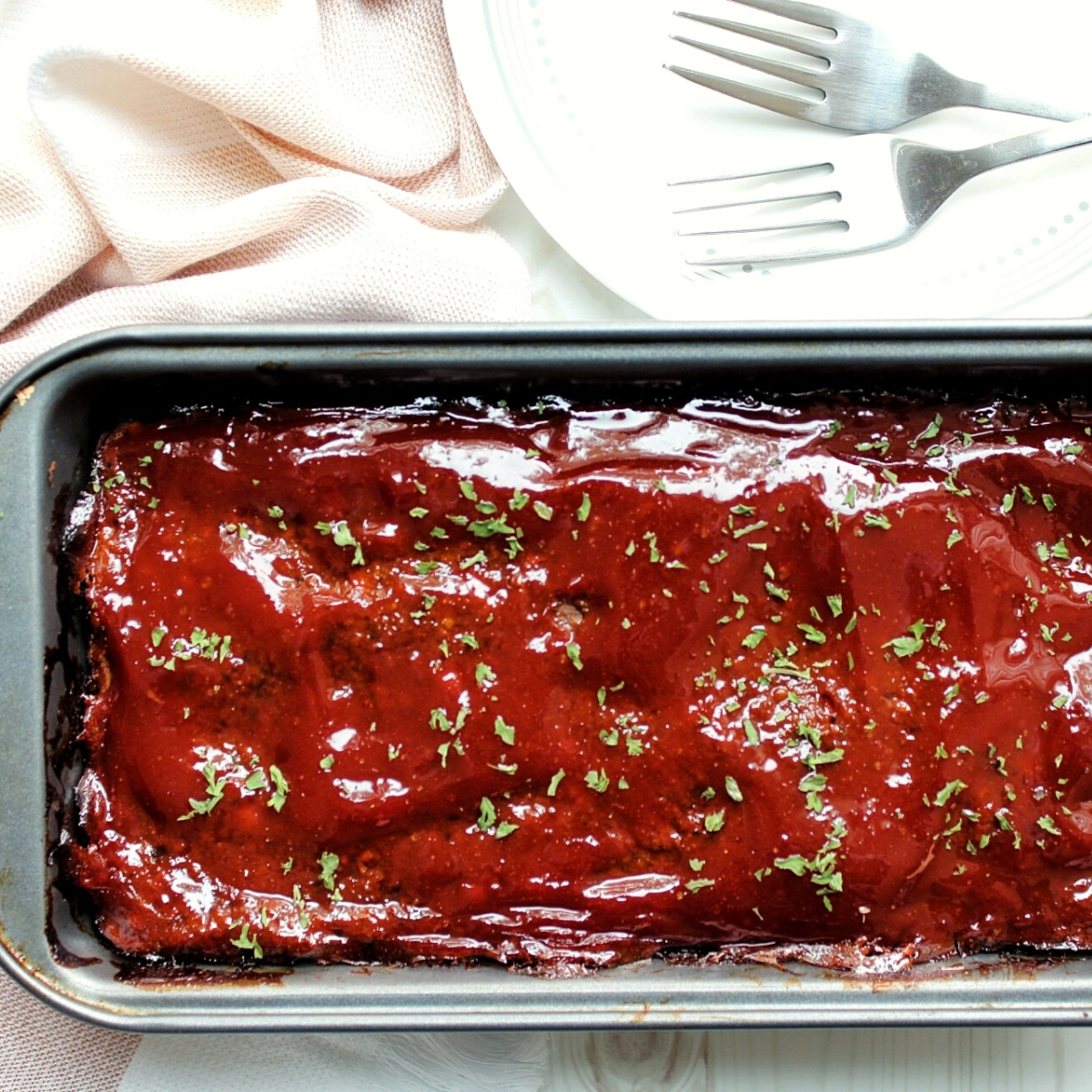 This recipe is made with easy-to-find, plant-based ingredients.
It's a great, meat-free alternative that both the veg and meat-eaters will enjoy.
It's an easy recipe. To make it even easier, prepare the lentils ahead of time and purchase mushrooms that are already sliced.
Ingredients Needed For This Recipe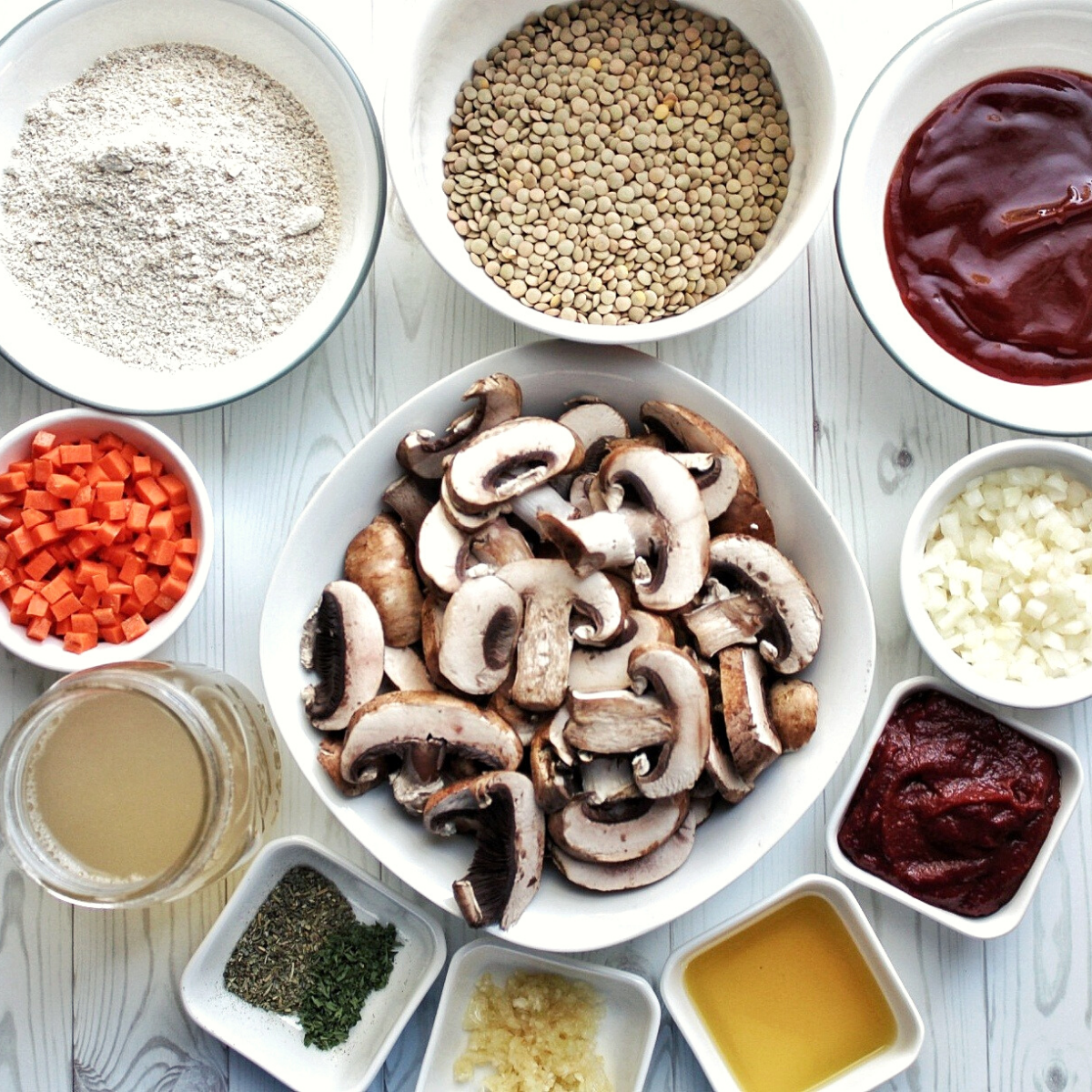 Lentils - Green or Brown Lentils
Vegetables - Mushroom, Onion, Carrots, Garlic
Spices - Italian Seasoning, Dried Parsley
Pantry Staples - Olive Oil, Mushroom Broth, Tomato Paste, Soy Sauce, Vegan Worcestershire Sauce, Oat Flour, Ketchup, Brown Sugar
To go oil-free simply swap out the oil for a dash of water when cooking the vegetables in a non-stick pan.
If you don't have mushroom broth handy, any kind of broth will work. Or, simmer the lentils in salted water.
To go gluten-free, switch out the soy sauce for tamari.
How To Make This Dish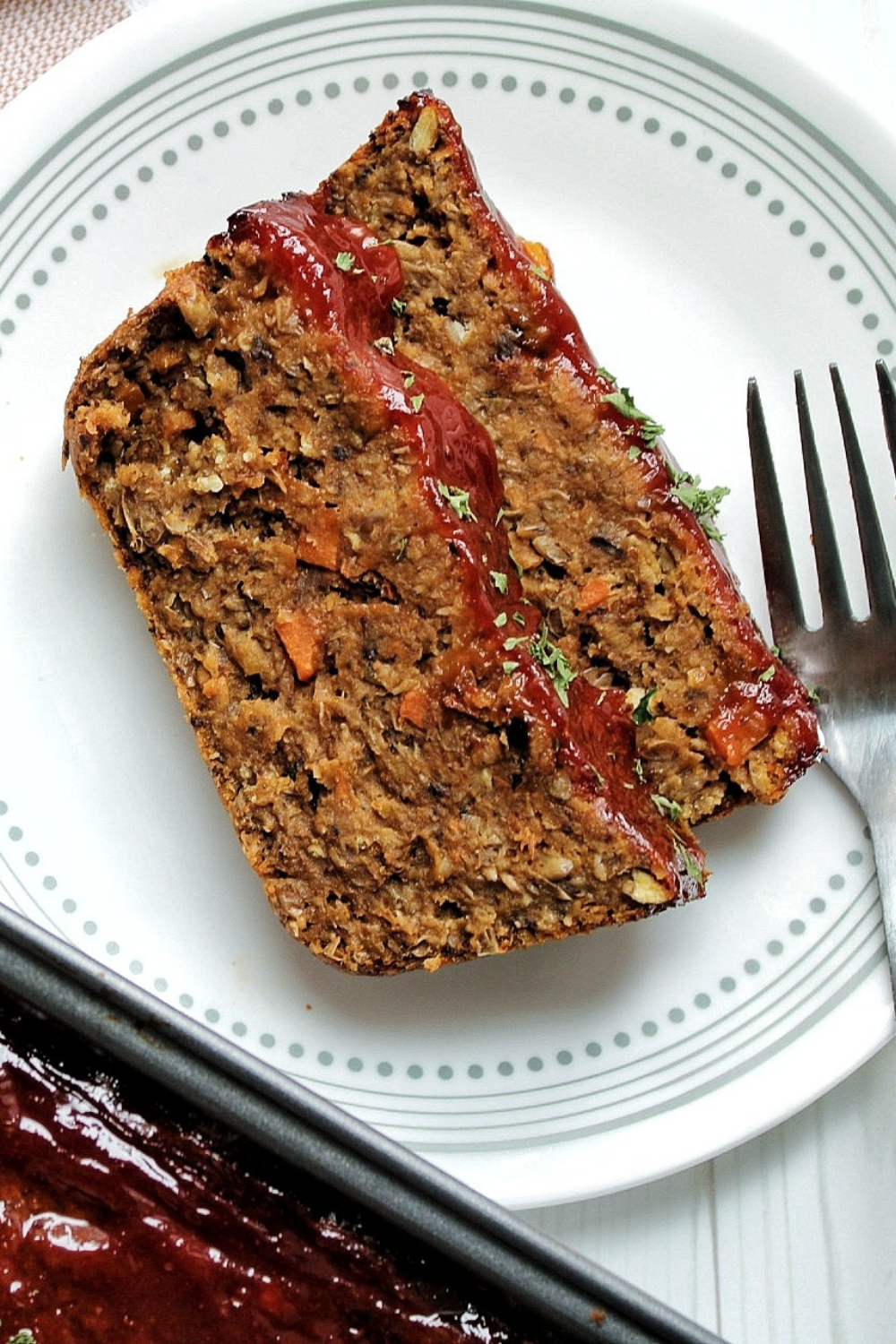 Simmer Lentils in mushroom broth, your choice of broth, or salted water, until tender.
Pan-Cook Mushrooms along with onions, carrots, garlic, sauce, and spices. Cook for about 5 minutes, or until onions are tender. Cooldown mushroom mix for a few minutes.
Pulse Ingredients - Pour the lentils and mushroom mix into a food processor or blender. Pulse well.
Arrange Loaf Mixture into a loaf pan. Then, add the glaze on top.
Bake loaf at 375 degrees F for 40 minutes.
Recipe FAQs
How To Keep Lentil Loaf Together
Thanks to the lentils, mushrooms, and oat flour - this loaf can hold up on its own. No need for any extra binder like chia "eggs" or flax "eggs."
The lentils provide the right amount of moisture, while the oat flour soaks things up and helps bulk up the loaf mixture.
A crumbly lentil loaf is a sign that it might be too dry, it wasn't packed tight enough into the pan, or the ingredients weren't well-distributed.
A soggy lentil loaf means that either the lentils were over-cooked, there was too much moisture in the loaf, or over blending the mixture. You just want to pulse the mixture enough that you can still see some of the ingredients in whole.
What Does Vegan Lentil Loaf Taste Like
Let's cut to the chase - it doesn't taste like meat. But it's as delicious as I anticipated it to be! Tender lentils, juicy mushrooms, with umami flavors from the ketchup, soy sauce, and vegan Worcestershire sauce.
How To Store
Once the loaf has cooled down, transfer into an air-tight container. It will keep for up to 5 days in the refrigerator.
Mushroom lentil loaf is best reheated by the slice. My tip: microwave for 1-2 minutes or so with a damp paper towel on top.
Doing this will help keep the moisture locked in when heating up.
This is something I do with other foods I need to heat up that tend to try up, like rice.
To store in the freezer, slice the loaf, then transfer the loaf into a freezer-safe container.
When ready to eat it, reheat at 300 degrees F until warm all the way through.
More Lentil Recipes
If you're making a menu for your next Thanksgiving party, add these: dairy-free Mac & Cheese, Mashed Carrots, Homemade Applesauce, Air Fryer Red Potatoes, and Jackfruit Pernil.
Tried out this Mushroom Lentil Loaf recipe?
Please leave a comment below, share it, rate it, or tag a picture @plantbasedandbroke on Instagram and hashtag it #plantbasedandbroke. Show off that creation with us.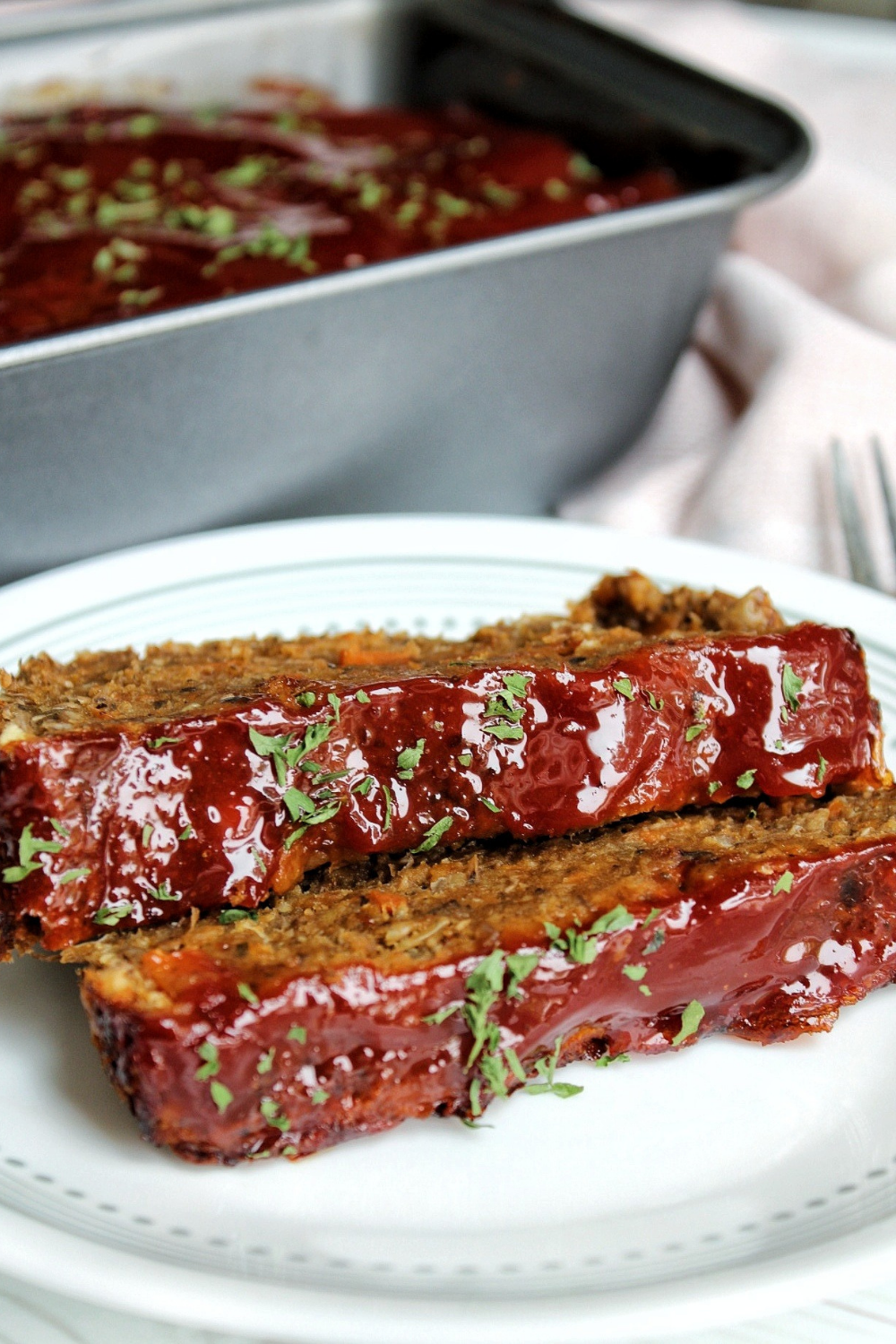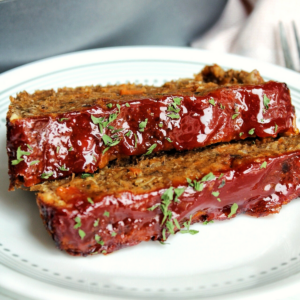 Mushroom Lentil Loaf
Let's crank on the oven for an umami-blasted Mushroom Lentil Loaf made with plant-based ingredients! Made with juicy mushrooms, protein-packed lentils, spices, and topped with a sweet-and-savory glaze
Ingredients
Glaze
½

cup

ketchup

1

tablespoon

brown sugar

1

tablespoon

Worcestershire sauce

vegan
Instructions
Glaze
In a small bowl, whisk together ketchup, brown sugar, and worcestershire sauce. Set aside. 
Mushroom Lentil Loaf
In a saucepan, combine the lentils and mushroom broth. Bring to a boil. Once at a boil, reduce to a simmer and cover with a lid. Simmer for 18-20 minutes, or until tender. It should be soft and still hold on to its shape. Drain lentils with a colander and set aside to cool.

In a small bowl, whisk together the tomato paste, soy sauce, and Worcestershire sauce.

In a large, non-stick pan over medium heat, add olive oil. Add the onion, carrots, mushroom, the sauce mix (tomato paste, soy sauce, Worcestershire sauce) Italian seasoning, and parsley. Cook all together until the onion is tender, about 5-7 minutes. Add the crushed garlic and cook for a minute. Set aside to cool.

Preheat the oven to 375 degrees F and prepare a loaf pan with parchment paper, foil, or use a non-stick spray. 

In a food processor or blender, add all of the ingredients including oat flour. PULSE a few times until ingredients have broken down.

Scoop, transfer, and press down the lentil mixture into the loaf pan. Evenly coat the mushroom lentil loaf with the glaze.

Bake uncovered for 40-45 minutes. Rest in the loaf pan for 15 minutes. Then, gently remove from the loaf pan and serve.
Notes
Green or brown lentils will work fine in this recipe. You'll want to simmer the lentils until they are tender, but hold on to their shape. 
To go oil-free, cook the mushroom, onion, carrots, spices, and sauce with a touch of water - just enough so the ingredients do not stick to the pan. 
To cool off the cooked lentils, spread them out in a single layer on a large plate or chopping board. 
This recipe pairs perfectly with garlic mashed potatoes!
Nutrition
Serving:
1
-Slice
Calories:
233
kcal
Carbohydrates:
37
g
Protein:
10
g
Fat:
5
g
Saturated Fat:
1
g
Polyunsaturated Fat:
1
g
Monounsaturated Fat:
3
g
Sodium:
859
mg
Potassium:
639
mg
Fiber:
9
g
Sugar:
9
g
Vitamin A:
1744
IU
Vitamin C:
6
mg
Calcium:
51
mg
Iron:
3
mg