(
This post may have affiliate links. Please see my disclosure.
)
Jump to:
If you're into that perfect combination between sweet and savory - you're in for a treat with our vegan Puerto Rican pastelón!
Why You'll Love This
This recipe has been modified to be 100% plant-based! No dairy, no meat, no eggs. Additionally, pastelón is naturally gluten-free.
It's the perfect recipe if you have a crowd or large family to feed. Like most casseroles, it's easy to make and almost hassle-free.
It's a "healthier" version of traditional Pastelón. Instead of greasy ground beef, we're using fiber-packed lentils. Rather than frying the plantains, we're going for mashed plantains instead (this also means an easier clean-up).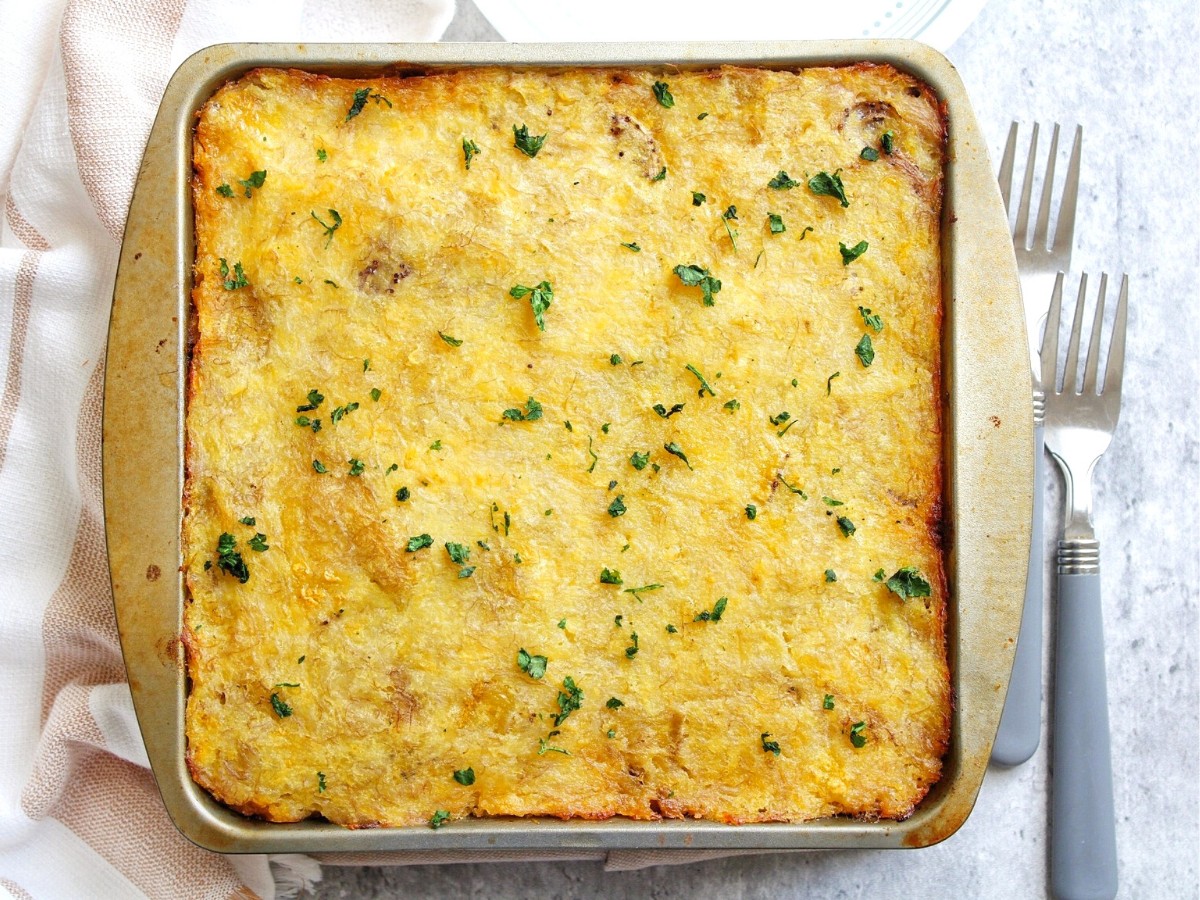 Pastelón (pronounced: pa-stay-loan) is also known as pastel horneado, which translates to "baked pie" in English.
The dish can also be call piñon, depending on who you ask. It's a regional thing on what name it goes by. Piñon is typically from the southern and west regions of Puerto Rico, while pastelón is from the east and northern regions.
In my family? We call it pastelón.
What Is Pastelón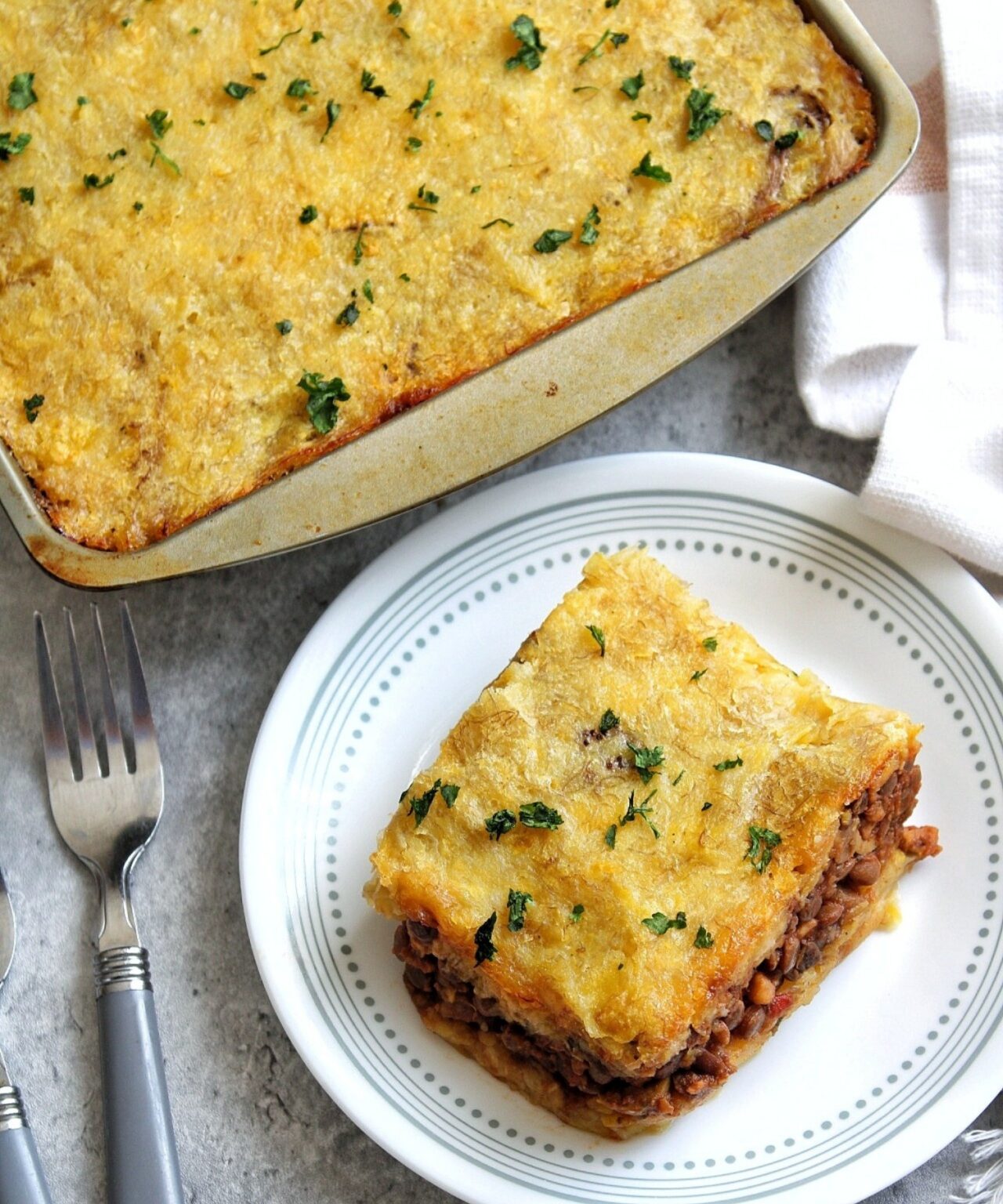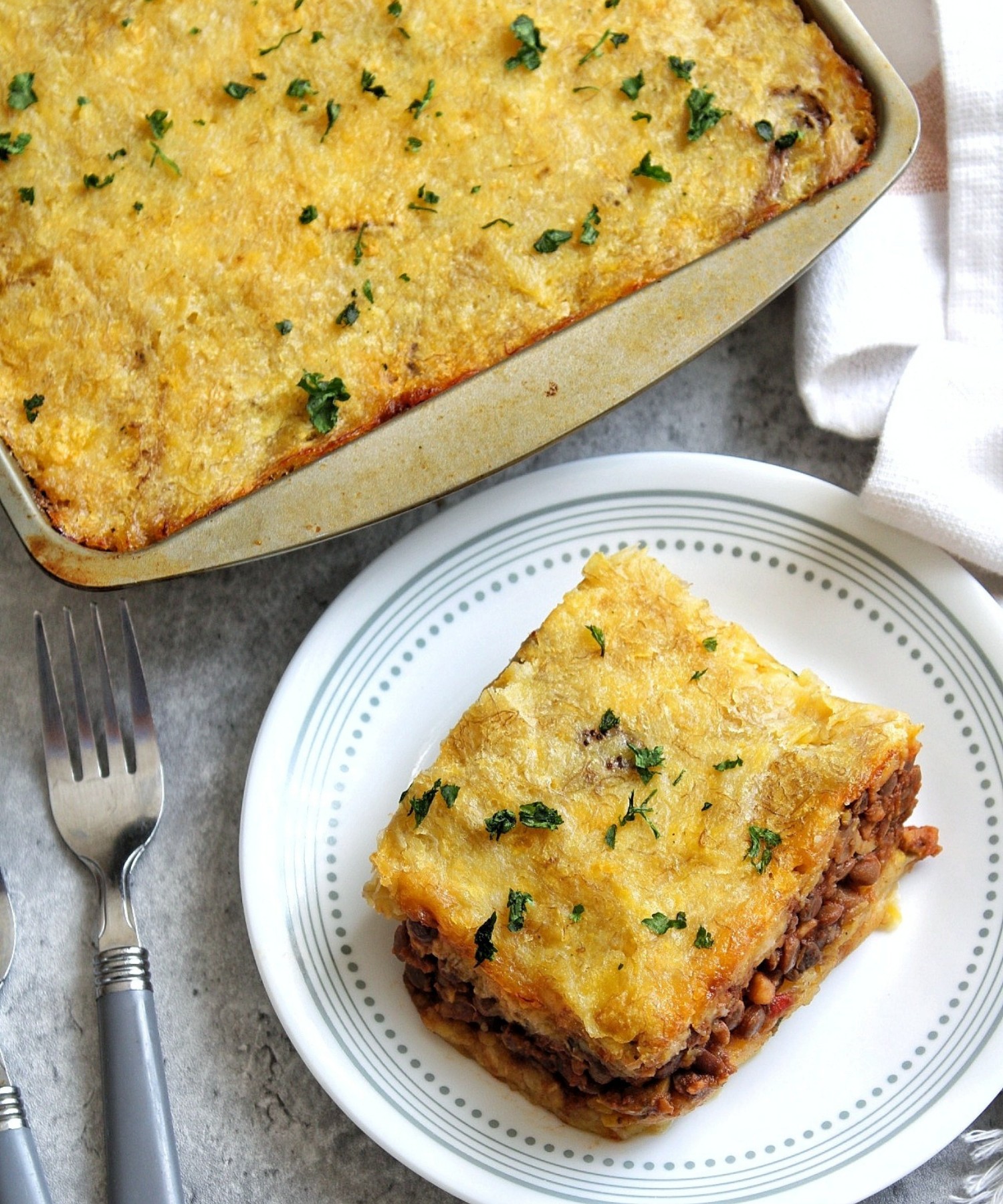 Pastelón is a popular dish from Puerto Rico. Its also popular in the Dominican Republic. It's often described as the Latin-Caribbean version of lasagna or shepherd's pie. it is also known as a "plantain lasagna," due to its similarities to a traditional Italian lasagna.
Pastelón and lasagna are similar in the sense that they are both layered, oven-baked casserole. However, the ingredients differ greatly.
Puerto Rican Pastelón is usually made with layers of fried (or mashed) plantains, a filling (usually meat and vegetables), and sometimes cheese and/or eggs.
In my family, pastelón usually includes eggs and cheese. Because we're going plant-based in this recipe, we're going to omit the cheese and eggs.
Note, different regions, families, households will have their special touch to the recipe. At the end of the day, it's about the flavors and ingredients you and your family enjoy.
So, is this recipe "authentic" or "traditional?" Well, not really. But that's because making this plant-based, which is not the typical way of making pastelón.
But - is it delicious? Oh, my gosh YES.
What To Eat With Pastelón
My favorite way to enjoy vegetarian pastelón is with a heaping serving of Puerto Rican yellow rice, along with sliced avocado and stewed beans.
Recipe FAQs
How to Layer Pastelón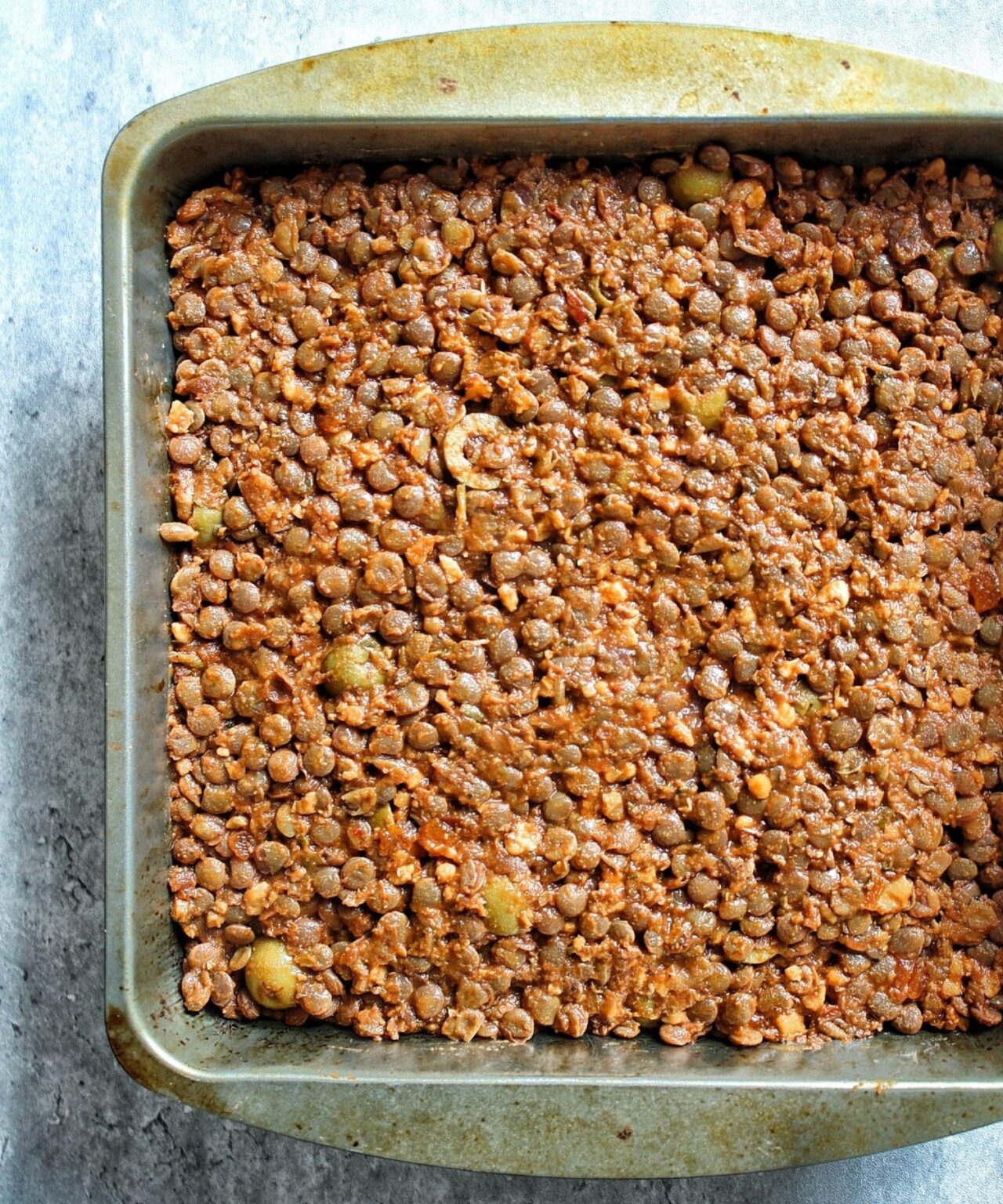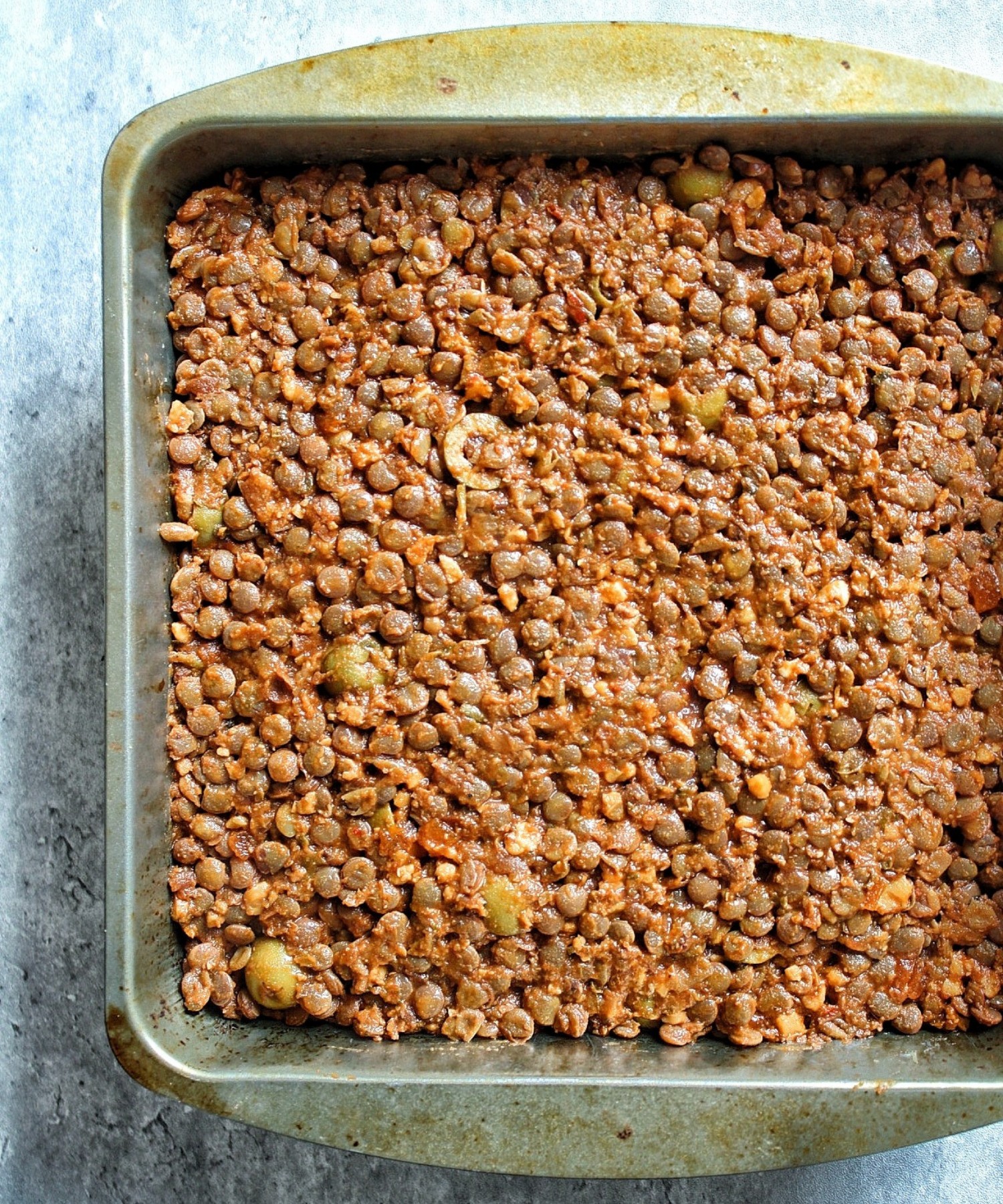 We're going for 3 layers here.
Bottom: Mashed plantains
Middle: Lentils
Top: Mashed plantains
Then, brush a bit of oil on top.
Where To Find Plantains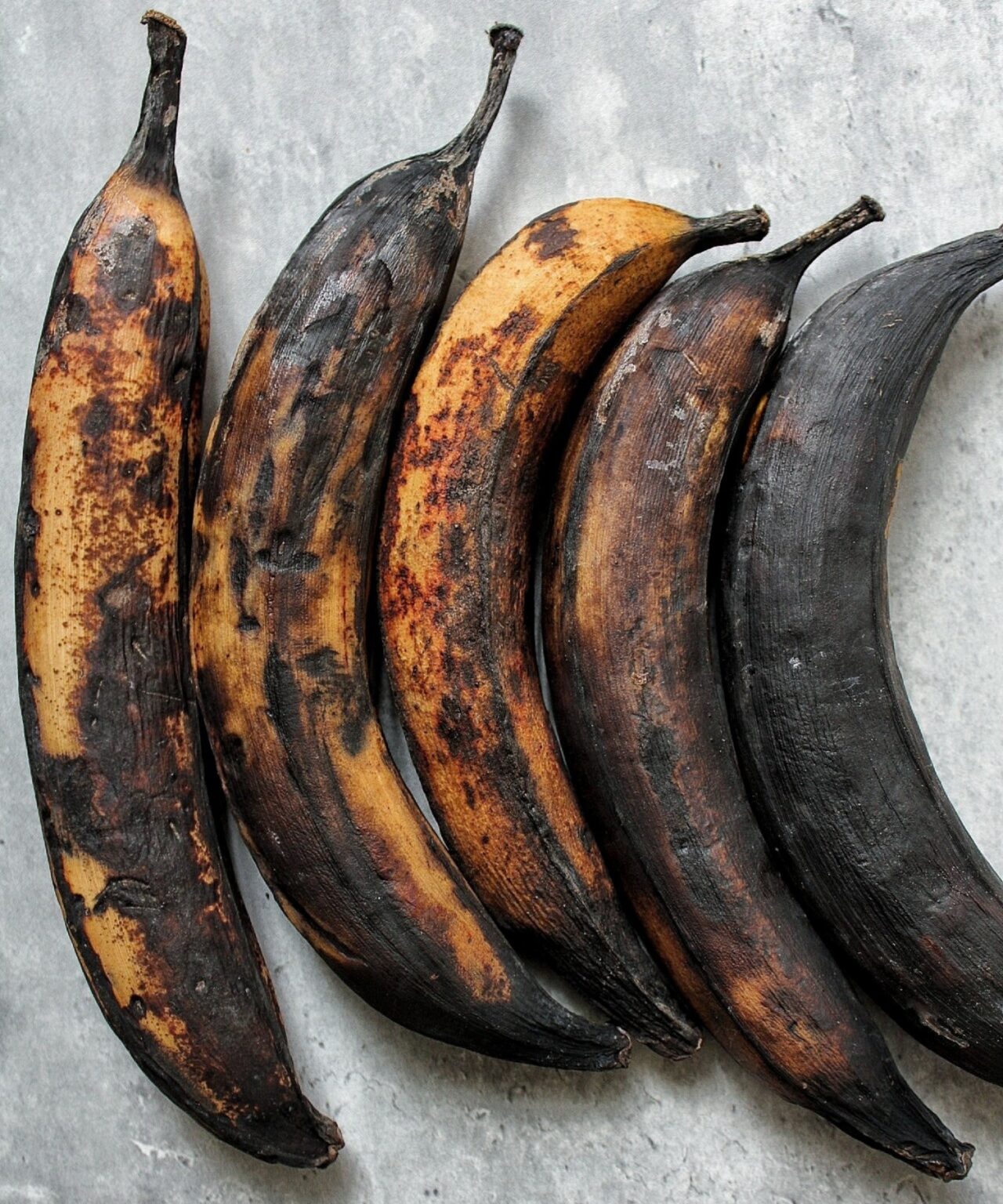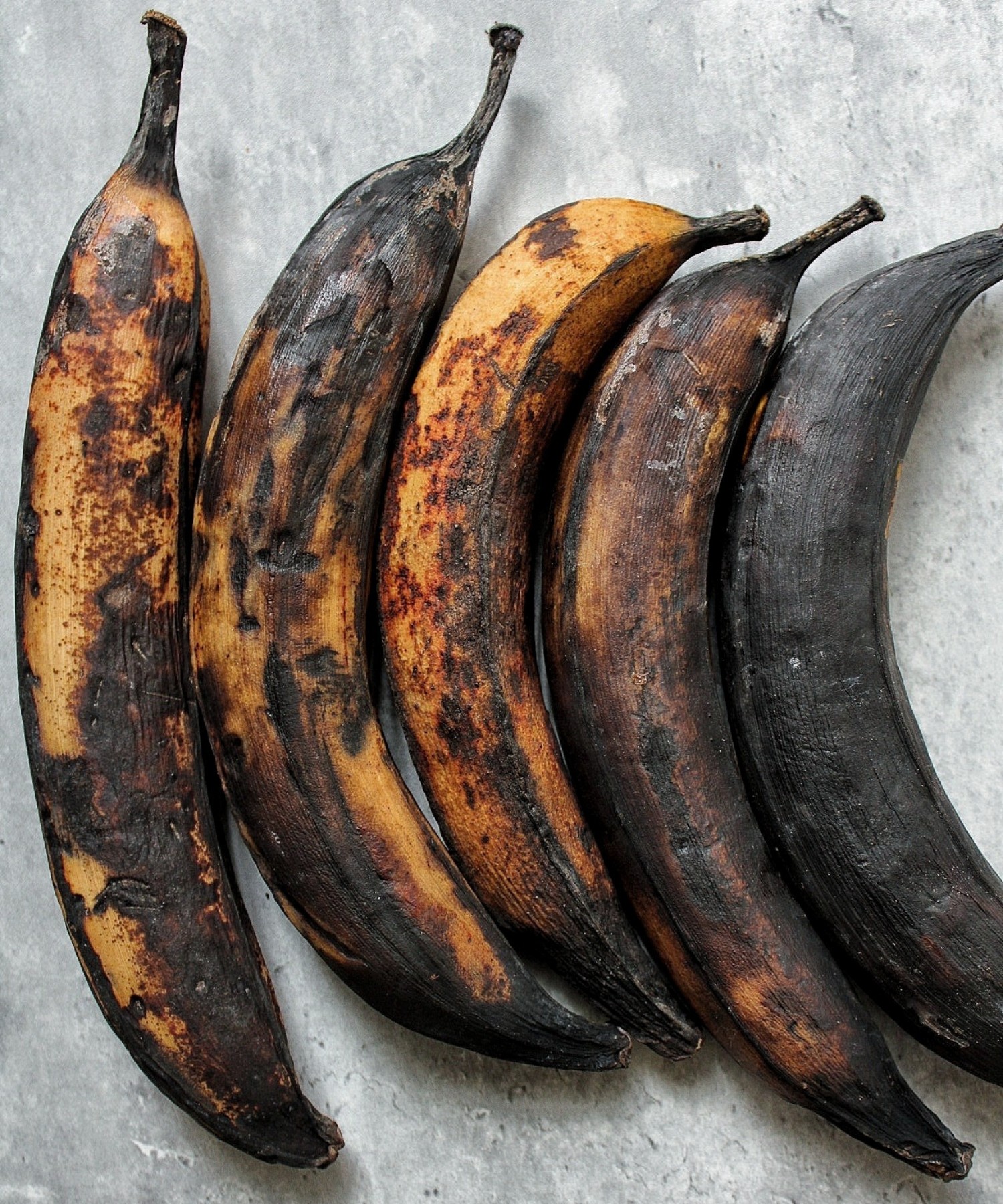 I can usually find ripe, yellow plantains at Latin, Caribbean, or African grocery stores. I have also found some luck at Asian markets.
If you spot a green plantain instead, let them hang out on top of your kitchen counter until they've ripened - which will take about 2 weeks.
Alternatively, store the plantains in a paper bag to speed up the ripening process.
You'll know the plantains are ripe and ready to use when they are mostly black and tender to the touch.
Check out How To Peel A Plantain, before getting started with this recipe.
How To Store
Once the pastelón (plantain lasagna) has cooled down, cover/wrap tightly and store in an airtight container or for up to 3-4 days in the refrigerator.
Alternatively, store in the freezer for up to 2 months.
Recipe Tips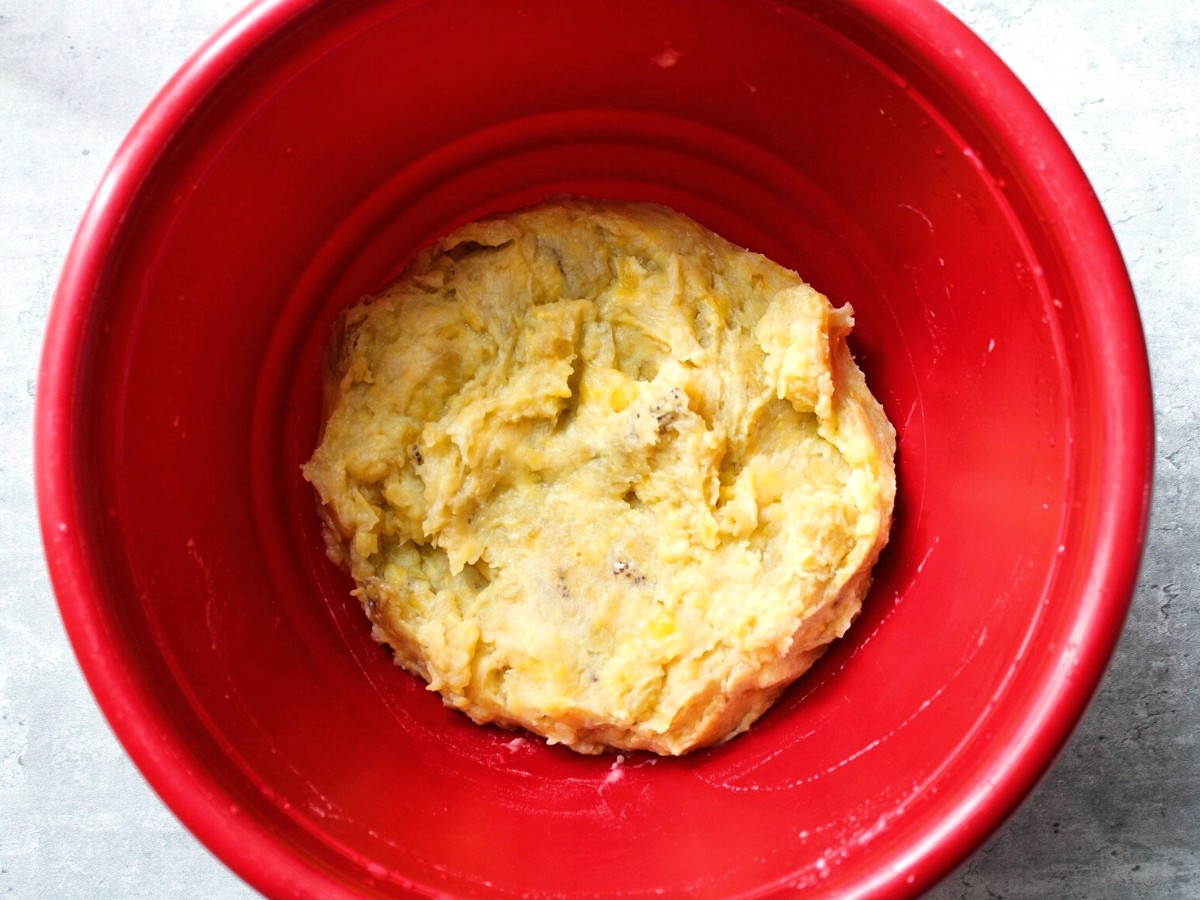 Be sure to use ripe, tender-to-the-touch plantains. The plantains should be mostly black.
Feel free to top off the pastelón with vegan cheese.
I suggest using homemade sofrito. Store-bought sofrito just isn't the same.
More Puerto Rican Recipes
Tried out this Vegan Pastelón recipe?
Please leave a comment below, share it, rate it, or tag a picture @plantbasedandbroke on Instagram and hashtag it #plantbasedandbroke. Show off that creation with us.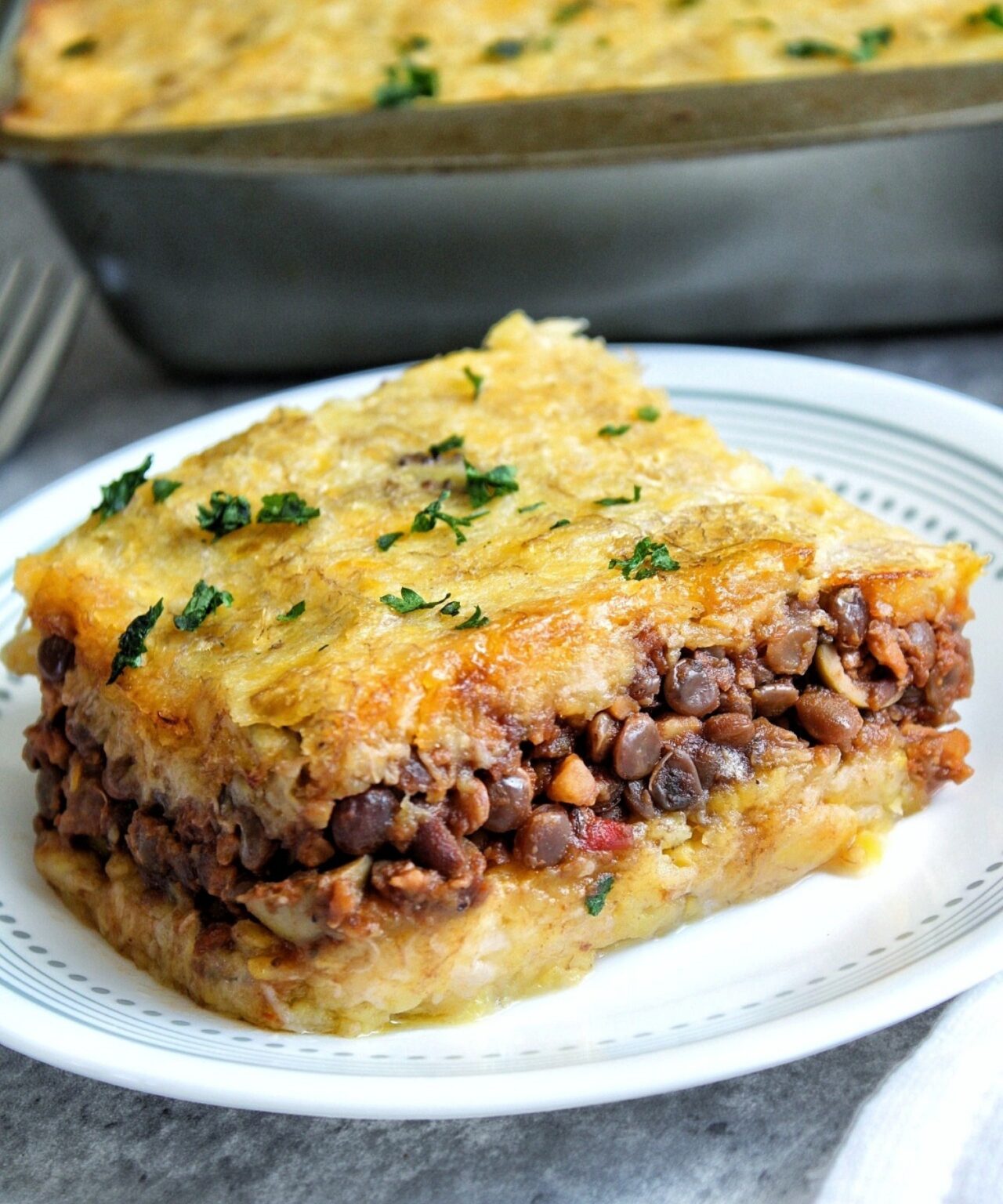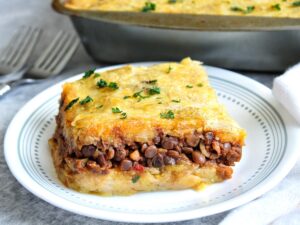 Vegan Pastelón (Puerto Rican Plantain "Lasagna")
This sweet and savory Puerto Rican plantain lasagna has turned VEGAN and it's just as good! This vegan pastelón is made with sweet plantains, flavor-packed lentils, and Puerto Rican spices.
Ingredients
Mashed Plantains
5

ripe plantains

peeled and cut into 2-inch chunks 

2

tablespoons

vegan butter

¼

cup

vegan milk

soy milk was used
Instructions
Mashed Plantains
Place plantains, water, and 1 teaspoon of salt into a large pot or dutch oven. Bring to a boil. Once at a boil, reduce to medium-low and simmer until plantains are fork-tender, about 10 minutes. 

Rinse foam from plantains and drain excess water. 

Transfer boiled plantains into a large bowl. Mashed plantains with a potato mashed or a fork. Then, add ¼ teaspoon of salt, vegan butter, and vegan milk. Combine well. Set aside.
Lentil Filling
In a saucepan or dutch oven, heat the olive oil over medium heat. Once hot, add the sofrito. Stir constantly until fragrant, for about 1-2 minutes. Next, add the walnuts, oregano, adobo seasoning, sazon, black pepper, olives. Stir and cook for 1 minute. 

Pour lentils and water into the saucepan or dutch oven. Combine well.

Without a lid, bring everything to a boil. Once at a boil, reduce to low to medium-low and simmer. Cook for 20 minutes, or until tender. Add the tomato sauce and simmer for another 5 minutes.

Remove from heat and set aside.
Assemble Pastelón
Preheat the oven to 350 degrees F and lightly grease an 8x8 baking dish. 

Scoop half of the mashed plantains into the baking dish. Press down the mashed plantains for a leveled layer.

Scoop all of the lentils and spread evenly on top of the mashed plantains. Then, apply the rest of the mashed plantains on top, spreading evenly. Brush the top layer with oil.

Cover the dish with aluminum foil. Bake at 350 degrees F for 25-30 minutes. Then, remove foil and broil for 4-5 minutes. 

Remove the pastelón from the oven and allow to cool down for 15 minutes before serving.
Notes
Feel free to top off the p

astelón

with vegan cheese. The vegan cheese can also be added between the layers, similar to lasagna. 

I suggest using 

homemade sofrito

. Store-bought 

sofrito

 just isn't the same.  

This recipe serves about 6 people. 

Be sure the plantains are very ripe. They need to be tender to the touch, so we can yield soft and creamy mashed plantains. 
Nutrition
Serving:
1
-serving
Calories:
448
kcal
Carbohydrates:
70
g
Protein:
12
g
Fat:
16
g
Saturated Fat:
2
g
Polyunsaturated Fat:
6
g
Monounsaturated Fat:
7
g
Trans Fat:
1
g
Sodium:
279
mg
Potassium:
1156
mg
Fiber:
15
g
Sugar:
24
g
Vitamin A:
1975
IU
Vitamin C:
30
mg
Calcium:
60
mg
Iron:
4
mg