(
This post may have affiliate links. Please see my disclosure.
)
Jump to:
Lately, Ginger Root tea has been my go-to soothing tea. Ginger root tea is handy when facing tummy issues - or if you just love the sweet-and-citrus flavors of ginger.
It's the perfect warm drink for cooler days, feeling-not-so-great days, and a relaxing evening.
I've been switching out my coffee and for ginger tea, to reduce my caffeine intake, while having something delicious to sip on. It's just all part of my way of choosing better for my body.
Why You'll Love This
You'll only need THREE ingredients! Ginger root, your choice of honey, and water.
Simmer for just 10-20 minutes. For lighter tea, go for 10 minutes instead. For a stronger tea, simmer for a little longer.
It's a great substitute for your morning coffee.
Into warm, soothing drinks? Be sure to check out our Creamy Coconut Hot Chocolate with Coffee.
History of Ginger Tea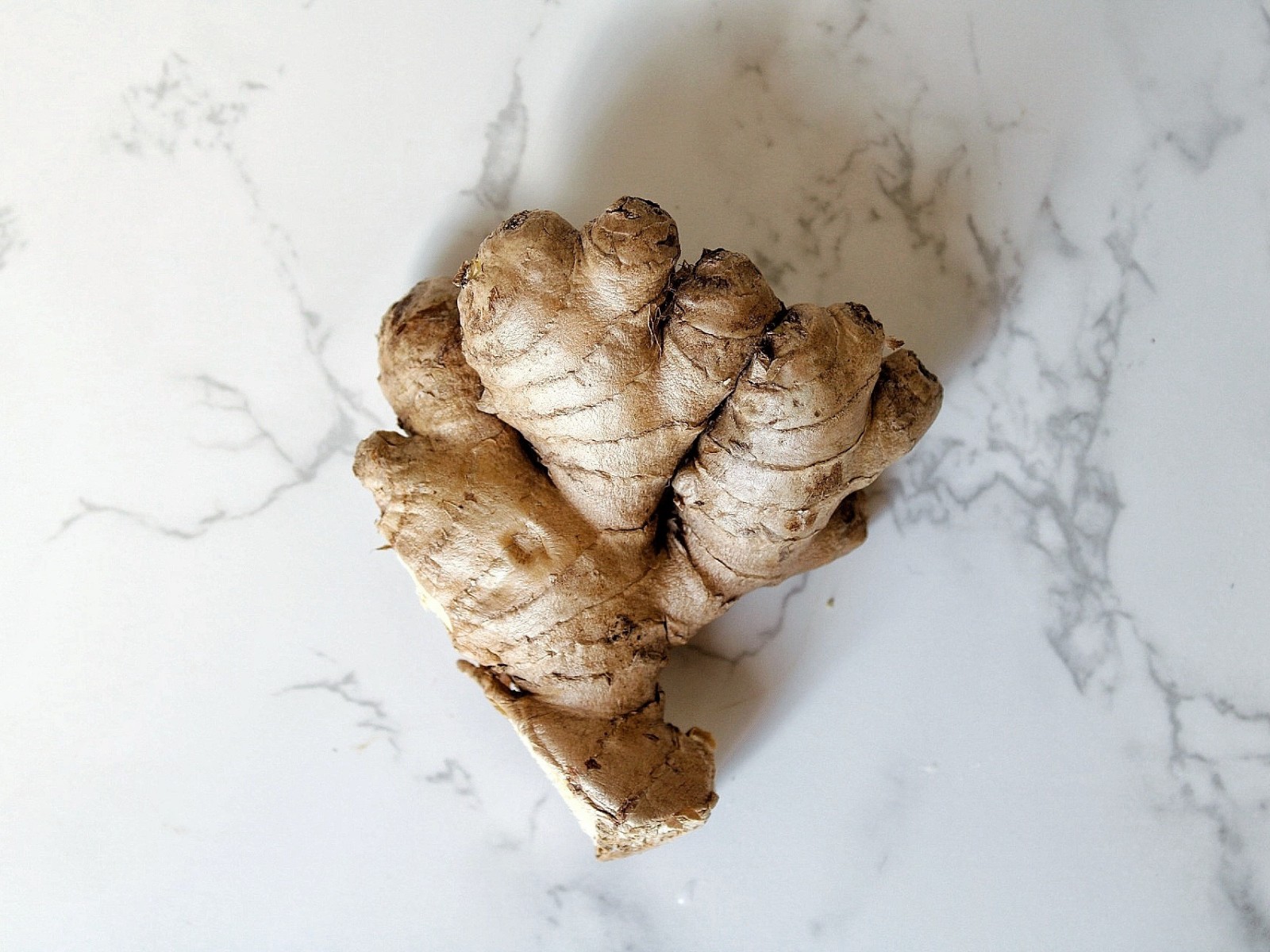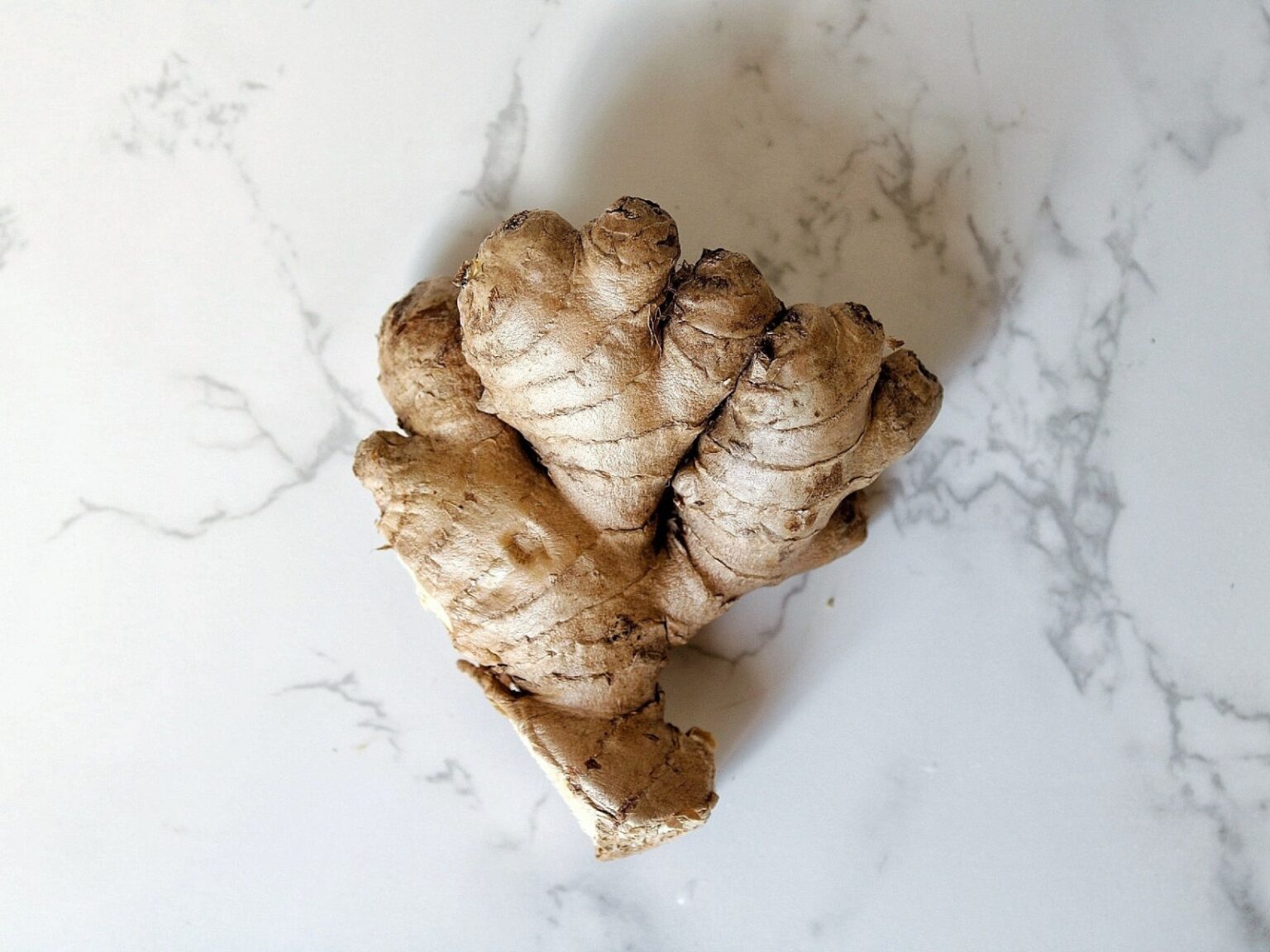 Ginger tea is a herbal beverage that's commonly served warm. Ginger root is believed to be produced by Indians and Chinese over 5,000 years ago. Also, it was used to treat many ailments and is known as traditional herbal medicine.
Ginger tea may be served simply, with just a dash of honey for sweetness. Other ways it can be served are with lemon, lime, orange slices, milk, lemongrass, cinnamon, condensed milk, or turmeric.
Ginger Tea Health Benefits
Ginger tea offers more than just a boost of flavor to your day! Here are just a few health benefits that ginger can offer, according to Healthline:
Highly effective for treating nausea, upset stomach, and aiding digestion.
Can aid with weight loss.
Can help fight infections.
Please note that I am not a doctor or nutritionist. Consult your doctor about any questions you may have regarding ginger root and ginger root tea.
Ingredients & Substitutions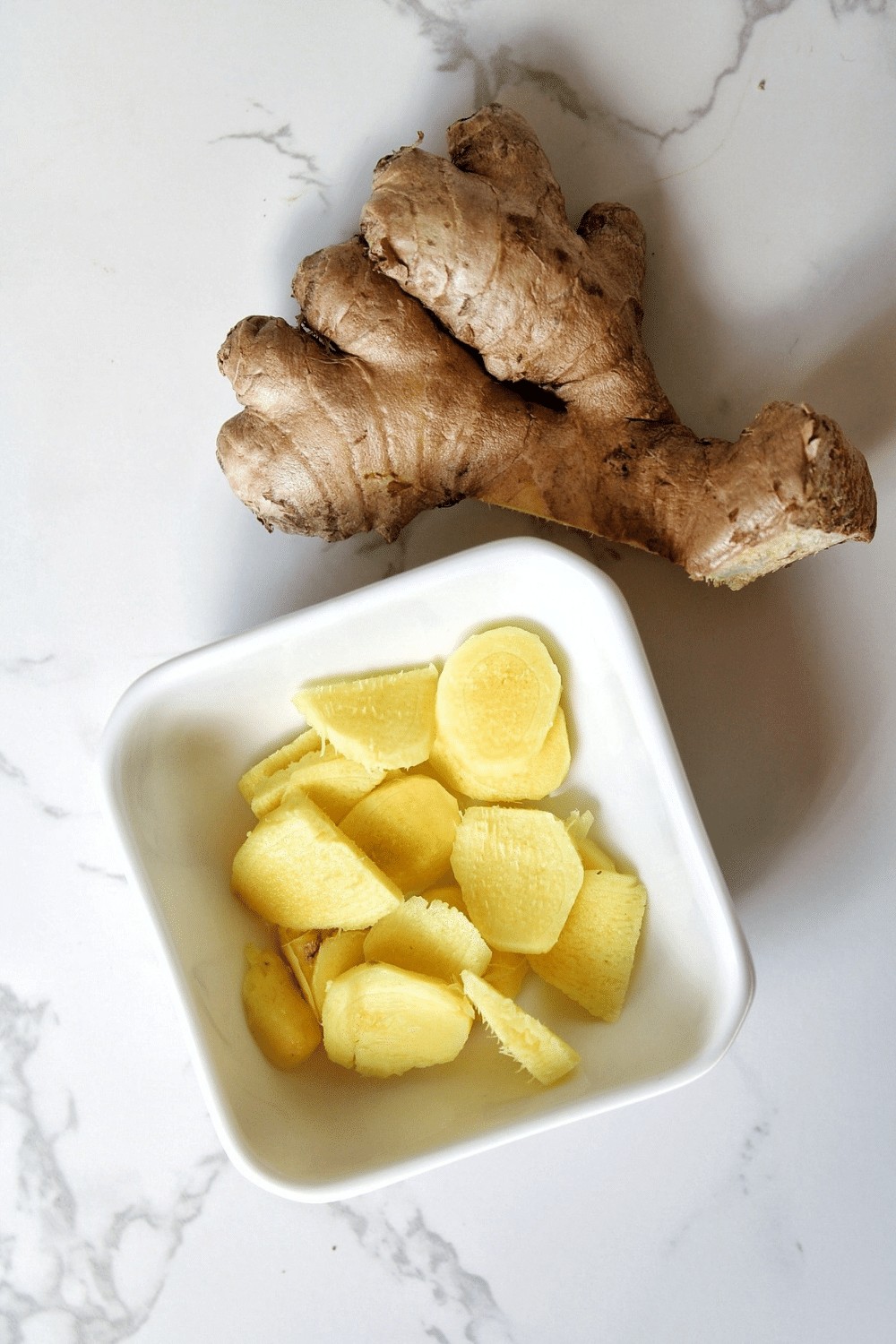 Ginger - This is the most important ingredient here. We are making GINGER tea here.
Water - Just water.
Honey - My favorite way to sweeten tea is with honey. However, if you prefer something else, consider maple syrup instead. Sugar can also be used. Or, serve without any sweeteners.
What To Serve With Ginger Tea
Tea is great on its own, but feel free to serve it with a light snack. I enjoy tea with a couple of slices of lightly-buttered toast.
Cucumber tea sandwiches, fruit, avocado toast, scones, or any kind of pastry are also great choices to serve with ginger tea.
Recipe FAQs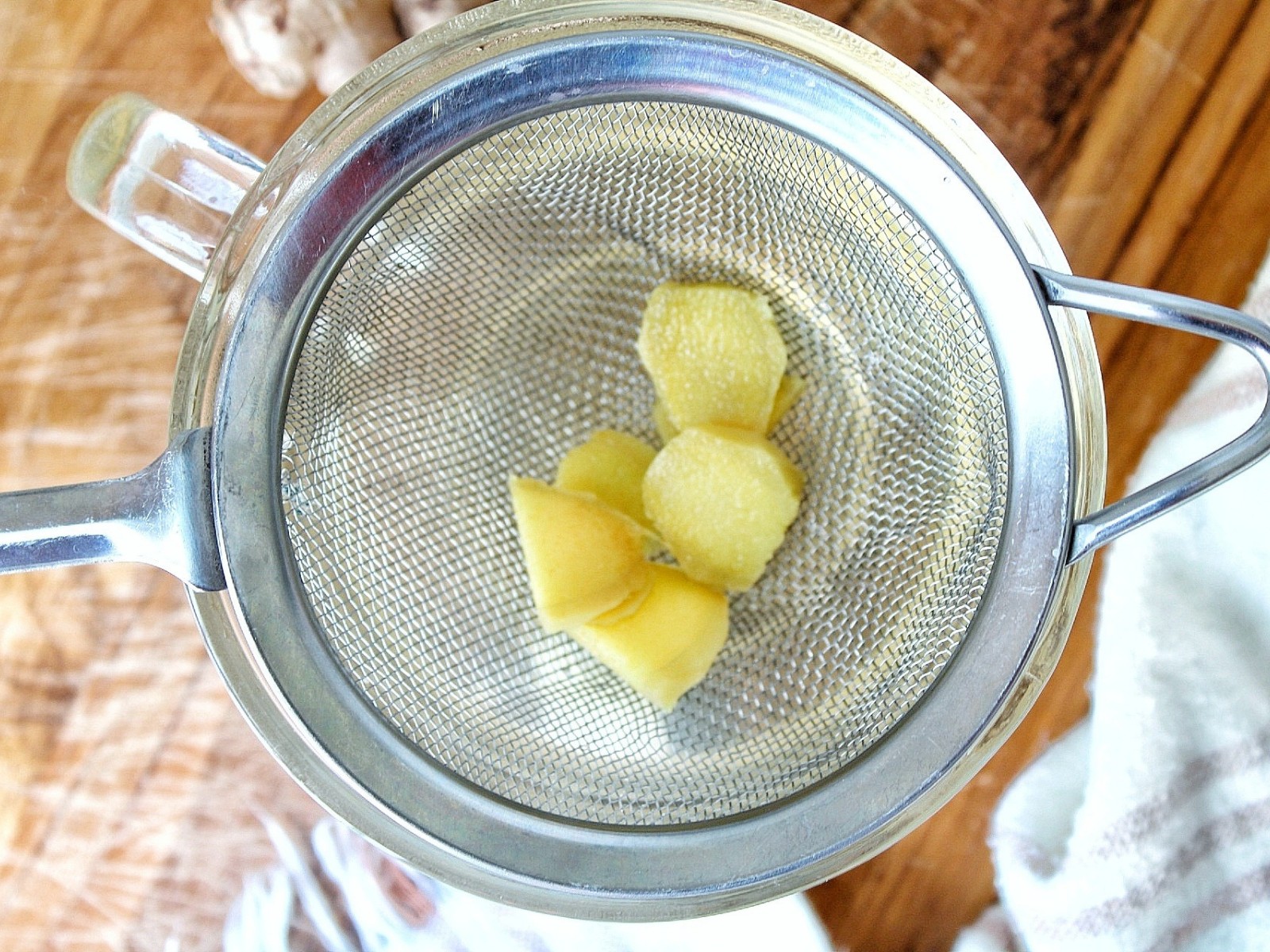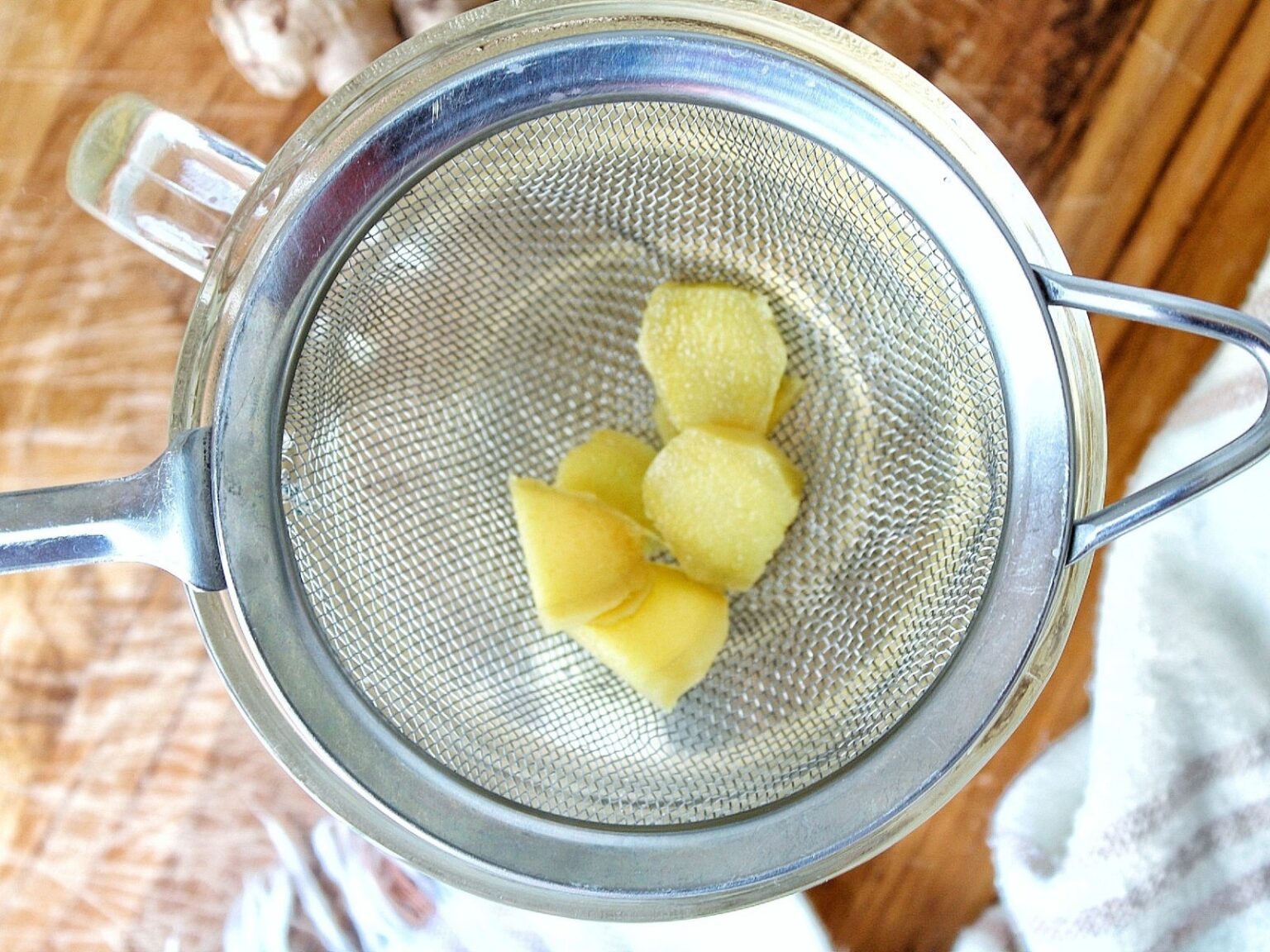 Does Ginger Need to be Peeled for Tea
There is no need to peel the ginger root. However, if you choose to leave the ginger root unpeeled, be sure to rinse and scrub thoroughly.
How Long to Simmer Ginger Tea For
There are no hard rules for how long you should simmer ginger for tea. It's entirely up to you and your preferences. I like to have a strong ginger flavor for my tea, so I like to have it simmer for up to 20 minutes.
For lighter flavor, go for a 10-minute simmer instead.
How To Store
To serve cold or to save the tea for later, allow the tea to cool down to room temperature.
Once cool, transfer the ginger tea into a container or mason jar, then cover with a lid. Refrigerate or use for up to 4 days.
Serve cold, or reheat the ginger root tea in a saucepan.
Tried out this Honey Ginger Root Tea recipe?
Please leave a comment below, share it, rate it, or tag a picture @plantbasedandbroke on Instagram and hashtag it #plantbasedandbroke. Show off that creation with us.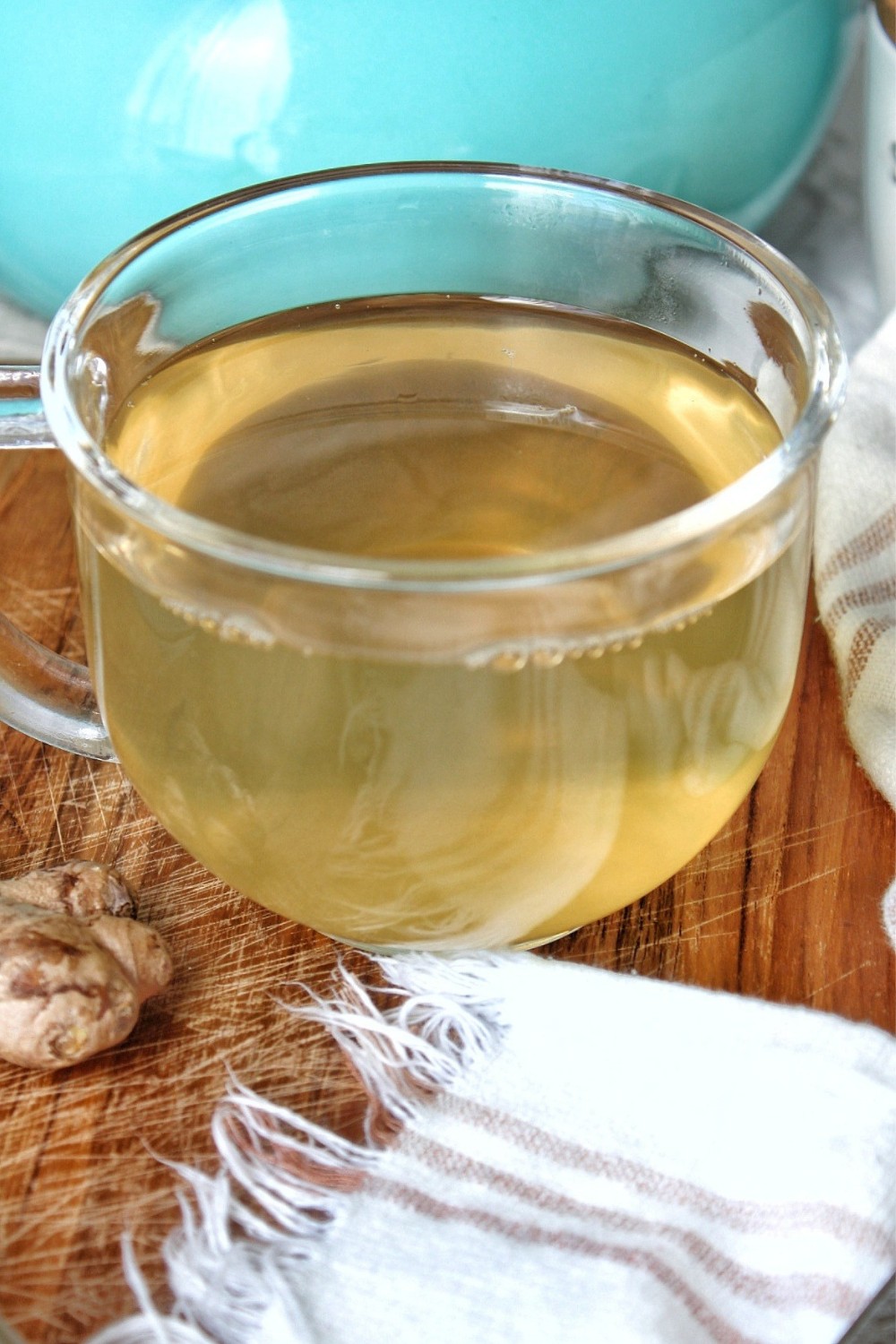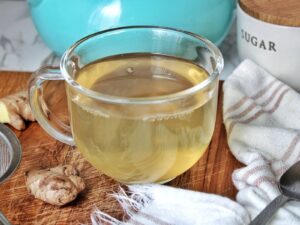 Honey Ginger Root Tea (Homemade + Ready in 10 Minutes!)
Enjoy a fresh, homemade cup of Honey Ginger Root Tea. It's the perfect warm drink to soothe an upset stomach, provide health benefits, and wrap up a busy day.
Ingredients
2

inch

ginger root

4

cups

water

Honey

to taste, or substitute for maples syrup or sugar
Instructions
Combine the sliced ginger root and water into a saucepan. 

Bring the water to a boil over high heat. Once at a boil, lower heat to a simmer. 

Allow the tea to gently simmer for about 10-20 minutes. Remove from the heat, strain, and serve. Add your choice of sweetener. 
Notes
4 cups of water yields about 3 servings of tea. 

No need to peel ginger roots. However, if you choose not to peel, be sure to scrub and clean the root thoroughly. 

To make this vegan, switch out the honey for maple syrup or sugar. 

How to store:

Once cool, transfer the ginger tea into a container or mason jar, then cover with a lid. Refrigerate or use for up to 4 days. 
Nutrition
Serving:
1
-serving
Calories:
4
kcal
Carbohydrates:
1
g
Protein:
1
g
Fat:
1
g
Saturated Fat:
1
g
Polyunsaturated Fat:
1
g
Monounsaturated Fat:
1
g
Sodium:
16
mg
Potassium:
19
mg
Fiber:
1
g
Sugar:
1
g
Vitamin C:
1
mg
Calcium:
10
mg
Iron:
1
mg