(
This post may have affiliate links. Please see my disclosure.
)
Jump to:
Yes, there's room for salty snacks on a plant-based diet.
Finding salty snacks on a plant-based diet is easy enough, it just takes some thinking-outside-of-the-box.
When the salt craving rolls in, I always go for my favorites, which I always keep around in my kitchen. Hint: it's usually always seaweed snacks and I purchase them in bulk.
My advice? Whenever you make your way to the grocery store, have an item or two that are meant to snack on. That way, you don't find yourself making meals when what you really wanted was to nibble on something.
Most of these salty snacks on this list do not need any prep or cooking work.
Because sometimes, we all can go for a grab-and-go snack that doesn't require us to be in the kitchen.
However, if you don't mind a little bit of prepping, check out our Cucumber Tea Sandwiches, Homemade Basil Pesto, and Savory Oat Bran Porridge.
Here's a list of our favorite plant-based salty snacks, many of which are packed with fiber, protein, and FLAVOR!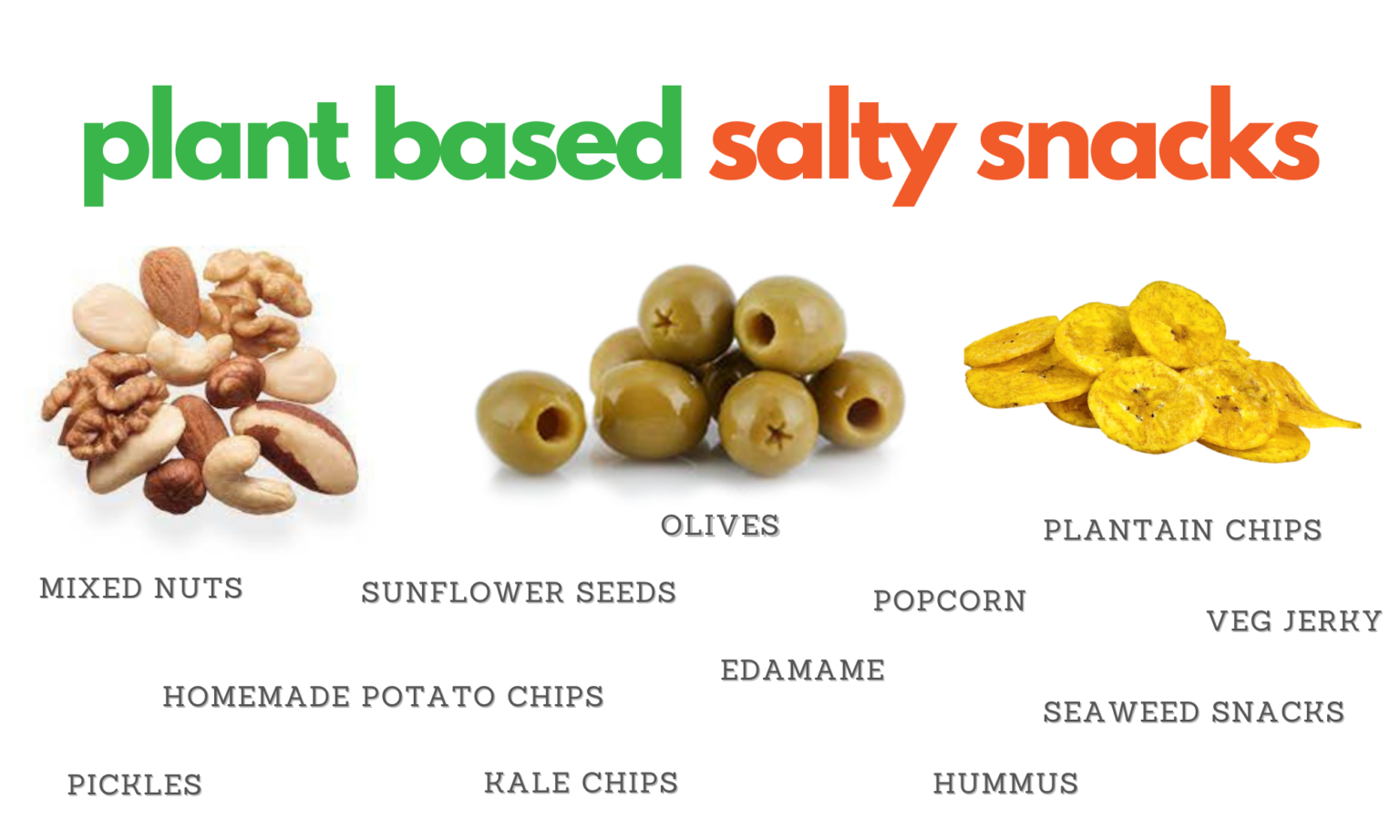 1 - Olives
Olives are one of those things that you either love 'em or hate 'em. I am on the love 'em team. I grew up eating olives regularly in dishes like Puerto Rican bean stew. Because of this, I got used to their super salty flavor and chewy texture. Now, I like to pick a few of them from the jar and eat them. If you're on the go, you can purchase packaged olive snacks.
2 - Seaweed
If you're into flavors associated with sushi or seafood, you'll love seaweed snacks. They are typically roasted and come in different flavors including sea salt, wasabi, and teriyaki. To take your seaweed nori snacks to the next level, eat them with some steamed rice and soy sauce.
3 - Kale Chips
They are crispy, salty, and a bit bitter. They are best made with whole kale leaves, however, they can be found packaged. Here's how to make kale chips at home:
Preheat the oven to 325 degrees F.
Wash, pat dry, and tear the kale into chips, without the ribs. Toss pieces with a bit of oil and salt.
Prepare a baking sheet with parchment paper. Arrange kale pieces onto the baking sheet.
Roast the kale chips for 25-35 minutes, or until the kale is crispy.
4 - Edamame
Edamame can not only be served as a side or appetizer but as a snack. Also, they can be enjoyed with the shell on or off - depending on your preference. I usually like them shells on because it takes a bit more work to get the edamame out.
5 - Sunflower Seeds
Shelled or unshelled - they are the perfect on-the-go salty snack. Sunflower seeds can come in a variety of flavors too. Grab a bag of the stuff and keep it around.
6 - Roasted Chickpeas
Roasted chickpeas are the perfect crunchy treat that can be sweet and salty. Chickpeas pack a healthy amount of protein, fiber, iron, and magnesium. When it comes to flavor, you can have chickpeas however you like, including BBQ, garlic, and spicy. It does take some prep work if you're making roasted chickpeas at home, but they can be made ahead and stored at room temperature for a couple of days.
7 - Popcorn
Hold the butter - if you want, of course! Popcorn is the perfect salty snack that can be low in calories and can come in handy during a salty craving.
8 - Roasted Broccoli
Either throw the broccoli in an air fryer or the oven, and you have a healthy, salty snack that can be served with your favorite dip or sauce.
9 - Plantain Chips
If you enjoy tostones or fried green plantains - you're going to love plantain chips. Trader Joe's sells them and you can sometimes find them at Hispanic grocery stores. If you have the time, they can also be made with an air fryer or in the oven.
10 - Pickles
Salty, sour, and crunchy - pickles aren't just for burgers. It's a low-calorie snack, with just 7 calories in a medium-sized pickled cucumber. Just watch out for the sodium.
11 - Avocado Toast
Grab your favorite sliced bread, toast it, then top it with ripe avocado. Slices or mashed - the choice is yours. I love to add some garlic salt and red chili flakes to my avocado toast. But, you can choose to use any seasonings you like.
12 - Peanut Butter
Grab a jar of natural peanut butter without any added sugars or salt. This way, you control the variables. My favorite way to snack on peanut butter is just simply taking a spoon and digging right in.
13 - Vegan Jerky
Yes, vegan jerky is a real thing, and just like like the meat version of the stuff, it's salty! They can be found online.
14 - Roasted Green Beans
Anyone else loves to eat roasted or pan-fried green beans like they are french fries!? Toss them in some olive oil and salt, then roast or pan-fry them until they are slightly charred. Not exactly an on-the-go snack, but they can be made in just minutes with an air fryer at 400 degrees F for about 8 minutes.
15 - Cucumbers with Salt
Cucumbers are super refreshing and with a bit of salt, you're bringing out their flavor. If you need a little more than just cucumbers for your salty snack, go for a cucumber tea sandwich.
16 - Chips & Salsa
Grab your tomatoes, onion, cilantro, garlic, jalapenos, and salt, and make a homemade salsa to pair with those chips! It's the perfect treat to grab and eat any time of the day. Salsa can also be made in advance and stored in the fridge for a few days - just don't forget about the chips! Pro tip: homemade salsa tastes much better after resting in the refrigerator for a couple of days.
17 - Chips & Guac
Smash up your ripe avocados for quick and easy chips and guac. You can never go wrong with chips and a dip for a salty treat.
18 - Hummus
Hummus is a delicious Middle Eastern dip made from chickpeas. Pair the dip with your choice of chips, pita, crackers, or raw vegetables.
19 - Nuts
Like sunflower seeds, nuts are a great snack to grab and go. Mixed nuts are the way to go. Additionally, nuts are relatively high in healthy fats and calories, which are sure to fill you up until you're ready for your next meal.
20 - Snack Mix
Whether you're having a party with one or many, snack mixes are an affordable, fun way to get that salt in. If you're feeling bold, go for a mix with a sweet-and-salty combination.
21 - Homemade Potato Chips
Need something crunchy and salty? Go for Homemade baked potato chips. They can be made ahead of time. But if I need to get my hands on something quick, you can go for Terra Chips or Pop Chips.