(
This post may have affiliate links. Please see my disclosure.
)
Jump to:
When there's a will, there is a way. And I will have an avocado toast from time-to-time. Don't let those naysayers fool you - there's a way to have avocado toast on a budget.
Well, at least cheaper than your standard to-go $10 avo-toast at a sit-down place. If you're looking for a hearty avocado toast breakfast without it burning through your bank account, here are a few tips to keep in mind when building up the millennial's infamous breakfast meal.
Keeping It Cheap: The Avocado, Toast & Toppings
Let's break down the three elements of a complete and delicious avocado toast. We have the avocado, the toast, and the toppings. Each has a role and each can be used in a way that's affordable and practical.
THE AVOCADO
Tip 1: Don't buy avocado toast from a restaurant.
Let's be real: the cost of an avocado toast at a brunch spot in downtown is probably going to make your bank account cringe. But just like all things created in a restaurant, there's going to be a serious upcharge. The easiest way to decrease your spending is to prepare your own food.
But you already knew that, right?
The price you're paying for an avocado toast at a restaurant is not just for the avocado toast. The price takes into account labor costs, rent, utilities, supplies, equipment, and all the other details required to effectively run a restaurant.
The Lesson Here: If you want to enjoy an affordable avocado toast, skip the restaurant and make the avocado toast at home.
Tip 2: Find Deals On Avocado At The Grocery Store
You'll sometimes find avocados at a discount if they are ripe the day-of at the grocery store. If you're planning on eating them the same day, it might be worth the splurge.
However, don't stop your search for affordable avocados at big-box grocery stores. Although avocados in general may be costly, it's worth comparing prices. Check out local grocery stores, farmer's markets, and discount grocery stores.
Discount grocery stores include:
Grocery Outlet
Smart & Final
Sprouts
Additionally, locate and visit your local Latin, Asian, ethnic markets, or fruit stands. I find local, small markets or produce business owners sell avocados for a much more attractive price.
If you score a great deal on a bundle of avocados and need to keep the avocados in its current state (ripe or unripe), it may be stored in the refrigerator for a few days. This will help slow down and preserve the avocado's ripening
Tip 3: Go For Packaged Avocado
Packaged avocado, like guacamole in a packet or container, might be a much cheaper option to prepare an avocado toast.
They can be a great alternative if you're looking for something that can be a grab-and-go option, if you want to carry just enough for one serving, or want something that won't spoil quickly.
Packaged avocado may not be able to compete with fresh avocado, but it is an option, especially in areas where fresh produce might be limited.
THE TOAST
First, let's get bread for the low-low. Basic sliced bread is typically easy on the wallet. Or, you can even go for freshly baked bread. I live in the San Francisco Bay Area and I can find fresh bread for about a buck-fifty.
Additionally, you can score a cheap loaf of bread at The Dollar Tree or the discount section of the local grocery store. If their expiration date is approaching, just throw them in the freezer or refrigerator to stretch out their life.
Pro-tip: toast frozen sliced bread just as you normally would. Some toasters might even have a setting for frozen bread slices.
FYI, white bread is usually cheaper than whole wheat bread, but I find the price difference to be negligible, especially if you're getting basic whole wheat bread without the bells-and-whistles.
Some places where you can find cheap bread include:
The bakery
Grocery outlet stores
The discount section
THE TOPPINGS
You can either keep the topping simple with a pinch of salt and cracked black pepper, or top off your avocado toast with your favorite veggies, fruit, nuts, seeds, and healthy fats.
Affordable Avocado Toast Toppings
Salt
Cracked Black Pepper
Chili Flakes
Garlic Powder
Onion Powder
Sliced Onions
Sliced Bell Pepper
Roasted Carrots
Olive Oil
Tomatoes
Cilantro
Berries
Sprouts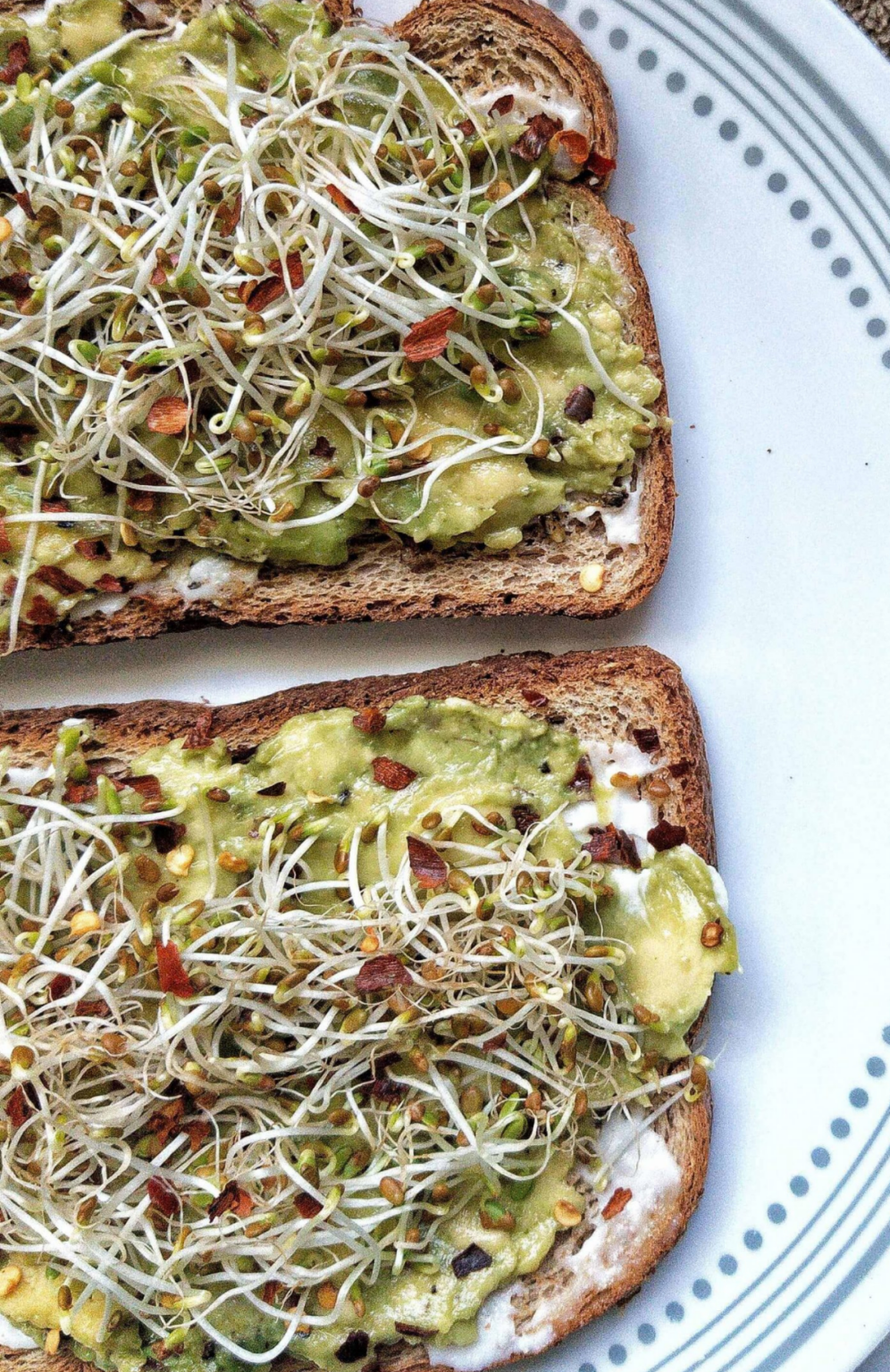 Fresh vegetables and fruit will bring your avocado to life, but a dash of spices and seasonings will also create a delicious (affordable) avocado toast.
My tip? Check out what you already have in your refrigerator and consider how you can add those items to your avocado toast. Here are some combinations of ideas.
Roasted Chickpeas + Sauteed Greens + Roasted Sunflower Seeds + Salt + Black Pepper
Mushroom Bacon + Arugula + Olive Oil + Salt + Black Pepper
Roasted Corn + Cilantro + Lime Juice + Salt + Black Pepper
Tofu Scramble + Sauteed Greens + Nutritional Yeast + Salt + Black Pepper
Tomatoes + Fresh Basil + Salt + Black Pepper
Craving salty snacks? Check out our 21 Plant-Based Salty Snacks post!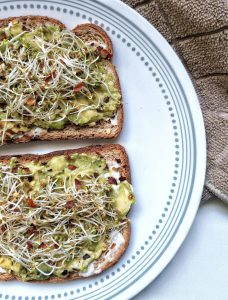 Classic Avocado Toast
Classic, easy, and affordable avocado toast using just 6 ingredients. Feel free to make adjustments, considering what you currently have on hand and in your kitchen.
Ingredients
2

Slices of bread

1

Ripe avocado

pit and skin removed

vegan mayo

sprouts
Instructions
Take the two slices of bread and toast in the toaster.

In a small bowl, combine the avocado with salt and chili flakes. Mash the avocado with the back of a spoon or fork. Leave some chunks intact.

Spread an even layer of vegan mayo on top of the toasted bread. Scoop out the avocado mash and spread onto the toast. Top with sprouts and serve immediately.
Nutrition
Serving:
1
-Serving
Calories:
473
kcal
Carbohydrates:
45
g
Protein:
10
g
Fat:
31
g
Saturated Fat:
5
g
Polyunsaturated Fat:
5
g
Monounsaturated Fat:
20
g
Trans Fat:
1
g
Sodium:
305
mg
Potassium:
1077
mg
Fiber:
16
g
Sugar:
5
g
Vitamin A:
295
IU
Vitamin C:
20
mg
Calcium:
101
mg
Iron:
3
mg
---
More Money-Saving Tips
---
Leave a comment below, share it, rate it, or tag a picture @plantbasedandbroke on Instagram and hashtag it #plantbasedandbroke. Show off that creation with us