(
This post may have affiliate links. Please see my disclosure.
)
Jump to:
When dinner o'clock approaches, oftentimes, I just want to cook something up that's fast, easy, yet, still packed with flavor and love. Pan-cooked, mustard greens check all of the boxes mentioned above.
Additionally, I have been challenging myself to eat more new foods. Or, reintroduce vegetables and fruits that I don't often have.
I did not grow up eating mustard greens, nor was I familiar with it. But as I explored more plant-based dishes, it did come under my radar. A few days ago I decided to pick up a bag of mustard greens and give it a go.
Besides, I was getting a bit tired of my usual greens go-to including kale and collard greens.
What Do Curly Mustard Greens Taste Like?
Right out of the bag, curly mustard greens have a bitter and slightly nutty scent. I personally find the smell a little bit off-putting, with a tense peppery smell.
However, as they cook down, the flavor changes. The mustard greens become a bit sweeter and mild in flavor.
I find mustard greens to be much milder in flavor when cooked, in comparison to kale, collard greens, or broccoli.
For this recipe, I used pre-cut curly mustard greens. However, feel free to purchase curly mustard greens in their original state - which are leafy. Both the stalks and leaves are edible, but if you want this dish to be texturally uniformed and tender, remove the stalks.
How To Prep Mustard Greens
If you're using fresh mustard greens that have not been pre-cut, there's a step or two you'll need to accomplish before whipping up this 20-minute mustard greens recipe.
First, Wash The Mustard Greens
To wash mustard greens, simply place them into a colander or strainer. Rinse with lukewarm water to remove any dirt or foreign objects.
Second, Cut Off Mustard Greens Stems
Cut off the lighter, harder portion of the mustard greens, which are the stems. You can either discard the stems or use them for another dish - they are edible.
Sides To Eat With Mustard Greens
Cooked mustard greens are delicious, but they aren't exactly a complete meal. Consider them as a side dish to be served with other, hearty dishes. Here are some of my favorite dishes to pair with cooked greens, including mustard greens.
---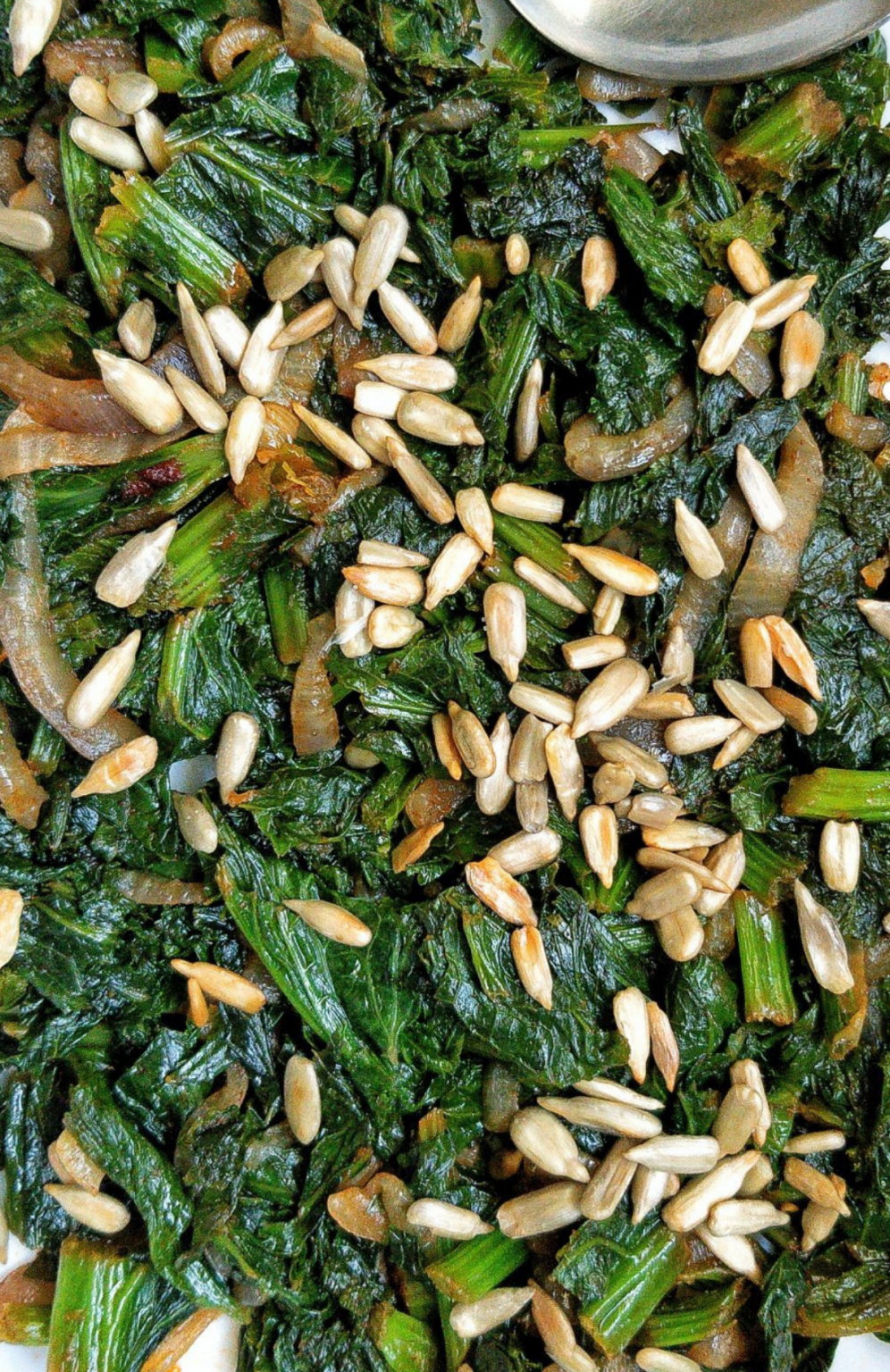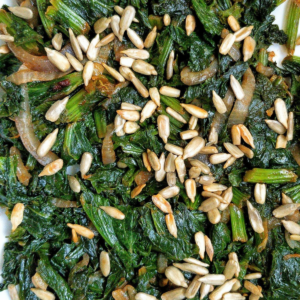 15-Minute Mustard Greens Recipe
15-minute mustard greens recipe that's vegan, plant-based, and a delicious. It's a great side-dish that pair well with just about any main dish.
Ingredients
½

teaspoon

vegan butter

¼

cup

raw, unshelled sunflower seeds

1

tablespoon

olive oil

½

red onion

thinly sliced

5

ounces

curly mustard greens

pre-chopped, rinsed

1

teaspoon

smoked paprika
Instructions
n a small non-stick pan over medium heat, add ½ teaspoon of vegan butter. Add the sunflower seeds. Add a pinch of salt, cook and toss occasionally for about 3-4 minutes. Remove sunflower seeds from heat and set aside.

In a non-stick pan over medium heat, add olive oil. Then, add the red onion slices, a pinch of salt, and cook for about five minutes, or until tender. Stir occasionally.

Once the onion is tender combine chopped mustard greens to the pan.

Add ½ cup of water to the pan and cover with a lid. Steam and cook for 5 minutes.

Add a pinch of salt and smoked paprika. Stir together.

Reduce heat to low. Pour ¼ cup of water, combine, and add a lid over the pan.

Cook for an additional 10 minutes, until mustard greens are tender. Adjust seasonings, if needed.

Serve the mustard greens in a dish and top with sunflower seeds.
Notes
I used Melt Organics vegan butter, which is my go-to. However, feel free to use your choice of vegan butter. If you do not have vegan butter, simply use oil instead. 

The sunflower seeds used in this recipe were raw, unsalted, and unshelled. This is the kind of sunflower seeds you want to use. If you have roasted, salted sunflower seeds, you can skip step #1. 

If there are other spices and flavors you prefer to use in this recipe, you're more than welcome to use them. 
Nutrition
---
Please leave a comment below, share it, rate it, or tag a picture @plantbasedandbroke on Instagram and hashtag it #plantbasedandbroke. Show off that creation with us!