(
This post may have affiliate links. Please see my disclosure.
)
Boom, FLAVOR. If I had one word to describe this habichuelas guisadas from scratch, that would be it.
Of course, with the help of sizzilin' sofrito, umami-packed sazon, and bubbling tomato sauce, we were able to get these beans to their optimal state, Puerto Rican-style.
They are perfectly tender, incredibly delicious, made with affordable ingredients.
The seasonings and flavors used in this recipe are incredibly important if you're looking for non-basic beans. You know, something that tastes like a meal and not a snack.
Sofrito For Habichuelas Guisadas
For sofrito, I make it homemade. It's pretty easy to whip up and can be stored in the refrigerator or freezer in an air-tight close container or jar.
You can also purchase pre-made sofrito, but fresh is always better. They either sell it in a jar or a tub in the frozen section of the grocery store.
Note, this item can be sometimes be challenging to find, but they are either in the Latin/Ethnic section of the grocery store. Latin grocery stores usually carry them.
Besides, all you need for sofrito are the following ingredients:
Green bell pepper
Red bell pepper
Onion
Whole garlic
A bunch of cilantro (2 ounces/~56 grams)
Oh, and a blender. I typically use my Nutribullet and blend in batches, but it has been out of commission, so I just a regular blender for now.
What Is "Habichuelas Guisadas"?
In direct translation, it means stewed beans. It can be prepared in many ways from canned or dry beans. Depending on what I have on hand or any time constraints, I'll switch between the two.
If you're using canned beans, there is no soaking necessary. Just drain and rinse the beans. Allow everything to simmer until the potatoes are fork-tender. The cook time will be much shorter than dry beans.
Keep in mind, every household or region will have their own way of cooking habichuelas guisadas. I have even seen recipes that include carrots, squash, sweet potatoes, or yam.
If that's what you like, throw it in the pot. This recipe is inspired by my abuela's habichuelas guisadas recipe. So we're going for regular russet potatoes for our starch.
For habichuelas guisadas, red kidney beans, or pink beans are typically used. Either one is fine.
Habichuelas guisadas is typically paired with white or yellow rice, avocado, and plantains. But feel free to eat it by itself.
How To Make Habichuelas Guisadas From Scratch?
Soak Your Beans
The first step to cooking beans from scratch is to soak them. I'll usually soak them the night before in a container with cold water. I'll add enough water that it's covering the beans by about 2-3 inches.
When you're ready to use the beans and they have been soaked for at least 8 hours, drain the water and give them a quick rinse.
How To Quick Soak Beans
If you're not into soaking the beans overnight, we can cut corners. To quick-soak beans, bring a pot of salted water to a boil. Boil for 5 minutes, then remove the pot from the heat. Cover the pot with a lid and allow the beans to soak for one hour.
Next, drain and rinse the beans and continue with the recipe.
Check On Doneness Throughout Cook
After about 30 minutes or so after the beans have simmered, I'll regularly check the beans' doneness.
I don't want my beans to turn out mushy, or stay too tough. When they are tender enough, that's when I know it's time to prepare my seasonings and flavors that'll be combined with the beans.
Check on Water Levels
You want to make sure that your beans have enough water. Evaporation will happen and you want to make sure your beans are at least covered by an inch throughout the entire cook.
Don't be like me – forgetting about the beans and find them dried out and burnt to a crisp.
In addition to checking on the water levels from the beans, you'll want to reserve the water later in the recipe. This is where you're going to have your natural bean flavor.
The water will be re-introduced to the beans along with the sazon, sofrito, tomato sauce, adobo, olives, and potatoes.
Occasionally Stir Beans
You'll want to occasionally stir the beans to ensure they do not stick to the bottom of the pot.
Ready to get your flavor on?
Can I Use Canned Beans?
Yes, you can use canned beans in this recipe. Switch out the dry beans for one 15.5 fl oz. can of beans. Be sure to drain the beans – not rinse. You'll need to roughly follow the recipe instructions after step 4. Here are the modified instructions for canned beans.
In a saucepan over high heat, add 1 tablespoon of oil. Once the oil is hot, add sofrito, tomato sauce, 1/2 teaspoon of sazon, and adobo. Stir and cook for 1-2 minutes.
Drain canned beans and pour into the saucepan. Add potatoes and olives, mix everything well.
Pour water into the saucepan until just covering the beans.
Once at a boil, immediately reduce heat to medium. Cover the pot and simmer until potatoes are tender – about 10-15 minutes.
Or, check out Easy Habichuelas Guisadas Recipe With Canned Beans.
More Recipes For Beans:
---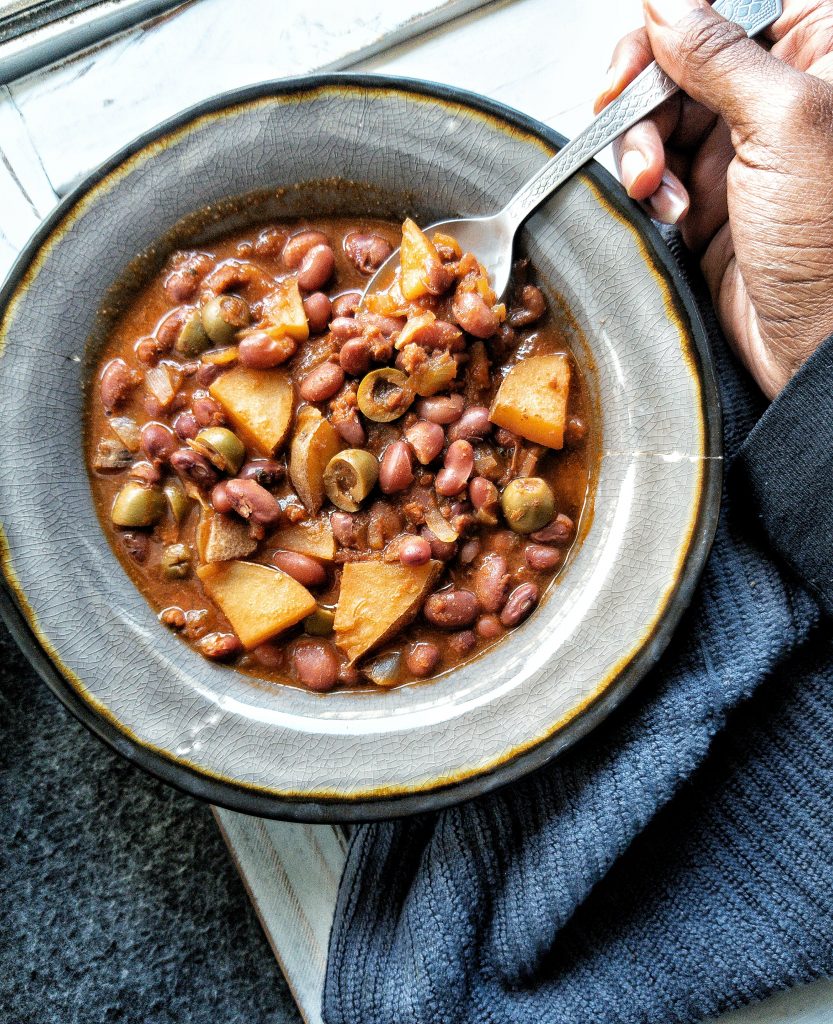 Habichuelas Guisadas From Scratch
A savory, Puerto Rican stew called "habichuelas guisadas" also known as a pink/red bean stew. Plant-based, easy to make, and delicious. It served as a side along with rice, sliced avocado, and a protein.
Ingredients
3/4

cups

red kidney beans

4

ounces

tomato sauce

2

tablespoons

sofrito

1/2

teaspoon

sazon

1/4

teaspoon

Adobo seasoning

1

tablespoon

canola or vegetable oil

1

medium russet potato

chopped into bite-sized pieces

1/4

cup

Spanish olives (optional)
Instructions
First, rinse beans and remove any foreign objects (rocks, dirt). Place beans into an air-tight container and pour cold water over the beans, covering beans about 2 inches. Soak for at least 8 hours, or overnight.

Once beans are done soaking, pour water out and give beans a quick rinse. Pour beans into a saucepot and add fresh water, covering beans by about 3 inches.

Next, bring the beans to a boil, then reduce heat to a simmer. Simmer for 40 to 60 minutes, or until tender.

In a separate non-stick pan over medium-high heat, add 1 tablespoon of oil. Once oil is hot, add sofrito, tomato sauce, sazon, and adobo. Stir and cook for 1-2 minutes. Turn off the burner and remove from heat.

Drain and reserve water from cooked beans. Place the pot with beans back onto the burner and add the sofrito mixture with the beans. Add potatoes and olives, mix everything well.

Reintroduce the reserved bean water to the beans and add as little or as much as you like. Add additional water if you don't have enough of the reserved bean water.

Finally, increase temperature and bring everything to a boil. Then, immediately reduce heat to medium. Cover the pot and simmer until potatoes are tender – about 10-15 minutes.
Notes
You can add more water to the recipe if necessary. Best to keep an eye on the beans throughout the cook to make sure the beans have enough liquid. 

The cook times may vary due to the size of beans or how much you're preparing. This recipe is flexible, it's always a good idea to keep an eye out. 

Cook times may also vary, depending on the size of the potatoes. I cut mine about half an inch thick. 

Once you season the beans with the sofrito mix, it will be very salty. However, the potato and beans will soak up a lot of the flavors – don't fret! At the end of the cook, if it needs additional salt, adjust accordingly. If less, add a bit more water. 
If you're pressed for time, make habichuelas guisadas from canned beans.
---
Did you try out this Habichuelas Guisadas From Scratch recipe?
Please leave a comment below, share it, rate it, or tag a picture @plantbasedandbroke on Instagram and hashtag it #plantbasedandbroke. Show off that creation with us.