(
This post may have affiliate links. Please see my disclosure.
)
This vegan picadillo recipe a simple dish, using affordable, popular ingredients including potatoes, ground beef, tomato sauce, seasonings, olives, and oil.
Picadillo, pronounced "pee-ca-dee-o" is also known as "carne molida" in Spanish.
What Is Picadillo?
Picadillo is ground beef (this recipe is vegan) that has been cooked in a tomato sauce, potatoes, seasonings, and spices. It's a common, traditional dish in Puerto Rico and across Latin America.
Every country, region, and household will have their own unique touch on the recipe and how it's used.
How To Use Picadillo?
You can also use this vegan picadillo recipe for tacos, empanadas, or sandwiches. If you do opt to have vegan picadillo with bready ingredients, I suggest cooking it for longer to reduce the liquid as much as possible.
Here we'll be taking this Puerto Rican, meat-heavy dish and making it vegan. The plant-based version of this dish is still just as delicious, using all the flavors and seasonings that make this amazing in the first place.
Side Dishes To Include With Vegan Picadillo:
Into mushrooms? Check out our vegan pernil recipe.
How To Make Sofrito For Picadillo?
Puerto Rican Sofrito is a cooking base used in Puerto Rican cooking. It includes aromatic ingredients including peppers, onion, cilantro, and garlic.
It's simply blended it up and cooked in hot oil before preparing the main dish.
You'll usually find sofrito in dishes including soups, stews, beans and rice.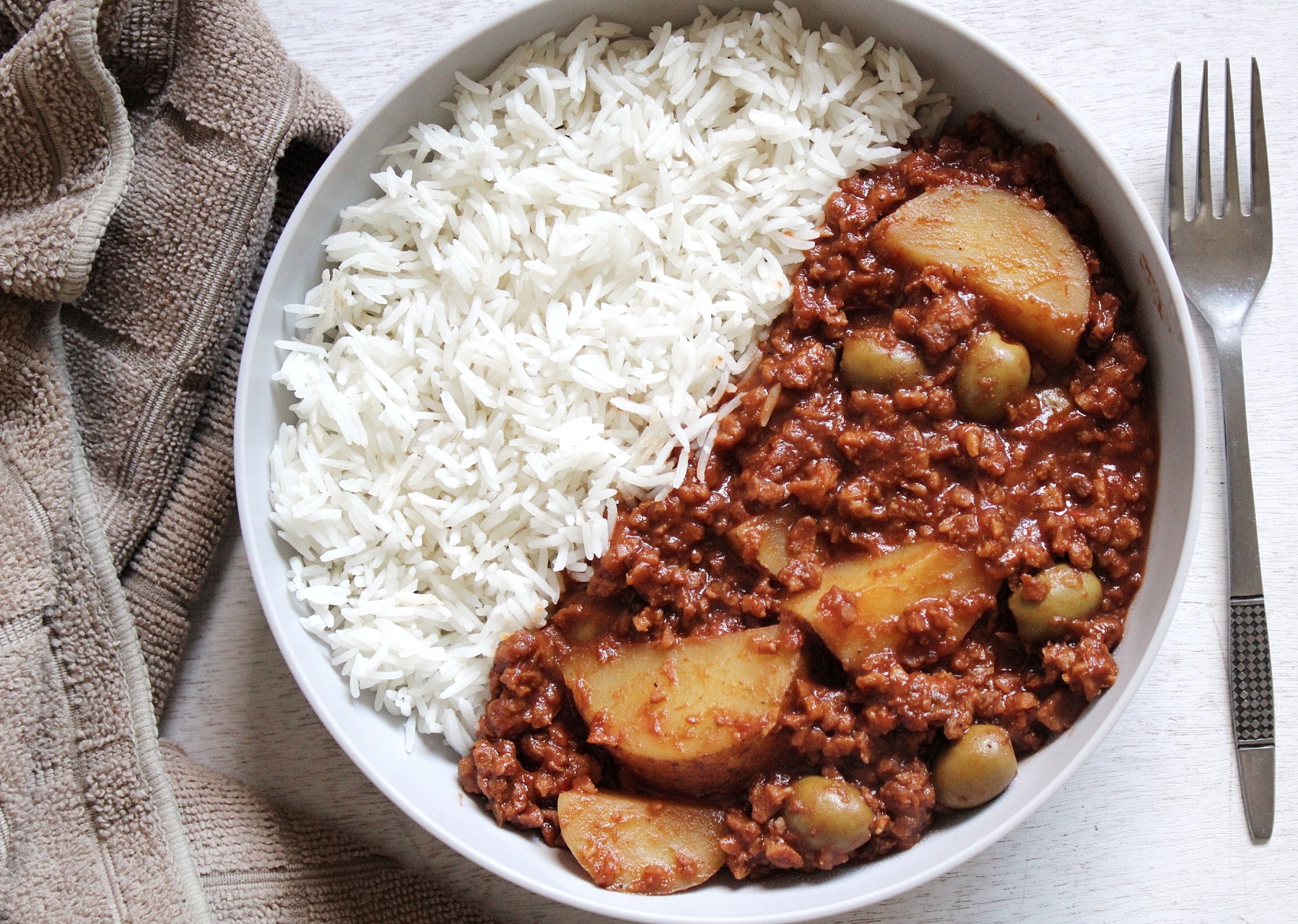 Recipe Notes
Because the vegan beef crumbles are drier and less fatty than actual ground beef, we'll need to compensate by introducing more moisture. This is why tomato sauce and a touch of water will be an important addition to this recipe.
I used Beyond Beef in this recipe. Don't use the Beyond Meat Beef Feisty Crumbles, or it'll change the flavor of your picadillo. You want to get Beyond Beef Beefy Crumbles. You'll find it in a red bag in the freezer section of the grocery store.
If you prefer to use a different vegan ground beef brand, that's fine. Be sure to find something that isn't overly salty or flavored. Taste and adjust as needed.
I HIGHLY suggest making your own sofrito because the pre-made stuff is not even close to being as good.
If your sofrito has added salt, add less sazon. This dish will be seasoned enough with the ingredients listed.
Optional: I added a teaspoon of chili powder to add some color.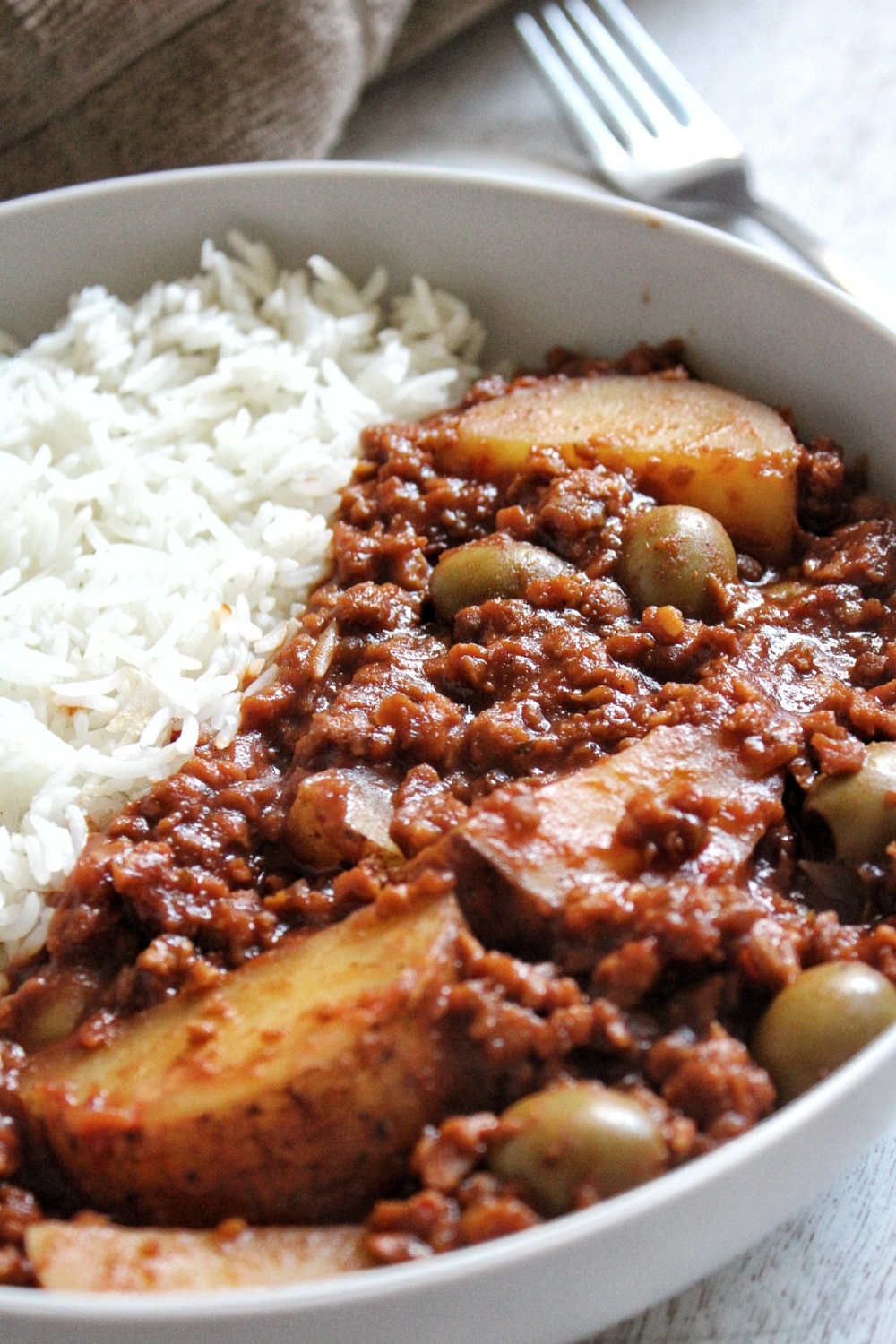 ---
Did you try out this Vegan Picadillo recipe?
Please leave a comment below, share it, rate it, or tag a picture @plantbasedandbroke on Instagram and hashtag it #plantbasedandbroke. Show off that creation with us.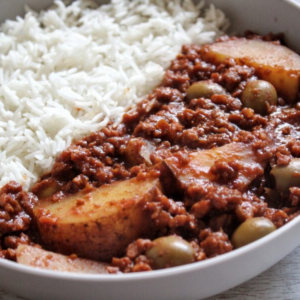 Vegan Picadillo
Meatless ground "beef" simmered in a tomato sauce with sazon seasoning, homemade sofrito, and russet potatoes. It's a popular Puerto Rican side dish turned plant-based.
Ingredients
Instructions
Warm up the oil in a non-stick pan over medium heat. Once the oil is hot, add the sofrito to the pan. Saute and cook for about 1 minute. Add sazon, adobo, tomato sauce, tomato paste, green olives, bay leaf. Stir together and simmer for 1 minute.

Pour in the vegan ground beef, choped potato, and water. Reduce heat to medium-low and add a lid over the pan. Simmer until potatoes are fork-tender, about 15 minutes. 

Once potatoes are tender, remove the lid from the pan and turn off the heat. Allow everything to simmer for another 2-3 minutes to thicken up the sauce. Serve.
Notes
Use any kind of vegan ground round you prefer. However, just take note of the salt. It's best to use vegan ground meat that is not seasoned or pre-flavored. Season this dish (sazon + adobo) accordingly.