(
This post may have affiliate links. Please see my disclosure.
)
This afternoon I wasn't equipped with a recipe plan – I just knew that I needed to use a whole head of broccoli for a broccoli curry before it turned into a slimy ball of wasted money.
And I don't like to waste money.
Although I was craving something else, for example, chili for the 5th day in a row, I decided to make something just a little bit different.
Thankfully, I had everything in my kitchen pantry and refrigerator to whip up an easy 10-ingredient vegan broccoli curry.
For the most part, we're using shelf-stable ingredients, besides the broccoli and red onion. Additionally, all the ingredients listed in this recipe are affordable, accessible, and easy to find. We're also using just one cookware: a saucepan.
Meaning, we won't have a lot of clean up to do.
What I Love About This Recipe
It has about a 20-minute cook time.
Using only 10 ingredients.
6 easy recipe directions that are easy to follow.
Perfectly creamy, savory, and packed with flavor.
All ingredients are easy to find offline and online.
It pairs well with other affordable side dishes including rice.
Cheap Tips:
If you have access to a local Asian grocery store, I recommend doing a price comparison for spices and coconut milk. I find that these items are typically cheaper at these stores.
Go for off-brand peanut butter. They're all essentially the same thing if they have the same ingredients. Just be sure to pick up a jar that has no added sugar or salt.
Find spices in large containers or bags. They are usually much cheaper. You can also find a plethora of spices online at Amazon. if you're unable to find them at your local grocery store. Some of my favorites to buy in bulk include garlic powder, smoked paprika, and chili powder.
Other Vegetables To Include in Veggie Curry
Carrots
Potatoes
Cauliflower
Bell Pepper
Sweet Potatoes
Tomatoes
Peas
Spinach
Kale
Green Beans
Pumpkin
Squash
Lentils
Beans
Tofu
Mushrooms
Feel free to add to the recipe, just keep in mind different vegetables cook for different lengths of time.
More Broccoli Recipes
Can I Use Frozen Broccoli?
I used fresh broccoli in this recipe, but you're more than welcome to use frozen broccoli instead. However, I suggest cooking frozen broccoli for less time.
For this recipe, fresh broccoli requires about a 10-minute cook time. For frozen broccoli, you'll need to cook for about 5 minutes, depending on the size.
You'll know they are tender enough when you can easily piece the broccoli with a fork. 
For fresh broccoli, I suggest chopping the broccoli in small florets for faster cook time.
What To Serve With Broccoli Curry
Because this creamy broccoli curry recipe so rich and bold in flavor, I like to pair it with a side dish that's mild in flavor. You're probably already thinking it: plain white rice.
White rice is an easy, inexpensive, and fast side dish. You can also do black rice, brown rice, or wild rice – that is up to your discretion. 
Other side dishes to consider to pair with your broccoli curry include flatbread, salads, quinoa, and potatoes.
This recipe yields about 3-4 servings. This recipe is on the lighter side, so feel free to use up those side dishes to accompany your main dish.
More Curry Recipes
For more quick and easy plant-based dinner recipes, check out 30-Minute Plant-Based Dinner Ideas.
It's time to get to this 10-Ingredient Vegan Broccoli Curry recipe. 🙂
---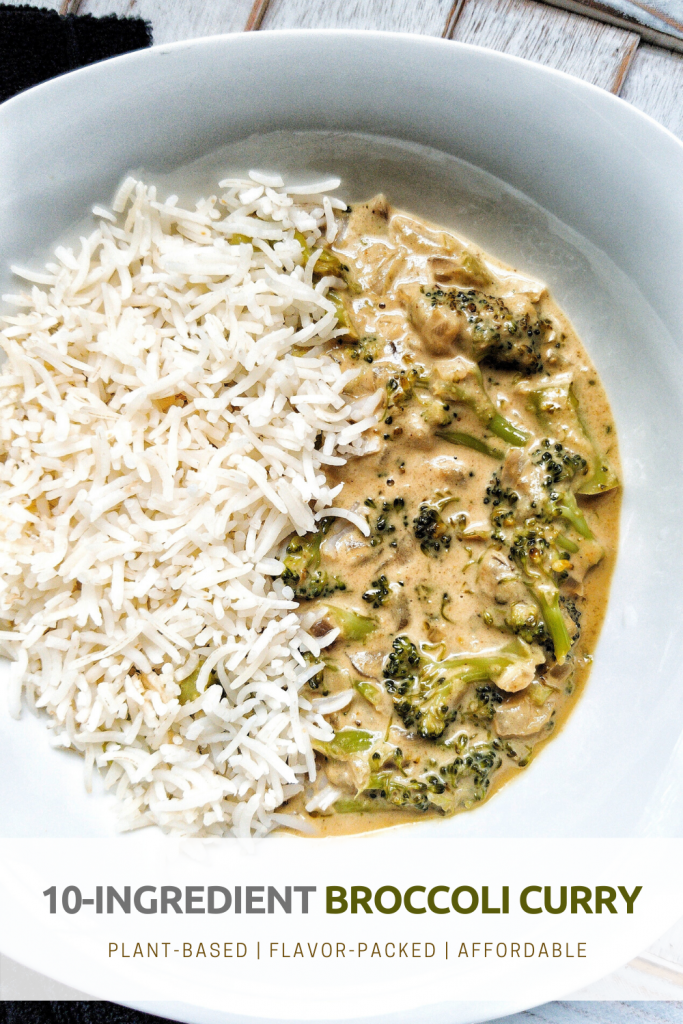 10-Ingredient Vegan Broccoli Curry
Easy, delicious vegan broccoli curry using easy-to-find, affordable plant-based ingredients including fresh broccoli, spices, and coconut milk.
Ingredients
1

can

Full fat coconut milk (13.5 ounces)

1/4

cup

natural peanut butter

no added sugar/salt

3

tablespoon

vegan butter

1

red onion

chopped

1

head

broccoli

chopped into florets

1

teaspoon

curry powder

1

teaspoon

garlic powder

1/4

teaspoon

salt

Add more/less to your liking

1

teaspoon

sugar

1

teaspoon

ginger

1

cup

of water
Instructions
In a bowl, whisk together the coconut milk and peanut butter until well-combined. Set aside.

In a saucepan over medium-high heat, add vegan butter. Once the butter has melted, add chopped red onion.

Cook onion for about 8-10 minutes, or until tender. Next, add the broccoli. Stir and cook for 1 minute.

Pour into the saucepan the coconut milk and peanut butter mixture. Then, add the curry powder, garlic powder, salt, brown sugar, and ground ginger. Add water. Stir well.

Cover saucepan with a lid partially ajar. Reduce heat to a simmer.

Cook for 10 minutes, stirring occasionally.
Notes
Optional: add a small pinch of monosodium glutamine (MSG) to add a deeper layer of savory. 

I used fresh, raw broccoli for this recipe. If you're opting for frozen, cook it for less time. 

If you're wondering what brand of vegan butter I used, I always use

Melt Organic. 

Use full-fat, canned coconut milk. 

Feel free to adjust spices for taste – according to your own tastebuds. 
Did you try out this Vegan Broccoli Curry recipe?
Please leave a comment below, share it, rate it, or tag a picture @plantbasedandbroke on Instagram and hashtag it #plantbasedandbroke. Show off that creation with us.