(
This post may have affiliate links. Please see my disclosure.
)
Jump to:
Are you craving a curry dish made with smooth peanut butter, creamy coconut milk, and the spices and aromatics that takes vegetables to a whole new level?
Welcome aboard, we're making an easy, quick, healthy, and affordable pot of broccoli curry. Best served up with a pile of quick, no-yeast flatbread!
This recipe has recently been updated and improved.
When I want dinner to be done fast, I like to get this dish going with a side of white rice from my friendly no-stress rice cooker. Plus, this dish takes just about 20 minutes from start to finish. I think that makes it a worth weekday dinner meal.
If you're into meal prepping, this dish is perfect for that. Later in this post, I have a tip on how to store, freeze, and then recook from frozen.
Only 10 Ingredients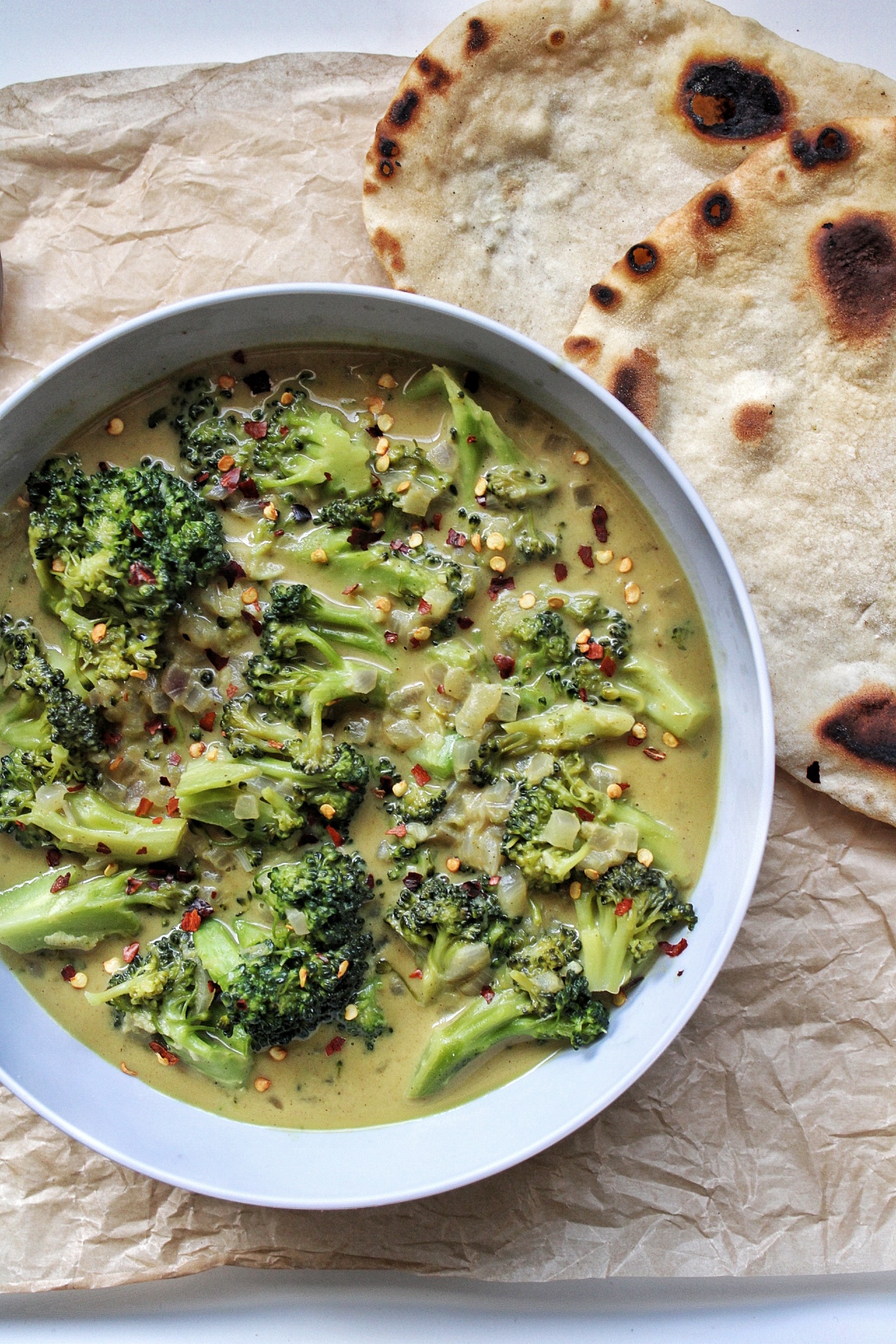 This recipe uses only 10 plant-based, vegan ingredients that are also pantry-friendly. Here's what we're working with:
Coconut Milk
Peanut Butter
Coconut Oil
Onion
Garlic
Ginger
Curry Powder
Salt
Broccoli
Water
The great part about this recipe is that it's fairly flexible. So, if you have some leftover veggies laying around that needs to get used up before they go bad, add them in.
Vegetables like carrots, bell peppers, kale, spinach, and potatoes are delicious add-ins that'll only make this dish even better.
Using Dry Spices Instead of Fresh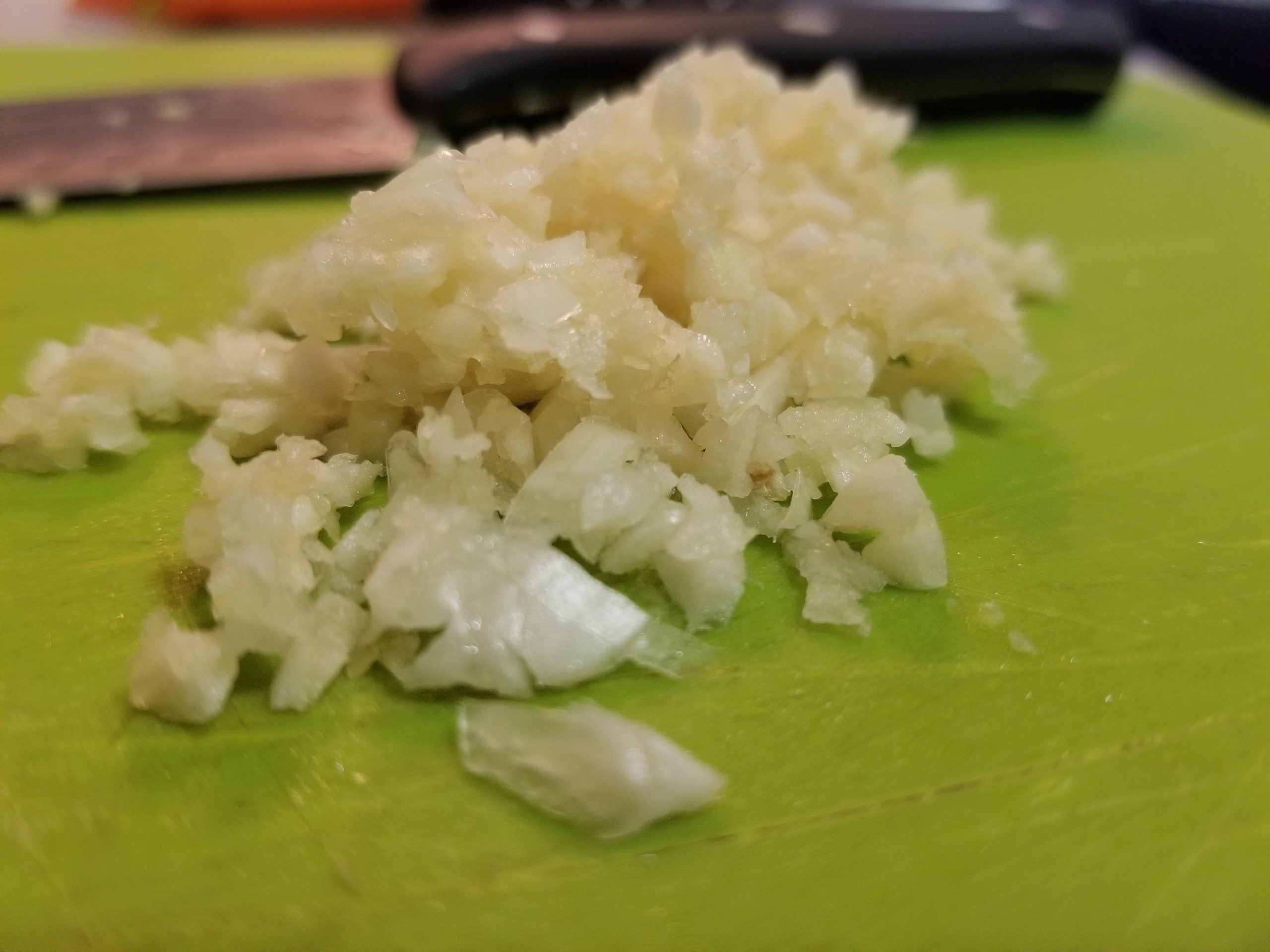 We're working with mostly fresh ingredients, however, it's fine to swap them out for dry spices instead. I've done it both ways and the outcomes are both delicious.
For example, instead of using fresh garlic, you can go for garlic powder instead. Or, instead of fresh ginger, the dry stuff is fine, too.
5 cloves of fresh garlic → Use 1 teaspoon of garlic powder
1-inch knob of fresh ginger → Use ¼ teaspoon of ginger powder
More Curry Recipes :
Cheap Tips:
If you have access to a local Asian grocery store, I recommend doing a price comparison for spices and coconut milk. I find that these items are typically cheaper at these stores.
Go for off-brand peanut butter. They're all essentially the same thing if they have the same ingredients. Just be sure to pick up a jar that has no added sugar or salt.
Find spices in large containers or bags. They are usually much cheaper. You can also find a plethora of spices online at Amazon. if you're unable to find them at your local grocery store. Some of my favorites to buy in bulk include garlic powder, smoked paprika, and chili powder.
Other Vegetables To Include in Veggie Curry
Carrots
Potatoes
Cauliflower
Bell Pepper
Sweet Potatoes
Tomatoes
Peas
Spinach
Kale
Green Beans
Pumpkin
Squash
Lentils
Beans
Tofu
Mushrooms
Feel free to add to the recipe, just keep in mind different vegetables cook for different lengths of time.
Can I Use Frozen Broccoli?
I used fresh broccoli in this recipe, but you're more than welcome to use frozen broccoli instead. However, I suggest cooking frozen broccoli for less time.
For this recipe, fresh broccoli requires about a 10-minute cook time. For frozen broccoli, you'll need to cook for about 5 minutes, depending on the size.
You'll know the broccoli is ready when you're able to easily pierce them with a fork.
For fresh broccoli, I suggest chopping the broccoli in small florets for faster cook time.
What To Eat With Broccoli Curry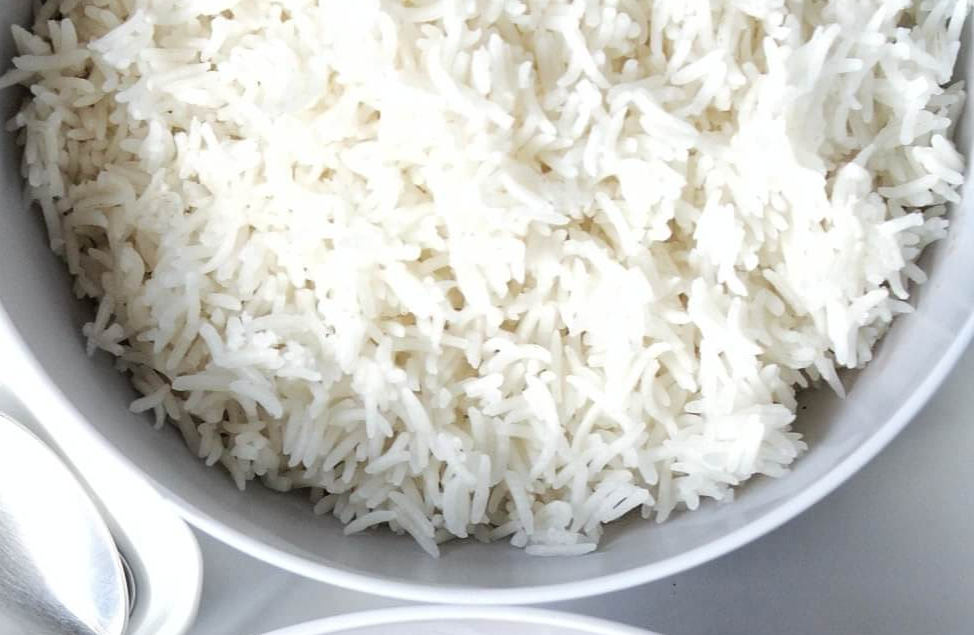 I love broccoli curry with a side of fluffy and soft flatbread or steamed white rice.
Other sides to consider include a side salad, quinoa, or toasted fresh bread. Or, eat it as is - kind of a soup!
To make white rice, I just pop in 1 cup of white rice with 1 cup of water into a rice cooker. Cook until it tells you it's done.
If you're looking for a more bold rice dish, check out our Puerto Rican yellow rice recipe.
Recipe Notes
To make this dish right, it's important to use smooth, natural peanut butter without any added salt or sugar. I get my peanut butter from Trader Joe's.
When your curry is done, give it a taste and check to see if it needs more salt or more water. If you want the consistency thicker, simply turn off the heat after you're done cooking and let some of the water steam off for a few minutes. Then, give it a stir.
I highly recommend using full-fat coconut milk from the can. Reduced fat coconut milk or even the stuff from a carton is just not the same.
Keep in mind that if you're adding different types of vegetables to the curry, you might need to adjust the cooking time.
For a spicier curry dish, add cayenne pepper, red chili flakes, or go with chopped hot chili peppers.
How To Store
This curry can keep in the refrigerator in an air-tight container or reusable silicone bag for up to four days. Or, store it in the freezer for months.
To reheat from the freezer, place the curry in the refrigerator the day before to thaw. Or cook over medium heat and add some water to thin it out.
Just getting started with a plant-based diet? Check out our FREE guide to going plant-based on a budget.
---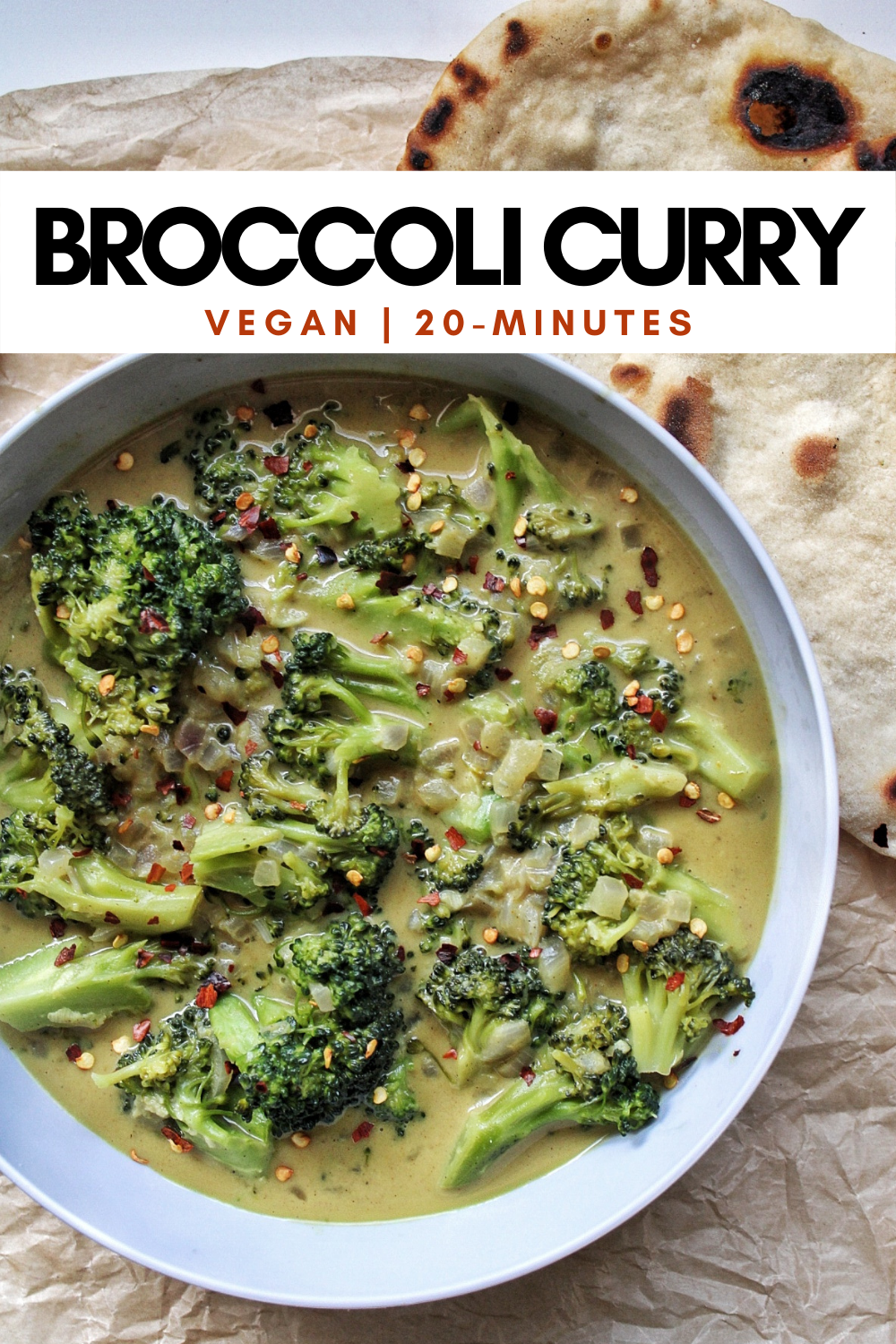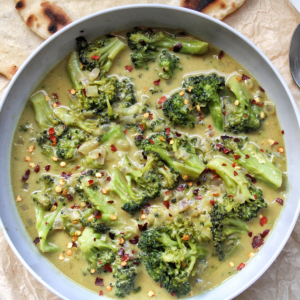 10-Ingredient Vegan Broccoli Curry
Creamy, full-bodies vegan broccoli curry with easy-to-find ingredients. The perfect weeknight dinner recipe, taking only 20 minutes to make!
Ingredients
13.5

ounces

full fat coconut milk

canned

¼

cup

natural peanut butter

no added sugar/salt

2

tablespoons

coconut oil

1

red onion

chopped

5

garlic cloves

crushed

1

teaspoon

fresh ginger

minced

1 ½

teaspoon

curry powder

½

teaspoon

salt

½

teaspoon

sugar

1

head

broccoli

cut into florets

1

cup

of water

Red chili flakes

(optional)
Instructions
In a bowl, whisk together the coconut milk and peanut butter until well combined. Or, use a blender and blend until smooth. Set aside.

Add coconut oil to a saucepan over medium heat. Once the oil is hot, add the chopped onion and cook for 2 minutes, or until soft.

Add the garlic, ginger, curry powder, salt, and sugar. Stir together and cook for 30 seconds, until fragrant.

Add coconut milk and peanut butter mixture, broccoli florets, and water. Stir to combine.

Increase heat and bring everything to a boil. Once at a boil, reduce heat and simmer for about 10-15 minutes, until broccoli is tender. Add more salt and sugar to taste. Top off with red chili flakes (optional)
Notes
Use natural peanut butter that does not have any added sugar or salt. This is important. Take a look at the ingredient label to be sure.

For the salt and sugar in this recipe, adjust to taste. 
Nutrition
Serving:
1
-Serving
Calories:
417
kcal
Carbohydrates:
21
g
Protein:
11
g
Fat:
36
g
Saturated Fat:
26
g
Polyunsaturated Fat:
3
g
Monounsaturated Fat:
5
g
Sodium:
358
mg
Potassium:
864
mg
Fiber:
6
g
Sugar:
6
g
Vitamin A:
955
IU
Vitamin C:
140
mg
Calcium:
113
mg
Iron:
5
mg
Did you try out this Vegan Broccoli Curry recipe?
Please leave a comment below, share it, rate it, or tag a picture @plantbasedandbroke on Instagram and hashtag it #plantbasedandbroke. Show off that creation with us.