(
This post may have affiliate links. Please see my disclosure.
)
---
Frugal living doesn't have to mean living a boring, unfulfilling life – it just means living in a different way.
Growing up, we were expert frugal living humans who were dedicated to couponing, DIY (my mother knew how to fix anything), visiting thrift stores, fun family activities on a budget, and including plant-based meals on a budget (examples include beans, rice, soups & stews).
Oh, and libraries were and still are a thing. Endless *free* books to read? Sign me up! Pro-tip: libraries often have collections of movies, documentaries, and films to check out.
If there's anything I learned, is that finding ways to be resourceful is possible and reasonable.
Here are 10 approachable ways to living frugally!
1. Do Price Comparisons
You know that name brand you're loyal to? It's okay to step outside of your comfort zone and do a little bit of price comparison with that one and others.
I grew up in an era when brand loyalty was everything. We chose food products as a family because the brand was safe and we believed in their advertising.
Today, we look for non-branded food items or store brand products because they tend to have a better deal. Scan the products, see how much they cost, and how much they offer.
For example, I've found that Target's canned beans are cheaper than their well-known, brand-name counterparts. Or, my local Indian store sells affordable legumes and beans from lesser-known brands.
2. Go To The Grocery Store With A Plan
Maybe I have an obsession with lists, or maybe I just like to be prepared. Either way, I believe in the power of going in with a plan.
Throughout the week, if I notice something's running low or we're out of something, I jot down that item on our kitchen whiteboard. When it's time to visit the grocery store, I add what we need along with our weekly staples.
I try my best not to deviate from the list and my grocery budget. If I do deviate, I make that mental note for next week's grocery adventure.
Along with havng a list, I think about the meals I want to cook for the week, so that way nothing goes to waste and everything's being used.
3. Refrain From Impulse Buying
Whenever I am about to make a purchase, I contemplate whether or not this is a responsible purchase.
Although I splurge here-and-there, I make sure that what I am buying is something that I will use.
For example, if I have a sense that what I am about to purchase will not be optimally used or will be an expensive fad – I put it back. The other day I went shopping for clothes, however, I went in with a plan and made sure I only bought what I needed: 2 pairs of professional pants.
Think about how much use are you really going to get out of something and if it's worth the ROI.
4. Do Regular Bank Check-Ins
I check my bank accounts almost daily. For one, I like to keep myself accountable for my spending habits. Two, it's a great idea to do this to spot any strange account activity that can be disputed.
Closing your eyes to what your spending is not going to help you solve any spending issues. It's also a good idea to check on any bills that are on auto-pay to make sure you're not being overcharged or that you moved into a more expensive tier after your contract.
Bills aren't always right, so check on those auto-charges!
5. Keep A Budget
My motto: save as much as you can.
I keep a rough budget, but I also just try not to spend any more than I set for needed activities (grocery shopping, personal items, hobbies/fun).
In addition to a personal budget, I keep track of any income and expenses for my business to ensure I do not have any spending that can be cut back or eliminated.
This is true for my personal life. That streaming service that we haven't touched in months? Yeah, that has to go.
6. Avoid Eating Out
It was about 3 years ago when I started to take a closer look at my bank account and my jaw crushed all the way through the ground.
I was spending way too much money on food. Almost every day I was going out with co-workers or friends and spending too much on food I could have just made myself. That's when I realized this habit of picking up food had to end.
Today, I cook about 98 percent of my meals. If we go out to eat, it's for a special occasion. It is certainly no longer a daily habit. And if co-workers want to have lunch everyday in the city? Well, I'll have to skip that.
7. Make Your Own Coffee
I get it. The hustle and bustle can tempt everyone to grab a coffee from their local coffee shops.
However, coffee is another one of those things that I realized I was spending way too much money on. Instead of grabbing Starbucks coffee just about every day, we buy a large bag of Starbucks coffee beans and make it at home.
Besides, we never have to worry about a cup of coffee that's stale, cold, or watery. We control how our coffee comes out – and it's delicious every single time.
8. Exercise Outside
Lately, I have been going on runs. And guess what? It's free.
I have been working out and going to the gym for over ten years. But I must admit, I get bored fairly quickly. So I am constantly doing something new.
Thankfully, that new thing is free. In addition to running, I am committing myself to home workouts or challenges to keep my body strong and healthy.
We've also invested in cheap workout machines and weights to workout at the comfort of our home.
9. Find Free Hobbies
As an introvert, it's relatively easy to find free hobbies to entertain me. Here are some of my favorites:
Cooking
Creating content
Hiking
Walking/jogging/running
Reading
Taking free courses online
One of my favorite activities is bringing friends over and have a game night. There's nothing more fun than having good company, a few snacks, and a few laughs.
10. Eat Plant-Based
Eating plant-based is not only great for my health but gracious on my wallet.
Like most folks, I thought making the switch to eating plant-based would be expensive. But, with a flexible plant-based diet, a meal plan, and a grocery shopping list – it's possible to spend LESS.
I focus on food products that are shelf-stable, frozen, or can be found in bulk to help keep grocery spending low. Additionally, I've taken notes on the stores that offer affordable food items.
However, if a 100% plant-based diet is not sustainable, because you live in a food desert, or access is limited – be kind to yourself and do what you can to feed your family, even if it's not WFPB.
Frugal Family Meal Ideas
Want to stick with a plant-based diet but not sure what to cook and serve your family? Here are a few ideas.
Time to put those dry black beans to work! Here's an easy way on how to cook dry beans from scratch – no soaking needed. These beans are packed with plant-based fiber, protein and they're EASY to make.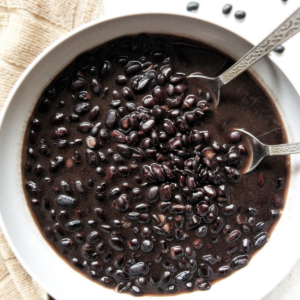 A delicious, oil-free healthy vegan fried rice recipe loaded with your favorite veggies along with tofu scramble!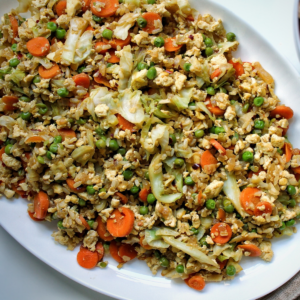 The BEST vegetarian tofu bean chili. This classic, comfort dish is made with tender tofu, creamy beans, rich tomato sauce, and a blend of pantry-friendly spices.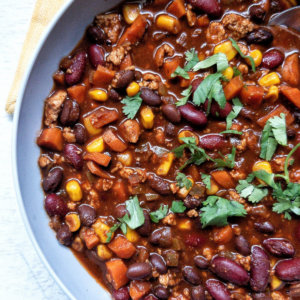 Bring BIG flavor to your dinner table with Vegan Puerto Rican Picadillo, or vegan spiced "ground beef." Made with vegan ground "beef" spices, potatoes, tomato sauce, and Spanish green olives.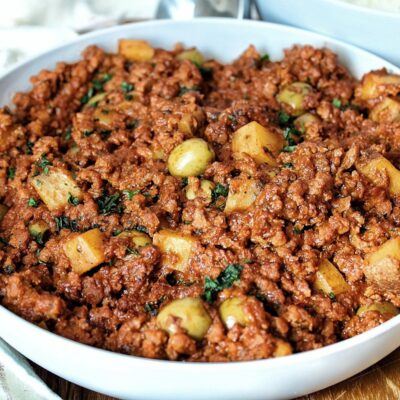 Protein-packed, healthy plant-based burgers made with tofu, black beans, and mushrooms. A kid-friendly burger that's great for a weekday dinner meal. Gluten-free, vegan, and healthy.