(
This post may have affiliate links. Please see my disclosure.
)
Jump to:
I love a good, tender, soft, chocolate cake - but sometimes I don't need several servings. I need something just for me - a party of one, to satisfy that sweet tooth.
After several attempts at vegan chocolate mug cake, I finally landed the perfect recipe! It's soft, not too sweet, rich, and chocolatey. It's the kind of cake I can eat over and over again.
What Is A Mug Cake
The meaning is all in the name! It's a cake in a mug. However, rather than going with the traditional way of making a cake in the oven, it's being "baked" in the microwave.
Cooking mug cakes takes less than 2 minutes to make - 90 seconds to be exact.
Because a mug cake is served in a mug, it's the perfect single-serving recipe for a quick and easy sweet treat.
Why You'll Love This
It's the perfect single-serving dessert. Great for portion control.
No need to crank on the oven! Hot outside? Just pop this mug in the microwave and you're done.
It's incredibly chocolatey, rich, moist, and tender. Making it the kind of vegan mug cake you deserve.
For more quick and easy dessert recipes, check out our chocolate chia seed pudding, peach mango smoothie, edible cookie dough, and applesauce.
Ingredients & Substitutions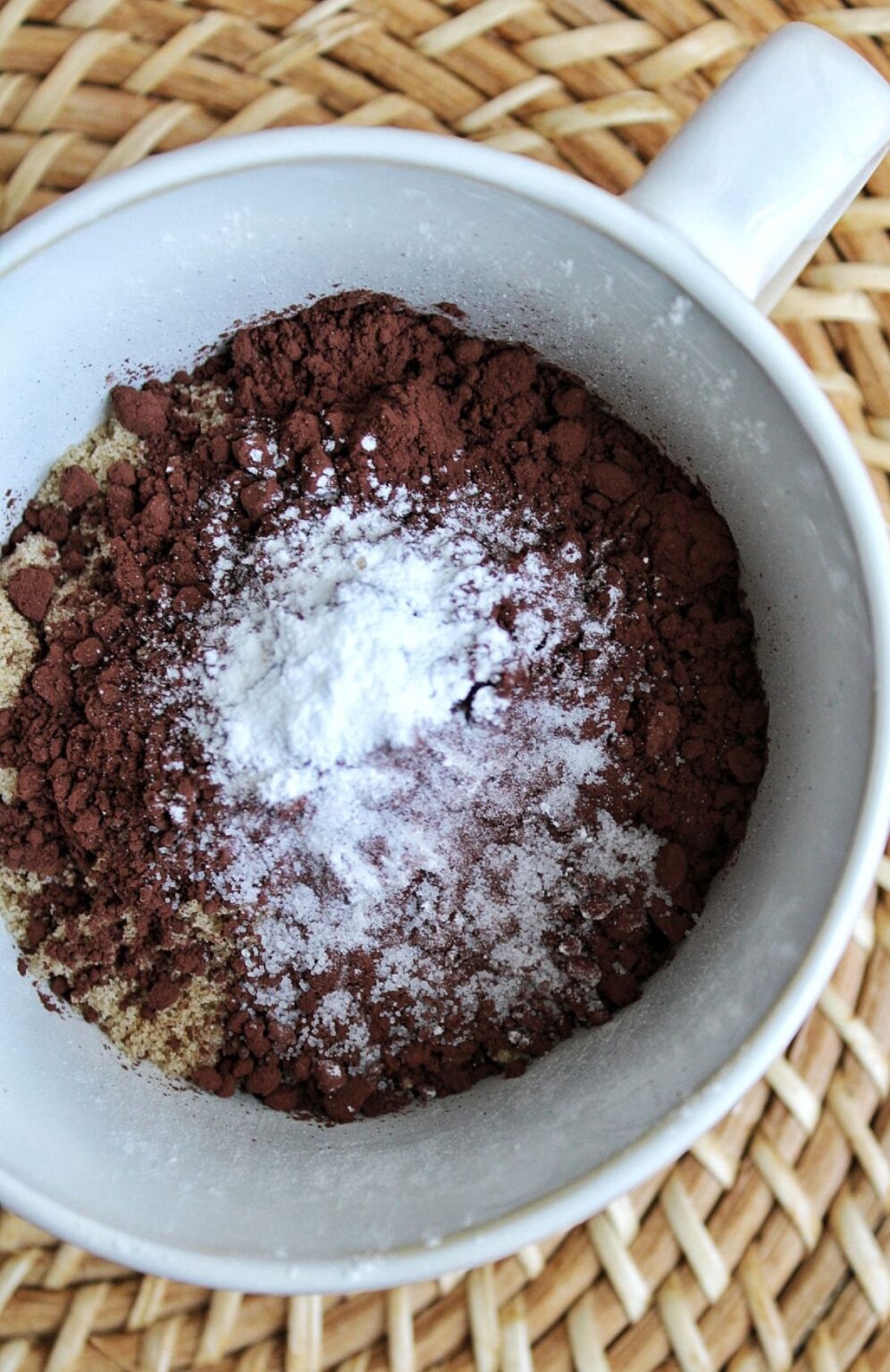 Flour: We're going with all-purpose flour here. If you're opting to use self-rising flour, leave out the baking powder and salt.
Brown Sugar
Dutch-processed Cocoa Powder: I highly suggest using Dutch-processed cocoa powder for a less bitter, smoother flavor. However, if you only have natural cocoa, that can work.
Baking Powder: This will help the cake rise.
Salt: A little goes a long way! Salt helps balance and bring the flavors together.
Soy Milk: Or, go for any dairy-free alternative (almond milk, oat milk, cashew milk, coconut milk).
Black Coffee: If you're looking for a rich flavor, black coffee helps! Black coffee also adds depth and tenderness.
Canola Oil: Melted butter or coconut oil works, too.
Vanilla Extract
What To Eat With Vegan Chocolate Mug Cake
This vegan mug cake is delicious on its own, but it can totally be customized with your favorite toppings and additions. Here are some ideas below.
Toppings: powdered sugar, sprinkles, shredded coconut, chocolate chips, dulce de leche, a drizzle of peanut butter, whipped cream, and ice-cream. Fresh fruit (strawberries, mixed berries, bananas), jam, date paste.
Additions/Add-ins: chopped nuts (walnuts, pecans, almonds), chocolate chips.
Recipe FAQs
How To Make A Vegan Mug Cake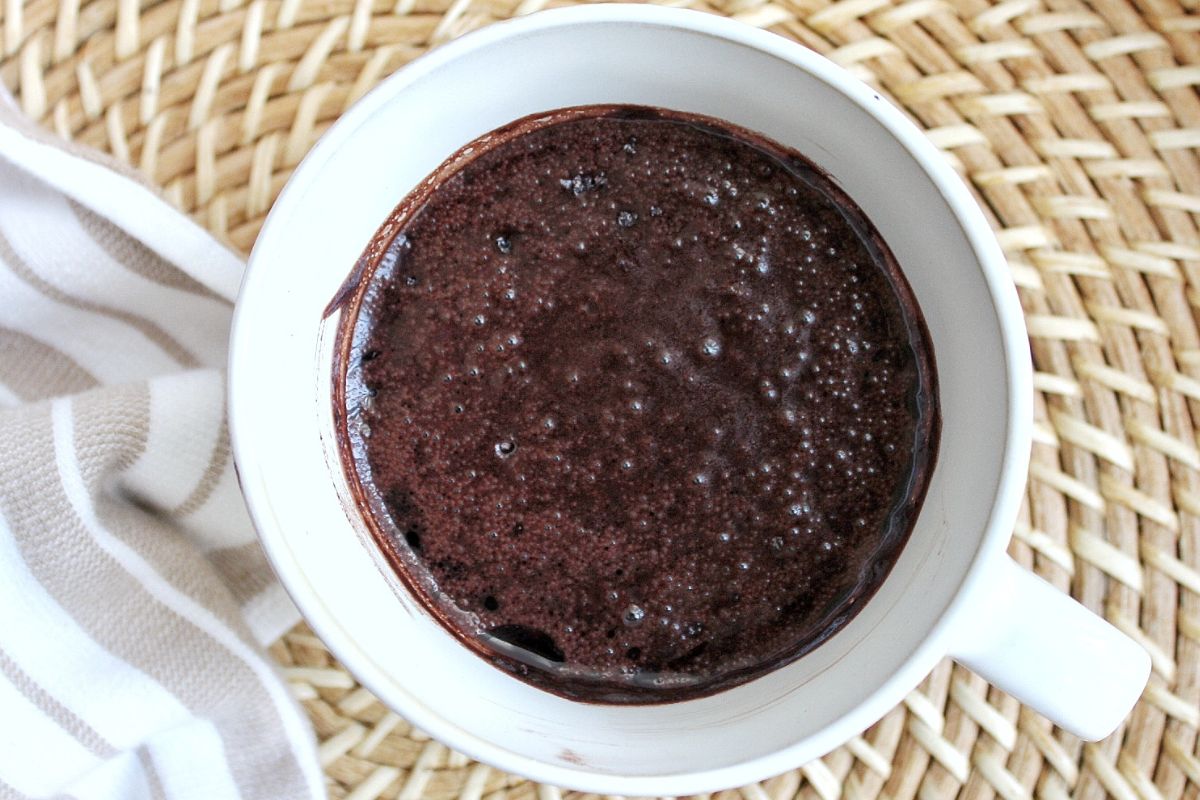 A vegan mug cake is ridiculously easy to make. If you're the type of person that can't bake a cake, you won't have to worry about messing up this recipe.
It's that easy.
First, you'll want to add and stir to combine the dry ingredients. That includes flour, brown sugar, cocoa powder, baking powder, and salt.
Then, add the wet ingredients: soy milk, black coffee, canola oil, and vanilla extract. Stir or whisk to combine, until there are no dry spots or clumps.
Finally, microwave for 90 seconds. That's it!
Why Are Mug Cakes Chewy
There are a few reasons why your microwave mug cake might yield rubbery, chewy results.
Cooked for too long. You should only need to microwave the chocolate mug cake for about 90 seconds.
Overmixing. No need to go crazy with mixing the cake batter. Just well enough that there are no dry spots.
Too much oil. Be sure to follow the exact measurements in this mug cake recipe. A food scale is a great way to get the measurements right. Plus, using a food scale means less cleaning up!
Inaccurate measurements. Be sure to get the measurements right! Use measuring spoons or a food scale.
Do You Put Egg In A Homemade Mug Cake
Not in this recipe! This vegan chocolate mug cake recipe is 100% vegan - meaning we're skipping the eggs. But, we're still getting delicious, moist, fluffy, and rich!
Essentially, eggs are totally not needed here in this mug cake.
On a chocolate kick? Check out our chocolate dessert recipes:
Tried out this Vegan Mug Chocolate Cake recipe?
Please leave a comment below, share it, rate it, or tag a picture @plantbasedandbroke on Instagram and hashtag it #plantbasedandbroke. Show off that creation with us.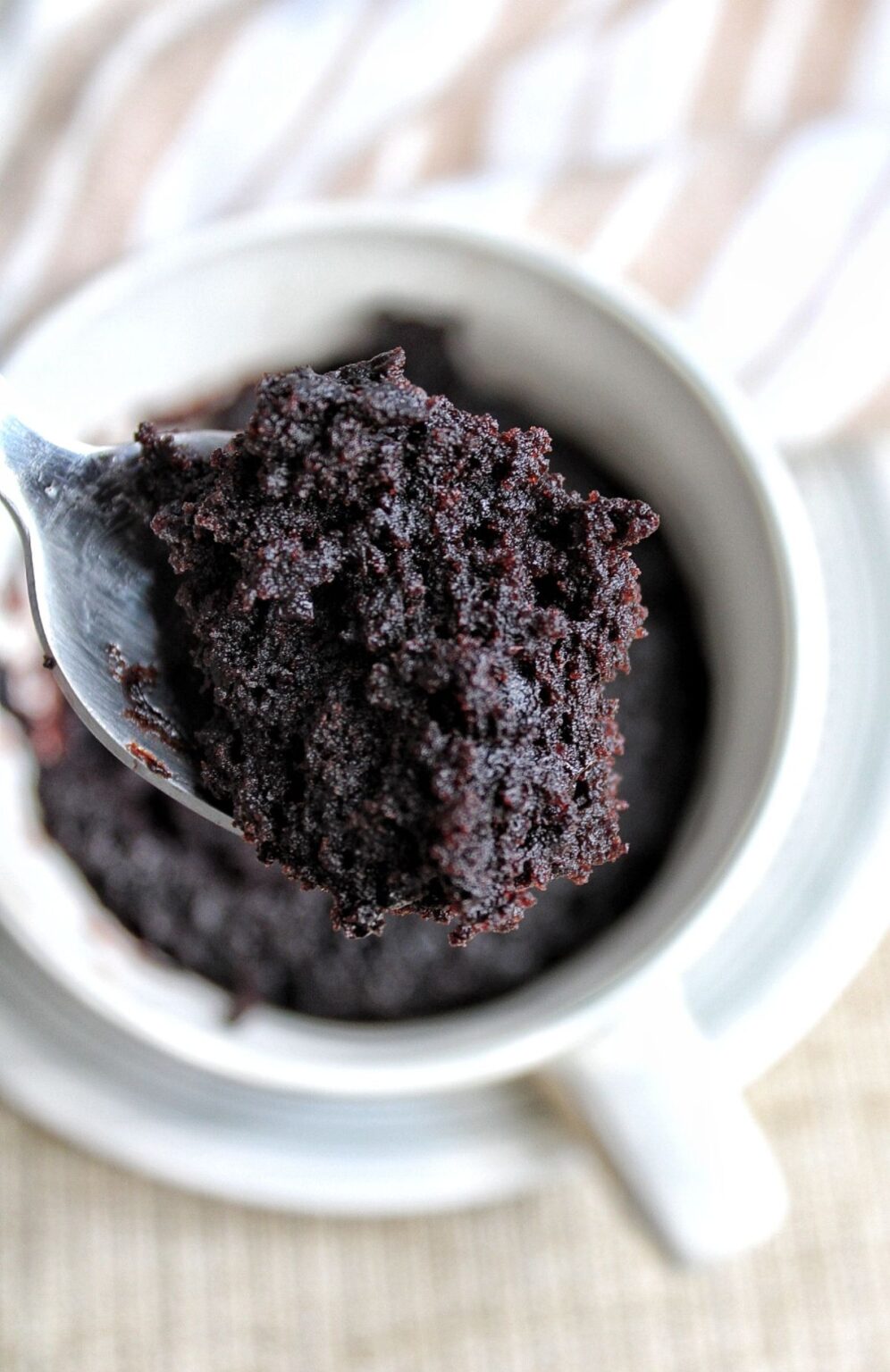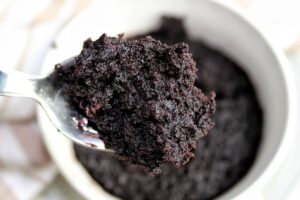 Vegan Chocolate Mug Cake (Perfectly Moist!)
Indulge in the best Vegan Chocolate Mug Cake - made right from the microwave in under 2 minutes. It's a perfect quick and easy sweet treat, made with pantry-friendly (vegan) ingredients.
Instructions
In a microwave-safe mug, mix the all-purpose flour, brown sugar, cocoa powder, baking powder, and salt. Then, stir in the soy milk, coffee, canola oil, and vanilla extract.

Microwave for 90 seconds (1 minute + 30 seconds), or until the cake is cooked all the way through.
Notes
If you prefer not to use 

canola oil

, melted (vegan) butter works fine too. 

I recommend Dutch-processed cocoa powder for a smoother flavor. However, natural cocoa powder may also be used - it just has more of a bitter taste to it. If using natural cocoa, use baking soda instead of baking powder. 

Go for any kind of non-dairy milk. 

Be sure to thoroughly mix the cake batter. No dry spots. 

Adjust cook time accordingly. Add another 10 seconds at a time until done. But, don't overcook. 

Adjust sugar according to your sweetness preferences. 
This recipe pairs perfectly with your favorite warm drink, including a homemade hot chocolate. 
Nutrition
Serving:
1
-serving
Calories:
544
kcal
Carbohydrates:
67
g
Protein:
7
g
Fat:
31
g
Saturated Fat:
3
g
Polyunsaturated Fat:
9
g
Monounsaturated Fat:
18
g
Trans Fat:
1
g
Sodium:
379
mg
Potassium:
306
mg
Fiber:
5
g
Sugar:
36
g
Vitamin A:
177
IU
Vitamin C:
3
mg
Calcium:
140
mg
Iron:
3
mg