(
This post may have affiliate links. Please see my disclosure.
)
Jump to:
After a few days of salad, sometimes I just need something hearty, rich, and abundant with flavor. This velvety chickpea curry is the perfect way to satisfy that craving!
I also need something quick and easy, using pantry-friendly ingredients. Luckily, I always have these ingredients on hand for this dish. My tip? I recommend always having your spice cabinets stocked up for occasions like this one. You'll be able to whip up a creamy curry whenever your stomach desires.
Why You'll Love This
Made with mostly pantry-friendly ingredients! Making this dish affordable to make.
It's a healthy dish made with plant-based ingredients! Including fiber-packed chickpeas, spices, and creamy coconut milk.
It's the perfect meal prep/planning meal. Make a big batch and enjoy it during the week. Serve with a side of basmati rice or naan.
For more curry recipes, check out our Thai-Style Vegetable Curry and Tofu "Butter Chicken" (Tofu Makhani).
Ingredients & Substitutions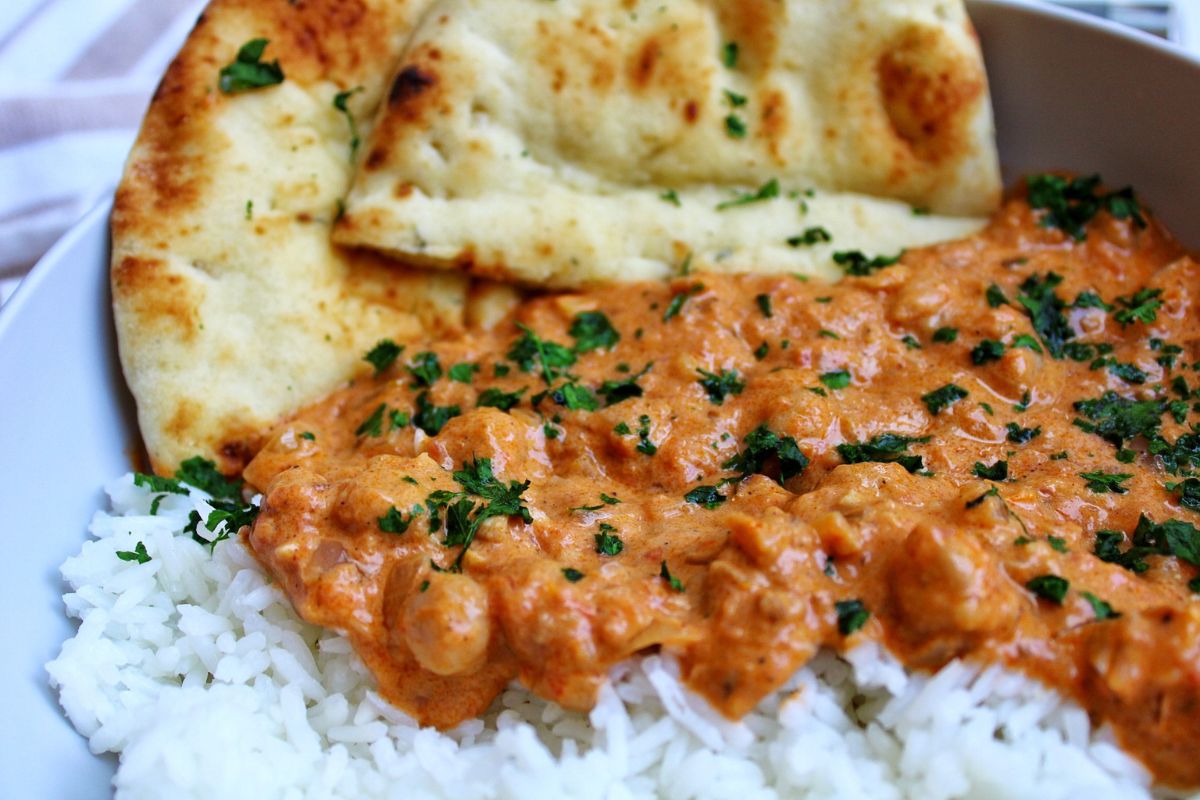 Vegan Butter: For a creamy, flavorful dish, we're going with vegan butter. Any brand works fine - I like to use a softer/creamier butter including Melt Organic or I Can't Believe It's Not Butter!
Cumin Seeds
Onion: Red or white onions work just fine for this recipe.
Garlic: Go for crushed or minced garlic.
Ginger: Crushed or minced ginger will do - you can even use a food processor.
Tomatoes: I used Roma tomatoes, however, feel free to use any type of tomatoes you prefer or have on hand.
Tomato Paste: To add another depth of tomato flavor to the dish!
Garam Masala, Curry Powder, Ground Coriander, Cayenne: These spices are a must-have for flavor and heat. If you're looking for a mild dish, opt out of the cayenne, or use less of it.
Salt: Season to taste.
Full-Fat Coconut Milk: You'll want to go full-fat coconut milk for its thickness and creaminess. Low-fat coconut milk just won't be the same - so save it for another dish.
Chickpeas/Garbanzo Beans: Go for canned or dried. If you're planning to use canned chickpeas, simply drain and rinse, prior to their use. For dried chickpeas, it will need to be cooked in advance.
Sugar: Totally optional. But if you find that the dish is too acidic from the tomatoes, add some sugar to balance it out.
Cilantro: Chopped cilantro to garnish.
How To Make Chickpea Curry
The great thing about this recipe is that it takes less than 30 minutes to make - from chopping to simmering. That means if you're looking for a quick, weekday dinner meal, this is it.
My pro-tip? Always have cooked rice in the fridge to grab as a quick side for dishes like this one.
Although chickpea curry has a layered flavor profile, it's actually quite simple to make.
First prep your ingredients, this way you're running around trying to quickly gather your items while cooking. Chop/puree/prepare anything you need, before jumping into the recipe. To make things really easy, I recommend using a food processor for tomatoes, ginger, and garlic.
In a wide pot, heat butter over medium to medium-high heat. Once melted, add the cumin seeds. Once they begin to crackle, add the onion. Fry until onions are tender.
Next, add the garlic, ginger, tomatoes, and tomato paste. Cook for about a minute. Then add the spices (garam masala, curry powder, coriander, cayenne pepper, and salt). Cook for another minute, or until fragrant.
Add the rest of the ingredients and stir to combine. Simmer without a lid for about 10-15 minutes, or until creamy and thick to your preference.
What To Eat With Chickpea Curry
This chickpea curry is very rich and creamy, so a side that can soak up the flavors will do well.
Rice and flatbread (roti/naan) are great options to serve with chickpea curry. You can also go with roasted/sauteed vegetables, a side salad, or samosas.
Depending on my mood, I switch between naan and rice. Rice is quick and easy. Unless you're going store-bought naan, it can take some time to make.
Recipe FAQs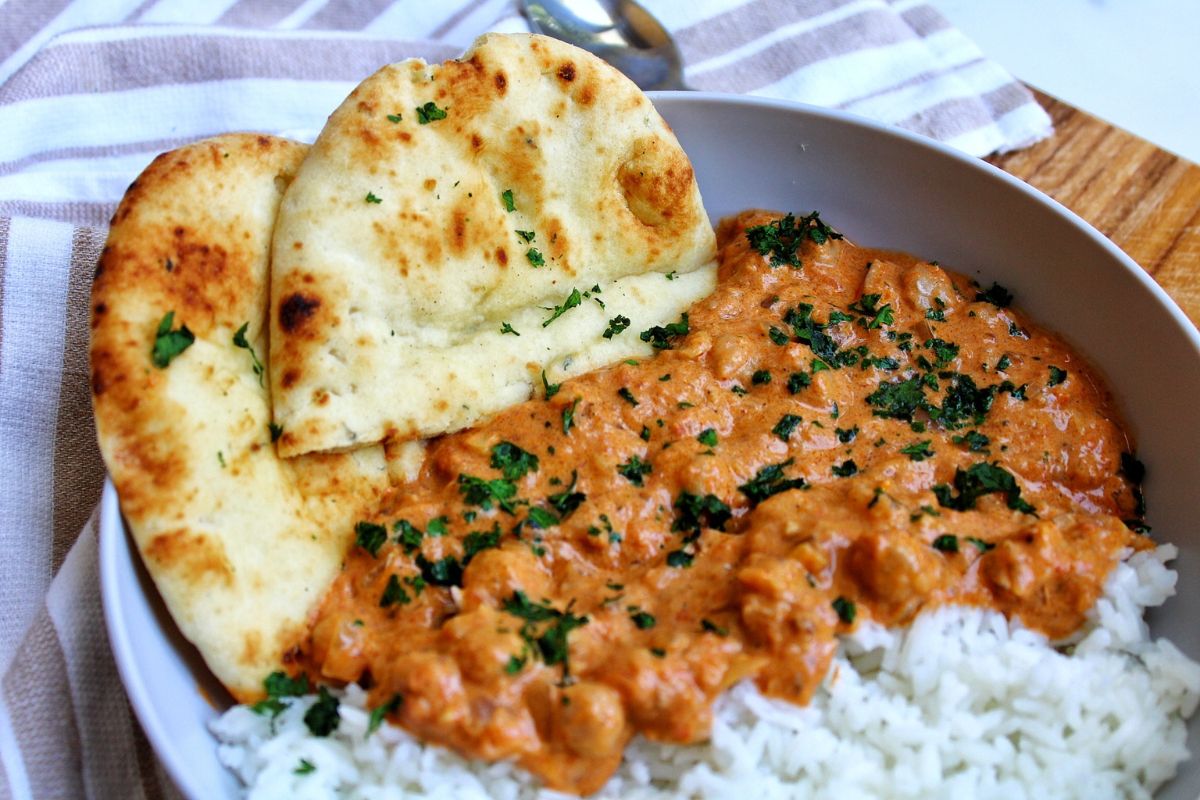 Difference Between Chana Makhani and Butter Chickpea Curry
Chana translates to chickpeas/garbanzo beans and makhani is the Punjabi translation for "butter" and is associated with many South Asian dishes.
Together, chana makhani translates to "butter chickpeas." Which is what we're going for here.
You're probably more familiar with butter chicken or murgh makhani, which is primarily made with tomatoes, butter, cream, and spices. This chickpea curry recipe also uses these same ingredients.
What Does Butter Chickpea Curry Taste Like
It's mild, has a touch of sweetness, and it's very buttery/creamy. It also has a noticeable essence of tomato - all thanks to the fresh tomatoes and tomato paste.
Additionally, this dish also takes up the flavors of the spices used in this recipe. Although this recipe uses some cayenne for optional heat, it can be pulled back or skipped.
How To Store
Store the cooked vegan "butter chickpeas" in an airtight container or reusable silicone bag for up to 3-4 days in the refrigerator.
This can also be stored in the freezer in a freezer-grade container. Thaw overnight in the refrigerator.
More Chickpea Recipes To Try Out:
Tried out this Chickpea Curry recipe?
Please leave a comment below, share it, rate it, or tag a picture @plantbasedandbroke on Instagram and hashtag it #plantbasedandbroke. Show off that creation with us.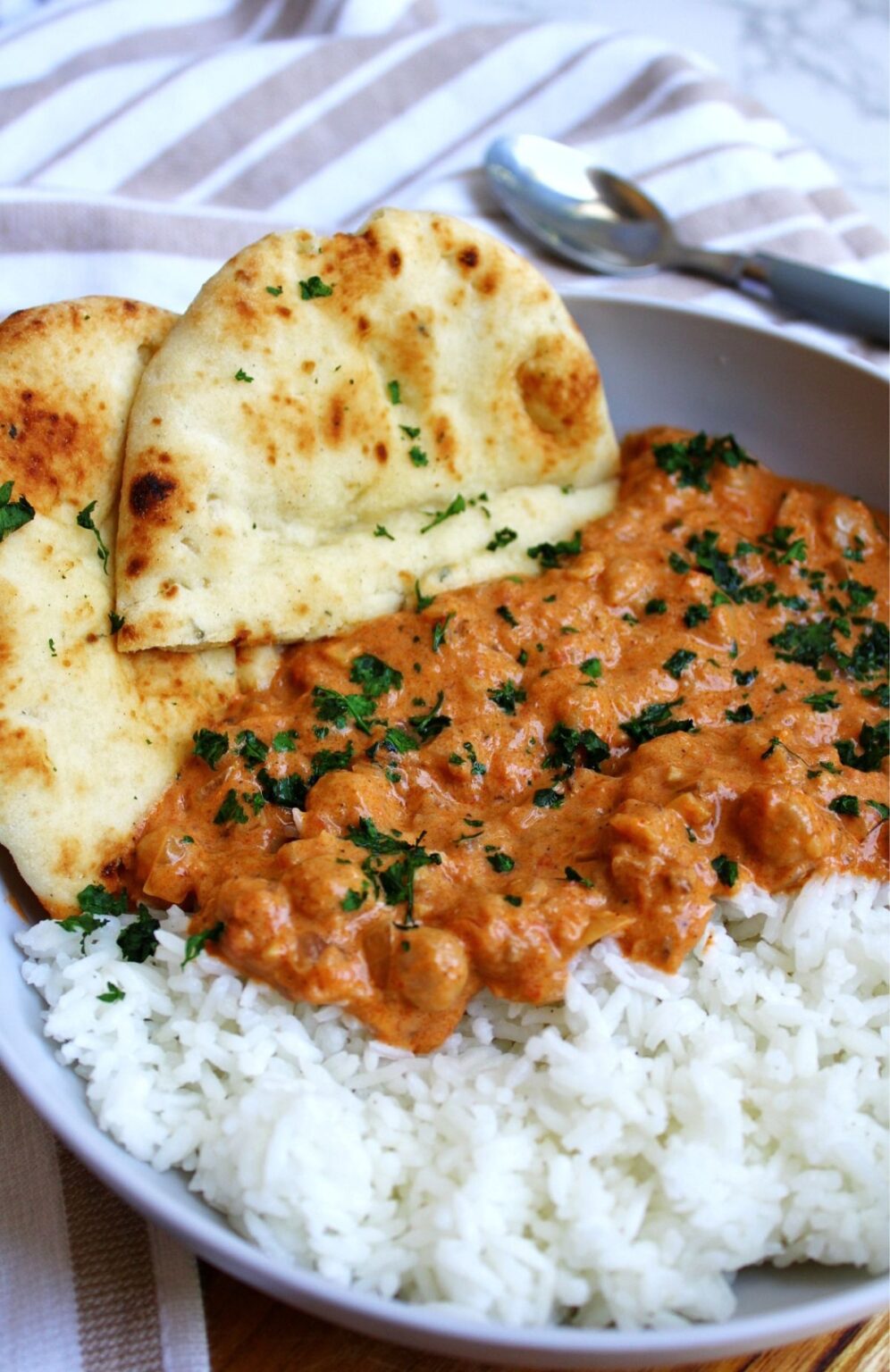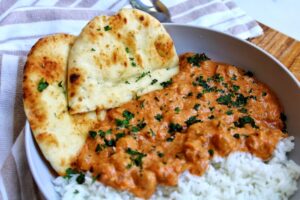 Butter Chickpea Curry with Coconut Milk
This creamy and rich Butter Chickpea Curry with Coconut Milk is packed with a combination of flavors! It's also 100% plant-based, vegan, gluten-free, and soy-free.
Ingredients
3

tablespoons

vegan butter

1

tablespoon

cumin seeds

1

onion

4

garlic cloves

crushed/paste

1

tablespoon

ginger

crushed/paste

13

ounces

tomatoes

crushed or blended

2

tablespoons

tomato paste

1

tablespoon

garam masala

1

teaspoon

curry powder

1

teaspoon

ground coriander

½

teaspoon

cayenne pepper

optional

1

teaspoon

salt

adjust to taste

13.5

ounces

coconut milk

full-fat

15.5

ounces

canned chickpeas

drained, rinsed

1

tablespoon

butter
Instructions
In a deep pot or dutch oven over medium-high heat, add the butter.

Once the butter has melted, add cumin seeds. Once the cumin starts to crackle, add the onion. Cook until the onion is tender. Then, add the garlic, ginger, tomatoes, and tomato paste. Cook and combine for 1 minute.

Add the garam masala, curry powder, coriander, cayenne pepper, and salt. Stir together and warm spices for 1 minute.

Add coconut milk and chickpeas. Lower heat and simmer without a lid for 10-15 minutes, or until thick and creamy. Stir in one more tablespoon of butter. Serve with cilantro and rice, or garlic naan.
Notes
If you love this recipe, our

Tofu "Butter Chicken" is

a must-try! 

Highly suggest using full-fat canned coconut milk. Although light coconut can be used, it won't be as rich or creamy.
This recipe pairs perfectly with white rice, or mix it up with Puerto Rican yellow rice. 
Nutrition
Serving:
1
-serving
Calories:
406
kcal
Carbohydrates:
29
g
Protein:
10
g
Fat:
31
g
Saturated Fat:
21
g
Polyunsaturated Fat:
3
g
Monounsaturated Fat:
4
g
Trans Fat:
1
g
Cholesterol:
1
mg
Sodium:
1044
mg
Potassium:
782
mg
Fiber:
8
g
Sugar:
5
g
Vitamin A:
1442
IU
Vitamin C:
19
mg
Calcium:
105
mg
Iron:
6
mg