(
This post may have affiliate links. Please see my disclosure.
)
Jump to:
If there's something I am ALWAYS in the mood for, it's hand-down a bowl of spicy, flavorful, cozy vegetable red Thai curry.
This recipe has been updated and improved.
There are a plethora of curry varieties from Thailand, including red, green, yellow, and panang. They come in different flavors, but they are commonly made with a rich and creamy pour of coconut milk.
For this dish, we'll be going with a curry made with a vibrant Thai red curry (gaeng ped) paste. Red curry paste is made with spices including red chili pepper, garlic, lemongrass, shallot, coriander root, kaffir lime peel, and some salt.
Although curry paste can be made from scratch, I decided to go for the store-bought version.
You know, to save on time.
Additionally, it can be challenging to find all of the individual ingredients that go into a red curry paste - especially if you don't have access to Asian grocery stores or food vendors.
A good-quality red curry paste should be easy to find at many Asian grocery store. In a pinch, popular brands can be found in nearly any grocery store like Thai Kitchen.
Because I want to keep this recipe reasonably accessible, I will be using Thai Kitchen red curry paste. However, if you choose a different paste, you might have to use it to taste.
For example, if you choose to use a different brand like Mae Ploy red curry paste (not vegan/vegetarian), a little will go a long way. It is on the saltier side.
More Curry Recipes:
What To Eat With Thai-Stye Vegetable Curry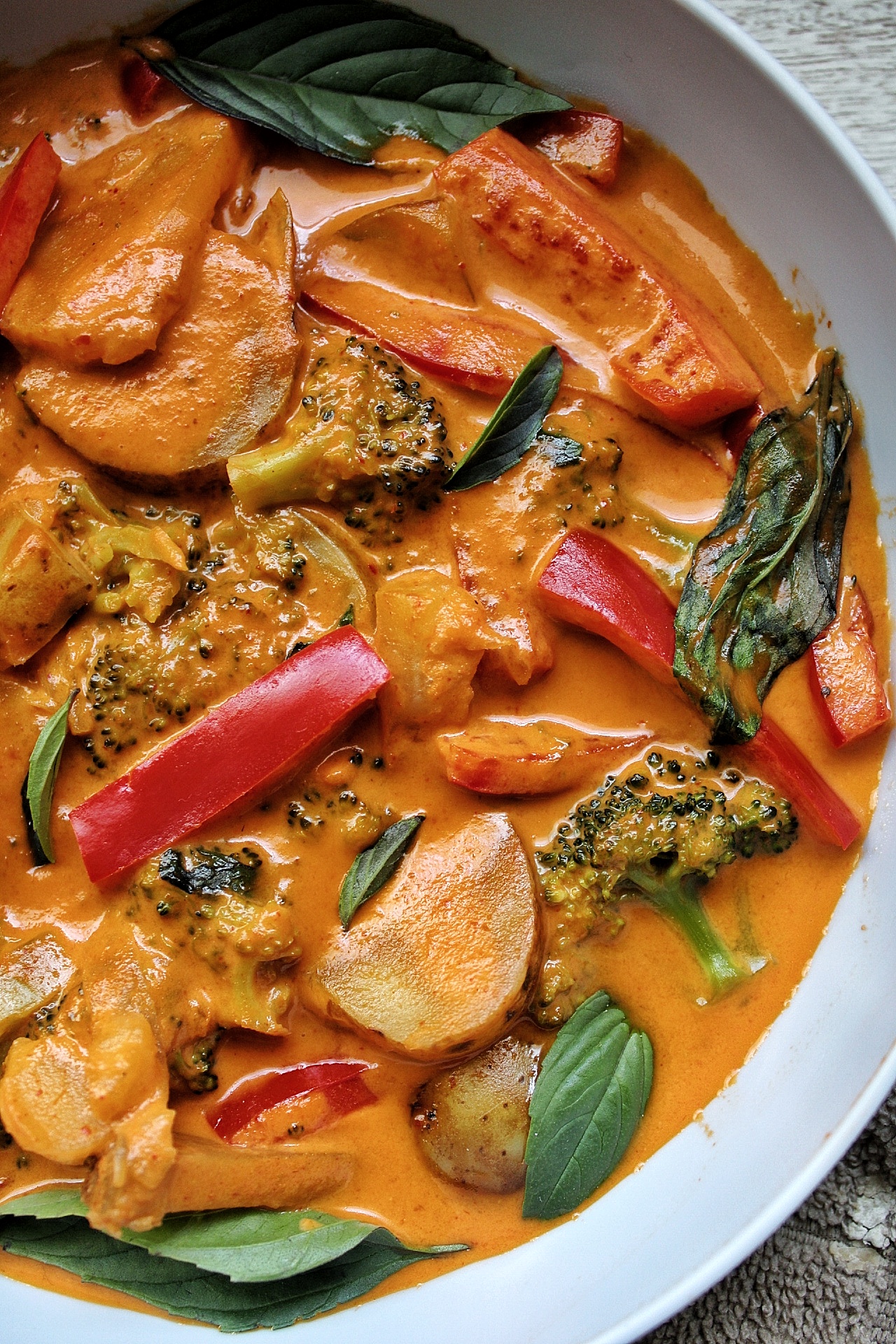 Because this dish has so many intense flavors, it's best to serve it with a mild side.
My favorite and easiest way to enjoy a refreshing vegetable curry is with a side of white rice from my handy rice cooker.
I typically use any long-grain rice including jasmine rice and basmati rice. Flatbread is also another great option for this dish.
What To Add To The Curry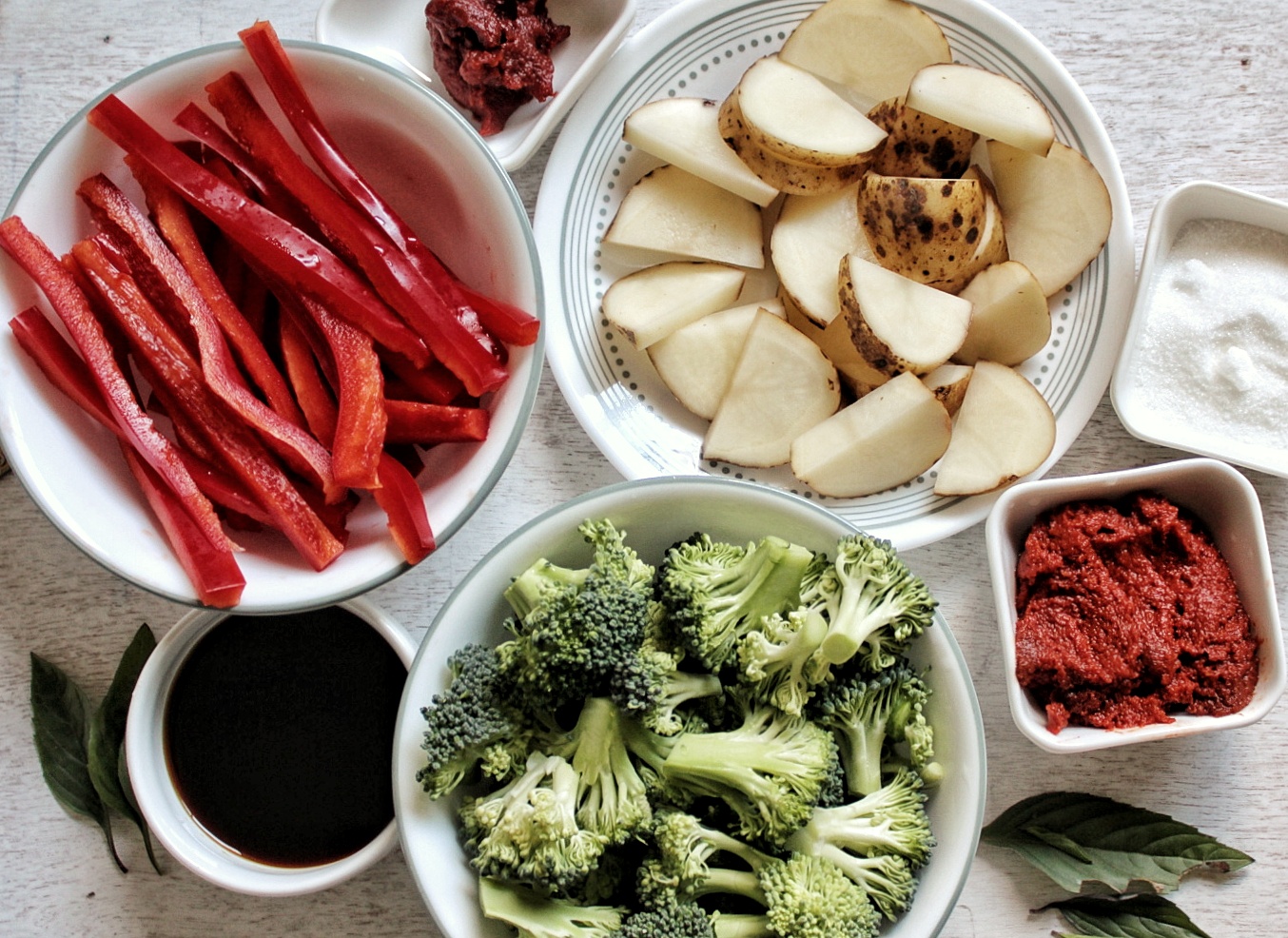 For this recipe, I'll be keeping it simple and use red bell peppers and broccoli. But, Thai curries are very flexible and you can add any of your favorite veggies.
Common ingredients you'll find in vegetable curries include bamboo shoots, Thai basil, mushrooms, tofu, kaffir lime leaves, green beans, potatoes, and sliced carrots.
I wanted to keep this recipe relatively easy using ingredients that can be found at most grocery stores. Here's exactly What I a using:
Coconut milk - Along with red curry paste - coconut milk a must-have ingredient in most Thai curries. Be sure to get full-fat canned coconut milk. This ingredient will also help provide a deep and creamy curry dish.
Red Curry Paste - Red curry paste is made with a mixture of fragrant ingredients. This will be our spice base. It is what creates the majority of the flavor profile in this dish.
Tomato Paste - Because we're working with a meatless Thai curry, another layer of umami is a good idea and that is where tomato paste comes in.
Soy Sauce - Instead of salt, we're using soy sauce to create a depth of umami that salt simply cannot offer. If you want to go gluten-free, use tamari instead. Or, you can find gluten-free soy sauce out in the market or online.
Sugar - The sugar helps calm the umami and spiciness in this dish. Additionally, it helps with settling any of the acidity coming from the tomato paste. I used white sugar, however, brown sugar works fine too.
Broccoli - Broccoli is one of my favorite vegetables, so of course I had to add it in. I suggest cutting the broccoli into smaller florets for faster cooking and a more enjoyable curry. You don't want the broccoli florets to be so large that it overtakes the dish.
Red Bell Pepper - Red bell pepper is added near the end of the recipe. Add it to the end helps preserve some of its texture - we don't want it to be soggy and limp. The red pepper also adds another layer of natural sweetness to this dish.
Mexican Cinnamon Basil - I chose to use Mexican spice basil (also known as cinnamon basil) for this recipe simply because that is what I able to find. But, Mexican basil works just as well in this recipe. Both Mexican basil and Thai basil belong to the same basil family. Additionally, you might find both varieties used together or even interchangeably in many curry recipes.
How To Store
Store the curry in an air-tight container or reusable silicone bag in the fridge for up to 4 days. It can also be stored in the freezer for months.
To reheat, thaw in the fridge the night/day before consuming, then warm in a pot over medium-low heat until heated all the way through.
Add some water to the curry to thin it out a bit.
Need to take lunch with you? Check out our Vegetarian Packed Lunch Ideas.
Recipe Notes
If you want to add more vegetables to this dish - go for it! Frozen vegetables also work well in this recipe.
Be sure to use full-fat coconut milk that comes in a can. Low-fat coconut milk is not the same and the stuff in the cartons is often watered down.
Do not shake the can of coconut milk!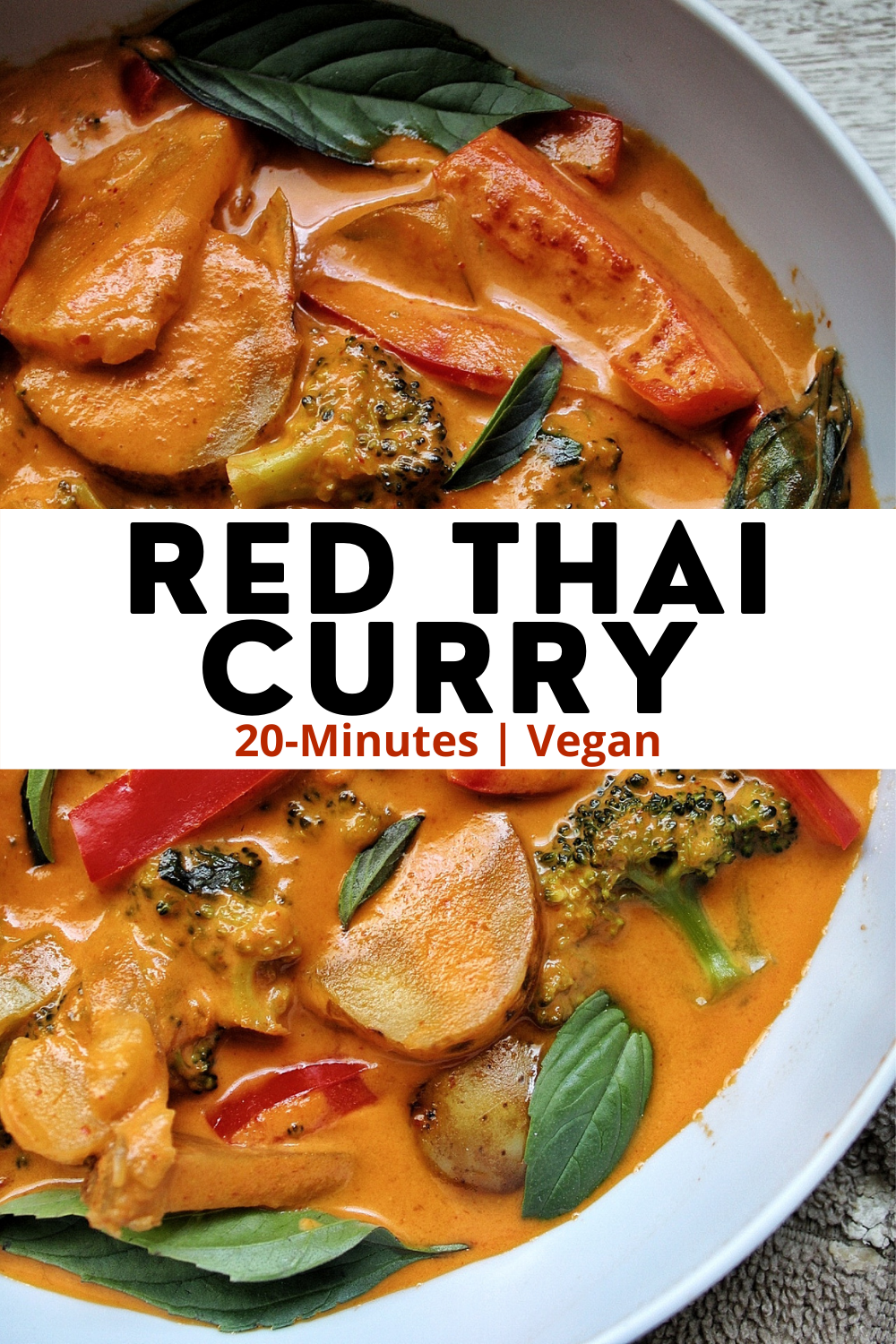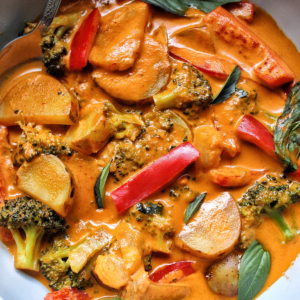 20-Minute Thai-Style Vegetable Red Curry
Flavor-packed, Thai-style vegetable red curry made with sweet red bell pepper, broccoli, and tender potatoes. Cooked in just 20 minutes! Serve with a side of jasmin rice or roti.
Instructions
In a heavy-bottom Dutch oven or pot, over medium-high heat, heat 6 tablespoons of the coconut cream for about 1 minute. (see recipe notes)

Once the cream starts to bubble and crack, stir in the red curry paste and mix frequently to avoid scorching. Cook until the paste has thickened and has the consistency of creamy peanut butter. Stir in the tomato paste and cook for another minute.

Add the rest of the coconut milk, soy sauce, sugar, broccoli florets, and potatoes. Bring to a boil. Once at a boil reduce heat to a soft simmer.

Simmer the curry without a lid for 10 minutes, or until potatoes are fork-tender. Add the red bell pepper and stir in cayenne pepper to taste (optional). Simmer for another 5 minutes.

Garnish with basil leaves and serve with a side of cooked jasmine rice or any long-grain rice.
Notes
Take the cream resting at the top of the coconut milk. This will be used as your fat base to fry the curry. The rest of the canned milk will be used later in the recipe.

e sure to check that the red curry paste is vegan. Some red curry pastes have fish sauce. 

Use any coconut milk of choice, my favorite kind to use is

Chaokoh

. It's very creamy with an intense coconut-y flavor. 

To add last-minute heat to this dish, go for a pinch of red chili powder. 

Do NOT shake the canned coconut milk. We need to use the fat that naturally sits at the top. Shaking the can will move the coconut fat. 
Nutrition
Serving:
1
-serving
Calories:
326
kcal
Carbohydrates:
28
g
Protein:
9
g
Fat:
23
g
Saturated Fat:
19
g
Polyunsaturated Fat:
1
g
Monounsaturated Fat:
1
g
Sodium:
602
mg
Potassium:
1047
mg
Fiber:
6
g
Sugar:
8
g
Vitamin A:
3712
IU
Vitamin C:
187
mg
Calcium:
117
mg
Iron:
6
mg
Did you try out this 20-Minute Thai-Style Vegetable Red Curry recipe?
Please leave a comment below, share it, rate it or tag a picture @plantbasedandbroke on Instagram and hashtag it #plantbasedandbroke. Show off that creation with us