(
This post may have affiliate links. Please see my disclosure.
)
Jump to:
After a hard workout, I love to grab a quick-and-easy protein smoothie. Even better if it can replace a meal. This is why this Chocolate Peanut Butter Protein Smoothie is my best treat!
No cooking? Check. Lots of protein? Check. Satiating and filling? Check.
We're working with healthy, plant-based ingredients that are not only packed with protein, but also fiber - thanks to oats, cocoa powder, and chia seeds.
Why You'll Love This
Done in minutes! That means if you need a recovery meal right away, this chocolate peanut butter protein smoothie is the perfect way to get that.
Totally made with plant-based ingredients! No whey protein in this smoothie - we're getting our protein from plant sources.
It's a quick and easy way to include a full-size meal worth of calories into your day. This is especially useful if you're trying to gain weight without having to load up a plate.
If you're into smoothies, be sure to check out our favorites including Peach Mango Smoothie, Coffee Banana Smoothie Bowl, and Chocolate Raspberry Smoothie.
Ingredients & Substitutions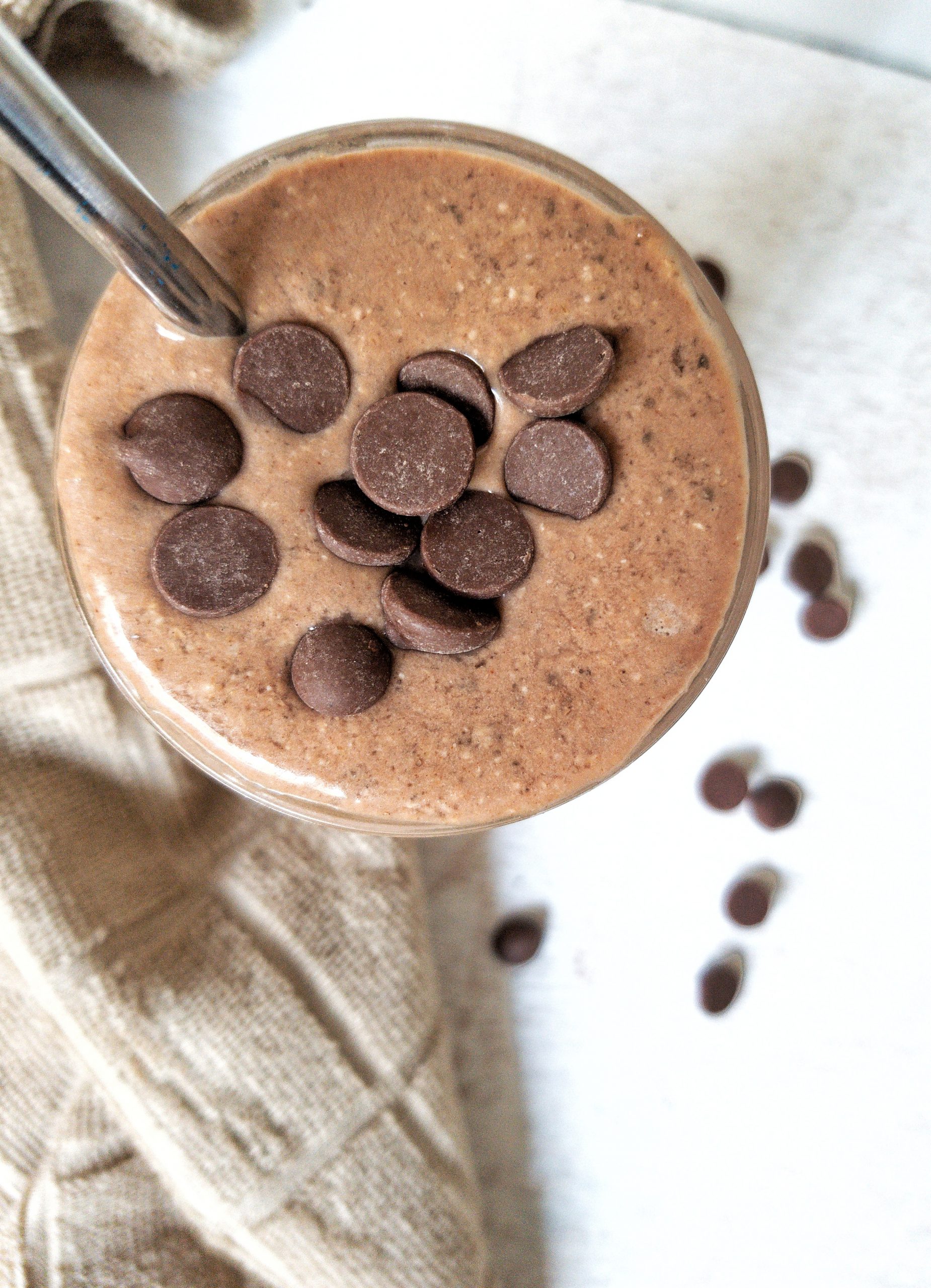 Soy Milk: Or, go for any dairy-free milk of your choosing. However, keep in mind that soy milk is an excellent source of protein. Swapping it for something else may change the protein content in this recipe.
Water: Or, use more soy milk.
Frozen Ripe Banana: FROZEN bananas will help yield a creamy and thick protein smoothie. It will also keep it cold without the use of too many ice cubes. You can use pre-packaged frozen bananas or freeze them yourself.
Cocoa Powder: We're getting our chocolate flavor from cocoa powder! I personally love using Dutch-processed cocoa because it's richer, darker, and less acidic.
Chia Seeds: This will boost up the protein content in your smoothie while also adding plant-based fiber!
Sugar: Optional. You may also use an alternative sweetener of choice.
Peanut Butter: A great source of protein and flavor!
Oat Bran: If you haven't tried oat bran - you need to! It's packed with protein and fiber and has many uses. For example, oat bran porridge.
Ice Cubes: You'll just need 2-3 ice cubes.
Tips To The Best Chocolate Peanut Butter Protein Smoothie
Go for a high-speed, quality blender. This will help get your smoothie perfectly creamy and completely blended. For a quality, affordable blender, I recommend an Oster Blender - which I use and love dearly!
Depending on your preference for smoothie thickness (or thinness) adjust the amount of liquid added to the smoothie. For a thicker smoothie, add less liquid. For a thinner smoothie, add more liquid.
Stick with frozen bananas! You might have fresh bananas laying around on your kitchen countertop, but it's worth using bananas from frozen. Frozen bananas will give you a creamier smoothie texture and will keep the smoothie cold without the use of a lot of ice.
Recipe FAQs
Is Peanut Butter A Good Source Of Protein For Smoothies
Peanut butter is a great source of protein! In 100 grams of peanut butter butter, there are 24 grams of protein. For the amount of peanut butter used in this recipe (1 tablespoon), there are about 4 grams of protein.
Is Banana A Good Source Of Protein
Bananas are an excellent source of plant-based fiber and carbohydrates. They are less known for their protein content. A medium banana has about 1.3 grams of protein.
How To Make A Peanut Butter Chocolate Banana Protein Smoothie
Pour all of your ingredients into your blender, starting with the liquids first. Then, blend until smooth and creamy.
Yes, it's that easy!
How To Freeze Bananas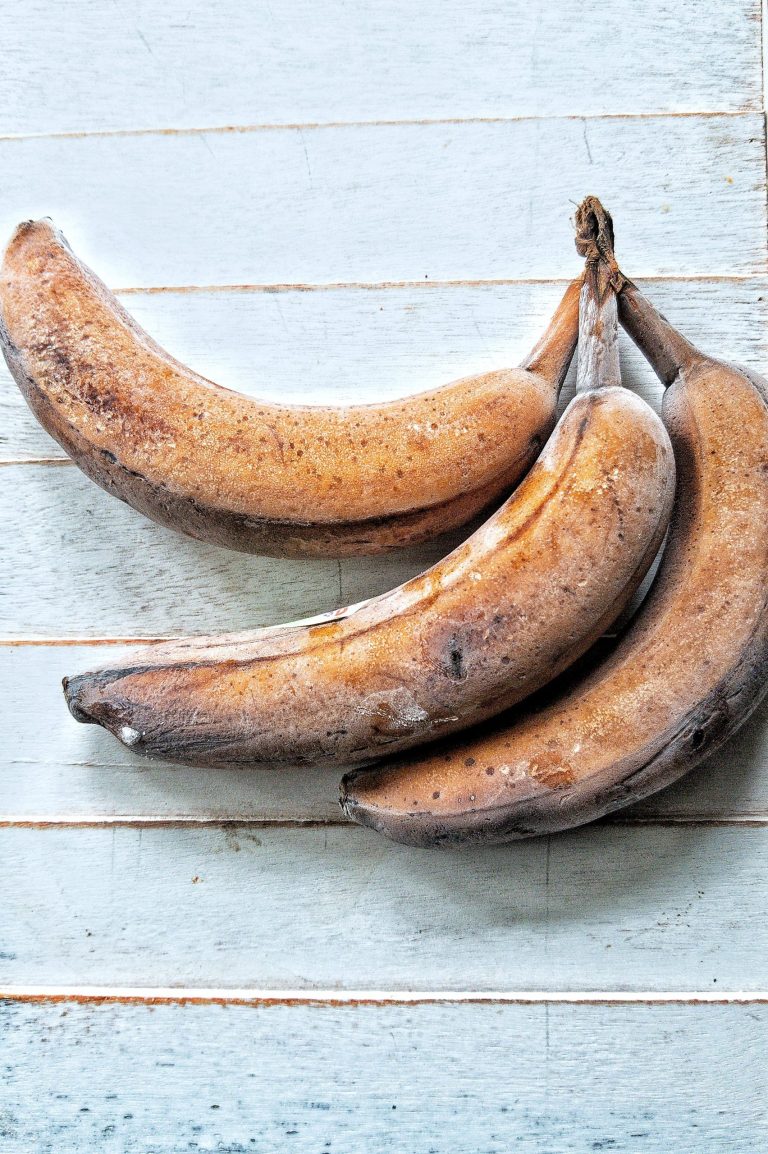 There are two ways to freeze a banana and it depends on if you want to do the work now or later. I flip-flop both ways, depending on my laziness levels at the given moment.
For any way you choose, I suggest starting with a very ripe banana. Ripe bananas become naturally sweet, which allows you to omit or reduce the addition of sugar/sweetener in the protein chocolate peanut butter smoothie.
Freeze The Banana Whole
Once the banana is ripe, throw the whole thing in the freezer. No additional steps are needed. If you plan on using the banana for a smoothie that same day, freeze it for at least 3 or so hours.
Easy, right? The work just comes later - which is peeling the banana from frozen.
Check out our 3 Ways To Unpeel A Frozen Banana.
Unpeel & Cut Banana Before Freezing
Unpeel a banana as you normally do. Once that's done, cut up the banana into about ½-inch chunks. Place the piece on a plate and stick it into the freezer. No need to wrap or cover – just let them be cool, calm, and collected all on their own.
Freeze for at least an hour.
If you are batch-freezing bananas, you can use a freezer-safe bag to keep things organized and make more space.
Protein Value In Each Ingredient
Total Protein = 25g
More Protein Recipes To Try:
For more ideas on how to increase your plant-based protein intake, check out our Top 10 Plant-Based Protein Sources.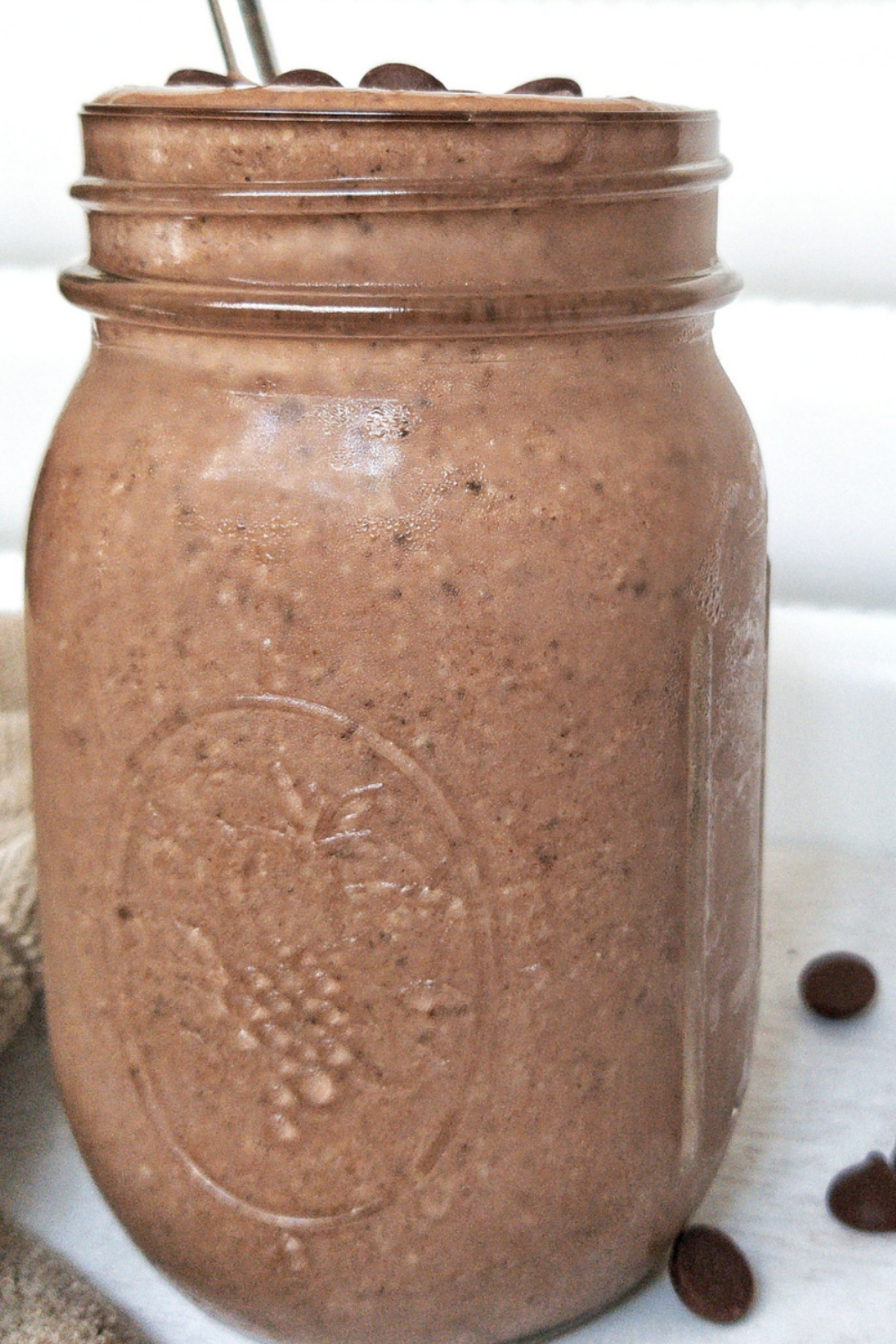 Tried out this Chocolate Peanut Butter Protein Smoothie recipe?
Please leave a comment below, share it, rate it, or tag a picture @plantbasedandbroke on Instagram and hashtag it #plantbasedandbroke. Show off that creation with us.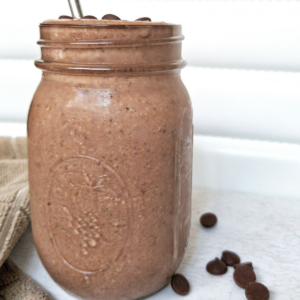 Protein Chocolate Peanut Butter Smoothie
Whip up a thick & creamy chocolate peanut butter protein smoothie in just minutes! Made with 25 grams of PLANT-BASED protein. This protein-packed smoothie is perfect as a full-sized meal.
Instructions
Pour all ingredients into the blender and blend until smooth. Pour and serve in a glass cup.
Notes
This smoothie recipe is using bulky, fiber-rich ingredients including chia seeds and oats. This smoothie will be thick. If a straw doesn't do, you can use a spoon. 

I used oat bran, old-fashioned oats can be used too. 

I used Hershey's Cocoa Special Dark chocolate. 

To thin out the smoothie, add more water. To make it sweeter, add more honey or sweetener of choice.  
If you love this recipe, try out our Peanut Butter Protein Baked Oats! 
Nutrition
Serving:
1
-Serving
Calories:
573
kcal
Carbohydrates:
100
g
Protein:
25
g
Fat:
23
g
Saturated Fat:
4
g
Polyunsaturated Fat:
11
g
Monounsaturated Fat:
7
g
Trans Fat:
1
g
Sodium:
131
mg
Potassium:
1262
mg
Fiber:
25
g
Sugar:
29
g
Vitamin A:
340
IU
Vitamin C:
11
mg
Calcium:
364
mg
Iron:
8
mg