(
This post may have affiliate links. Please see my disclosure.
)
Although intimidating at first, a delicious tofu scramble is incredibly easy, cheap, and fast to whip up. I pretty much gathered some of the veggies laying around in my fridge to make this easy loaded tofu scramble with kale and kidney beans.
Lately I have been pretty obsessed with tofu scramble because of how cheap and easy it is. Additionally, I am more of a savory + protein type of breakfast person since a sweet breakfast can often put me right back to sleep. So, I'll save the sweet stuff for another food blogger for now (or at least for today, anyway).
Luckily for me, I have been able to find blocks of tofu at my local Asian grocery store for just 99 cents. So, naturally, I've been taking advantage of it – denting that shopping basket with half a dozen at a time. However, I don't use these tofu blocks for just tofu scramble. I use them for…
There are so many ways to use them. I personally prefer using firm or extra firm tofu for most of my recipes – they have more of a bite and chew to them.
Some of the pros to cooking tofu scramble include:
Pressing the tofu is not necessary
It takes less than 10 minutes to make
It takes less than 5 necessary seasonings/ingredients
Tofu is great at taking flavor, so you can experiment a bit with a wide variety of flavors
Just like real eggs, you can throw them into a breakfast burrito, taco, sandwich, or just eat as-is.
If you're not sure where to find tofu, you can typically find them at Asian grocery stores. Big box grocery stores like Safeway or Walmart may also carry them, too. Just ask someone who works there. The tofu blocks might be placed in different areas of the store, depending on where they choose to place them. I find that they are usually placed near other soy products like tempeh and soy based mock meats.
For this tofu recipe, it's best to use a firm block of tofu. However, feel free to experiment with silken tofu if you like this sort of dish to be incredibly soft and cottage cheese-like.
If you want a full-on breakfast meal, also try out my mushroom bacon recipe. It's unbelievable smoky and delicious!
Ready for breakfast? Let's get that non-stick pan out!
---
Quick + Easy Loaded Tofu Scramble Recipe
Cooking Notes:
A little bit of turmeric goes a long way. You're primarily using this just for coloring. I typically add about 1/8 of a teaspoon at a time to get the color I want.
No need to press the tofu block, but I recommend just patting the excess water with a towel or paper towel.
Cook the veggies first. If not, they'll end up raw and undercooked.
I used water in this recipe to steam cook everything, but you may use oil or vegan butter. My favorite vegan butter is Melt Organic.
If you want to keep it dead simple for this tofu scramble recipe, you can just add in salt, black pepper, and turmeric powder.
This recipe makes about 1-2 servings.
Ingredients:
1 cup onion
A bunch of kale
Half block firm tofu scramble
Pinch of salt
Pinch of black pepper
Water
Now, let's get this loaded tofu scramble started.
Directions:
First, chop the onion into small pieces. If not pre-chopped, chop your kale into bite-sized pieces.
Place a non-stick pan or skillet over medium heat. Once hot, add a bit of water (about 1 tablespoon). Throw in the chopped kale and onion.
Next, stir and cover the pan. Steam until tender, about 4-5 minutes. Add a tablespoon of water at a time when it has evaporated.
In the meantime, cut half a block of tofu and pat dry. No need to press.
Once the onions and kale are tender, directly crumble the tofu with your hands into the pan.
Then, stir everything together. Now add salt, black pepper, nutritional yeast, turmeric powder, and garlic powder. Add more water as needed.
Mix and cook all together for 1-2 minutes.
Finally, add the drained and rinsed kidney beans. Give it another stir.
Serve immediately and heat up a couple of small tortillas in the same pan for about a minute on each side.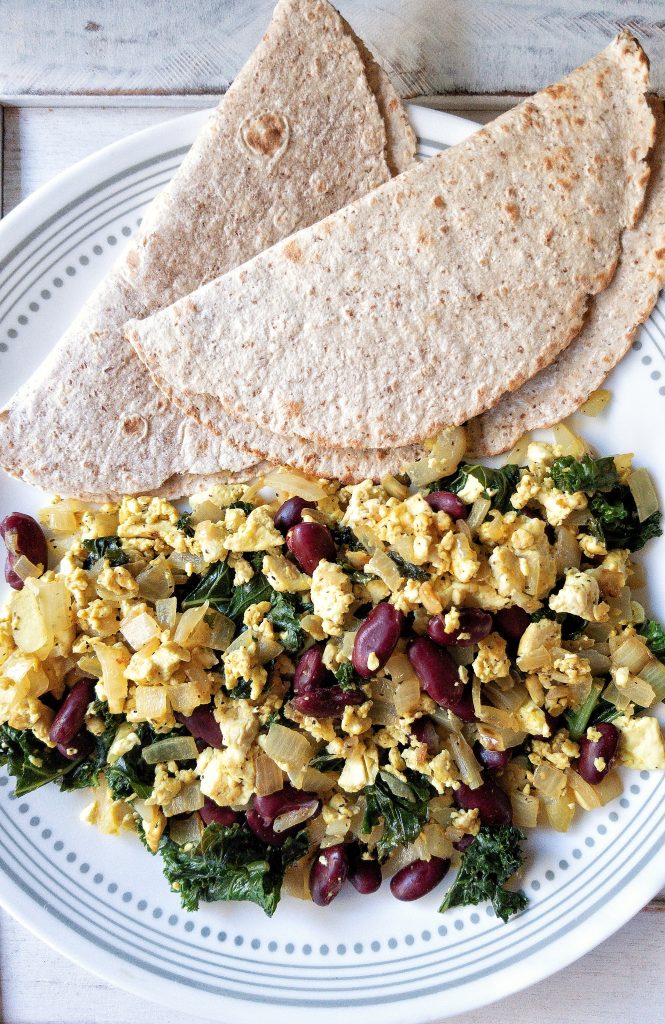 Try Out These Breakfast Recipes:
Did you try out this recipe?
Please leave a comment below, share it, rate it or tag a picture @plantbasedandbroke on Instagram and hashtag it #plantbasedandbroke. Show off that creation with us. 
How useful was this post?
Click on a star to rate it!
Average rating 5 / 5. Vote count: 1
Please follow and like us: