(
This post may have affiliate links. Please see my disclosure.
)
Jump to:
Oven-baked, extra-crispy tofu nuggets that are packed with plant-based protein, flavor, and they are low oil.
You know that crackly, rugged sound when your teeth meet something perfectly battered and fried? The same thing is going to happen here, but we're baking these bad boys up. Less oil, but with all of the flavor and crunch.
This recipe is kid-friendly, but these are for the grown-ups, too. Whether you're participating in meatless Mondays or you're on a plant-forward diet, this a great way to eat something satiating and healthy for dinner.
To make this dish extra kid-friendly, pair the nuggets with vegan mac and cheese, homemade chips, buffalo cauliflower wings, or spaghetti.
They also pair well with a side of baked zucchini fries.
Nugget Texture & Flavor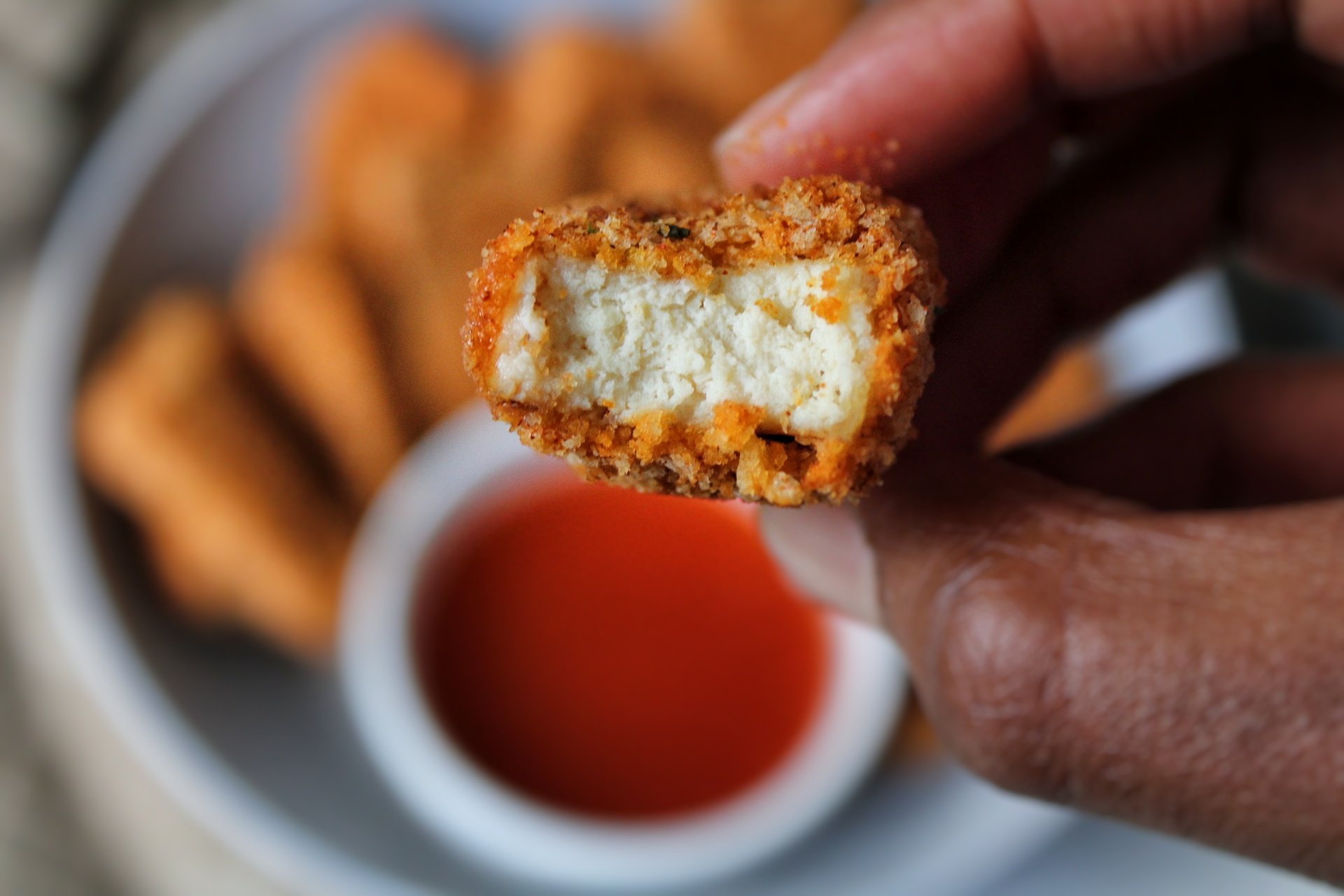 To get a "meaty" texture, we're using extra-firm tofu block. To take it a step forward, we're also freezing the tofu block.
Freezing the tofu creates a porous tofu block, which helps with locking in stock, and easier tofu press, and a chewier texture.
Freezing tofu can be done in two ways:
Throw the whole thing in the freezer.
Or, cut the tofu into nuggets or 'fingers," then freeze them.
More "Meaty" Tofu Recipes :
Recipe Notes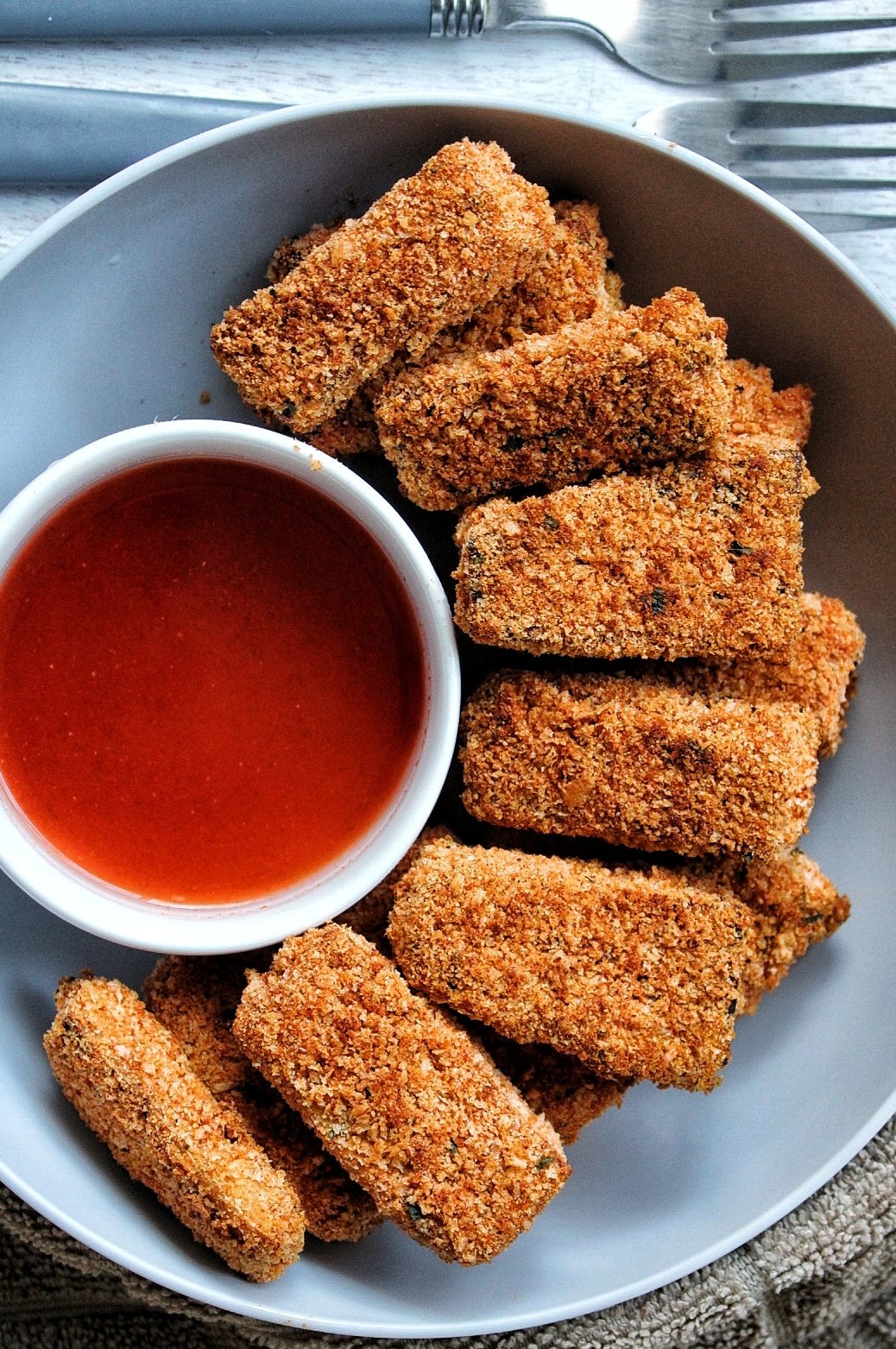 I've tested both extra-firm and super-firm tofu for this recipe - extra-firm is the winner here. Although super-firm tofu naturally has a meatier texture that could benefit in this recipe, it has low water content, which is needed to create a porous block during the freezing process. Nuggets using super-firm tofu end up drier and denser.
Feel free to add any seasonings you prefer to the bread crumb mixture. Some ideas include onion powder, garam masala, smoked paprika, black pepper, chili powder, and cumin.
This recipe makes about 10-16 pieces depending on how they are cut or about 2 servings. The tofu can be cut into strips, fingers, or nuggets - either way, they'll be good.
Why Use Baking Powder?
Baking powder plays an important role in getting the tofu nuggets extra crispy. The kind of crispy where you can hear it (ASMR, anyone?)
Serious Eats has a great article explaining the science behind using baking powder for baked wings.
Sauces To Go WIth Tofu Nuggets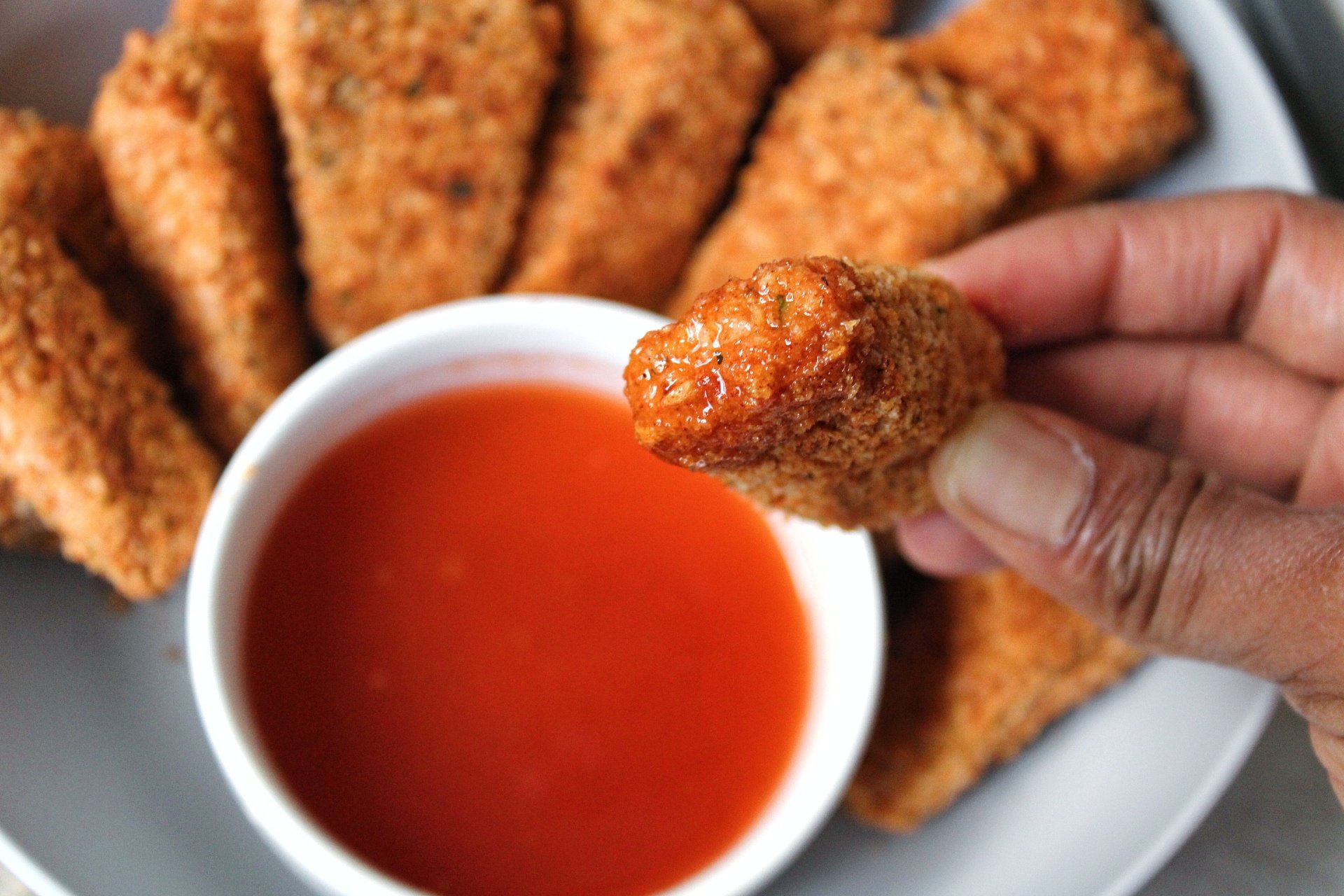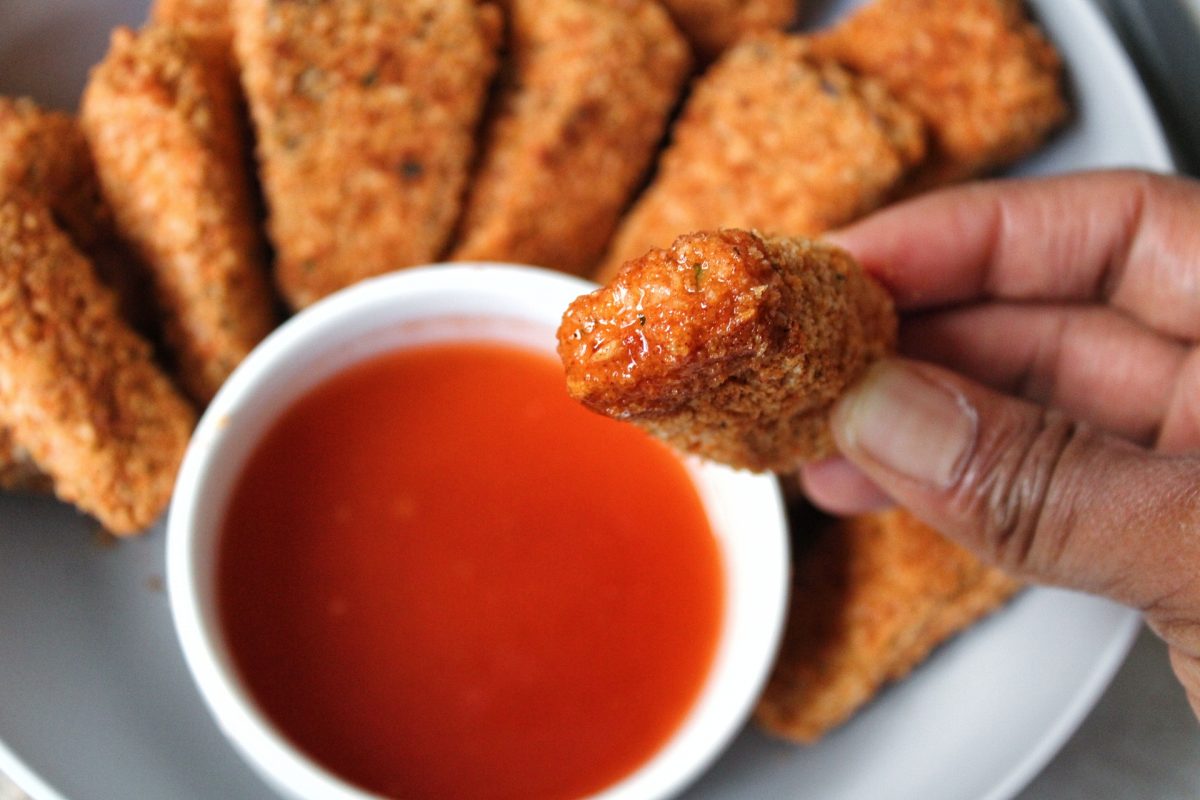 For these nuggets, I went with a quick and easy honey hot sauce made with 2 tablespoons of honey and 2 teaspoons of sriracha.
Just mix together the two ingredients if you find the sauce too spicy, cool it down with a touch of water. You can also go for a pre-made sauce including ketchup, BBQ sauce, vegan mayo, butter garlic sauce, or dijon mustard.
No Tofu Press, No Problem
Freezing tofu actually makes it much easier to get rid of its excess water without the use of a tofu press or heavy objects.
For recipes like this one where the tofu is previously frozen and then thawed, I use the backs of two plates. Simply place the tofu block betwen the plates and gently add pressure to let the water go.
Don't add too push pressure, or the tofu can fall apart. Of course, you'll want to do this over a sink to avoid a cleanup.
Stock For Tofu Nuggets
The stock for the tofu nuggets is just a simple vegetable stock of your choice. I make my stock from bouillon cubes. You can use a homemade stock or a store-bought one.
I mix ¼ cup hot or boiling water with 1 Not-Chick'n Bouillon Cube from Edward & Sons'. This will be on the saltier side since we're using less water for the bouillon cube than recommended.
For your vegetable stock, give it a taste to see if it's salted enough to your liking. If it isn't, add more salt.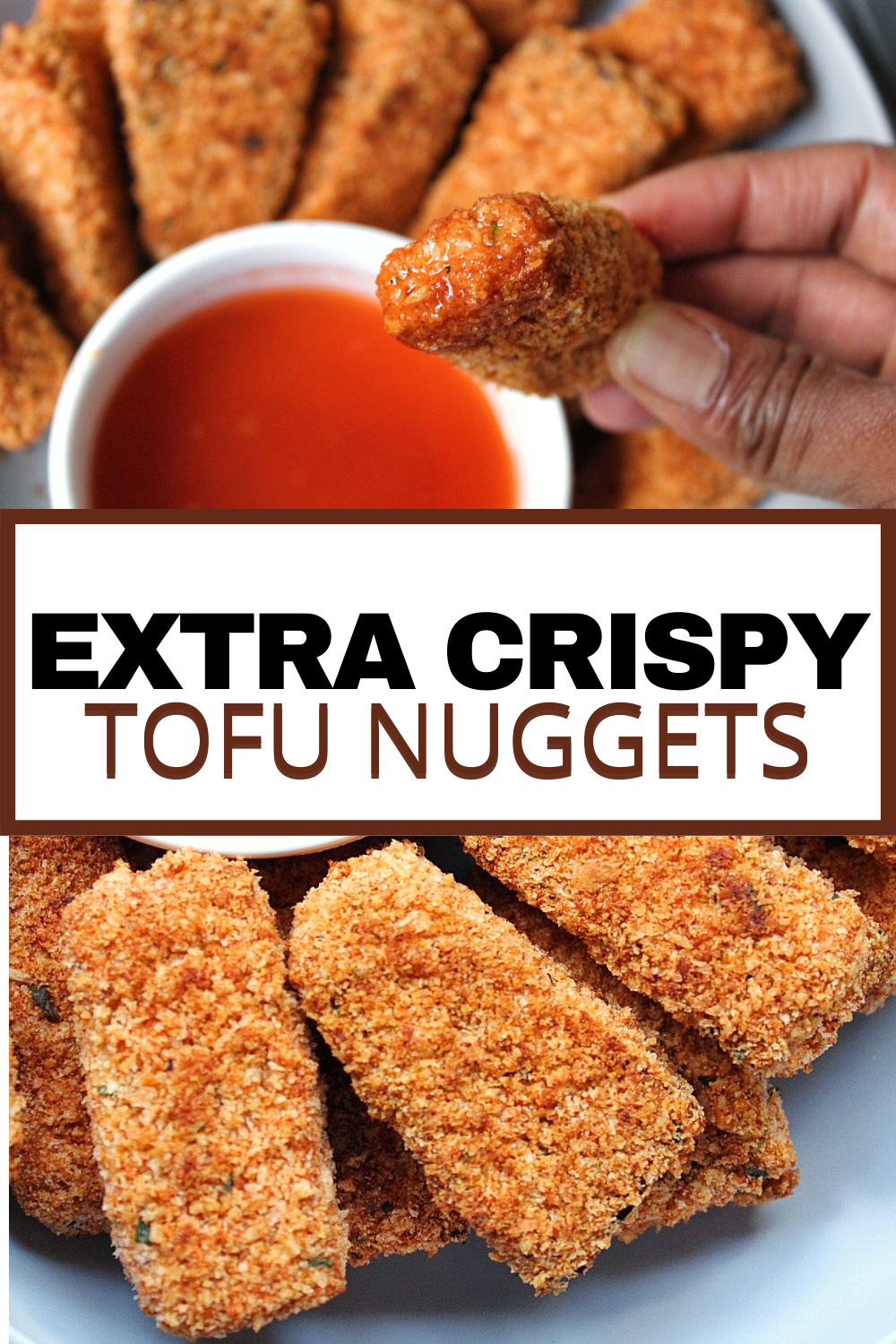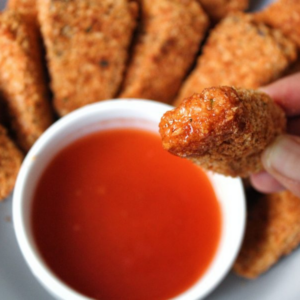 Extra-Crispy Baked Tofu Nuggets
Extra-crispy and crunchy baked tofu nuggets, coated and seasoned with panko and Italian breadcrumbs.
Ingredients
Pan-Frying Tofu
14-16

ounces

extra-firm tofu

¼

cup

vegetable stock

(Use vegetable stock of your choice. I made vegetable stock with a Not-Chick'n Bouillon Cube and water)
Honey Hot Sauce
2

tablespoons

honey

2

teaspoons

sriracha
Instructions
Pan-Frying Tofu
Freeze the entire block of tofu overnight. Next day, thaw block in microwave for 6-10 minutes until soft. Gently drain and press excess water from tofu with the backs of two plates.

Cut the tofu block into one-inch thick nuggets or strips. Set a non-stick pan or skillet over medium-high heat and add a bit of spray oil. Place nuggets onto the pan and cook on all sides until golden.

Once golden on all sides, pour over the vegetable stock and cook for another few minutes until the stock has been cooked off. Set aside.
Baked Nuggets
In a mixing bowl, stir together flour, salt, and baking powder. Then whisk in the water or non-dairy milk and oil until the batter is smooth and well-combined.

In a second mixing bowl, mix together panko bread crumbs, Italian bread crumbs, paprika, and garlic powder. Preheat oven to 400 degrees F.

Roll strips into the batter until well-coated on all sides. Then, roll the nuggets into the bread crumb mixture. Arrange tofu strips onto a non-stick baking sheet and lightly spray with oil. Bake for 30 minutes, flipping halfway.
Honey Hot Sauce (Optional)
Mix together honey and hot sauce until well-combined. If too spicy and thick, mix in a touch of water.
Notes
An important part of this recipe is to freeze the tofu block prior to making the nuggets. This will help create a meaty and "porous" tofu, which will help the stock penetrate and hold. Additionally, this will help create a chewier texture. Simply chuck the entire block of tofu in the freezer for at least overnight.  To thaw, microwave for a few minutes until soft all the way through. 
To make the stock for the tofu nuggets, I mixed ¼ cup hot or boiling water with 1 Not-Chick'n Bouillon Cube from Edward & Sons'. This will be on the saltier side since we're using less water for the bouillon cube than recommended. However, ¼ cup of a stock of your choice works too  - just add more salt if need be. 
This recipe pairs perfectly with air fryer red potatoes! 
Nutrition
Serving:
1
-Serving
Calories:
529
kcal
Carbohydrates:
64
g
Protein:
23
g
Fat:
21
g
Saturated Fat:
2
g
Polyunsaturated Fat:
8
g
Monounsaturated Fat:
10
g
Trans Fat:
1
g
Cholesterol:
1
mg
Sodium:
1529
mg
Potassium:
528
mg
Fiber:
3
g
Sugar:
23
g
Vitamin A:
1238
IU
Vitamin C:
6
mg
Calcium:
312
mg
Iron:
6
mg
Did you try out this Extra-Crispy Baked Tofu Nuggets?
Please leave a comment below, share it, rate it, or tag a picture @plantbasedandbroke on Instagram and hashtag it #plantbasedandbroke. Show off that creation with us!