(
This post may have affiliate links. Please see my disclosure.
)
Crispy on the outside with perfectly juicy and tender insides. Yes, I am talking about tofu.
There are quite a few steps for this recipe, but it's totally worth it. Especially when you want something homemade and completely from scratch – with complete control of the flavor and ingredients.
Here are a few things to keep in mind when achieving a perfect oven-baked crispy tofu nuggets recipe.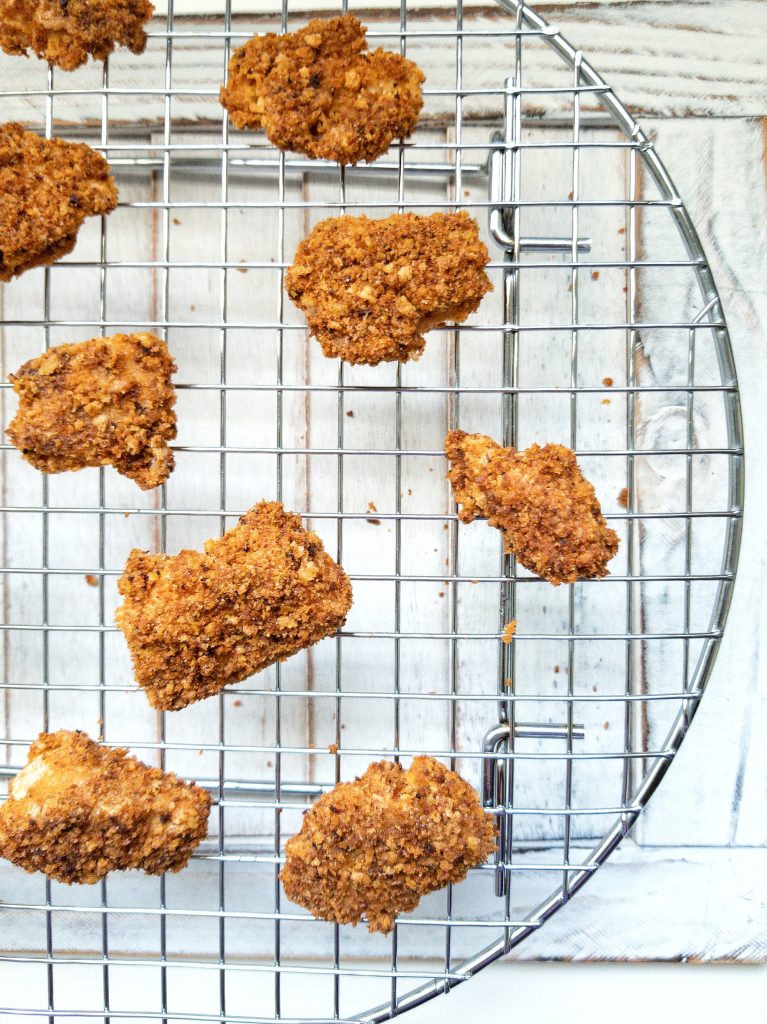 1 – Use extra-firm tofu
Extra-firm tofu will create a chewier and meatier texture for your oven-baked crispy tofu nuggets. If you have firm tofu, that'll work fine. Extra-firm will also be a proper vessel to hold onto any marinades.
The most important part about firm tofu is that it will remain stable and intact during the cooking process.
Silken is too soft and is not appropriate for this tofu recipe.
2 – Freeze tofu first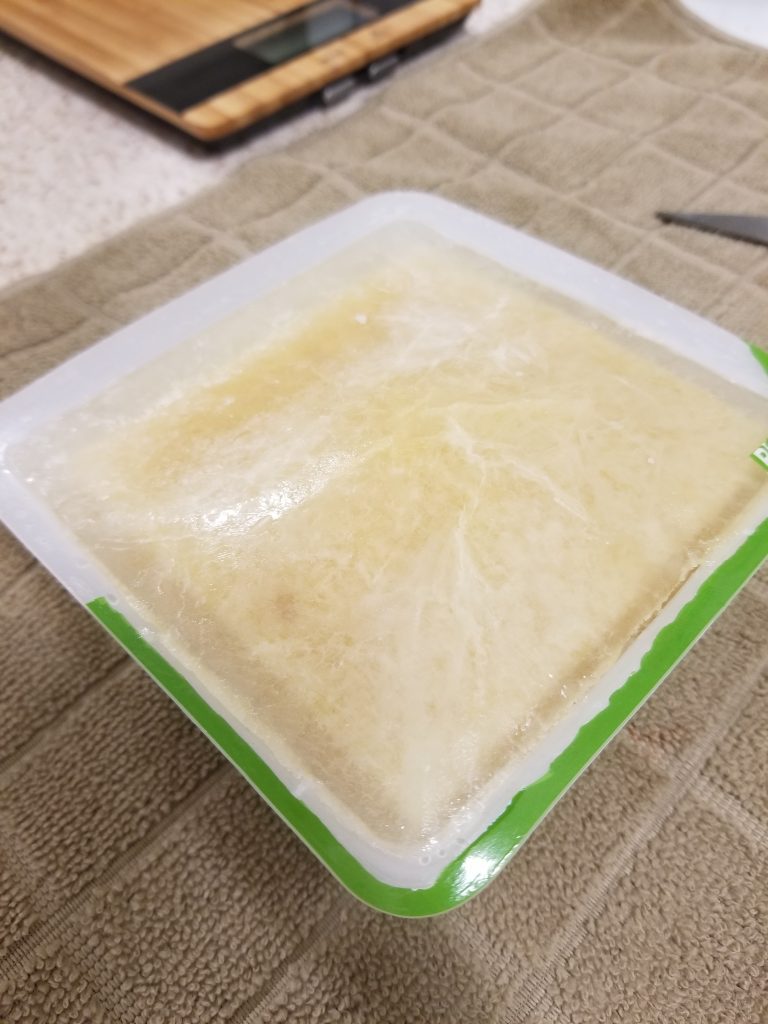 Freezing tofu before using it will make it porous – which is perfect for allowing the marinade to effectively marinade the block. The tofu will become almost sponge-like. Additionally, this step will help make draining and pressing the tofu much easier.
Freeze the tofu for at least overnight. Tofu blocks that have been frozen for days, weeks, or months are fine too.
The fastest way to defrost or thaw a frozen block of tofu is to microwave. You can do this for about 6-10 minutes, depending on how powerful your microwave is. Once it has been completely thawed, allow the block to cool for at least five minutes.
You can also thaw a frozen block of tofu in the refrigerator or the kitchen counter for a few hours.
3 – Drain and press tofu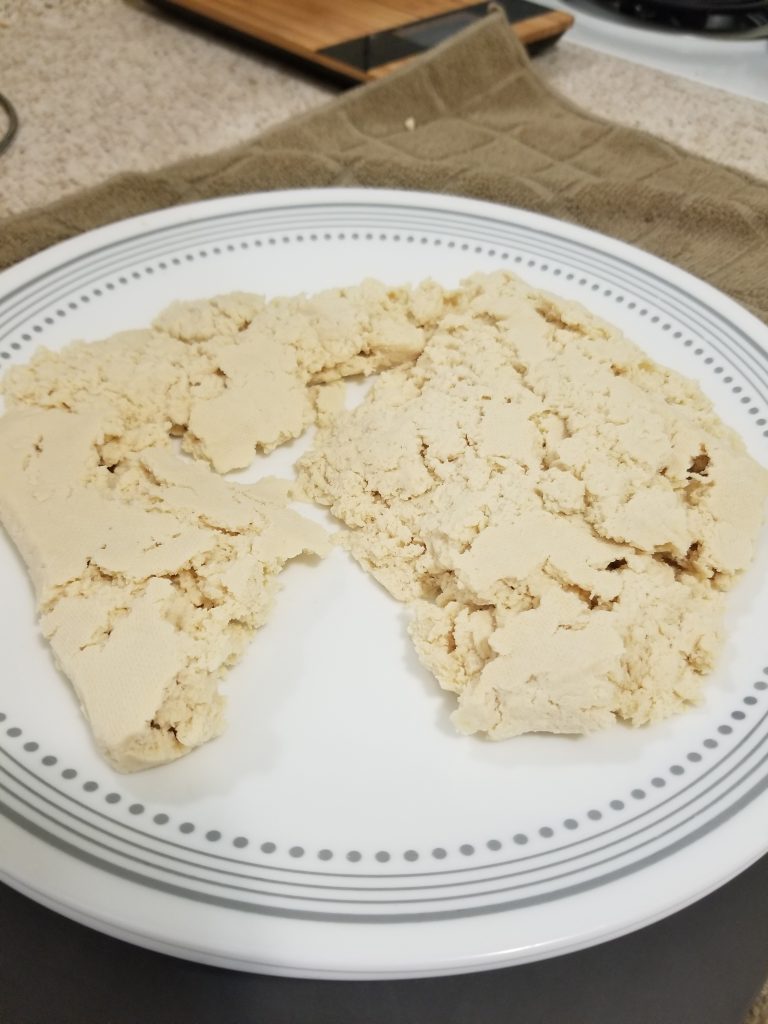 Draining and pressing the defrosted tofu will give room for marinades to be introduced. Additionally, it will help give the tofu the perfect amount of moisture, rather than leaving it too wet to crisp up into nuggets.
No need for special equipment. Simply pour out the excess water from the thawed block of tofu.
To press the tofu, take the backs of two plates, place the tofu block in-between the plates, and gently press the water out of the tofu.
4 – Pan-fry at the highest heat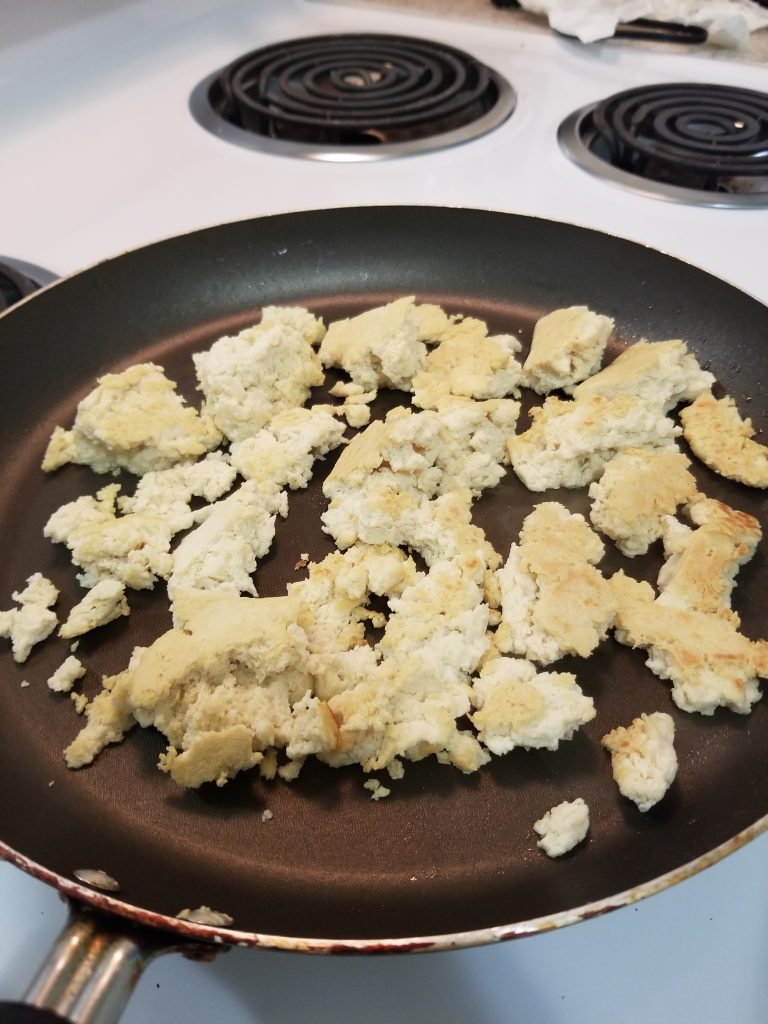 I pan-fry the tofu first to create a stable exterior. Otherwise, the structure will be too soft and crumbly. This step will also help the tofu soak in and hold any marinade you introduce after it has been pan-fried.
In a non-stick pan over high heat, add vegetable or canola oil. Next, add the tofu nuggets and pan-fry on all sides until golden.
How To Cut Tofu Into Nuggets
To tear the tofu into nugget pieces, simply tear them apart with your fingers. If you try to cut them with a knife, you might find your tofu crumbling. This is due to their lack of moisture.
Note, we want them without excess liquid, so we can introduce a marinade. A perfect, uniform nugget is not very important here.
More Tofu Recipes
How To Make Tofu Taste Like Chicken
I've written a few posts about how to make tofu taste (and have the texture) like chicken, but let's break it down.
1 – Utilize your spices and seasonings.
Don't be afraid to flavor-up your tofu. Tofu is relatively bland, so it's important to use spices and seasonings. I used smoked paprika, nutritional yeast, garlic powder, and salt.
However, feel free to switch those items out for those that you enjoy. Here are some ideas for seasonings and spices.
Seasonings + Spices
Garlic Powder
Chili Powder
Nutritional Yeast
Black Pepper
Garam Masala
Smoked Paprika
Onion Powder
Cumin Powder
Curry Powder
Cayenne Pepper
Jerk Seasoning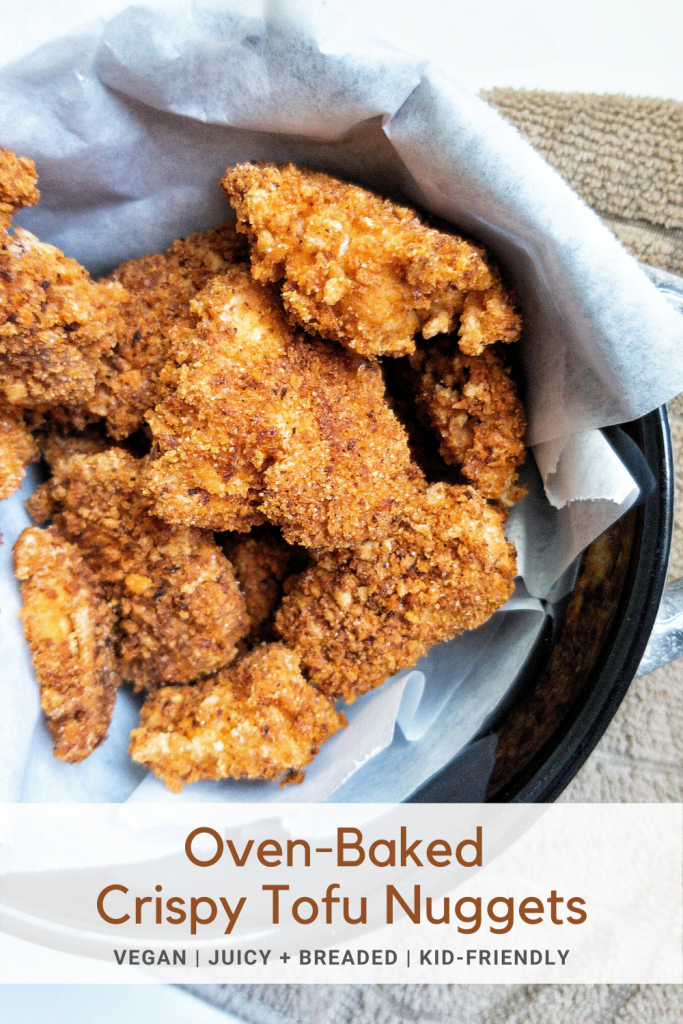 2 – Use Not Chick'n Bouillon Cubes
Edward & Sons Not Chick'n Bouillon Cubes is my #1 go-to for when I want an umami, chick'n flavor for tofu. They also have other flavors, including "beef" and "garden veggie" all of which are vegan + gluten-free!
These cubes are also great for stews, soups, rice, sauces, and gravies.
Note: there are TWO steps to this recipe.
Make tofu taste like chicken.
Cooking in the oven to make nuggets crispy.
Here is the full recipe for making tofu taste like chicken.
Follow both recipes below to make Oven-Baked Crispy Tofu Nuggets.
How To Make Tofu Taste Like Chicken
We're going to make tofu taste like chicken with just 4 ingredients and a handful of steps. This approchable recipe is perfect for salads, burgers, as a snack, or in a rice bowl.
Instructions
Freeze a block of tofu for at least 24 hours. Remove the frozen block from its packaging and thaw in a microwave, about 10-12 minutes.

Once defrosted, allow to cool for 5 minutes. Next, drain and press excess water.

Measure 6 tablespoons of water and pour it into a microwave-safe bowl. Microwave for 1 minute. Drop one Not-Chick'n cube into the bowl of hot water. Stir and dissolve.

Tear the tofu into bite-sized pieces and set aside in a bowl. In a pan over high heat, add 1 tablespoon of oil. Add the tofu and cook for about 4-5 minutes. Flip and cook until golden on all sides.

Next, pour the marinade over the tofu pieces and cook for an additional 8-10 minutes.
Now you have tofu that tastes like chicken, now it's time to turn it into crispy nuggets.
Oven-Baked Crispy Tofu Nuggets
How to turn tofu into crispy, flavorful tofu nuggets. These tofu nuggets are baked in the oven and they are kid-friendly.
Ingredients
Tofu chicken  

See Recipe Notes

1

tablespoon

Nutritional yeast

1

tablespoon

smoked paprika

1

tablespoon

garlic powder

3

tablespoons

Melt Organic Butter

1/4

cup

panko breadcrumbs

1/4

cup

all-purpuse flour

1/2

teaspoon

salt

Non-stick spray

optional
Instructions
Line a baking tray with parchment paper. Set aside.

Preheat oven to 400 degrees F.

In a small bowl, mix together the seasoning mix: nutritional yeast, smoked paprika, garlic powder, and salt. Set aside.

Melt 1 tablespoon of butter in a non-stick pan over medium heat. Pour in panko breadcrumbs. Stir and cook for 4-5 minutes. Remove from heat and transfer to a bowl.

In a bowl, mix flour and half of the spice/seasoning mix.

In another bowl, prepare 2 tablespoons of melted butter. Butter can be melted in the microwave for a few seconds.

In a third bowl, mix the panko breadcrumbs with the rest of the spice/seasoning mix.

Dip and coat one tofu nugget into the flour. Then, dip and coat it into melted butter. Finally, fully dip and coat the nugget into the breadcrumbs. Repeat until all tofu nuggets have been coated.

Next, line each tofu nugget onto the baking sheet, leaving space in-between each piece.

Spray nuggets with non-stick spray. Bake for 20 minutes, flipping halfway at 10 minutes.

Remove from oven and allow to cool on a cooling rack. Serve.
Notes
You first need to pan-fry the tofu and cook in the marinade to achieve a tender and flavorful inside, before cooking in the oven. That recipe is above this one.

Use any seasonings you prefer. If your seasoning of choice has added salt, cut back on the salt in this recipe. 

If you don't have

not chick'n bouillon cubes

, use a tablespoon of reduced-sodium soy sauce instead. 

Use your butter of choice. 
---
Sides To Have With Your Oven-Baked Tofu Nuggets
Did you try out this Oven-Baked Tofu Nuggets Recipe?
Please leave a comment below, share it, rate it, or tag a picture @plantbasedandbroke on Instagram and hashtag it #plantbasedandbroke. Show off that creation with us!