(
This post may have affiliate links. Please see my disclosure.
)
Don't be shy – pile on that plate high with a sweet potato tofu scramble.
When breakfast rolls around, I like it savory, satisfying and packed with plant-based protein. Of course, I like to do this in a way that's also affordable and approachable – so tofu scramble it is.
For a breakfast tofu scramble, I either use extra firm tofu or firm tofu. Either one works and I use them interchangeably. Because I like my tofu scramble to be firm and chewy, I pan-fry the tofu scramble over the highest heat. This cooking method helps steam off any excess moisture, in addition to adding a nice chew.
In this recipe, we're using 6 plant-based ingredients including tofu, sweet potatoes, spices, vegan butter, and black beans. Easy-to-find ingredients that are also easy on the wallet. If you're on to go, it takes only 20 minutes to whip up, and you can roll up your scramble into a burrito.
For the spices and seasonings, feel free to use your favorite pantry items. For tofu scramble, mine include garlic powder, smoked paprika, turmeric and, nutritional yeast.
No need to press your tofu for a tofu scramble. A bit of moisture is fine. Just pour out any excess liquid.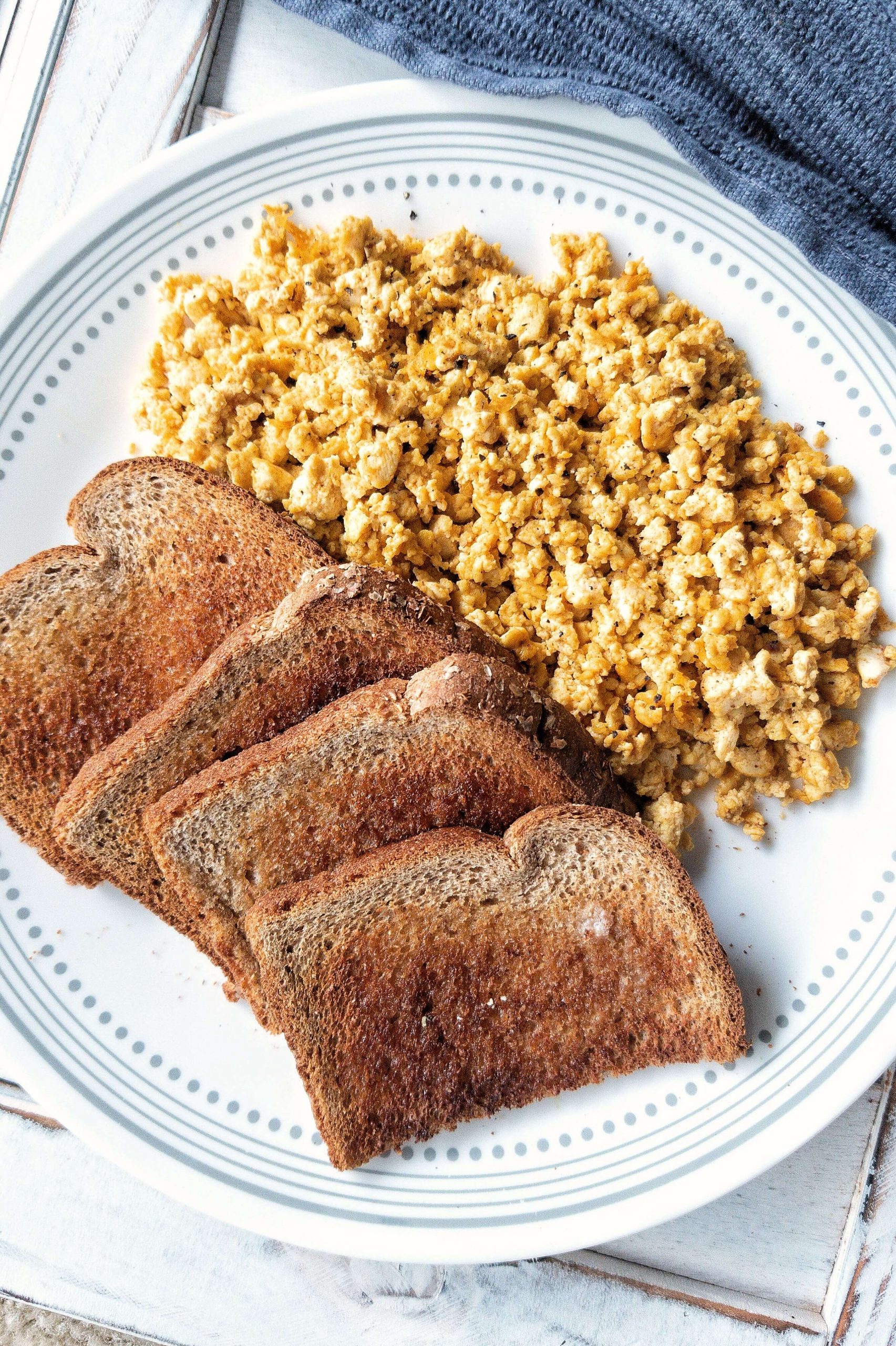 Similar to a traditional breakfast egg scramble, there's plenty you can add to your plate. Here are a few ideas:
Tomatoes
Spinach
Onion
Mushrooms
Potatoes
Garlic
Vegan sausages
Kale
Asparagus
Broccoli
Salsa
Avocado
Bell Peppers
Side up your 6-ingredient sweet potato tofu scramble with buttered toast, warm tortillas, or a pile of steamed veggies.
You can also bring your tofu scramble to a whole new level in an oil-free vegetable "fried" rice.
For more breakfast recipes, check out 18 Frugal Plant-Based Breakfast Recipes. We have sweet, savory, and everything in between!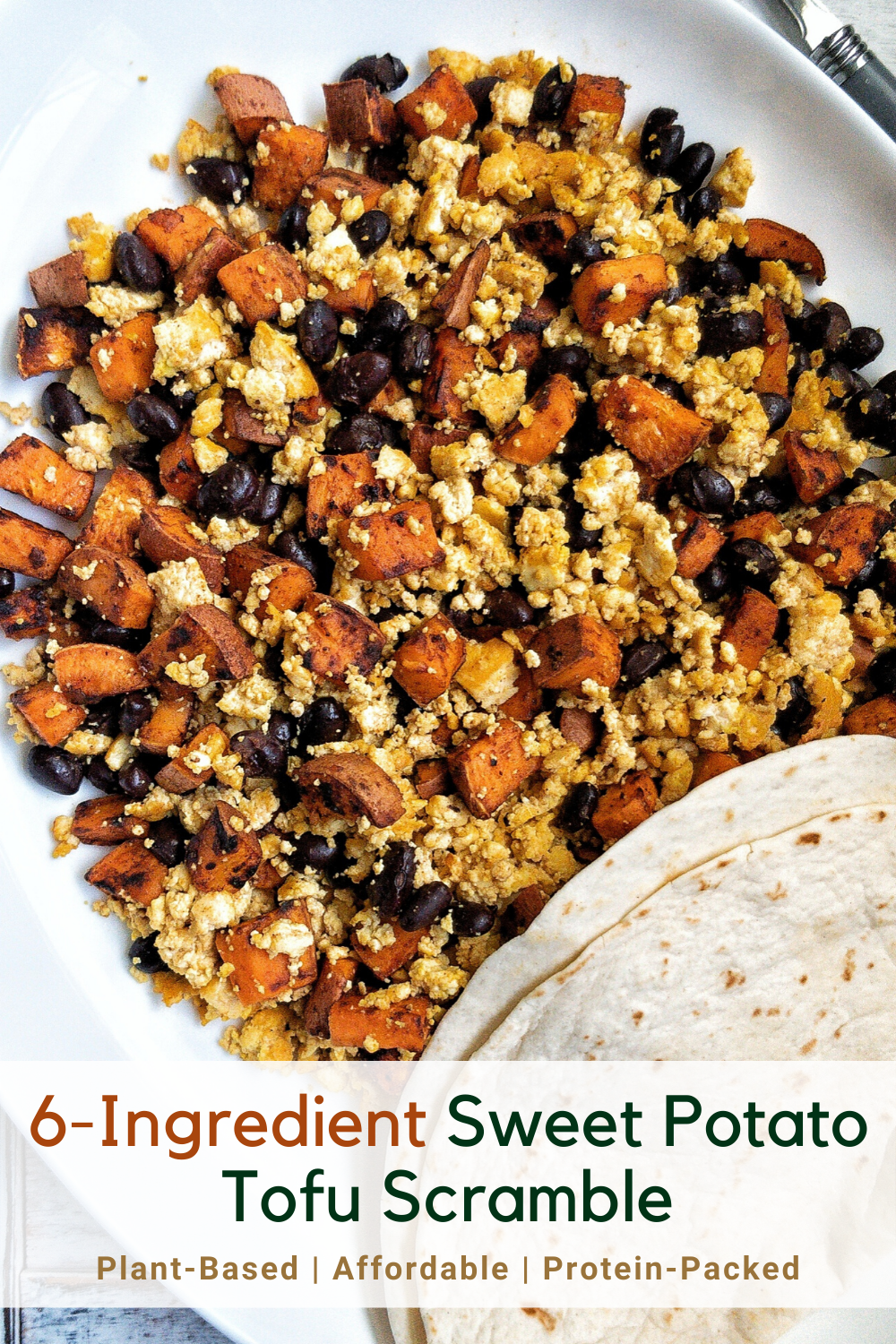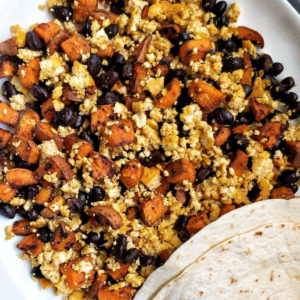 6-Ingredient Sweet Potato Tofu Scramble
A sweet potato tofu scramble with only 6 ingredeints! Loaded with plant-based protein, flavor, and satifsaction. It's a great savory breakfast plate that's vegan, gluten-free, and healthy.
Instructions
Heat 1 tablespoon of butter in a non-stick pan over medium-high heat. Once the butter has melted, add sweet potatoes and toss to coat. Add your favorite seasonings and salt, toss potatoes again.

Cook untouched for 4 minutes, then stir. Reduce heat to medium. Cook and stir sweet potatoes another 8 minutes, or until fork-tender.

Remove sweet potatoes from heat and add cooked black beans. Stir. Set aside.

Place the empty pan back onto the burner over high heat. Add another tablespoon of butter. Once melted, add crumbled tofu.

Stir in nutritional yeast, turmeric powder, and salt. Cook for 10-12 minutes. Combine the sweet potatoes, black beans, and tofu scramble. Serve.
Notes
You can use your favorite spices for this sweet potato tofu scramble. For the tofu scramble, I typically add nutritional yeast, salt, turmeric powder. 

If you're gluten-free, you can totally go for a gluten-free tortilla wrap.  

I used low-sodium canned black beans for this recipe. Straight out of the canned – drained and rinsed. 
Nutrition
Breakfast Sides To Have With Your Scramble:
Did you try out this 6-Ingredient Sweet Potato Tofu Scramble Recipe?
Please leave a comment below, share it, rate it, or tag a picture @plantbasedandbroke on Instagram and hashtag it #plantbasedandbroke. Show off that creation with us!