(
This post may have affiliate links. Please see my disclosure.
)
Jump to:
As much as I love to indulge in all-things potato, I like to dip my hands into a pile of crispy, baked zucchini fries.
It's a great side or snack recipe that's naturally low-carb and keto-friendly. In addition to being low-carb, zucchini (also known as courgette or summer squash), are rich in antioxidants and rich in many nutrients including vitamin A, vitamin C, manganese, and potassium.
Like potatoes, zucchini has a mild flavor, which allows us the opportunity to flavor it up however we like them.
Speaking of flavor, they pair perfectly with your favorite creamy sauce. I like to use a cashew-base sauce, which I dress up with whatever flavors I am in the mood for (spicy, smoky, garlicky).
Other sauces that pair well with zucchini fries include ranch dressing, dijon mustard, old-fashioned ketchup, hot sauce, BBQ sauce, marinara sauce, or sriracha mayo - all of which can be found in vegan or plant-based alternatives.
Don't forget to pile on the baked zucchini fries with your favorite burgers or sandwiches - we enjoy them with tofu black bean burgers, cannellini bean veggie burgers, and chickpea salad sandwiches. Or, go for pan-fried tofu.
Or, check out our list of plant-based burgers.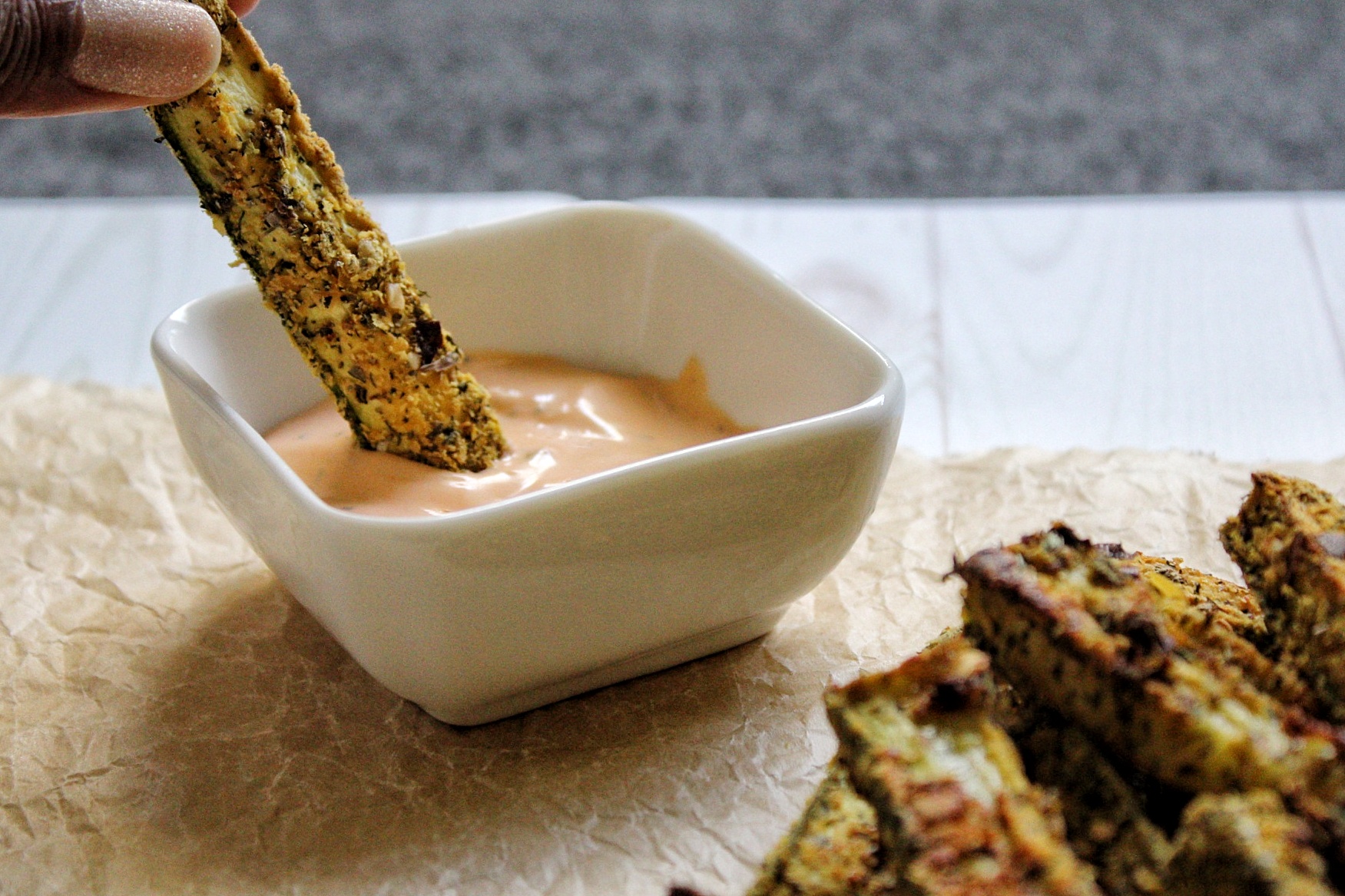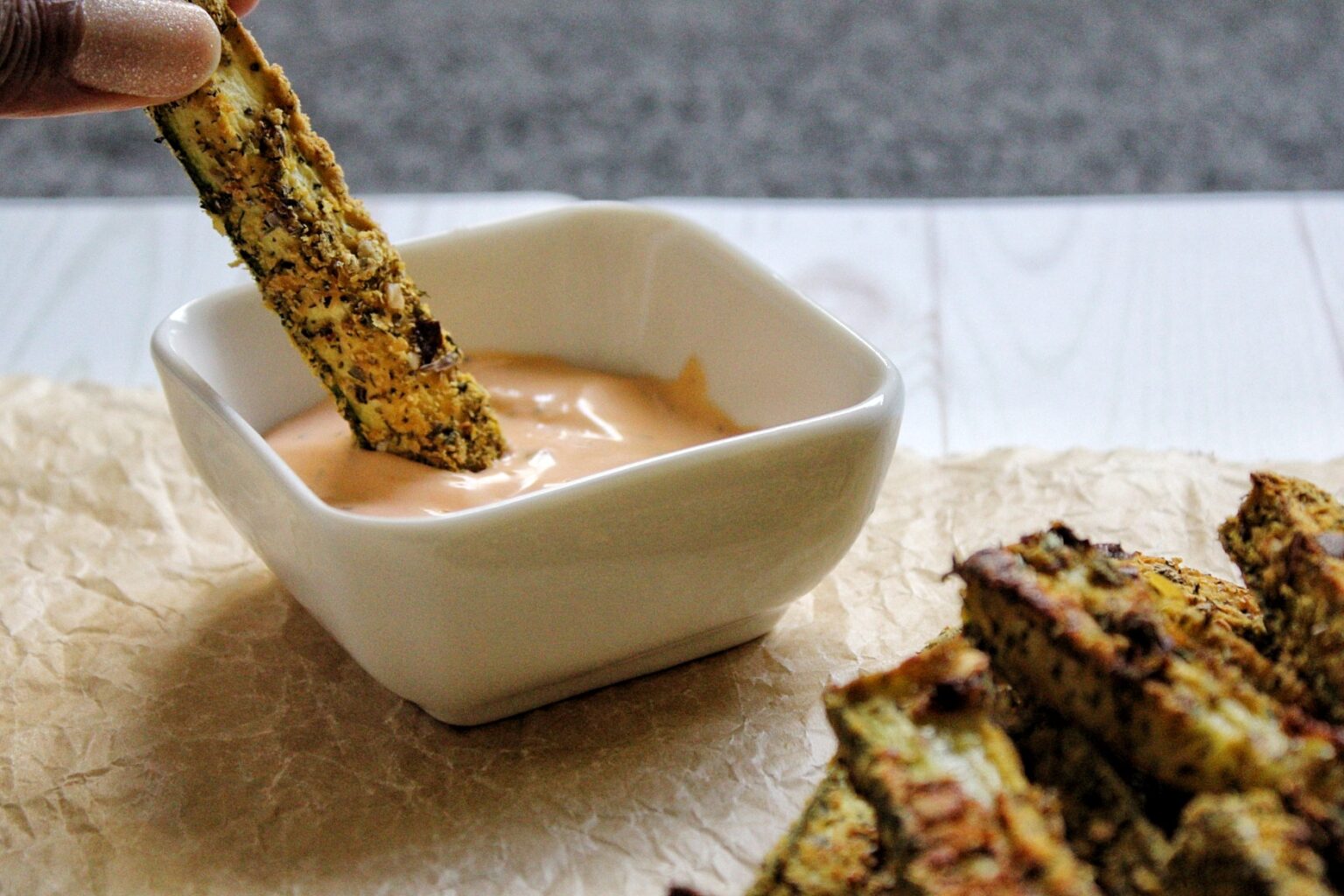 Why You'll Love This
Thanks to baking powder, we are creating a crispy batch of zucchini fries without the need for panko or flour. This a trick that I've learned and applied to my homemade tofu nuggets.
We're not holding back on flavor! Although we're only using a handful of ingredients, the nutritional yeast, garlic powder, and Italian seasoning will bring these zucchini fries to life. If you want to mix your spices up - feel free. Other spices to consider include garam masala, onion powder, cumin, paprika, garlic salt, black pepper.
Gluten-Free & keto/paleo-friendly.
A lower carb alternative.
No oil or frying necessary! We're baking these bad boys in the oven. They'll crisp up just fine. I suggest using a baking tray lined with parchment paper - to prevent any sticking. If you want, you can use non-stick cooking spray, but it's fine to opt-out.
Recipe FAQs
How To Slice Into Fries or Wedges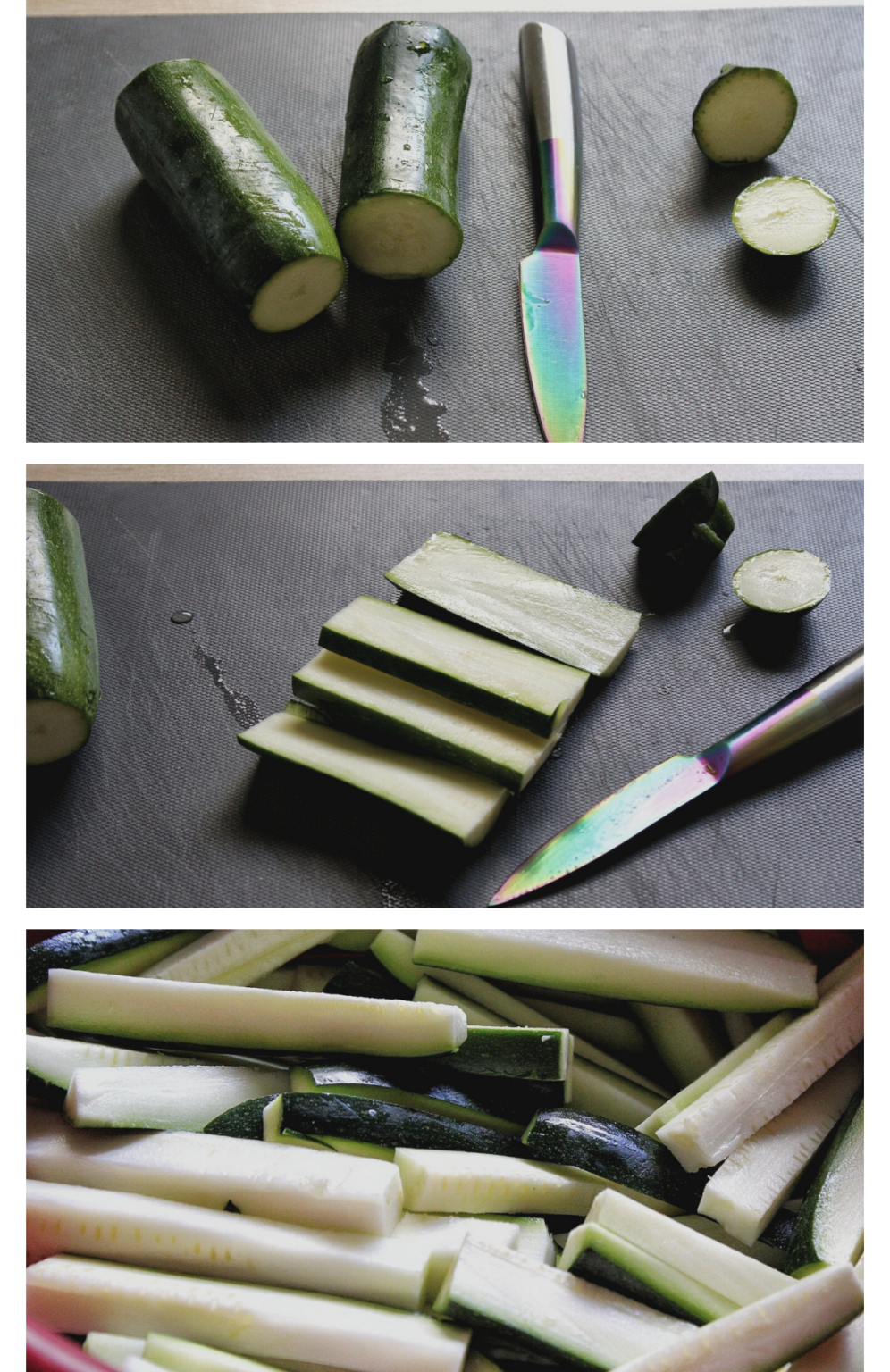 Feel free to slice the zucchini in a fry, wedge, or coin shape. I recommend cutting or slicing them thin to get them crispy. We'll talk about that later.
Either way, you'll want them to be around the same thickness.
First, give the zucchinis a quick rinse and cut off their ends.
With a sharp knife, cut the zucchini in half. Next, slice the zucchinis vertically or lengthwise about ½-inch thick. This will yield about 4-5 pieces.
Lay the piece flat and slice about 3 fries from each, depending on the desired thickness/size.
How To Make Zucchini Fries Crispy
Because zucchini has high water content, there are a few things you need to do to achieve a crispy texture.
Similarly to eggplants, we need to salt or and rest the zucchini to pull as much water as we can from then. Also known as "sweating" zucchini.
Once the zucchini has been cut into fries or wedges, place them in a colander over a bowl. Salt them generously and allow them to "sweat" for 30 minutes. Next, blot them as dry as possible with a paper towel or a tea towel.
Now you're ready to bake these bad boys up.
How To Store
Zucchini fries are best consumed fresh. However, you can save it for later and store it in an air-tight container or reusable silicone bag.
To reheat, arrange the cooked zucchini fries onto a baking sheet lined with parchment paper. Warm the fries in the oven at 375 degrees F for a few minutes.
I don't recommend heating them in the microwave - they will not rebuild their crispy texture.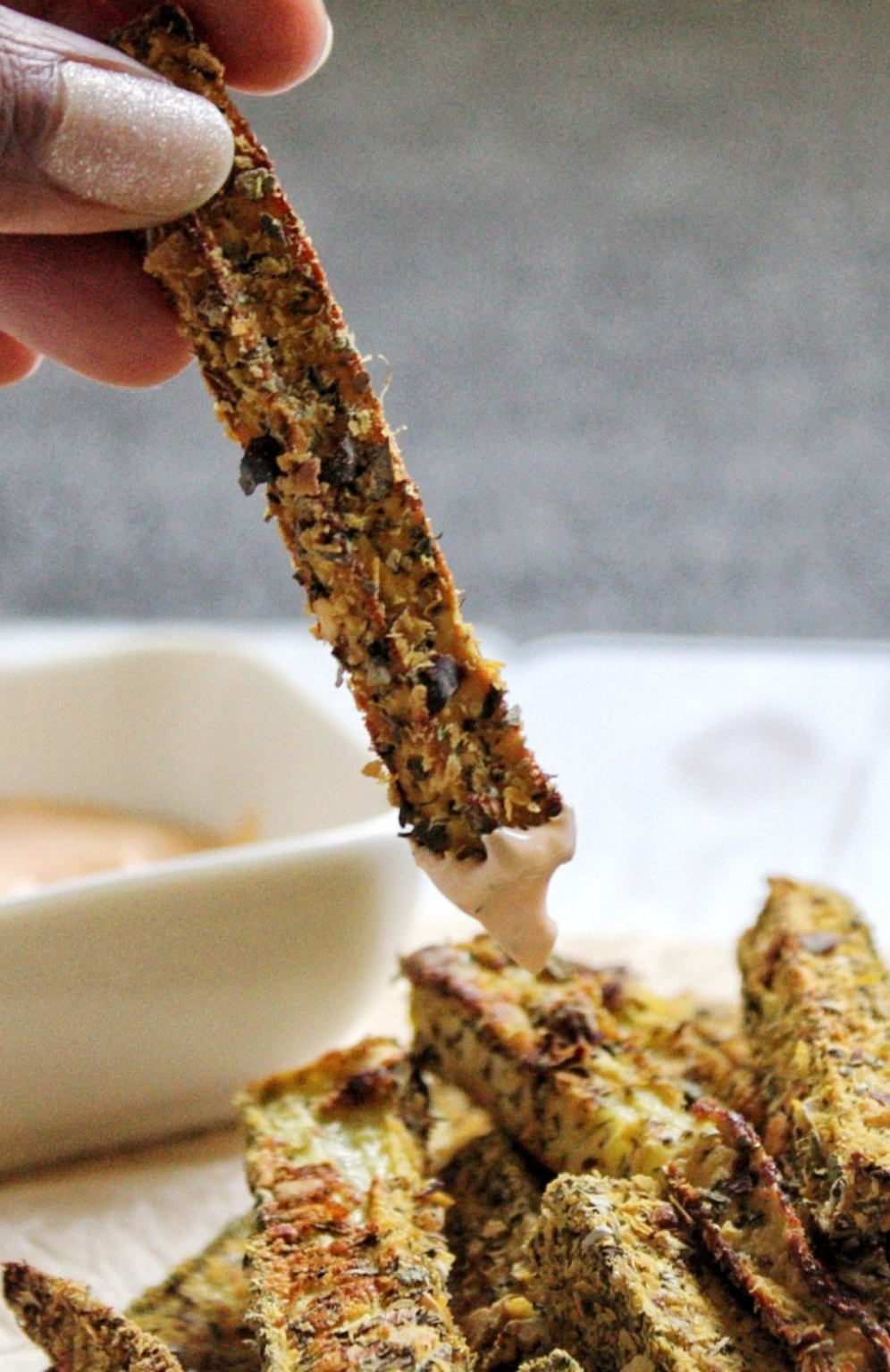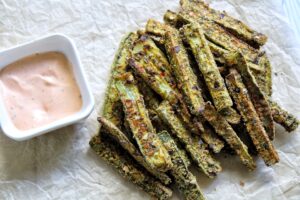 Baked Zucchini Fries
Switch it up with crispy, low-carb zucchini fries. Baked to perfection! A great snack or side dish to pair with burgers, sandwiches, and mains.
Instructions
Preheat the oven to 425 degrees F. Line a large baking pan with parchment paper.

Cut off ends of the zucchini and cut into wedges or fries, about ¼-inch thick.

Place the zucchini fries in a large colander over a bowl. Salt them generously and allow them to "sweat" for 30 minutes. Next, drain and blot them as dry as possible with a paper towel or a tea towel.

In a small bowl, pour the soymilk. In a separate medium-sized mixing bowl, combine nutritional yeast, garlic powder, Italian seasoning, baking powder, and salt.

Dip and roll the zucchini strip into the vegan milk. Then, toss evenly with the seasoning/breading mix. Repeat for all strips and place into a baking pan in a single layer.

Bake for 30 minutes, flipping halfway. Broil for about 2 minutes.
Notes
If your baking sheet is not large enough to fit all of the fries, work in batches. Alternatively, you can cut the servings in half and adjust ingredient measurements accordingly. 

You can choose to use different seasonings. Like traditional french fries, you can add any flavors you enjoy. 
For an extra crispy result, dip the zucchini fries into a flour + water mixture. Then, roll them into panko. 
Nutrition
Serving:
1
-Serving
Calories:
87
kcal
Carbohydrates:
16
g
Protein:
7
g
Fat:
1
g
Saturated Fat:
1
g
Polyunsaturated Fat:
1
g
Monounsaturated Fat:
1
g
Sodium:
382
mg
Potassium:
751
mg
Fiber:
6
g
Sugar:
5
g
Vitamin A:
508
IU
Vitamin C:
35
mg
Calcium:
251
mg
Iron:
3
mg
---
Did you try out this Baked Zucchini Fries recipe?
Please leave a comment below, share it, rate it, or tag a picture @plantbasedandbroke on Instagram and hashtag it #plantbasedandbroke. Show off that creation with us.