(
This post may have affiliate links. Please see my disclosure.
)
---
Like most people, I can always go for a large bowl of homemade potato french fries. But why not switch it up for a heaping pile of vegan zucchini fries?
These are so easy to make and incredibly delicious. I really do think that when there are days I want something full of flavor, fast to cook up, and low in calories – these are going to be the thing to go to. I actually do wish I made more of these. Because it was pretty sad when I went through all of 'em.
Additionally, the breading seasoning gave it a nice savory flavor, giving a bit of a cheesy-Italian flavor. You can totally play around with the seasonings if you wish.
This recipe is pretty hard to screw up and ends up crispy, yet tender at the same time.
Also, just in case you had not noticed: this recipe is gluten-free, vegan, oil-free, plant-based and healthy.
6 ingredients. 30 minutes. That's all you need.
---
How To Make Vegan Zucchini Fries
Ingredients:
1 yellow zucchini
¼ cup vegan milk
For the breading seasoning:
*Make a second batch of breading if need be. If you start to notice the breading starting to clump together, it's time for a fresh batch.
Directions:
Preheat the oven to 425 F degrees. Line up a baking tray with aluminum foil.
Cut ends of the zucchini and cut length-ways in half. Cut into fries/strips.
In a bowl, combine garlic powder, nutritional yeast, dry basil leaves, and salt.
Dip zucchini strip into vegan milk. Roll it around the breading mix. Place onto a baking sheet.
Bake at 425 F degrees for 30 minutes. Turning halfway.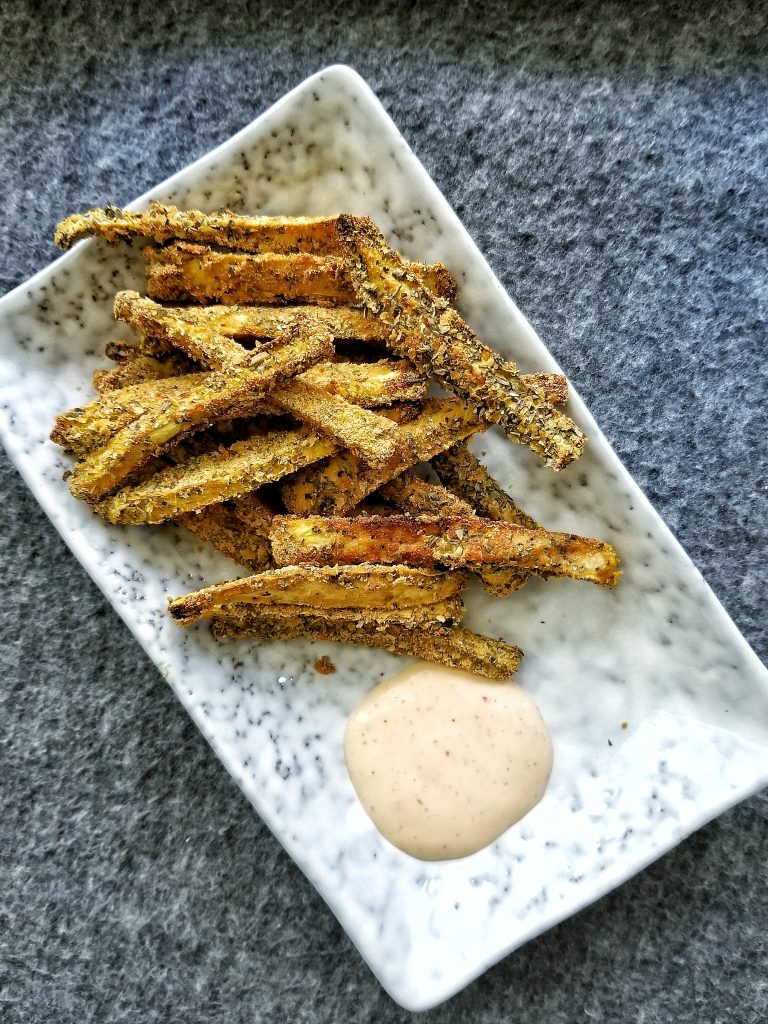 Need a main dish for those zucchini fries? Check out these recipes:
Easy Plant-Based Lentil Burgers
Easy Plant-Based Veggie Burgers with Cannellini Beans
Make sure to also stop by our growing community on Facebook!

Please follow and like us: