(
This post may have affiliate links. Please see my disclosure.
)
---
I opened up my pantry and for the first time in a long time, I groaned at the four boxes of oat bran I have patiently waiting for me every morning. I love oat bran, but I had to switch things up a bit. I decided that today would be a good day to fold togegther a super simple vegan breakfast burrito recipe that's filling, high in fiber, and loaded with protein – literally.
I also didn't want to make a big fuss out of it, so I just used what I had. And that meant settling for vegan ranch instead of sriracha sauce because I ran out. But let's be honest, it's not really my sriracha, but the person I live with. Sharing is caring, right? ¯\_(ツ)_/¯
Additionally, I knew that I didn't want to spend time chopping, so I didn't. That's what dry seasonings and spices are for.
For this vegan breakfast burrito, I wanted something high in protein, with a variety of flavors, while also using what have in my kitchen. Here's what I came up with: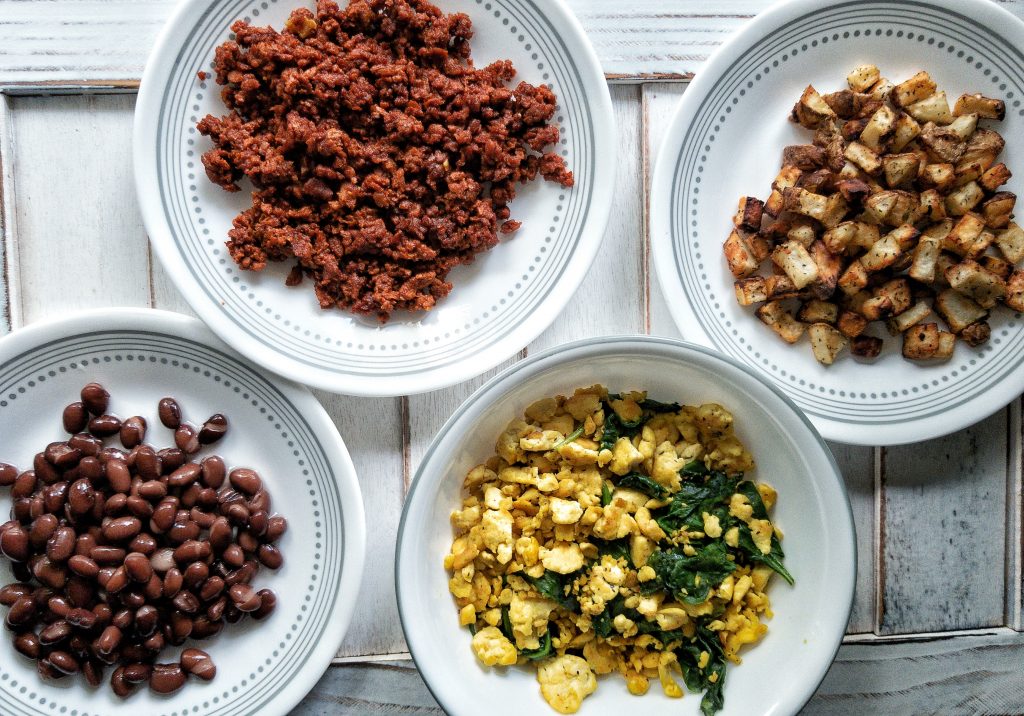 Tofu scramble
Canned black beans
A potato
Spinach
Spices
Soyrizo
Wanna check out my basic tofu scramble? Check this recipe out.
---
Vegan Breakfast Burrito Recipe
Recipe Notes
Use whatever sauce you like. I just went for whatever I had in my kitchen. You'll want something like salsa, hummus, plain Greek yogurt, or guacamole to give some wetness and/or fats to the burrito.
If you don't know how to properly fold a burrito, check out this handy article.
I cooked my potatoes in a toaster oven because I was just making this for me. But feel free to use a regular oven.
When roasting the potato, be sure to leave some space between each piece to prevent from steaming.
Be sure to drain and rinse the beans prior to adding them to your burrito.
If you can't find nutritional yeast, it's not a big deal. Just leave it out of the recipe. If you want to purchase it online, you can find it on Amazon. Similarly, if you cannot find vegan butter, just switch it out for olive oil.
This recipe yields about 1-2 servings.
Ingredients
Large tortillas (I used whole wheat)
Soyrizo
Potato
Handful of Spinach
Salt-based seasonings
Olive oil
Vegan butter
Directions:
First, cut the potato into small, ½-inch pieces. In a bowl, mix the potato pieces with 1 teaspoon of olive oil, a pinch of salt, and garlic powder.
Next, turn on toaster oven to 400F. Spread the cut up potato pieces on tray with some space in-between.
Bake the potato pieces for 20 minutes, turning half way.
Meanwhile, set a non-stick pan on a stovetop. Set heat to medium-high.
Add vegan butter and allow it to melt.
Next, crumble the tofu directly into the pan and toss around with the butter.
Now add your seasonings: a pinch of turmeric (a little goes a long way), ¼ teaspoon nutritional yeast, a pinch of salt, black pepper, and garlic powder.
Cook the tofu until it starts to become golden – about 5 to 8 minutes.
Next, throw in a handful of spinach, then, cook for another minute, or until wilted.
Once done, set aside the tofu scramble into a bowl.
In the same pan, add a bit more butter. Add the soyrizo and cook for about 5 minutes, or what is indicated on the package. Set aside.
Next, open a can of black beans. Drain, rinse, and measure out about ¼ cup of black beans. Save the rest in the fridge for another time.
How To Assemble Burrito
First, lay out the tortilla on a microwavable safe dish. Warm it up for a few seconds until warm.
Next, add a small layer of tofu scramble, soyrizo, beans, potatoes, your choice of sauce.
Fold the burrito.
Finally, cut burrito in half.
Serve.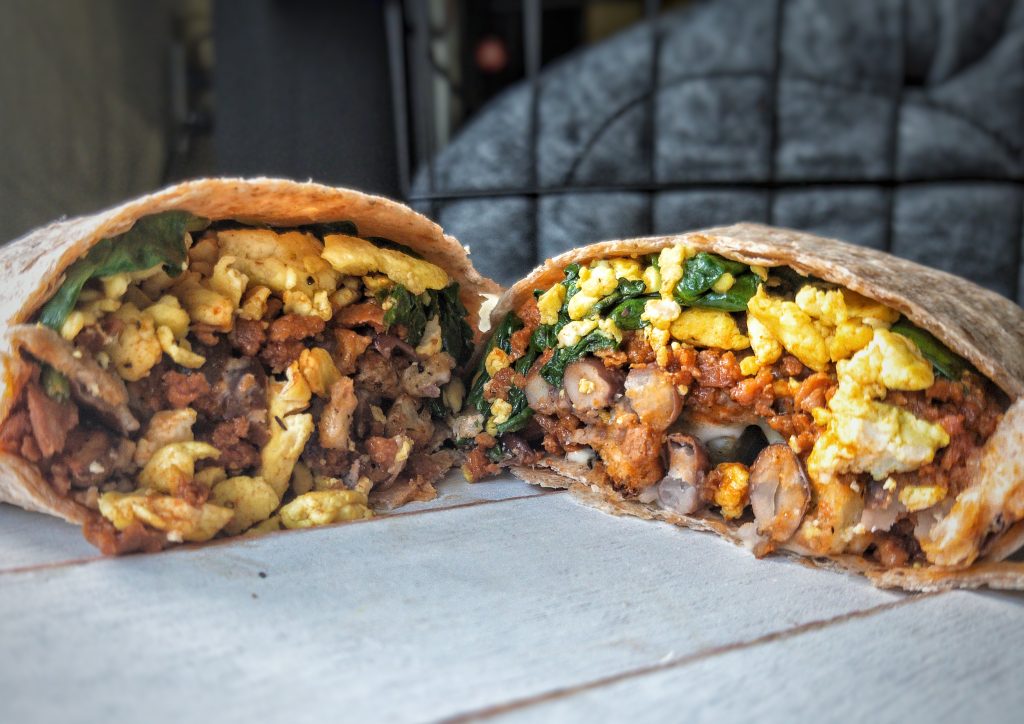 More Breakfast Recipes:
Did you try out this recipe?
Please leave a comment below, share it, rate it or tag a picture @plantbasedandbroke on Instagram and hashtag it #plantbasedandbroke. Show off that creation with us. 😉 

How useful was this post?
Click on a star to rate it!
Average rating 5 / 5. Vote count: 1
Please follow and like us: