(
This post may have affiliate links. Please see my disclosure.
)
I know, that title is bold. Let me explain –
I am a huge fan of Chipotle and it's my favorite place to eat when I want something quick, plant-based, and customizable. Paired with brown rice, black beans, mild salsa, corn, perfectly made guac, and a bed of lettuce, there's nothing better than a Chipotle veggie rice bowl.
But sometimes, I just want to make it myself and control the variables – ya know?
I want it spicer, more flavorful, thicker, saucy, and sassy. For this kind of result, I just need to make it myself.
What To Serve With Sofritas:
I want it spicer, more flavorful, thicker, saucy, and sassy. For this kind of result, I just need to make it myself.
Okay, so maybe you haven't heard about the infamous Chipotle vegan sofritas. That's okay. When you're blindsided by all of the options at Chipotle, it's easy to miss.
What Are Sofritas Made Of?
Chipotle sofritas is a vegan protein option using braised, or slowly cooked tofu. The star of this recipe is a spicy, chipotle sauce, combined with other ingredients including tomato paste, red wine vinegar, onion, bell pepper, garlic, toasted cumin seeds, and a dash of salt.
With vegan sofritas, you won't be missing the meat. The cooked tofu provides a nice, "meaty" texture, along with an incredible flavor that doesn't make you feel like you're eating a block of cardboard.
The recipe typically calls for roasted poblano, which is a mild chili pepper. It has an earthy and slightly bitter flavor.
When roasted, the poblano pepper's flavor enhanced. Although we're skipping this ingredient to keep this recipe easy and fast, feel free to throw this one in the blender once roasted.
You'll Love This Recipe If…
You appreciate a spicy-kick in your dishes.
You like a thick, hearty, and robust in flavor kind of sofritas.
You want your vegan sofritas to be the star of your bowl, burrito, or salad.
What's Different About This Recipe?
It's spicer
It's thicker
It's far more flavorful
You can control the variables
It's homemade
How To Make This Recipe Less Spicy/Milder?
If this recipe is too spicy for your palate, make the following adjustments:
Use only half the can of chipotle peppers in adobo sauce
Use about 2 – 2.5 cups of water OR low-sodium vegetable stock.
Adjust seasonings to your liking.
Double up the tofu content to compensate for the extra liquid.
What Is Sofrito?
Sofrito is a vegetable-based sauce that is typically used in dishes including yellow rice, stews, soups, beans, and braises.
Every home will have a slight variation to how they make this, but in many Puerto Rican homes, sofrito is typically made with onion, red bell pepper/ red peppers ajies dulces, green bell pepper, garlic, and cilantro.
It can either be made in a food processor or in a blender. The idea is to get the ingredients broken down, but still chunky. It shouldn't be turned into a soup.
Other variations of sofrito may include ingredients like tomatoes, recao stems, parsley leaves, tomato sauce, or dry white wine.
Learn more about what is sofrito and how to make sofrito.
---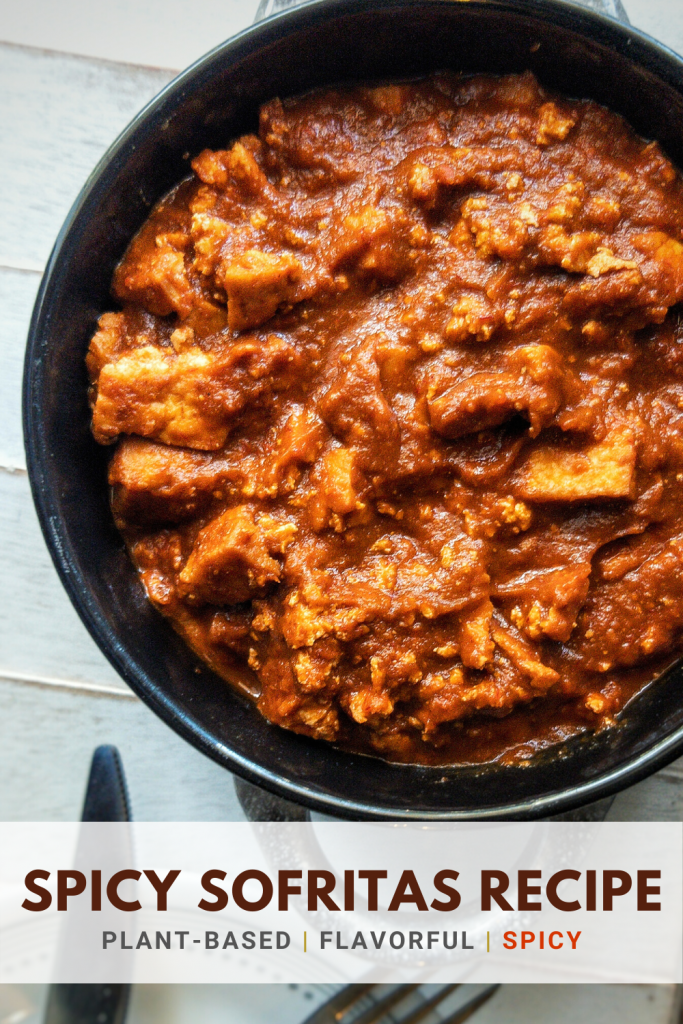 Better Than Chipotle's Sofritas Recipe
A finger-lickin' delicious vegan sofritas recipe that's inspired by Chipotle's version of the dish. It's 100% vegan and meat-free. A great dish to add with rice, tacos, burritos or a salad.
Ingredients
8

ounce

block firm frozen tofu

1

tablespoon

vegetable oil

1

teaspoon

cumin seeds

1.5

cup

water

7

ounce

can of chipotle peppers in adobo sauce

1

cup

sofrito 

1

teaspoon

red wine vinegar

1/2

tablespoon

tomato paste

1

teaspoon

salt

1

tablespoon

oil
Instructions
First, defrost the block of tofu, drain, and press as much of its water from the block. Cut the tofu into small, 1-inch cubes. Set a pan or skillet over medium heat and add 1 tablespoon of oil. Cook the cubes of tofu on all sides until golden. Set aside. 

In the same pan, remove from heat and toast cumin seeds for about 30 seconds, until fragrant. 

In a blender, blend together the chipotle peppers in adobo sauce, sofrito , red wine vinegar, tomato paste, toasted cumin seeds, water, and salt. Blend until smooth.

In a saucepan over medium-high heat add oil. Next, add the Chiptole sofritas sauce, cook and stir for a minute. 

Add the tofu to the pot with the sauce and bring everything to a boil. Once at a boil, immediately lower heat to a low, gentle simmer, then cover. 

After 30 minutes, crush and cut the tofu into smaller pieces with a spatula/fork/spoon. Cook for another 30 minutes and stir occasionally. 
Notes
It's best to use a heavy-bottom pot, like a dutch oven, if you have one. If not, a regular pot with a lid will work OK, too. 
Your pot should be deep enough to hold all of your ingredients, with a couple of inches on top to allow for evaporation.
Freezing the tofu prior to cooking will create a much chewier texture. Additionally, the ice crystals within the tofu will open up the block, creating a sponge-like vessel, which is perfect for sucking up sauces. 
If you're unable to freeze the tofu prior to use, it's fine. It'll just be a bit softer. 
Do not use silken tofu, it'll be too soft.
If the sauce is too thick, add more water. If it's too thin, crank up the heat to medium-high and cook until it has thickened. Adjust seasonings according to your personal tastebuds.
Optional: use Sazon seasoning instead of salt.
Sofrito is a vegetable base ingredient that's popular in Latin-Caribbean cultures. 
Not sure what sofrito is? Check out the notes above the recipe, or click on the hyperlinked "sofrito" listed in ingredients in this recipe.
---
Cookware Used In This Recipe
---
Did you try out this Better Than Chipotle's Sofritas Recipe?
Please leave a comment below, share it, rate it, or tag a picture @plantbasedandbroke on Instagram and hashtag it #plantbasedandbroke. Show off that creation with us