(
This post may have affiliate links. Please see my disclosure.
)
Chewy, chocolatey, healthy, peanut butter oatmeal cookies. Made with REAL, affordable ingredients. These cookies are the perfect treat for when you want to indulge, but keep it healthy and nutritionally dense.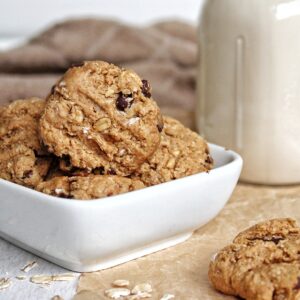 Best Way To Have Peanut Butter Oatmeal Cookies: One of my favorite ways to have these cookies is by dunking them into a glass of vegan milk. Even better if it's vanilla or chocolate flavored.
Extra creamy cinnamon-spiced banana milkshake made with coconut milk, frozen bananas, a pinch of sugar, and ground cinnamon. A delicious, vegan treat that's kid-friendly and fun.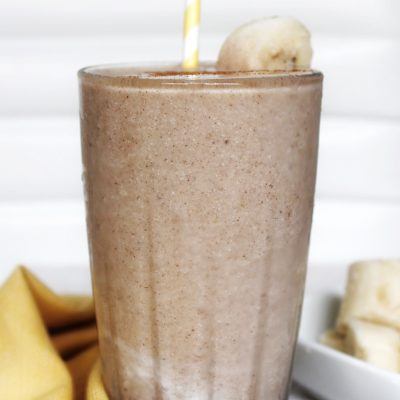 Best Way To Have Cinnamon-Spiced Banana Milkshake: If you can get your hands on vegan, dairy-free whipped cream - go for it! If you want to keep this dessert relatively healthy, skip the cream and top it with fruit.
Made with pantry-friendly ingredients, these Chia Seed Pumpkin Muffins are the perfect fall treat! Packed with fiber, protein and FLAVOR!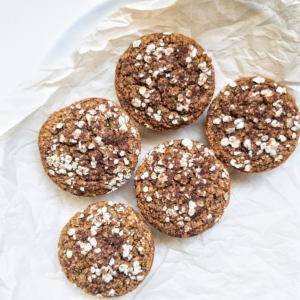 Best Way To Have Chia Seed Pumpkin Muffins: They are great on their own, but I love to add some peanut butter, fruit jam, or a bit of honey.
Oat Bran Pancakes
If you're craving something sweet for breakfast, go for a stack of fluffy & soft Oat Bran Pancakes made with just 8 ingredients. 100% plant-based and easy to make!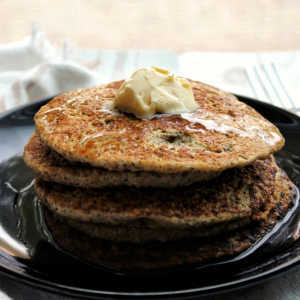 Best Way To Have Oat Bran Pancakes: Okay, but do you see that chocolate sauce? Switch out the maple syrup for a homemade cocoa sauce. Or, go for frozen fruit to naturally sweeten that stack of pancakes.
3-Ingredient Cinnamon Date Paste made with 100% whole-food, plant-based ingredients. A healthy way to sweeten up your favorite snacks, desserts, or breakfast dishes.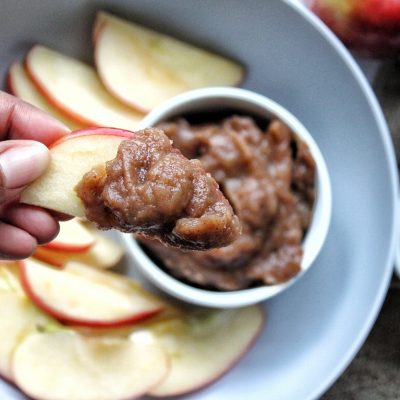 Best Way To Have Cinnamon Date Paste: This is one of my favorite sweet dips, using WFPB ingredients. This pairs perfectly with sliced apples, but you can use date sauce in baked goods and other fruits including bananas, pears, and bread.
Get your chocolate fix with 4-Ingredient Chocolate Chia Seed Pudding made with soy milk, chia seeds, cocoa powder, and pitted dates. It's a healthy breakfast treat, dessert, or snack, packed with fiber, protein, and healthy fats.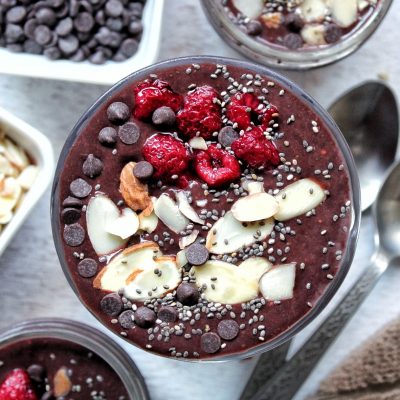 Best Way To Have Chocolate Chia Seed Pudding: This is the perfect dessert for when those chocolate cravings just don't want to budge. This guilt-free pudding is great with toppings with a variety of textures like nuts, seeds, fruit, or even chocolate chips.
Gluten-free, vegan oat bran chocolate muffins that tastes like dessert, but packs on the fiber and protein you need to start your morning.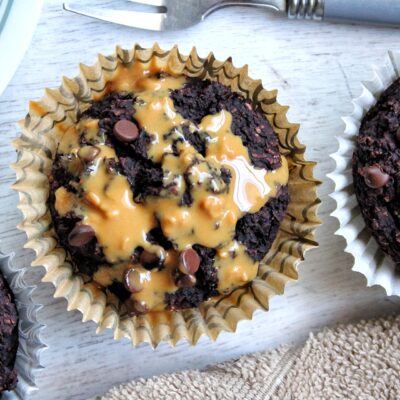 Best Way To Have Chocolate Bran Muffins: Okay, so hear me out - have you ever craved desserts that actually leave you full and satisfied? These are it. Because they are made with oat bran, these muffins are packed with fiber, making sure those hunger aches go away. I like to top these muffins with creamy, natural peanut butter to add healthy fats.
Whip up a thick & creamy chocolate peanut butter protein smoothie in just minutes! Made with 25 grams of PLANT-BASED protein. This protein-packed smoothie is perfect as a full-sized meal.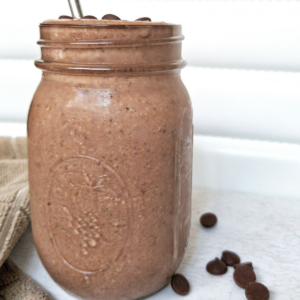 Best Way To Have Chocolate Peanut Butter Smoothie: Honestly, this smoothie is great on its own. But, if I am craving a little more chocolate, I top it off with a chocolate sauce or chocolate chips.
Get your cookie scoopers out - we're making a quick and easy batch of healthy edible cookie dough. Made with oats, chocolate chips, vegan milk, brown sugar, vanilla, and peanut butter - making this recipe plant-based, gluten-free, and packed with fiber.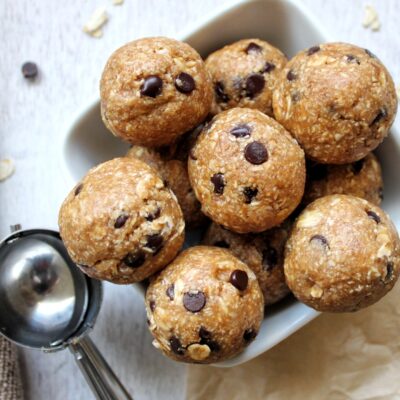 Best Way To Have Edible Cookie Dough: Now's your chance to combine this healthy cookie dough with a scoop of banana ice-cream! Or, make cookie dough sandwiches.
Extra creamy chocolate raspberry smoothie made with ripe and sweet frozen fruit. Blended with pure cocoa powder, creamy soy milk, and honey - a great breakfast or snack, whipped up in seconds.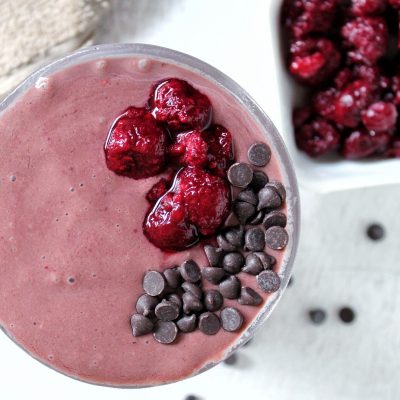 Best Way To Have Creamy Chocolate Raspberry Smoothie: Tope it with literally anything you want! I Iove to add more raspberries - both frozen and fresh work. If you're looking for a little more crunch, go for sliced almonds.
Indulge in the best Vegan Chocolate Mug Cake - made right from the microwave in under 2 minutes. It's a perfect quick and easy sweet treat, made with pantry-friendly (vegan) ingredients.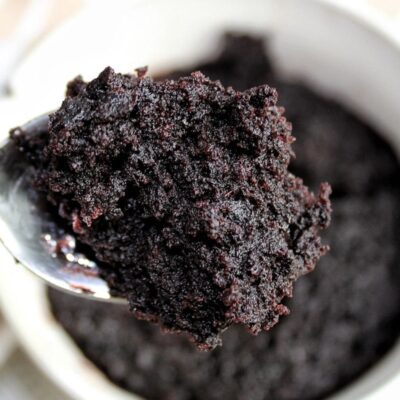 Best Way To Have Vegan Chocolate Mug Cake: One bit of this cake and you'll be dreaming for more! That is how good it is without any addition. However, take it up a notch by adding dairy-free whipped cream, a dollop of frosting, or powdered sugar.
Need to make pancakes for a crowd? This sheet pan pancake recipe only takes one pan, an oven, and no flipping. Made with plant-based ingredients, gluten-free, and healthy. A great recipe for Christmas morning or for a large family.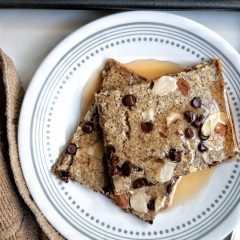 Best Way To Have Oven Sheet Pan Pancakes: All you really need is serving of maple syrup!
Perfectly creamy, rich, and 100% VEGAN, this Coconut Hot Chocolate with Coffee is the perfect mix between caffeine and cocoa to start or end your chilly day!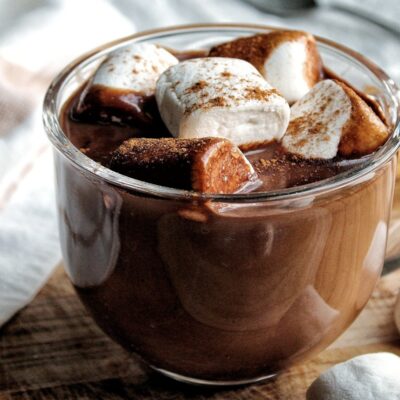 Best Way To Have Coconut Hot Chocolate with Coffee: This is the best drink to have around the holiday times when the air is cool and your home is cozy. Add some whipped cream or enjoy as-is!
Nothing beats a classic, Extra-Moist Blueberry Banana Bread with juicy blueberries! This recipe is eggless, dairy-free, and oil/butter-free.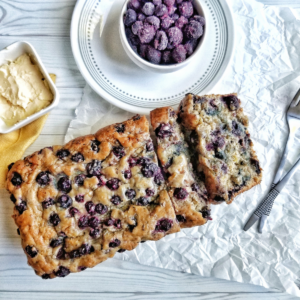 Best Way To Have Blueberry Banana Bread: Serve with fresh blueberries, spread your favorite nut butter on a slice, or pour a bit of honey. Either way, it's going to be good!
Things are beginning to be a bit cozy as the fall breeze settles in - so of course, a warm bowl of homemade 3-ingredient plant-based applesauce is always a great idea. This recipe is vegan, plant-based, healthy, and easy to make.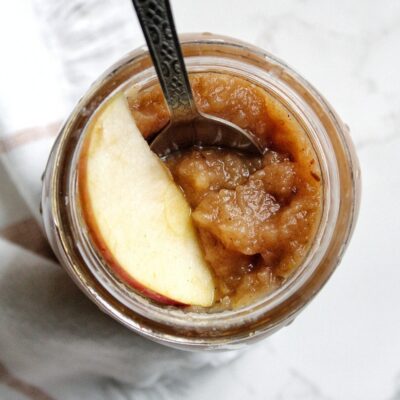 Best Way To Have Applesauce: Switch out the yogurt for applesauce and top it with granola. Another great way to have applesauce is to spread it on breakfast biscuits.
Did you try any of the plant-based dessert recipes from this list? Be sure to give it a rating, share it, and tag me!