(
This post may have affiliate links. Please see my disclosure.
)
This quick and easy vegan teriyaki "chicken" stir-fry made with tofu is one of my favorites to roll around in a wok. It takes just minutes with just seven ingredients.
It has a combination of sweet, tangy, umami, and vibrant flavor notes – all from just seven plant-based ingredients.
For this recipe, I used a non-stick pan since my wok was out of commission at the time. This works just fine, however, I recommend using a wok. A wok helps with distributing heat more evenly and it prevents food from flying out when you're doing that shake and toss in any stir-fry recipe.
More Stir-Fry Recipes:
If you want up your plant-based fiber game for this meal, pair this recipe with Puerto Rican bean stew.
Skipping Frozen Tofu Step
I enjoy using previously frozen then thawed tofu for more of a "meaty' bite, however, I understand this step can be time-consuming. Or, sometimes you just come up with a last-minute craving for stir-fry and a frozen block of tofu was not on the agenda – totally get it.
This step can be skipped altogether.
To skip the frozen tofu thing – I recommend using good-quality, extra-firm tofu. Grocery stores like Trader Joe's sell organic, super-firm tofu that's perfect for a chewier texture. Additionally, it doesn't have much water – which means no pressing is necessary.
If you're using a firm or regular tofu, you'll want to drain and press the tofu block as much as you can.
The benefit of freezing and then thawing tofu is that pores are creating during the process.
The tofu block becomes almost sponge-like in texture. The porous result allows for sauces and marinades to efficiently penetrate the block, yielding more flavorful tofu, inside-out.
More About This Recipe
It's customizable. If you want to add sugar snap peas, or swap out the bell pepper for carrots…do it.
It's quick. In total, it takes about 15 minutes of cook time. Of course, we're not counting the time it takes to freeze the tofu.
It's affordable. For this recipe, I used what I already had at my home. I had tofu, fiber-packed broccoli, teriyaki sauce, and half bell pepper hanging out in the fridge.
It's accessible. This recipe is pretty accessible, using ingredients that are typically easy to find. I opted to use a bottle of teriyaki sauce rather than making it from scratch because we won't have to fish out 10 different ingredients for the sauce. The sauce is already done.
Why Use Frozen Tofu
I use frozen tofu for nearly all of my recipes when I want to replicate the chewiness and texture of meat. All you need to do is when you bring that block of tofu home, is throw it into the back of a freezer.
You can use it the next day, or really, whenever. It's frozen, so it'll last for a while.
In addition to enhancing the texture of tofu, freezing also creates pours which makes pressing the tofu really easy. The pours also help with getting marinades and sauces to penetrate efficiently to be absorbed by the tofu.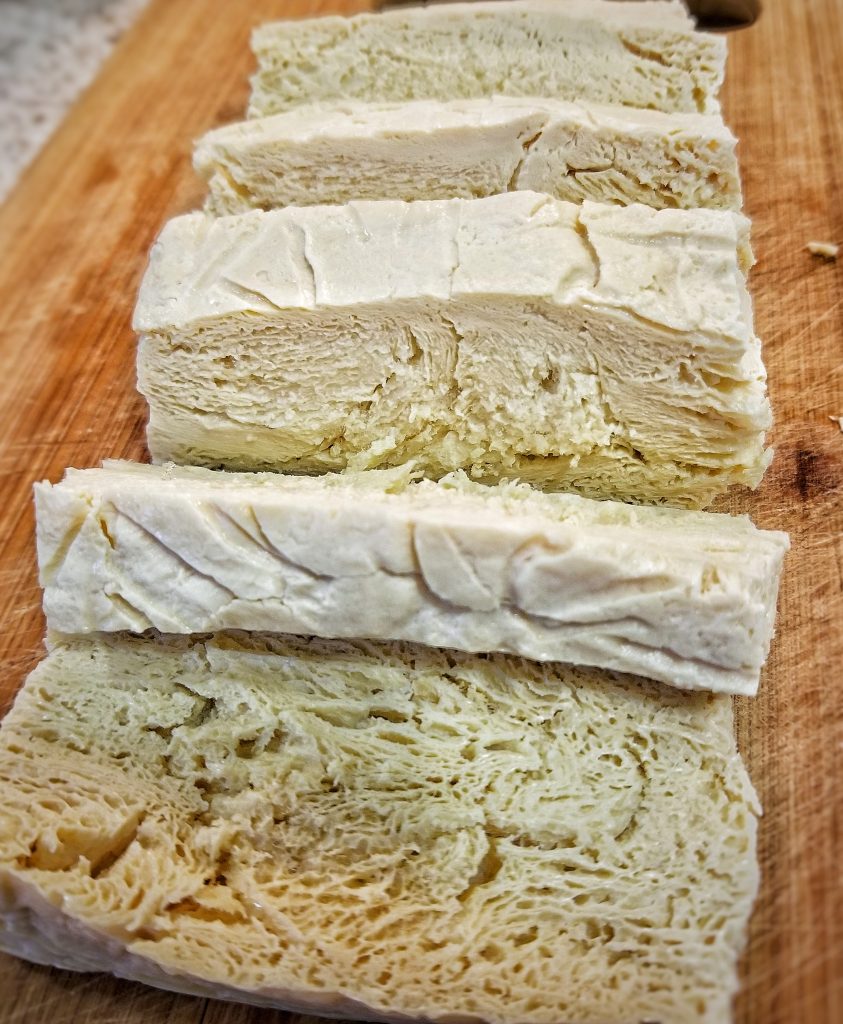 Learn more about using frozen to with 7 Things To Know About Frozen Tofu.
How To Steam Broccoli
We're steaming the broccoli prior to stir-frying everything to ensure it has been fully cooked and tender. To steam broccoli, you just need to use a bit of water and heat. No fancy equipment is necessary.
How to steam: add about 1-inch of water in a saucepan or small pot. Once water is boiling, add the broccoli florets. Cover with a lid and steam for about 4-5 minutes, until fork-tender. That's it.
Should I Use Store-Bought Or Homemade Teriyaki Sauce?
For the sake of saving time, effort, and being considerate about using easy-to-find ingredients, we used a store-bought bottle of teriyaki sauce. However, you can make the sauce from scratch if you like.
A homemade teriyaki sauce includes water, cornstarch, brown sugar, soy sauce, honey, garlic, and ginger. Allrecipes has a recipe that seems to be pretty easy to whip up.
What Else Can I Add To A Stir Fry?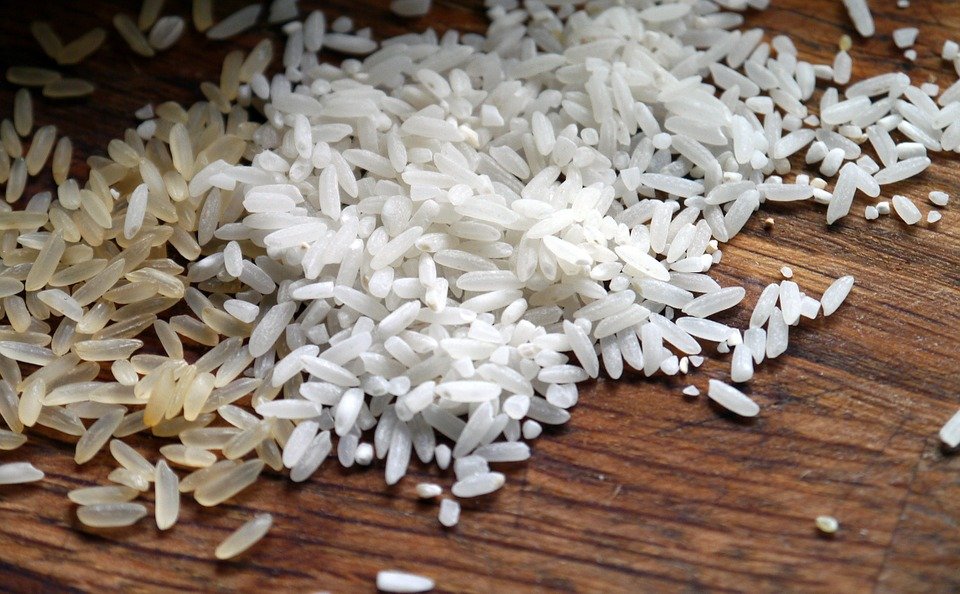 Udon Noodles
Rice
Bok choy
Cabbage
Frozen Vegetables
Carrots
Bell pepper
Squash
Eggplant
Corn
Peas
For more quick and easy plant-based dinner recipes, check out 30-Minute Plant-Based Dinner Ideas.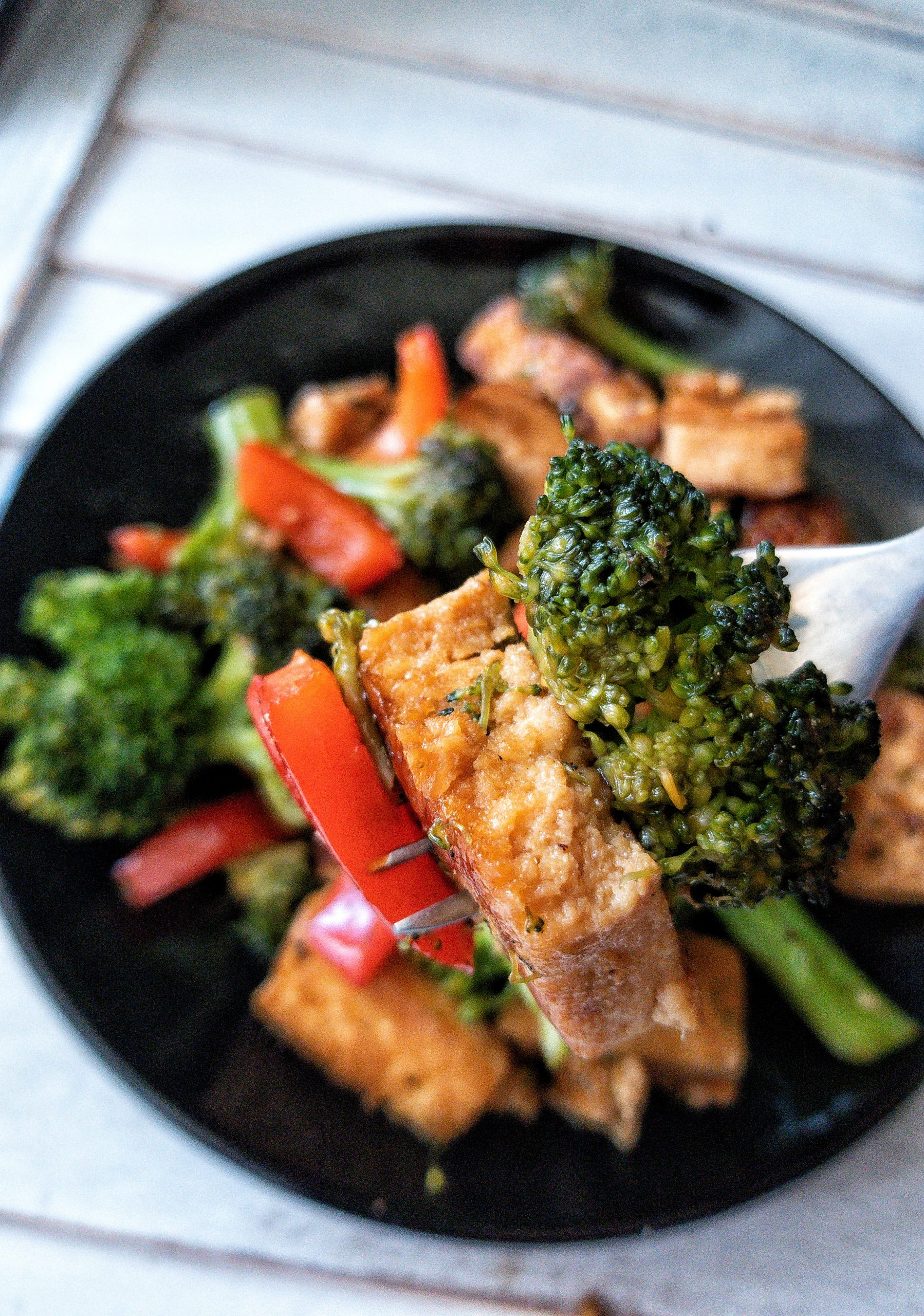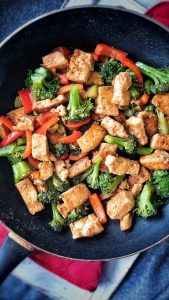 Vegan Teriyaki "Chicken" Stir Fry
Flavor-packed Vegan Teriyaki "Chicken" Stir-Fry that's meat-free, plant-based and made with tofu and vegetables. Ready in minutes and a great dish to pair with rice, noodles, steamed vegetables.
Instructions
FREEZE TOFU OPTION. Freeze a block of tofu for at least 24 hours. Once frozen, defrost in a microwave for 10 minutes. Allow the tofu to cool down for about 5 minutes. Once cool, press the tofu with a tofu press or with the back of two large plates. See notes. 

NO-FREEZE TOFU OPTION. Drain and press extra-firm or firm tofu.

Cut the tofu into bite-sized cubes. Set aside. 

Add ½ inch water to a pot or saucepan over medium heat. Once water is at a simmer, add the broccoli florets and cover the pot. Steam for 4-5 minutes until fork-tender. Drain and set aside. 

In a non-stick skillet or wok over high heat pour one tablespoon of oil. Next, add the tofu pieces. Evenly pour the soy sauce over the tofu pieces. Cook and turn tofu until golden on each side. 

Once the tofu is cooked, add another tablespoon of oil to the same pan. Add the broccoli, red bell pepper, and teriyaki sauce. Stir fry and cook for 4-5 minutes over high heat.
Notes
Start with a frozen block of tofu. Freezing the tofu will yield a much chewier texture. Additionally, you'll be able to get more of the water out, which helps bring more of the sauce in. 

You can defrost tofu in a microwave for about 10-12 minutes. 

Because we are stir-frying, it's important to use an oil that has a high smoke point. Your options include avocado oil, canola oil, vegetable oil, peanut oil, and sesame oil. 

If you don't have a tofu press, that's fine. You can use the back of two large plates and press the water out. You'll find it's easier to press the tofu when previously frozen.
Nutrition
Serving:
1
-Serving
Calories:
147
kcal
Carbohydrates:
15
g
Protein:
7
g
Fat:
8
g
Saturated Fat:
1
g
Polyunsaturated Fat:
2
g
Monounsaturated Fat:
4
g
Trans Fat:
1
g
Sodium:
1922
mg
Potassium:
523
mg
Fiber:
4
g
Sugar:
8
g
Vitamin A:
1640
IU
Vitamin C:
139
mg
Calcium:
67
mg
Iron:
2
mg
---
Cookware Used In Recipe
---
Did you try out this Vegan Teriyaki "Chicken" Stir Fry?
Please leave a comment below, share it, rate it, or tag a picture @plantbasedandbroke on Instagram and hashtag it #plantbasedandbroke. Show off that creation with us.