(
This post may have affiliate links. Please see my disclosure.
)
Jump to:
Growing up, my favorite thing to eat was steamed broccoli drenched in cheese sauce.
It was the late 80s - early 90s and money was tight, so it was basically cheese sauce in a bag that was quickly warmed up and plopped onto overly boiled frozen broccoli. It was delicious.
This vegan cheese sauce recipe pairs perfectly with roasted broccoli, but can be be used with any cooked vegetable - cauliflower, potatoes, zucchini fries, carrots, and brussel sprouts.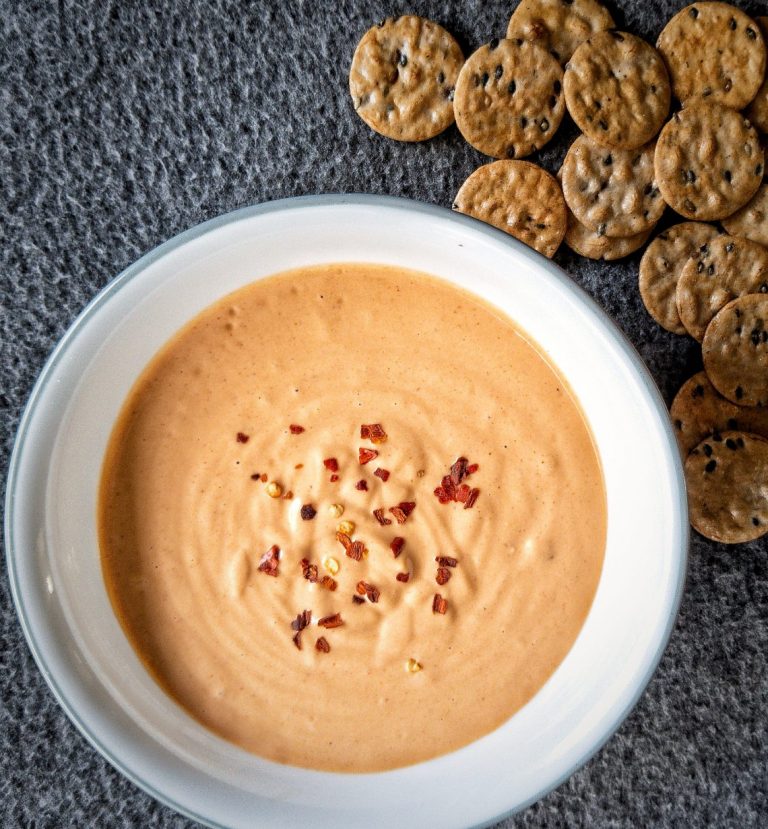 Or, if you're like me, on rice when I want to like to remind myself that I am an adult and I can eat whatever I want in my judgment-free home.
If you're into a creamy, smoky, and robust type of cheese sauce, you're going to fall in love with this dish. It's not your basic dairy cheese sauce. Nope, this is plant-based, full of flavor, and pretty dang creamy.
Unlike making a traditional cheese sauce with dairy, this recipe does not call for flour. Everything we're using is plant-based, healthy, and delicious.
Your main ingredients in this recipe will be the raw, unsalted cashews, tomato paste, and lemon juice. The rest is kind of optional or may be adjusted according to what you like.
Recipe Notes:
You MUST use unsalted, raw cashews. Roasted and seasoned cashews will negatively affect the texture and flavor of this cheese sauce. It'll be too nutty, slightly bitter, and flat.
You will need a high-powered blender in order to achieve a creamy, cheesy texture. Other blenders might leave your cheese sauce chunky.
If you want your cheese sauce creamier with a buttery note, feel free to use vegan butter. Personally, I love the Melt brand.
For the roasted broccoli, use a fresh head for extra crispiness and flavor.
Don't overcrowd the baking sheet for the roasted broccoli and consider using parchment paper.
You can use frozen broccoli if you like, but because of its higher water content, it won't crisp up as nicely as raw, fresh broccoli.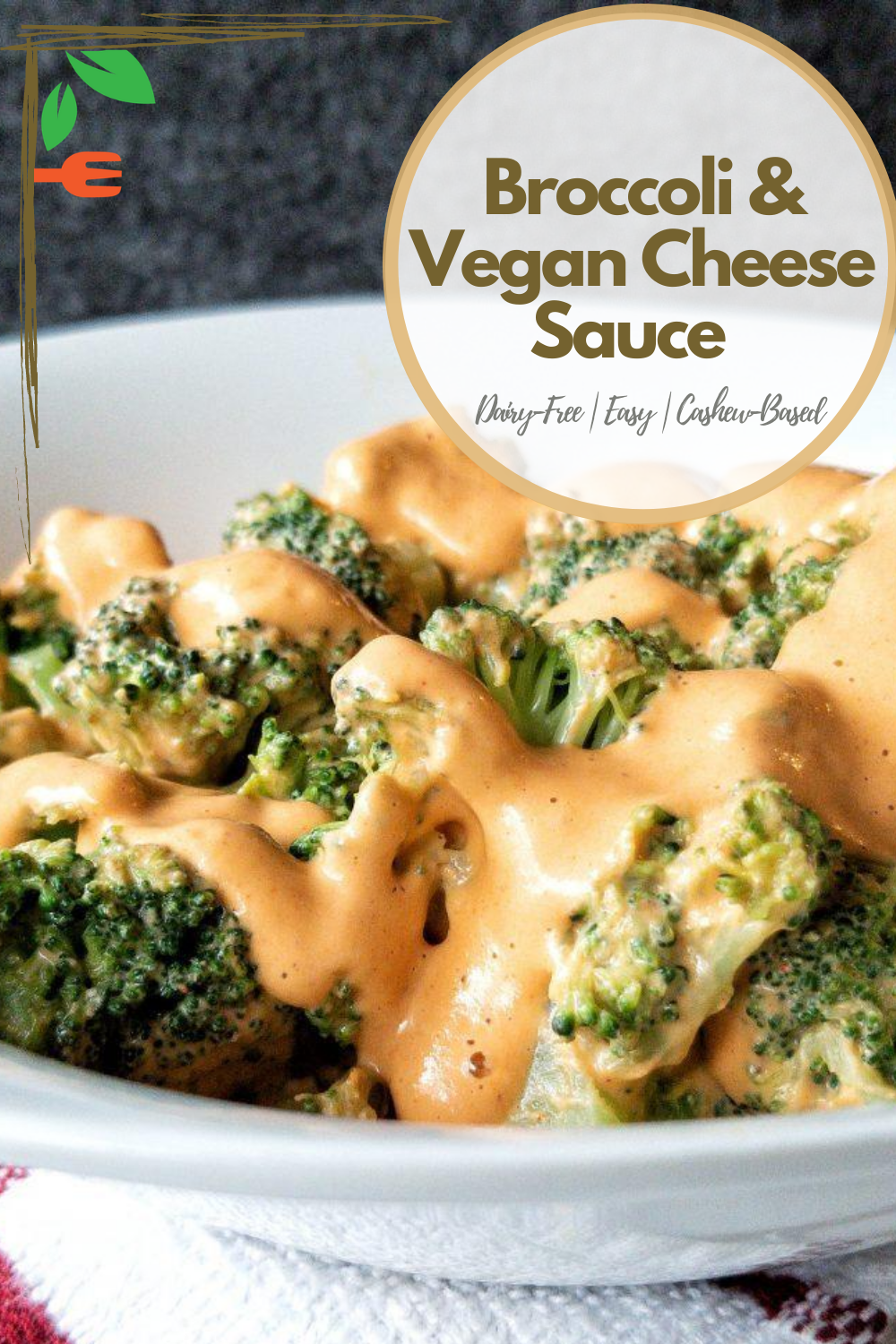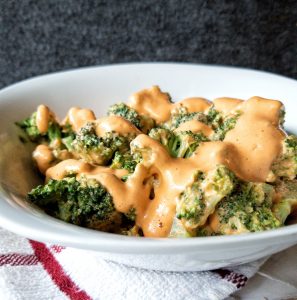 Vegan Cheese Sauce With Broccoli
Anyone else grew up on broccoli and cheese? Well, we took it and turned into a creamy, plant-based dish.
Instructions
Roasted Broccoli
First, preheat oven to 425 degrees Fahrenheit. Meanwhile, cut the head of broccoli into bite-sized florets. In a large bowl, toss and evenly coat the broccoli florets with olive oil, salt, and black pepper. 

Next, arrange florets onto a baking sheet lined with parchment paper. Do not crowd sheet, leave space between each piece. Roast for 16-20 minutes until tender and cooked through. Flip halfway through.
Vegan Cheese Sauce
First, add water to a pot and set over high heat. Once it starts boiling, add your cashews and cover with a lid. Boil the cashews for at least 10 minutes to soften.

Once the cashews are done boiling, remove cashews from the water and keep the cashew water.

In a blender, add cashews, nutritional yeast, smoked paprika, tomato paste, garlic powder, fresh lemon juice, vegan butter (optional) and 1.5 cups of the leftover cashew water. Then, blend until smooth.

Add more water, depending on how thin you would like your sauce. Adjust salt and seasonings to your liking 
Nutrition
Serving:
1
serving
Calories:
353
kcal
Carbohydrates:
24
g
Protein:
12
g
Fat:
26
g
Saturated Fat:
4
g
Polyunsaturated Fat:
6
g
Monounsaturated Fat:
14
g
Trans Fat:
0.1
g
Sodium:
145
mg
Potassium:
824
mg
Fiber:
6
g
Sugar:
5
g
Vitamin A:
1768
IU
Vitamin C:
138
mg
Calcium:
96
mg
Iron:
4
mg
Did you try out this Vegan Cheese Sauce With Broccoli Recipe?
Please leave a comment below, share it, rate it, or tag a picture @plantbasedandbroke on Instagram and hashtag it #plantbasedandbroke. Show off that creation with us.