(
This post may have affiliate links. Please see my disclosure.
)
Jump to:
Just because you're eating plant-based doesn't mean you have to give up fun foods.
That includes a decadent, creamy vegan cheese sauce that can be topped on just about anything: nachos, french fries, mashed potatoes, or pasta.
Better yet, just add it to whatever you want. It'll make anything and everything taste a thousand times better.
For this vegan cheese sauce recipe, you'll only need a handful of ingredients. The main ingredient you'll work with are raw, unsalted cashews. Additionally, I understand that cashews can be on the higher cost end of grocery items, but here are a few tips to getting them cheaper:
Purchase cashews in bulk
Stop by an "international" market, which typically sells items such as these in bulk, for a fraction of the price, in comparison to big-box stores.
It's okay to go off-brand. They're all essentially the same, anyway (and more affordable).
Personally? Cashews are a special treat in my household. Meaning, they come around the grocery list during special occasions or holidays. They aren't regarded as a staple, as beans, rice, and potatoes would.
Benefits To Homemade Vegan Cheese
You Control What's In It
The benefit of making vegan cheese from scratch and at home is that you can control the outcome of your recipe.
For example, if you want a hint of garlic, you can throw that in. If you want a hot kick, well then, Salt Bae that cayenne pepper. Looking for that creamy, traditional cheese sauce? Load up the vegan butter.
It's Not Heavily Processed
Plant-based? Check.
Using whole ingredients? Check.
Taste amazing without a funky aftertaste? Check, check, check.
Here's What We're Workin' With:
Raw cashews
Garlic powder
Tomato paste
Lemon juice
Salt
That's all folks.
Why Use A High-Powered Blender
It's important to use a high-powered blender like a Nutribullet for your homemade cheese sauce. The blender will help create a creamy, clump-free texture.
Additionally, it'll help thoroughly combine all of the plant-based cheese flavors. If there's ever a piece of kitchen equipment you should consider, it's definitely this one.
A high-powered blender can also help with creating smoothies, homemade pancake batter, and sauces.
Ways To Use Vegan Cheese Sauce
There are no limits to how you can use this vegan cheese sauce. The choice is up to you. Personally? I use it only just about anything that's savory. Here are some cheesy ideas:
Cheesy baked potato
Chili cheese fries
Nachos
Pasta
Pretzels
I also won't judge you if you decide to mix it in rice as I have done in the past (hey, I can smell the judgment - stop it).
Why These Ingredients Work
I think it's important to understand how all of these ingredients work together to create the perfect cheese sauce. So, let's break it down:
Raw cashews
We want fats! This is the role raw cashews will play in this recipe. They create a nice mouthfeel, thickens up the sauce, and adds a hint of natural sweetness and smokiness. The texture appears comparable to Velveeta cheese.
Smoked paprika
I dig a good cheese that's smoky, savory, and even on the side of being "stinky." In this recipe, we'll skip the stinky, but stick with smokiness. Also, adding smoked paprika to this recipe adds that familiar bright orange color to the cheese sauce.
Nutritional yeast
We want to go easy on the nutritional yeast here. A little can go a long way, especially in this recipe. The nutritional adds layer of umami, nuttiness, and "cheesiness," which is perfect for this cheese sauce.
Feel free to play around with the amount you want to add to this recipe. However, I recommend tasting as you add.
Garlic powder
I love garlic. I mean, that's really it.
Tomato paste
Love umami? Me too. And that's exactly what tomato paste will give to your vegan cheese sauce. Just like the smoked paprika, it'll deepen the color of your sauce.
Just be sure to use tomato paste and not tomato sauce. Tomato paste is much sweeter, with a concentrated tomato flavor. That is what we want here.
Lemon juice
If you've ever had non-vegan cheese, you'll notice a slight tang. This is where the lemon juice will come to play. Feel free to reduce or omit this ingredient altogether - depending on what kind of flavor you're looking for.
Salt
We gotta bring these flavors to life and salt will do just that.
Vegan Butter
This is my secret to a delicious cheese sauce. However, it can be made without it. Just like your traditional cheese sauce, butter adds another layer of creaminess.
---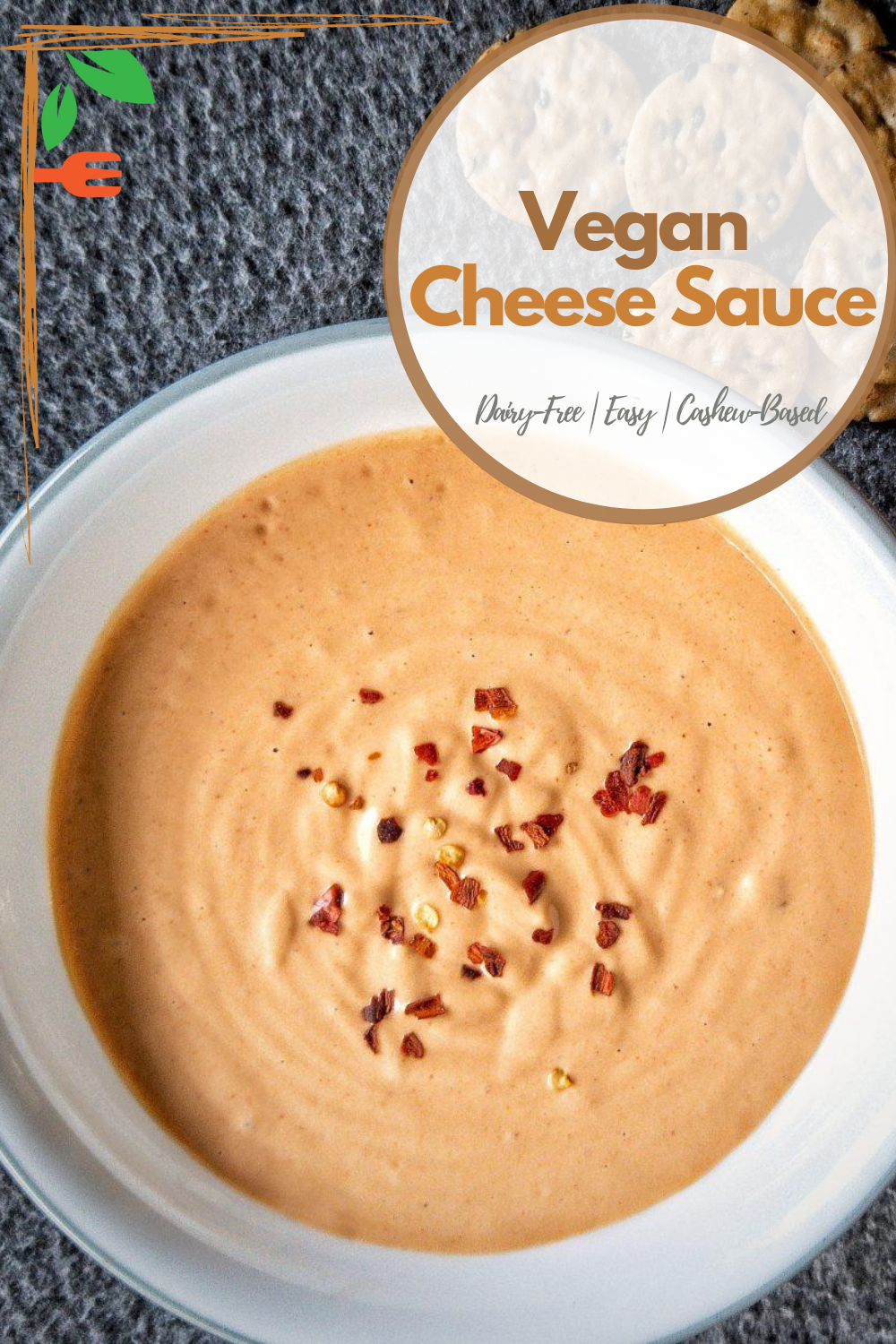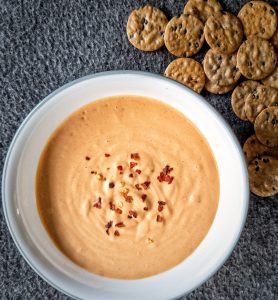 How To Make Vegan Cheese Sauce
Smoky, savory, creamy, cheese sauce made from plant-based ingredients including raw, unsalted cashews. A great recipe to use a dip, sauce, in dairy-free mac and cheese.
Instructions
First, add water to a pot and set over high heat. Once it starts boiling, add your cashews and cover with a lid. 

Boil the cashews for at least 10 minutes to soften.

Once the cashews are done boiling, remove cashews from the water and keep the cashew water.

In a blender, add cashews, nutritional yeast, smoked paprika, tomato paste, garlic powder, fresh lemon juice, vegan butter (optional) and 1.5 cups of the leftover cashew water.

Then, blend until smooth.

Add more water, depending on how thin you would like your sauce. Adjust salt and seasonings to your liking 

Finally, serve your easy, homemade vegan cheese sauce to any dish you like. 
Nutrition
Serving:
1
serving
Calories:
199
kcal
Carbohydrates:
14
g
Protein:
7
g
Fat:
14
g
Saturated Fat:
3
g
Polyunsaturated Fat:
3
g
Monounsaturated Fat:
8
g
Sodium:
49
mg
Potassium:
341
mg
Fiber:
2
g
Sugar:
3
g
Vitamin A:
554
IU
Vitamin C:
3
mg
Calcium:
25
mg
Iron:
3
mg
*Cashew water is the reserved, extra water from the boiled cashews.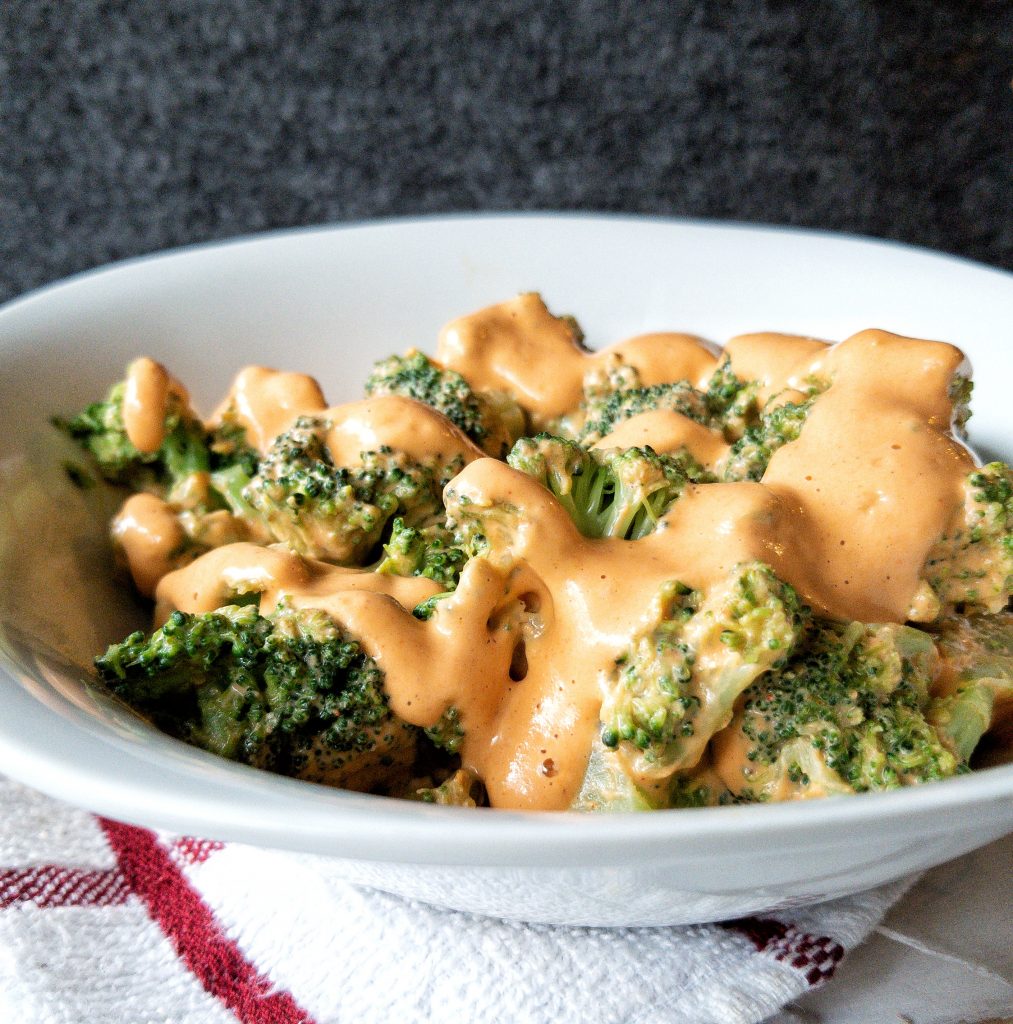 Cookware Used In This Recipe
Did you try out this vegan cheese sauce recipe?
Please leave a comment below, share it, rate it, or tag a picture @plantbasedandbroke on Instagram and hashtag it #plantbasedandbroke. Show off that creation with us.