(
This post may have affiliate links. Please see my disclosure.
)
Jump to:
When I just want to feel comforted by food, I reach for a bowl of savory oat bran topped with whatever I am craving at the moment.
A buttery, salted bowl of oat bran takes me back when my grandma would whip up a soothing dish of cream of wheat or farina. She'd happily bring it over to me when I was sick, cold, or just wanted some old-fashioned abuela attention. She never said no. And she still makes it for me when I come over.
Oat bran is different from farina, or milled wheat. They come from different plants. Oat bran (avena) is made from the inner part of the groat and specifically comes from oats. On the other hand, farina comes from the germ and endosperm of the grain.
Because of this, oat bran is a great gluten-free alternative for farina.
Additionally, oat bran is packed with fiber, protein, iron, and B vitamins - making it a very healthy choice for breakfast.
On very busy mornings when I have one foot out the door and the other dangling a shoe - I just need a hot cup of coffee ASAP and a breakfast that can satisfy me until lunchtime. That's oat bran. It takes just minutes to make, which is the version of "fast food" I can appreciate.
If you're short on time, you can also whip up breakfast potatoes and coffee banana smoothie bowl to get your day started….quickly.
I understand some folks will have their view on savory porridge - but I think it's one of those foods you have to try out before you knock it. Plain oats are mostly bland and take on whatever flavors you give it, whether that's sweet or savory.
The closest I can think of it is similar to is white rice - of course, with many differences. However, they are both bland and both sweet and savory recipes can be pulled from them.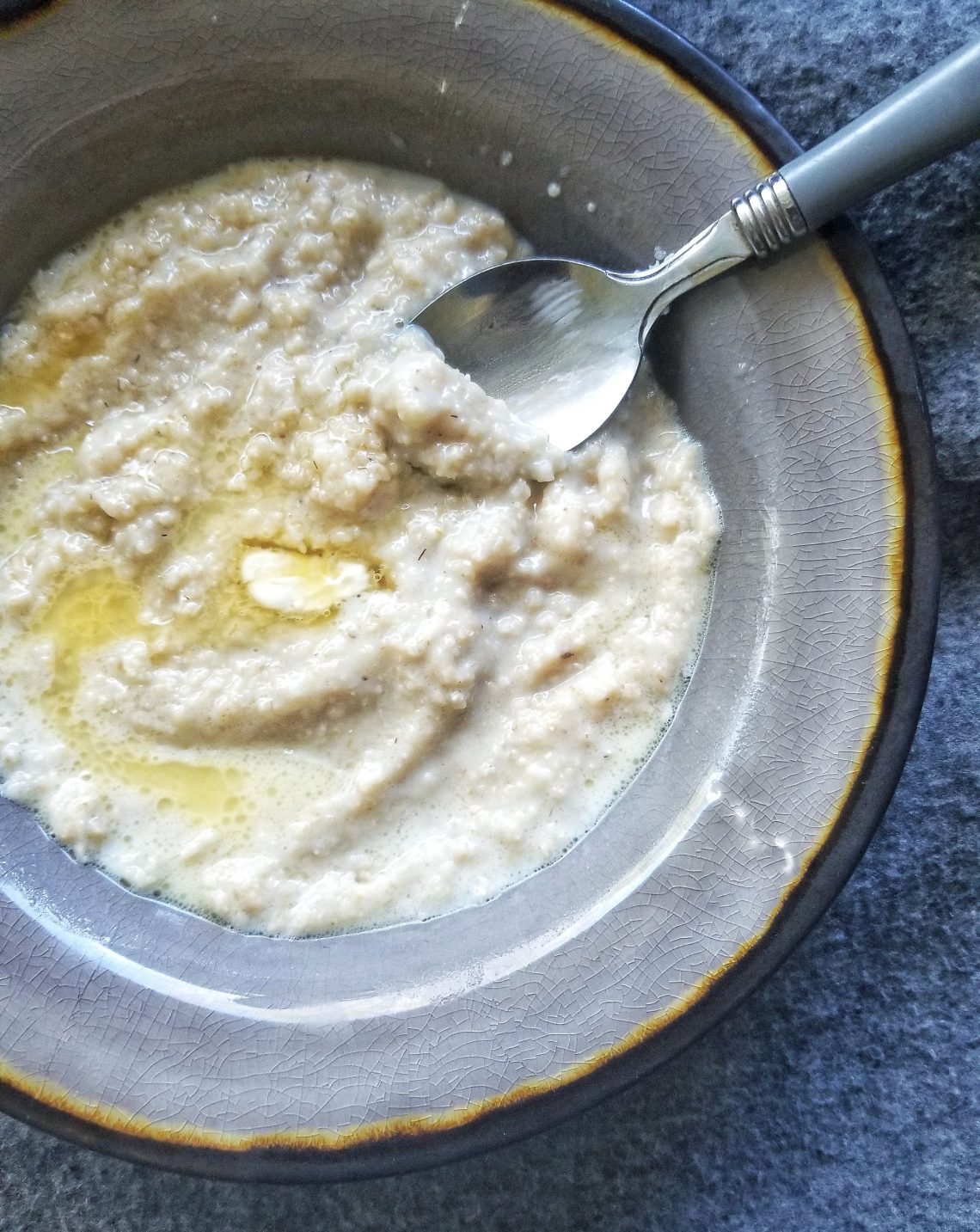 You're essentially working with a blank canvas that can work with many different food and ingredient combinations. On a usual morning, I go for a simple salt, black pepper, and butter oat bran bowl. It's both easy and satisfying.
I am still trying to convince my family that savory oats are amazing, but in the meantime, maybe I can convince you. I mean, why else are you here?
In addition to being delicious, oat bran is very gentle on the wallet and because it's a pantry-friendly food, it lasts for months at pennies for a serving.
With grocery trips being less frequent, oat bran has been a great way to include much-needed nutrients and calories without the worry of it expiring right away.
Where To Find Oat Bran
Oat bran can be a bit tricky to find, as it's not as popular as old-fashioned oats. Even big-box stores might not carry them on their shelves.
However, it's typically available online at Amazon - which is where I buy my oat bran. I'll usually grab a few boxes or buy them in bulk. A shipment of 6 boxes can easily last me for 6 months or longer, depending on how often I am using the oats.
Popular brands that sell oat bran include Bob Red Mill's and Quaker that comes in packs of 4-6. Both are great options - with a slight difference in texture. I find Bob Red Mill's oat bran to be a bit more textured than Quaker's oat bran.
Both are good and I use them interchangeably, depending on what's available or more affordable.
More Oat Bran Recipes
How To Make Oat Bran
Oat bran takes under 5 minutes to make. All you will need is a saucepan and a cooking spoon - I use a silicone spatula. The directions are usually placed at the back of the packaging.
However, generally, you'll just need about 2 cups of water and ⅔ cups of oat bran (which yields to about 2 servings - or 1 if you have my appetite).
Cooking directions will vary depending on the brand, but you'll usually need double the amount of water for the oats you have. The oats will expand and fluff up as they cook.
Add more or less, depending on how thick or runny you prefer your oats.
Notes On Savory Oat Bran Recipe
This recipe is very forgiving and flexible. Feel free to add, omit, or tweak any ingredients in this recipe. Because this is a savory oatmeal bowl, I recommend sticking with ingredients that pair well with a savory dish.
Stay in the kitchen and keep a close eye on the oat bran while it's cooking. Because it only takes a few minutes to prepare, a few seconds too long can make it stick, overly thick, or even burn. Watch it and stir frequently.
I recommend eating the oat bran right away. It will begin to dry out and become thicker the longer it sits out.
Oat bran itself is vegan, gluten-free, plant-based, high in fiber + protein, and can lower cholesterol levels.
For more breakfast recipes, check out 18 Frugal Plant-Based Breakfast Recipes. We have sweet, savory, and everything in between!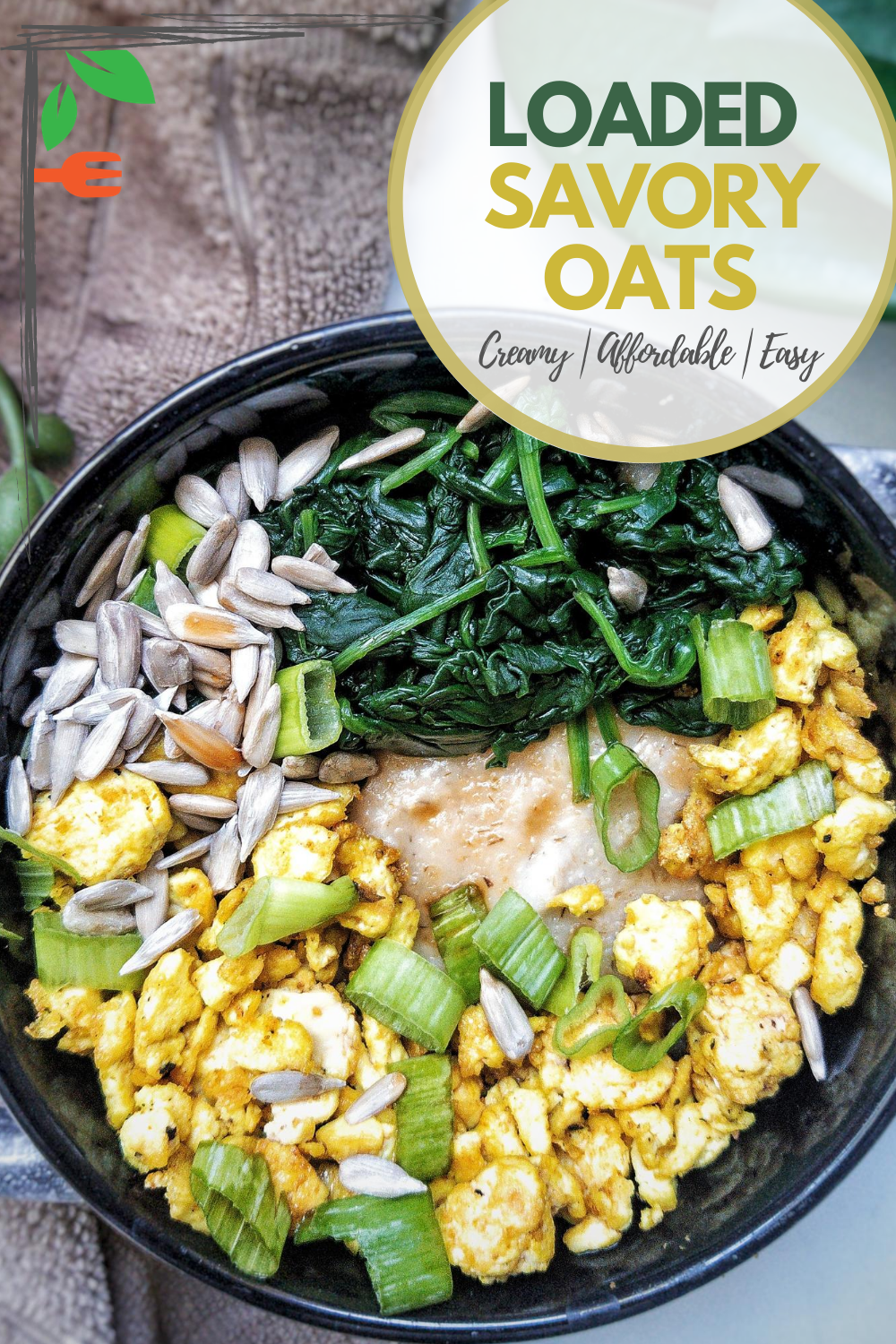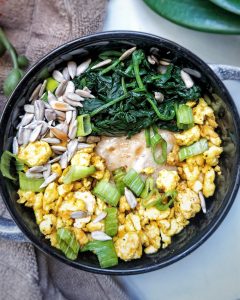 Savory Oat Bran With Tofu Scramble and Spinach
Flavor-packed, savory oat bran bowl loaded with tofu scramble, spinach, green onions, and a splash of soy sauce. A breakfast dish that doesn't hold back!
Ingredients
Spinach
1

handful

spinach

2

tablespoons

water

Salt and pepper to taste
Oat Bran
2

cups

water

⅔

cup

oat bran

1

teaspoon

vegan butter

Pinch of salt

Green onions

chopped

Sunflower seeds

raw, unshelled
Instructions
Tofu Scramble
Add butter to a pan over medium-high heat. Once the butter has melted, crumble tofu directly into the pan and cook for 3-5 minutes. Then, add nutritional yeast, turmeric powder, garlic powder, and salt to taste. Stir and cook for another 8 minutes, then Remove from heat and set aside.
Spinach
In a deep skillet or saucepan over medium heat add spinach leaves and add 2 tablespoons of water. Cover with a lid and cook until wilted down, about 4-5 minutes. Remove from heat and add salt and pepper to taste.
Oat Bran
In a small pot over medium-high heat, pour water and oats. Mix. Once at a soft simmer, lower temperature to low. Add butter and a pinch of salt, mix. Stir frequently for about 1-2 minutes until creamy. Transfer oats to a bowl and add top with tofu scramble, spinach, green onions/scallions, sunflower seeds, and a splash of soy sauce.
Nutrition
Serving:
1
serving
Calories:
341
kcal
Carbohydrates:
58
g
Protein:
25
g
Fat:
15
g
Saturated Fat:
3
g
Polyunsaturated Fat:
6
g
Monounsaturated Fat:
5
g
Trans Fat:
0.03
g
Sodium:
104
mg
Potassium:
678
mg
Fiber:
14
g
Sugar:
2
g
Vitamin A:
3095
IU
Vitamin C:
9
mg
Calcium:
216
mg
Iron:
7
mg
Did you try out this Savory Oat Bran With Tofu Scramble and Spinach recipe?
Please leave a comment below, share it, rate it, or tag a picture @plantbasedandbroke on Instagram and hashtag it #plantbasedandbroke. Show off that creation with us.