(
This post may have affiliate links. Please see my disclosure.
)
A cool, rich, and perfectly creamy cilantro sauce that is a sure way to brighten up the mood in refreshing dishes.
With a mild nutty, refreshing flavor, it is a great addition to tacos, burritos, sandwiches, and wraps.
Guys, this nut-free sauce is dead-easy to make with just the use of a handy high-powered blender and a handful of fresh ingredients. We're keeping this recipe yogurt-free, using easy-to-find ingredients.
I plucked a fresh batch of cilantro from my patio garden to make this sauce recipe I am happy to announce that my first batch of homegrown cilantro was a success.
After lifting the cilantro from the soil, I gave them a quick rinse, shake, and a rough chop. Their refreshing smell traveled throughout my kitchen.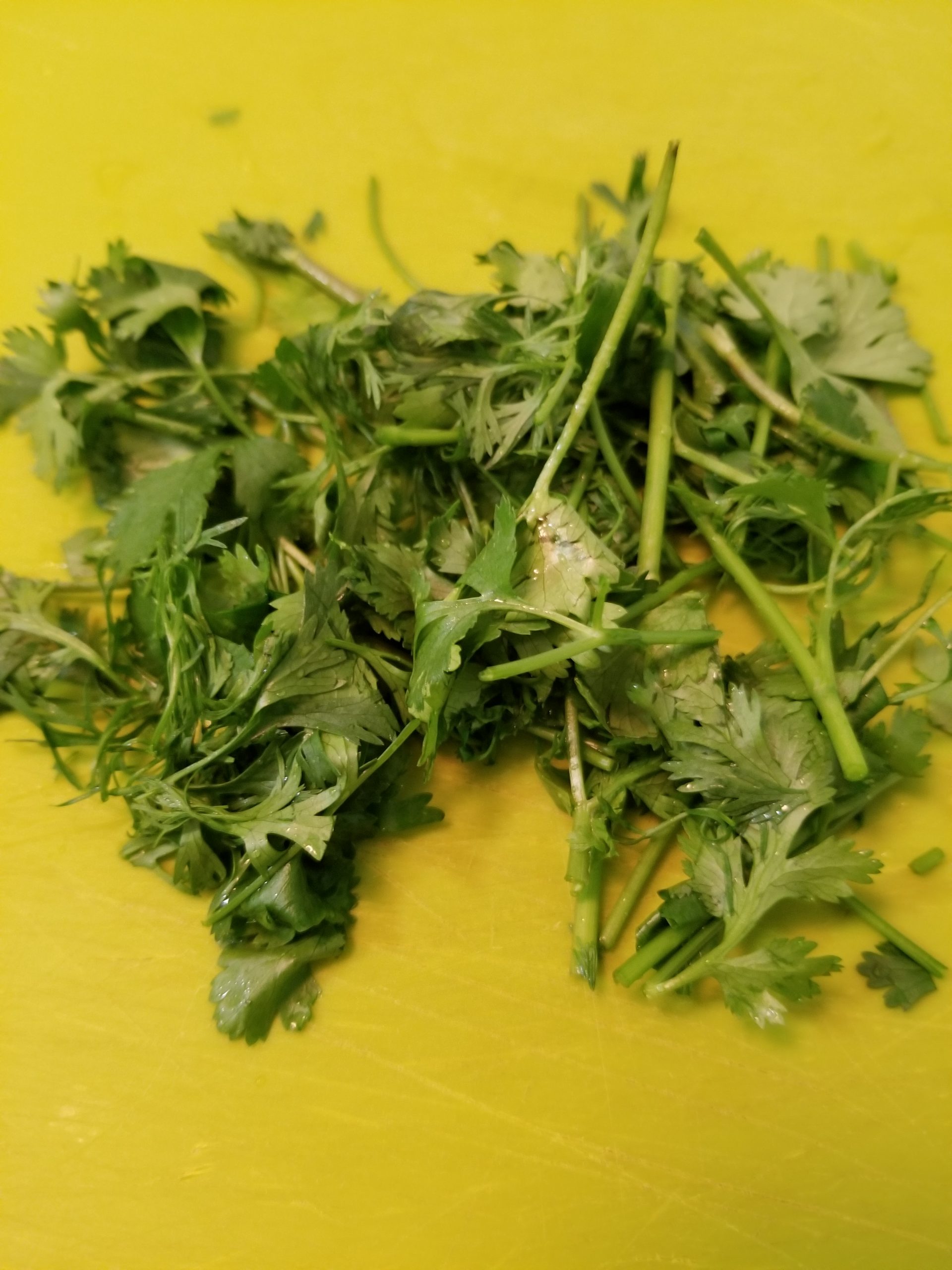 I initially thought about making a batch of sofrito with my homegrown cilantro, but I had to switch things up.
More Recipes With Cilantro
How To Make Plant-Based Creamy Cilantro Sauce
If you know how to boil water, you know how to make a vegan cilantro sauce.
1. Boil Sunflower Seeds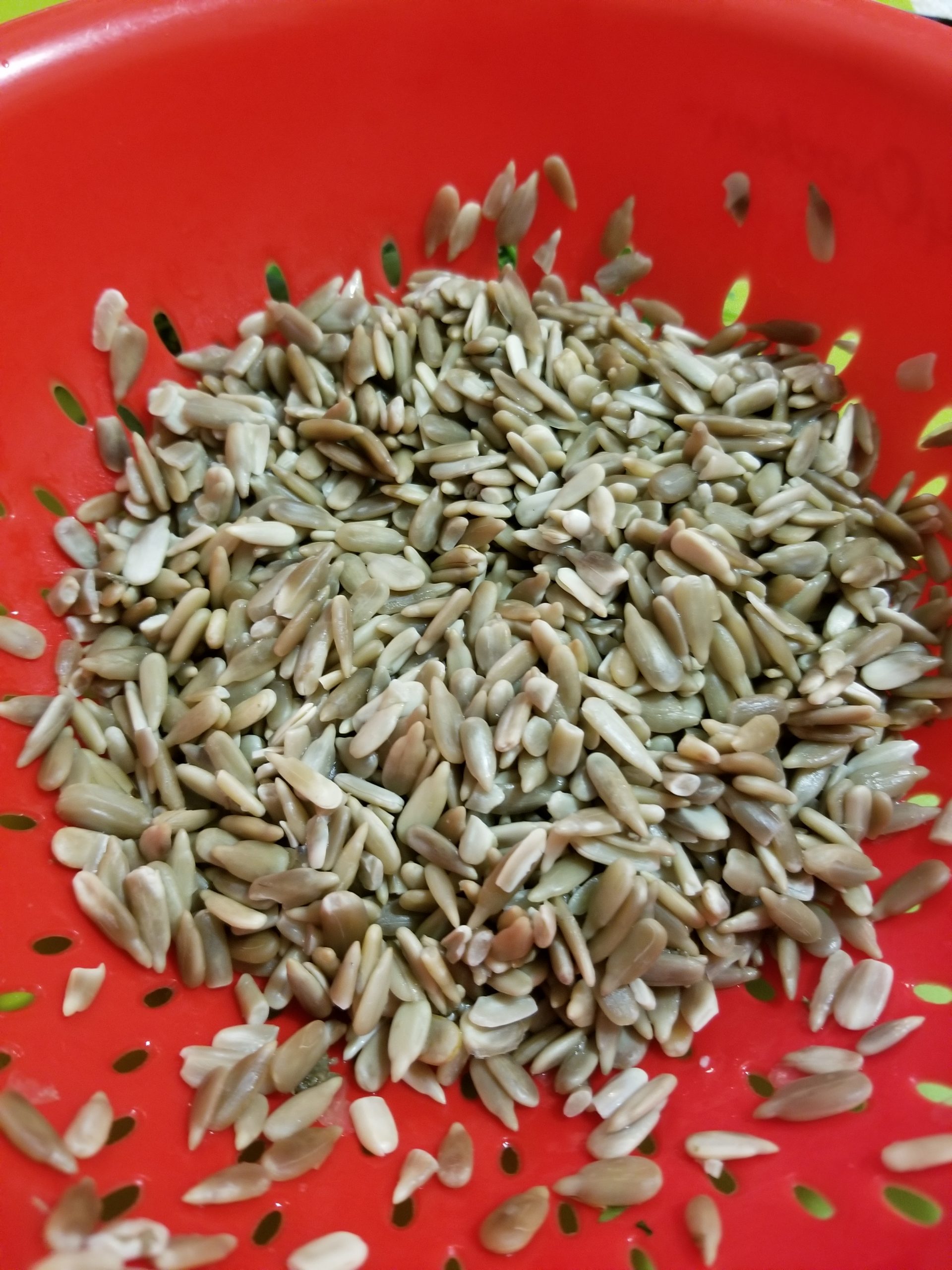 The first, very important step to a thick and creamy cilantro sauce is to prepare raw sunflower seeds – this will essentially be our cream base.
I typically opt for boiled sunflower seeds since a lot of my meal planning can be a spur of the moment.
Once the sunflower seeds have softened from the rapid boil, we'll set them aside to cool for a bit.
2. Blend Everything Together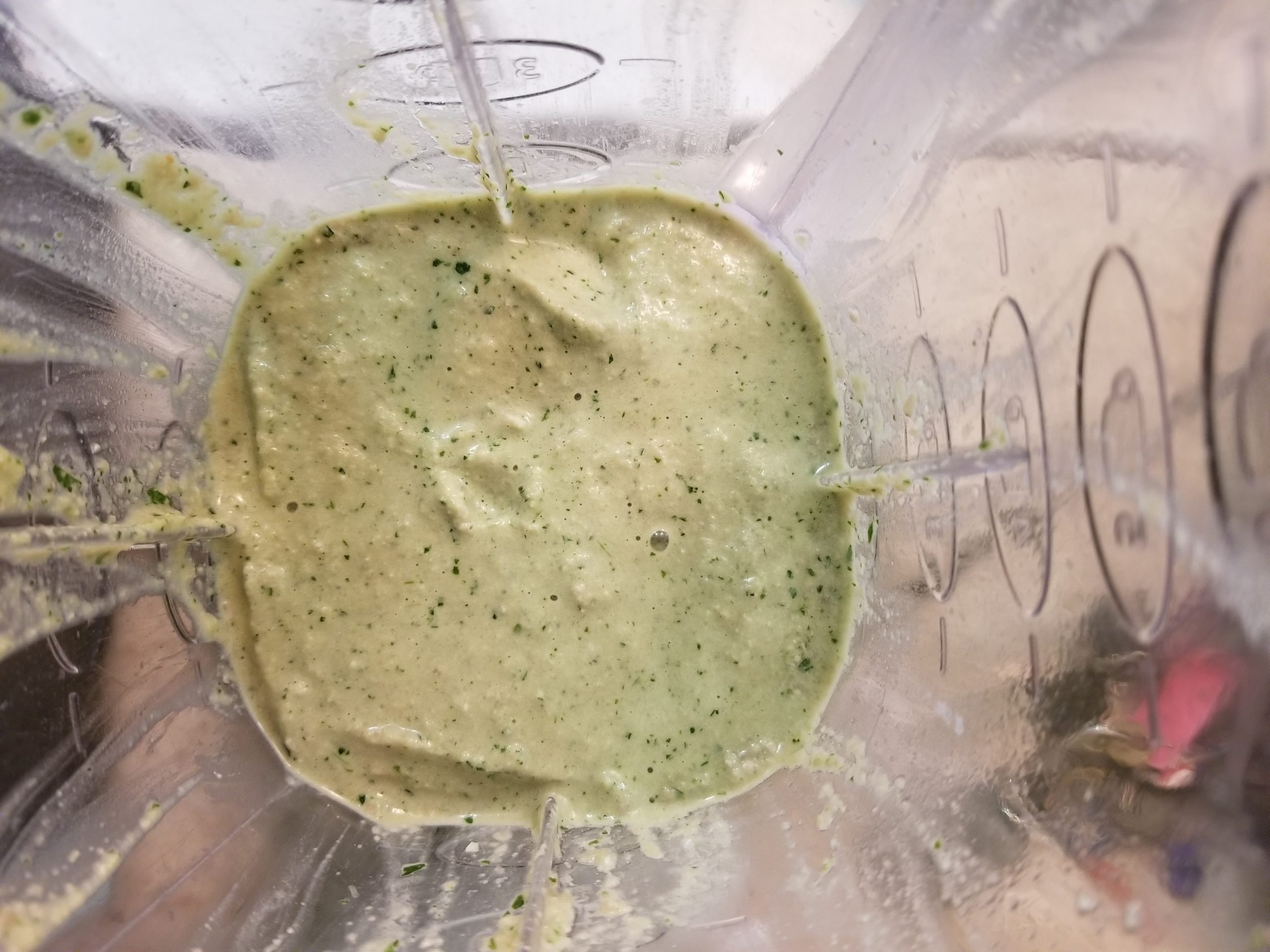 Then we're heading to the easy and satisfying part of the recipe: blend all of the ingredients until smooth. A blender or a food processor can be used for this.
I suggest using a good-quality blender to achieve a uniform, creamy texture.
3. Chill The Cilantro Sauce Or Use Right Away
I appreciate the sauce when it's chilled, especially for cold dishes like raw tacos or salads. However, it can be served warm too – that's up to you and how you're planning on using it.
How To Store Sauce
Your homemade, plant-based creamy cilantro sauce should be stored in an air-tight container, bottle, or canning jar.
I recommend using the sauce right away when it's freshest, or up to 3-4 days.
Need any ideas for dinner? Check out 11 Easy Plant-Based Dinner Ideas.
More Sauce & Dips Recipes
For this recipe, I used my homemade creamy cilantro sauce for tofu tacos – which are so easy to make.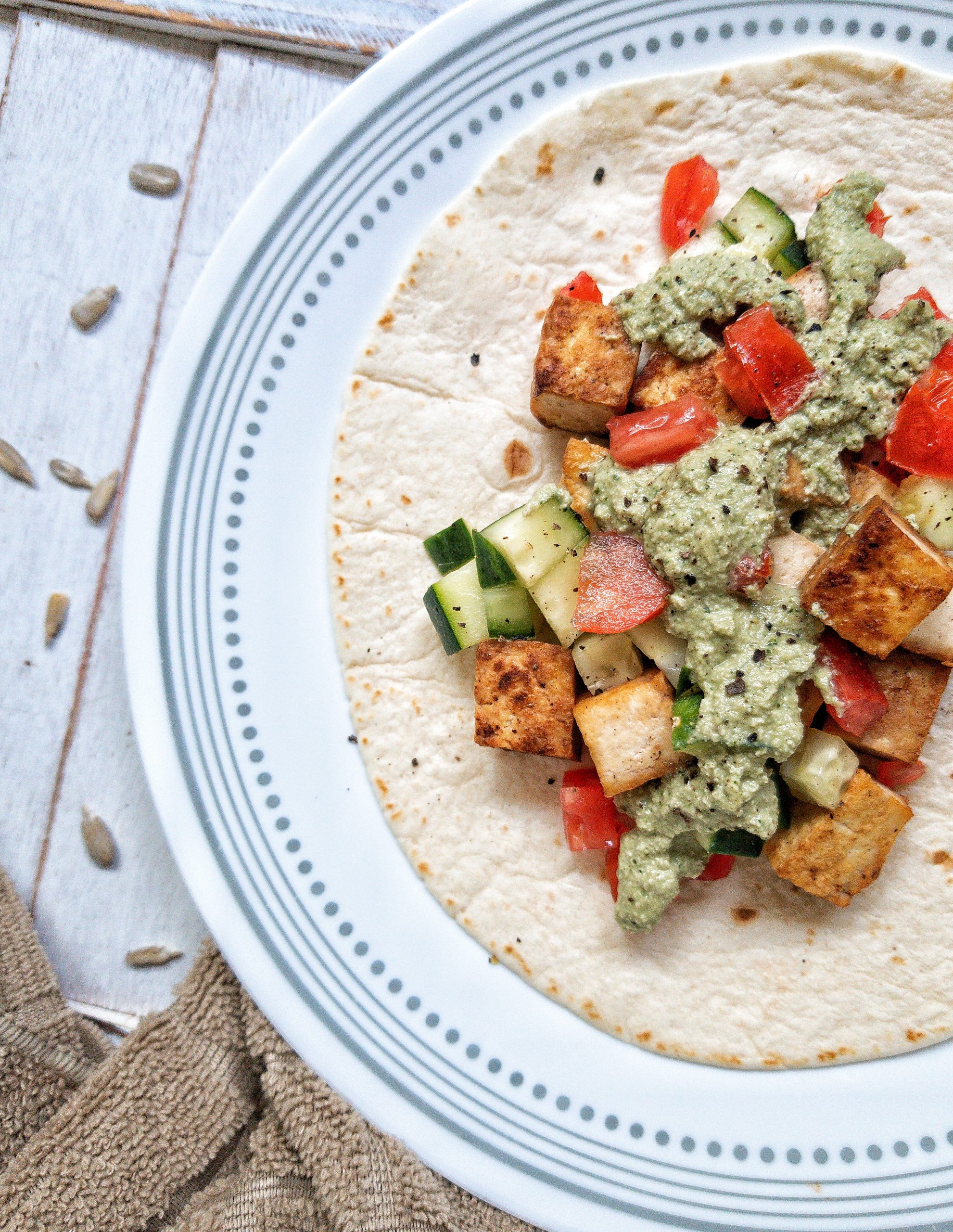 I essentially cut extra-firm tofu into cubes and then pan-fry them on each side until golden and crispy. I then toss them with spices and a splash of soy sauce.
I then assemble the tacos with the cooked tofu, Roma tomatoes, cucumbers, and anything else I have around the kitchen that needs to be used up.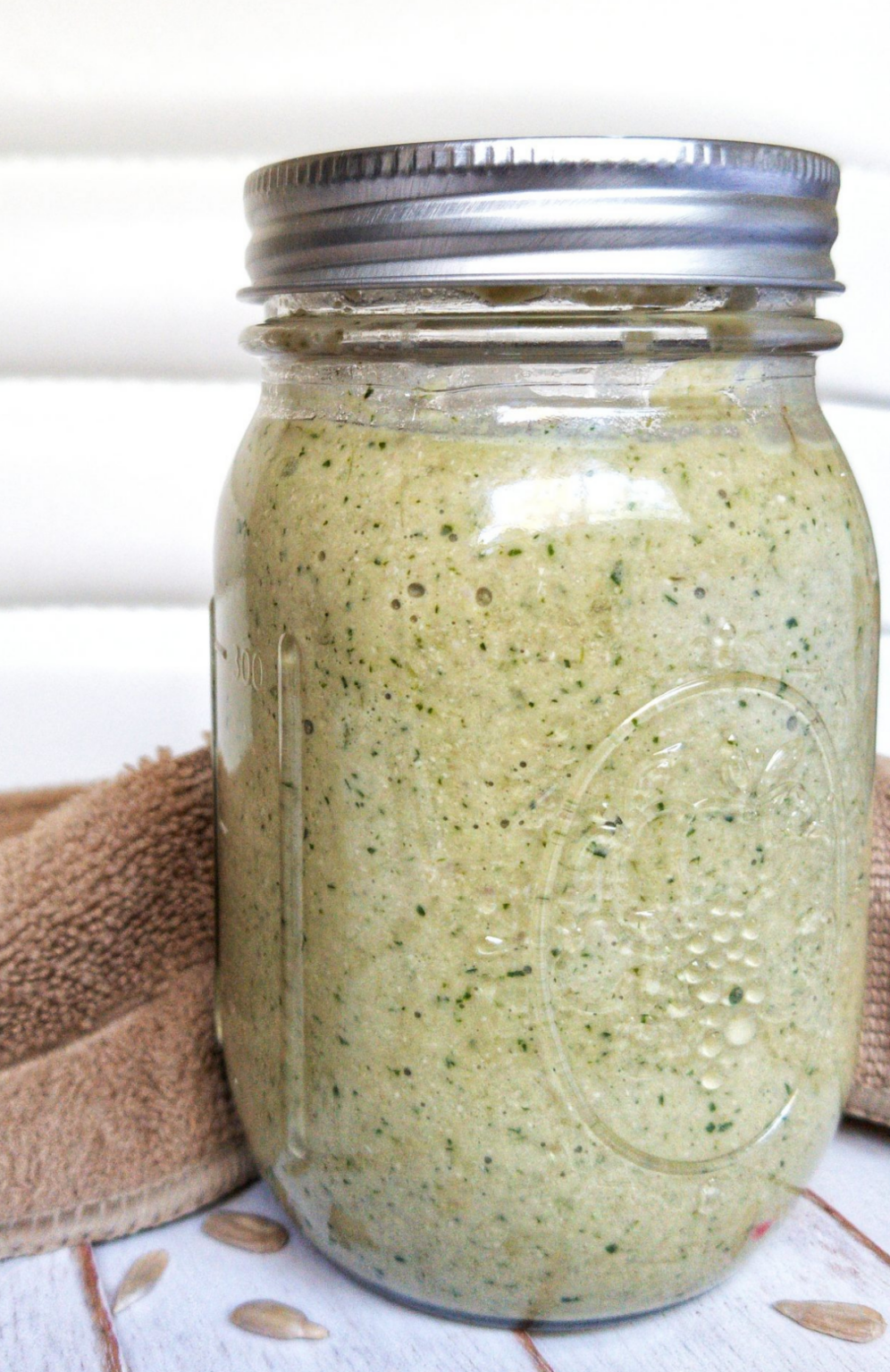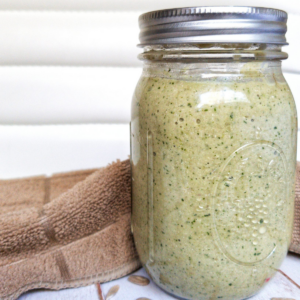 Plant-Based Creamy Cilantro Sauce
Nut-free, plant-based creamy cilantro sauce perfect for tacos, burritos, or salads. Use as a dip or sauce, or dressing.
Ingredients
3

cups

of water

1

teaspoon

of salt

1

cup

sunflower seeds kernels

raw, unsalted

1

cup

reserved sunflower seed water

Leftover boiled water

20

grams

cilantro

roughly chopped

1/2

teaspoon

garlic powder
Instructions
Bring 3 cups of water and 1 teaspoon of salt to a boil over high heat.

Remove from heat. Remove sunflower seeds from water and reserve the extra boiled water.

Combine sunflower seeds, 1 cup of the reserved water, cilantro, garlic powder, into a blender or food processor. Blend until creamy.
Notes
This requires raw, unsalted sunflower seed kernels. If they are salted or roasted, it will impact the flavor in this recipe. 
Any high-speed blender like Nutribullet or Oster will work just fine. 
Be sure to reserve the boiled water used for the sunflower seeds. This will add flavor to the sauce. 
Add more or less reserved boiled water – depending on the thickness/consistency you prefer. 
Did you try out this Plant-Based Creamy Cilantro Sauce recipe?
Please leave a comment below, share it, rate it, or tag a picture @plantbasedandbroke on Instagram and hashtag it #plantbasedandbroke. Show off that creation with us.