(
This post may have affiliate links. Please see my disclosure.
)
Jump to:
There's nothing better than a heaping bowl of stewed black beans, made Puerto Rican style with a side of freshly cooked white rice. Add a side of protein, like air fryer tofu, and you have yourself a balanced, satiating, delicious plant-based meal! We'll walk you through how to cook canned black beans - with a Puerto Rican twist!
It's one of my favorite dishes to get together, especially after a long exhausting day when I want something comforting and healthy.
If you're into cooking black beans from scratch, check out our dry black bean recipe from scratch.
Why You'll Love This
We're using budget-friendly, easy-to-find ingredients.
It's a super quick dish, afterall, we're using canned black beans, which cuts down the cooking time significantly.
Packed with fiber, protein, and flavor, you have a near-complete meal. Just add your go-to plant protein and a side of rice.
Ingredients & Substitutions
Canned Black Beans: Canned black beans are the base of this dish. However, if you have other types of canned beans, they can also work. If you're interested in using pink/pinto/kidney beans, check out our traditional Puerto Rican Bean Stew recipe.
Adobo: Adobo is a spice blend typically consisting of garlic powder, onion powder, salt, black pepper, cumin, and oregano. If you don't have adobo on hand, you can make the blend from scratch.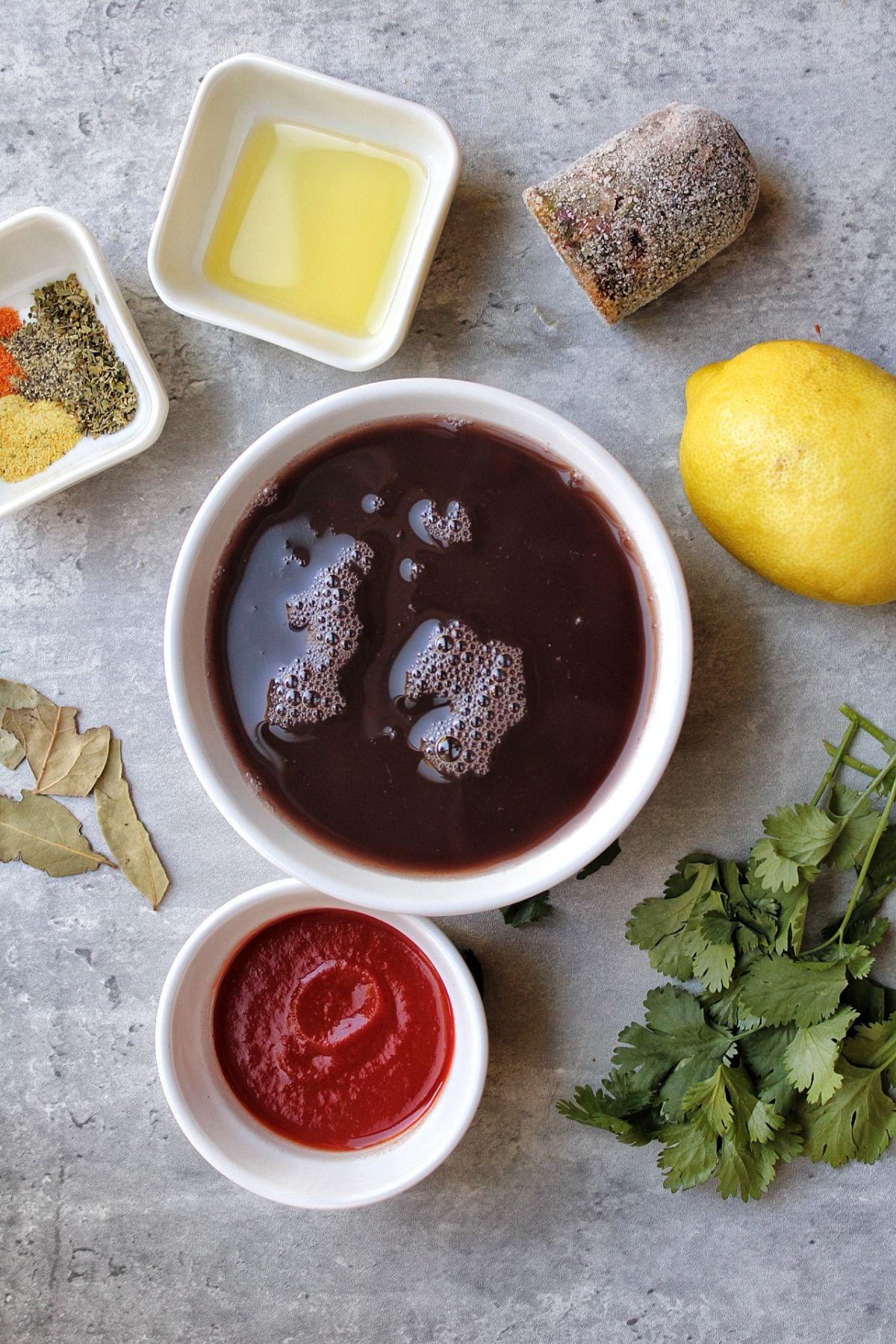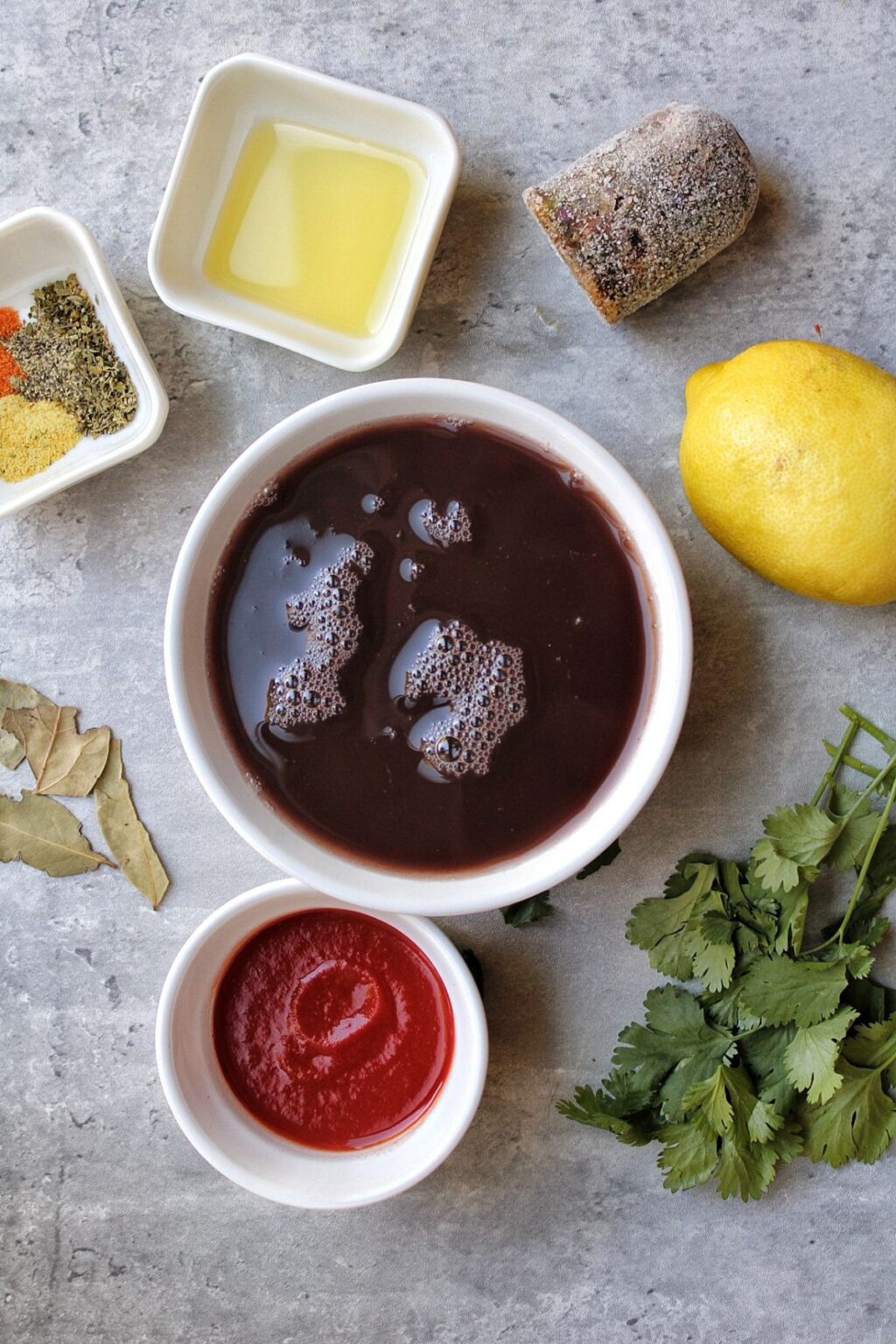 Sofrito: This is a must-have in many Puerto Rican dishes. Sofrito is made up of fresh vegetables including cilantro, onion, garlic, red bell pepper, and green bell pepper. It's a delicious aromatic base used in recipes including Puerto Rican rice, stews, and beans. To substitute sofrito, you can use a mix of finely chopped onion, peppers, cilantro, and garlic.
Sazon: Like adobo, this is a spice blend. Sazon consists of a mix of coriander, cumin, achiote (annatto) and sometimes garlic powder. It's reddish in color and is typically made with salt or monosodium glutamate (msg).
Bay Leaves: Bay leaves provide an earthy and vibrant flavor. However, these can be omitted if you don't have any on hand. They are typically stewed with the beans, then removed before serving.
Oregano: You'll find oregano frequently in Puerto Rican dishes. It's a great spice to have on hand. If you're unable to get your hands on oregano, feel free to omit.
Black Pepper
Olive Oil: Although olive oil is the oil of choice in this recipe, any mild-flavored oil will work in this recipe.
Tomato Sauce: Tomato paste may also be used, just add a touch of water to the beans. For reference, ½ cup of tomato paste + ½ cup of water = 1 cup of tomato sauce. You're welcome.
History & Background About Puerto Rican Black Beans
Puerto Rican stewed beans are traditionally made with pinto/pink beans, but they can also be made with red kidney beans. However, this doesn't mean we're limited to those two varieties. Growing up, I ate a variety of beans. And it was a dish that was served for nearly every dinner.
Sometimes, we'll even combine beans with rice, also known as arroz con gandules.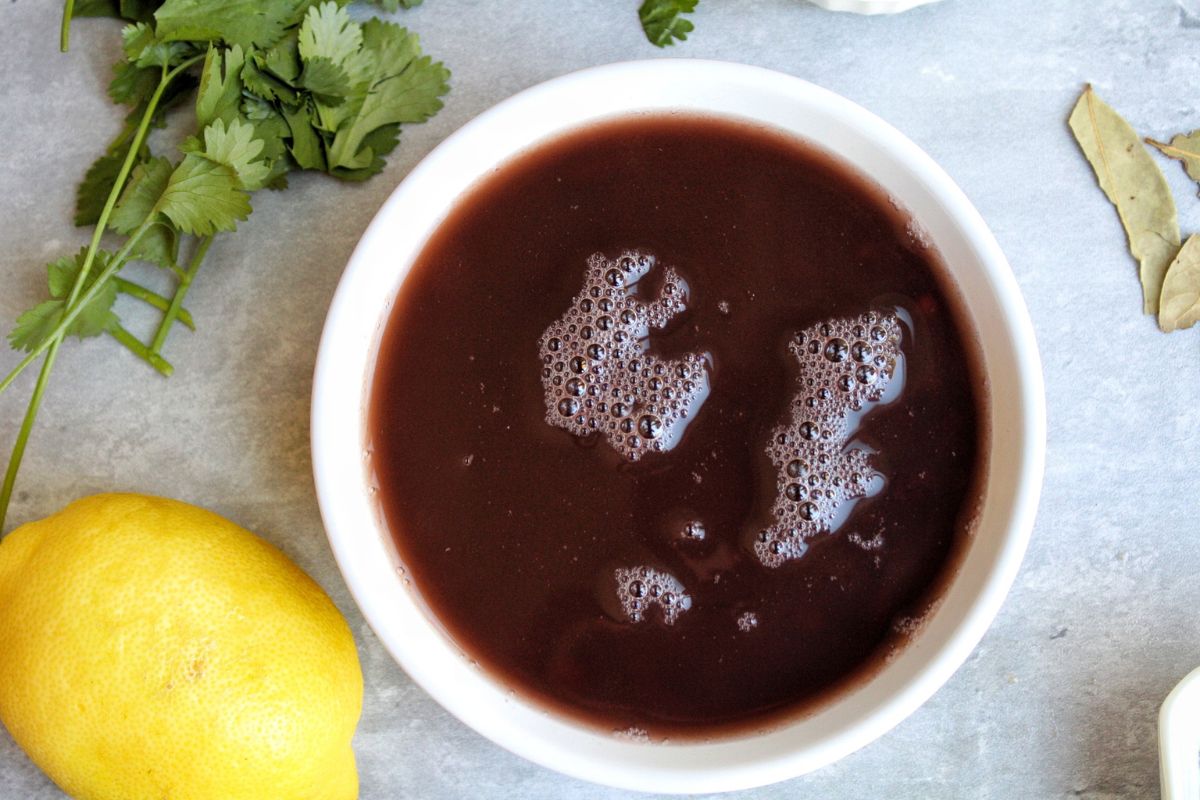 Originating from the indigenous Taino people's culinary practices, Puerto Rican beans were transformed by centuries of Spanish colonization, African influence through the slave trade, and the fusion of flavors from various cultures. The dish reflects the island's history of cultural exchange and the melding of diverse culinary traditions.
The beans are not only a source of sustenance but also a symbol of heritage and community, often served during festive occasions, family gatherings, and celebrations (and as an everyday food).
So if you're Puerto Rican, you know how much we love our beans! It truly is a staple.
What To Serve With Puerto Rican Black Beans
Because this black bean recipe is abundant with flavor, a side of cooked white rice will do. But if you want to make things a little more interesting, you can also consider sliced avocado, plantains, tortillas, roasted/steamed vegetables, and corn.
They also make for great tacos, burritos, rice bowls, and a veggie wrap!
Tips For Cooking The Best Canned Black Beans
Contrary to popular belief, you'll want to keep the liquid from the canned beans. The liquid will provide flavor and salt.
Add your favorite spices, seasonings, and herbs. Don't hold back! Although black beans are cooked, they are not seasoned.
A squeeze of lemon or lime juice can help brighten up the dish.
Add a bit of chopped cilantro after the beans are done cooking. It'll provide a vibrant flavor and color to your beans.
Go for your favorite topping:

Chopped onions - adds a crunch!
Vegan sour cream or Greek yogurt - brings some creaminess to the beans
Chopped avocado - avocado is the perfect balance to rice and beans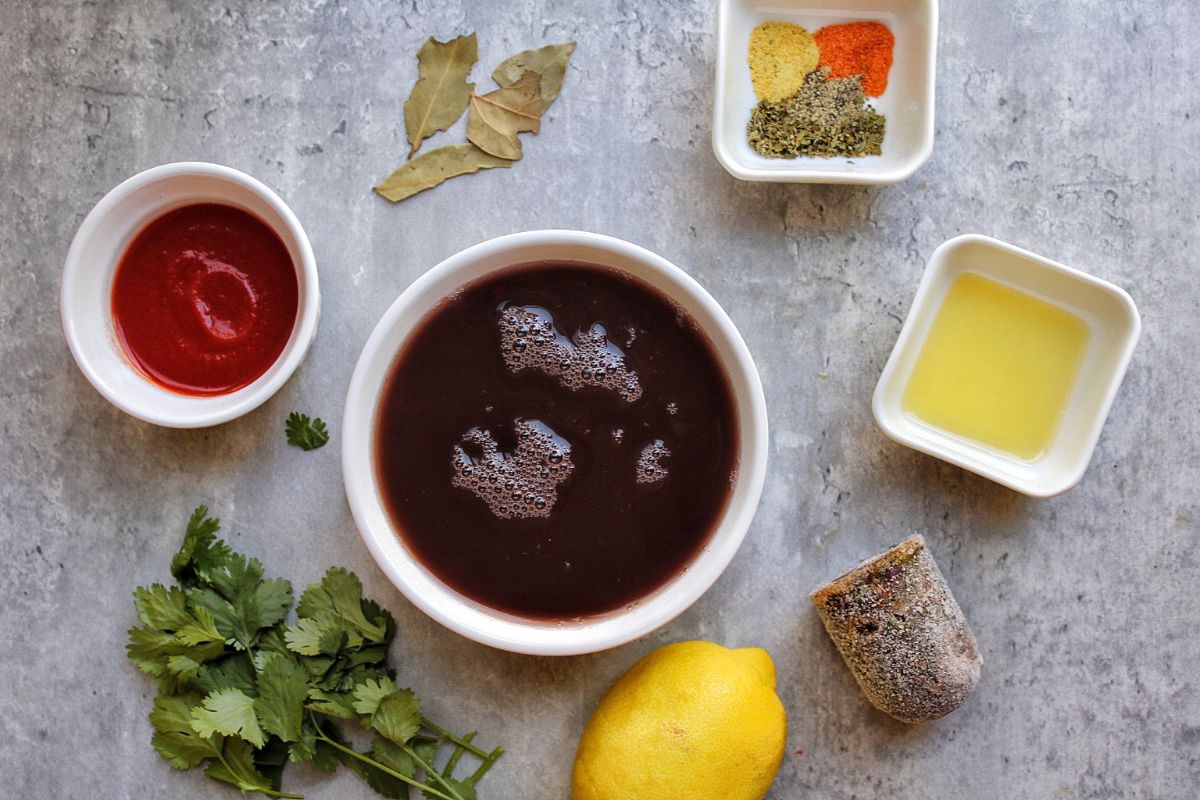 More Recipes With Black Beans
Black Beans from Scratch (Dry)
How To Store
Once cooled down to room temperature, Store the cooked black beans in an airtight container or reusable silicone bag for up to 3-4 days in the refrigerator. The black beans can also be stored in the freezer in a freezer-grade container. Thaw overnight in the refrigerator.
FAQs About Cooking Canned Black Beans
Do I need to cook canned black beans?
Technically, canned black beans are already cooked during the canning process. However, we're "cooking" canned black beans in this recipe, so we can enhance its flavor and texture.
Can I use the liquid from the can?
We're using the liquid from the can! The starch from the liquid will help thicken this dish. While some recipes generally recommend to drain and rinse the beans, we're keeping it! If you're ever using canned black beans for a dry recipe, for example, tacos, I recommend thoroughly draining and rinsing the beans.
How long can I store cooked canned black beans?
They can be stored in the refrigerator for about 3-5 days. If you want to store them for a longer period, freezing is a better option.
Can I mash canned black beans?
Yes, you can mash a portion of the canned black beans to create a creamier texture, especially if you're making dishes like dips, spreads, or veggie burgers.
What recipes can I make with canned black beans?
You can make a wide range of dishes using canned black beans, including soups, salads, tacos, burritos, burgers, dips, and more.
Are canned black beans healthy?
Canned black beans are a good source of protein, fiber, and various nutrients.
Tried out this Puerto Rican Canned Black Bean recipe?
Please leave a comment below, share it, rate it, or tag a picture @plantbasedandbroke on Instagram and hashtag it #plantbasedandbroke. Show off that creation with us.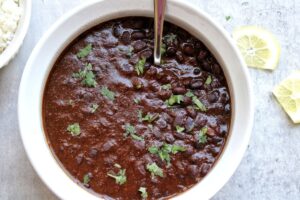 How To Cook The Best Canned Black Beans: Puerto Rican Style
We'll show you how to cook canned black beans and turn it into a delicious Puerto Rican-style bean dish with authentic flavors and spices!
Instructions
In a saucepan or medium pot, heat the olive oil over medium heat. Add the sofrito and cook for about 1-2 minutes.

Add the sazon, adobo, oregano and bay leaves. Cook and stir for 1 minute. Add the tomato sauce and mix with the spices and seasonings.

Pour in the canned black beans, along with the liquid. Stir to combine all of the ingredients.

Bring the beans to a rapid boil, then reduce heat to a simmer. Cover the pot with a lid and cook for 10 minutes.

Remove bay leaves and serve with cooked white rice. Optional: add a squeeze of lemon juice and chopped cilantro to the beans.
Nutrition
Serving:
1
serving
Calories:
236
kcal
Carbohydrates:
32
g
Protein:
12
g
Fat:
8
g
Saturated Fat:
1
g
Polyunsaturated Fat:
1
g
Monounsaturated Fat:
5
g
Sodium:
192
mg
Potassium:
544
mg
Fiber:
12
g
Sugar:
1
g
Vitamin A:
145
IU
Vitamin C:
2
mg
Calcium:
43
mg
Iron:
3
mg