(
This post may have affiliate links. Please see my disclosure.
)
There's nothing better than a gluten-free, vegan banana pancake batter that requires less than five ingredients. The secret ingredient: oat bran flour.
The Substitute For All-Purpose Flour
All we gotta do is blend up oat bran, and boom, you have oat bran flour. Pretty cool, huh?
After that is blended up, we have half the banana oat bran pancake recipe pretty much nailed down. Oats are naturally gluten-free, vegan, high in fiber, and affordable.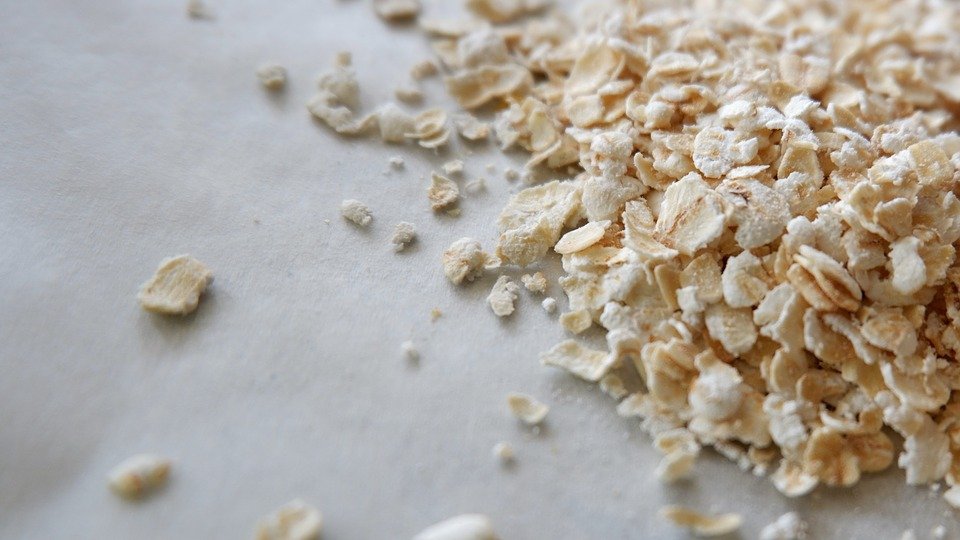 How They Compare To Standard Pancakes
Because this marvelous stack of pancakes is made of oats, they are denser. Slightly less fluffy and "chewy," but definitely far more satiating and filling.
Like regular pancake batter, the flavor is mild. Of course, the ripe banana will add a depth of natural sweetness and texture.
If you're not a fan banana, you can totally just whip up a standard stack of pancakes and omit the fruit.
Other Ways To Use Oat Bran
My mornings are predictable and it always seems to include oat bran. I usually go for a bowl of savory oats, but there's room for creativity, for example, oat bran "carrot cake" and a creamy bowl of chocolate, peanut butter oats. Dessert for breakfast?
Yes, please!
A few months ago, I discovered how easy it was to whip up a thick stack of fiber-rich oat bran pancakes, using ingredients straight from the pantry. With a side of homemade, chocolate syrup...I was in breakfast heaven.
There are many ways to use oat bran and this recipe just has to be one of them!
Where To Find Oat Bran
Just a heads up, oat bran can be challenging to find. However, I have a few tips for you.
They are typically stored with other oats, in the cereal section of a grocery store. Additionally, if your store has a bulk section, you may be able to spot it there. It may be helpful to ask a store manager if they carry it.
Oat bran can also be found online. Personally, I buy them on Amazon. My go-to brands include Quaker and Bob's Red Mill. I go for whichever has a lower price at the time of purchase. We gotta still be frugal over here. 😉
Frugal pro-tip: I typically buy oat bran in bulk (4-6 packs). They last me a while and it's just cheaper that way.
For more breakfast recipes, check out 18 Frugal Plant-Based Breakfast Recipes. We have sweet, savory, and everything in between!
How To Make Vegan Banana Pancakes
Stack 'em high and bring out the syrup. These tasty banana pancakes are made with just 7 ingredients and everyday cookware.
Ingredients
1

cup

oat bran

1

ripe banana

2

tablespoon

chia seeds 

1/2

teaspoon

salt

1/2

teaspoon

baking powder

1

cup

water

Vegan butter
Instructions
First, in a high-powered blender, throw in your oat bran and chia seeds. Blend for about 30-60 seconds, or until powdery and flour-like.  

Pour the blended oat bran and chia seeds into a strainer and sift over a mixing bowl.

Add salt and baking powder to the bowl. Whisk together well. 

In a separate bowl, mix together the bananas and water.

Stir in oat bran flour mixture and mix well. The batter will be slightly lumpy – that's okay. 

Over medium heat in a non-stick pan, add vegan butter. Once hot, pour about ¼ cup of pancake batter for each pancake into the pan. Cook for 3-6 minutes on each side.
Notes
Use the pancake batter right away. If it sits for too long, the oat pancake batter will thicken. If necessary, add more water. 
The blended oat bran will create a flour consistency – this is what you want. Additionally, the blended chia seeds will help increase the absorption of its nutrients. 
This recipe yields about 1-2 servings. 
Did you try out this Gluten-Free, Vegan Banana Pancakes Recipe?
Please leave a comment below, share it, rate it, or tag a picture @plantbasedandbroke on Instagram and hashtag it #plantbasedandbroke. Show off that creation with us.