(
This post may have affiliate links. Please see my disclosure.
)
Fall is here and pumpkin pie spice is in the air – whether that's in coffee, tea, or smoothie. I am totally excited to get pumpkin pie spice oat bran pancakes onto the kitchen table every cool weekend this season.
As the autumn leaves sweep and roll onto the ground in scarlets, royal gold, honey, and plum, it's our cue to whip out our fall pantry items. And maybe the occasional vegan hot chocolate.
Between a stack of pumpkin pie spice oat bran pancakes and a side of mushroom bacon and tofu scramble , your family is going to be impressed by your plant-based breakfast spread at the break of a cozy sunrise.
Or, don't impress anyone and eat the whole thing yourself. Treat yo' self.
---
Pumpkin Pie Spice Oat Bran Pancakes Recipe
Recipe Notes:
As the pancake batter sits, it will soak up the water and gradually become thicker. Feel free to add additional water as needed – you're most likely going to need to.
We're throwing the oat bran and chia seeds into the blender for two reasons: 1) to get it to a flour consistency 2) breaking down the chia seeds will help increase absorption of their nutrients.
Feel free to use any kind of vegan butter you like. I am a huge fan of Melt's Organics and that is what I used.
Use real maple syrup or fake syrup. Totally up to you…we're all out here trying to save a dollar or two.
This recipe yields about 1-2 servings.
Ingredients:
½ teaspoon salt
1 teaspoon baking powder
1.5 cup of water
Vegan butter
Syrup
Directions:
First, in a high-powered blender, throw in your oat bran and chia seeds. Blend for about 30-60 seconds, or until powdery and flour-like.
Pour the blended oat bran and chia seeds into a strainer and sift over a mixing bowl.
Add salt, baking powder, and pumpkin pie spice. Whisk together and blend well.
Next, Add water and whisk again until well-combined and smooth.
Over medium heat in a non-stick pan, add vegan butter. Once hot, pour about ¼ cup of pancake batter into the pan. Cook for 4-6 minutes on each side.
Top your pancakes with a dollop of butter, a drizzle of syrup and pumpkin butter (optional).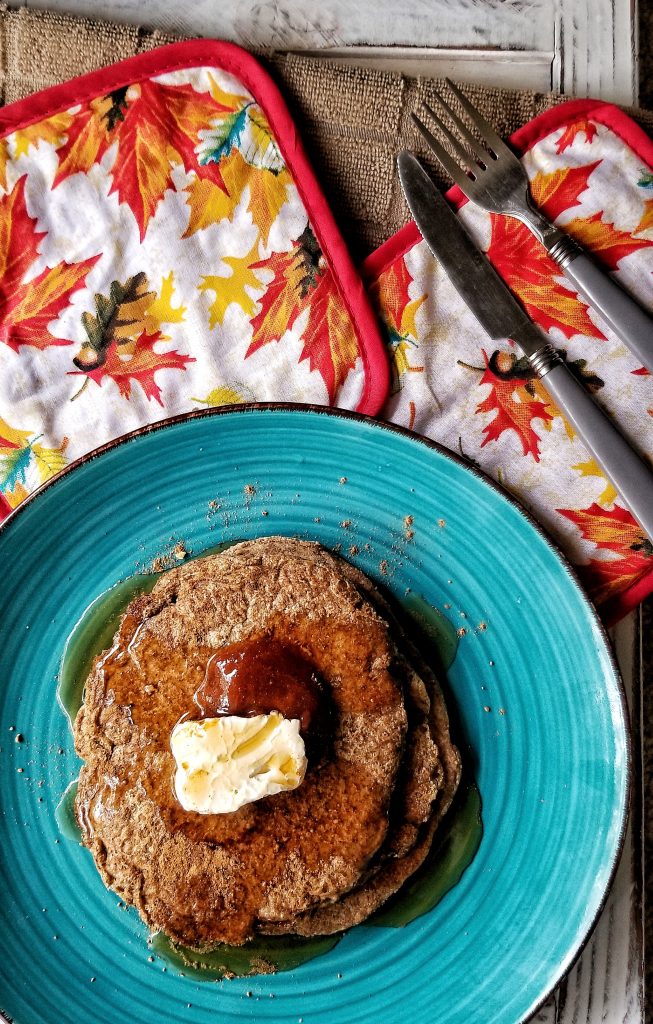 Want Breakfast Sides To Go With These Pancakes? Check These Recipes Out:
Quick & Easy Loaded Tofu Scramble
Did you try out this recipe?
Please leave a comment below, share it, rate it or tag a picture @plantbasedandbroke on Instagram and hashtag it #plantbasedandbroke. Show off that creation with us.

How useful was this post?
Click on a star to rate it!
Average rating 5 / 5. Vote count: 1
Please follow and like us: