(
This post may have affiliate links. Please see my disclosure.
)
Jump to:
After a long, hot summer, I was finally able to crank on my oven to fire up a tender, moist loaf of Pumpkin Banana Bread.
Autumn (weather) is finally here - so why not? I'm just so glad we're moving on from summer because that was a brutal one.
Whew!
If you're on a banana bread kick, be sure to also check out my Extra-Moist Blueberry Banana Bread and classic Banana Nut Bread.
Why You'll Love This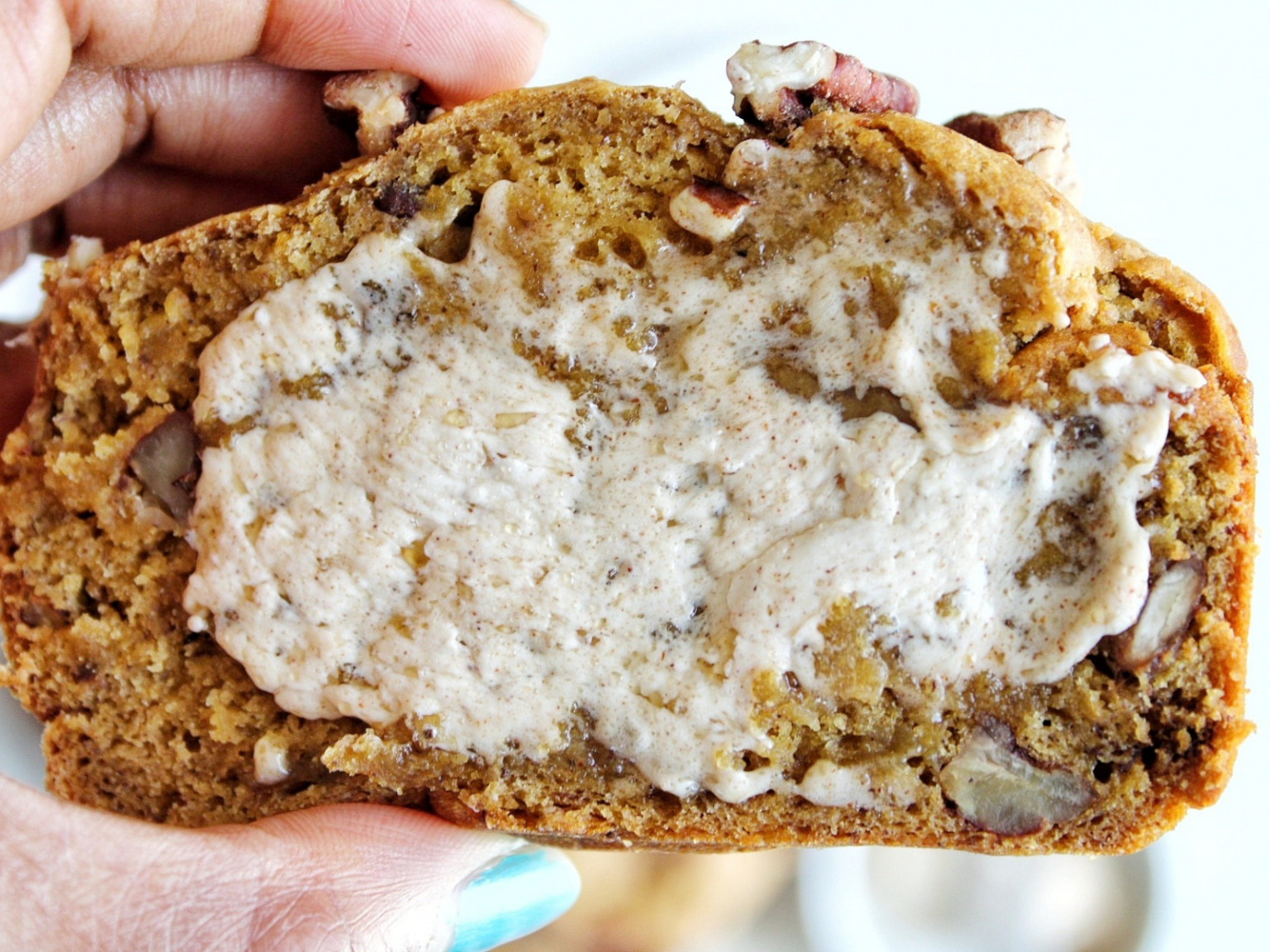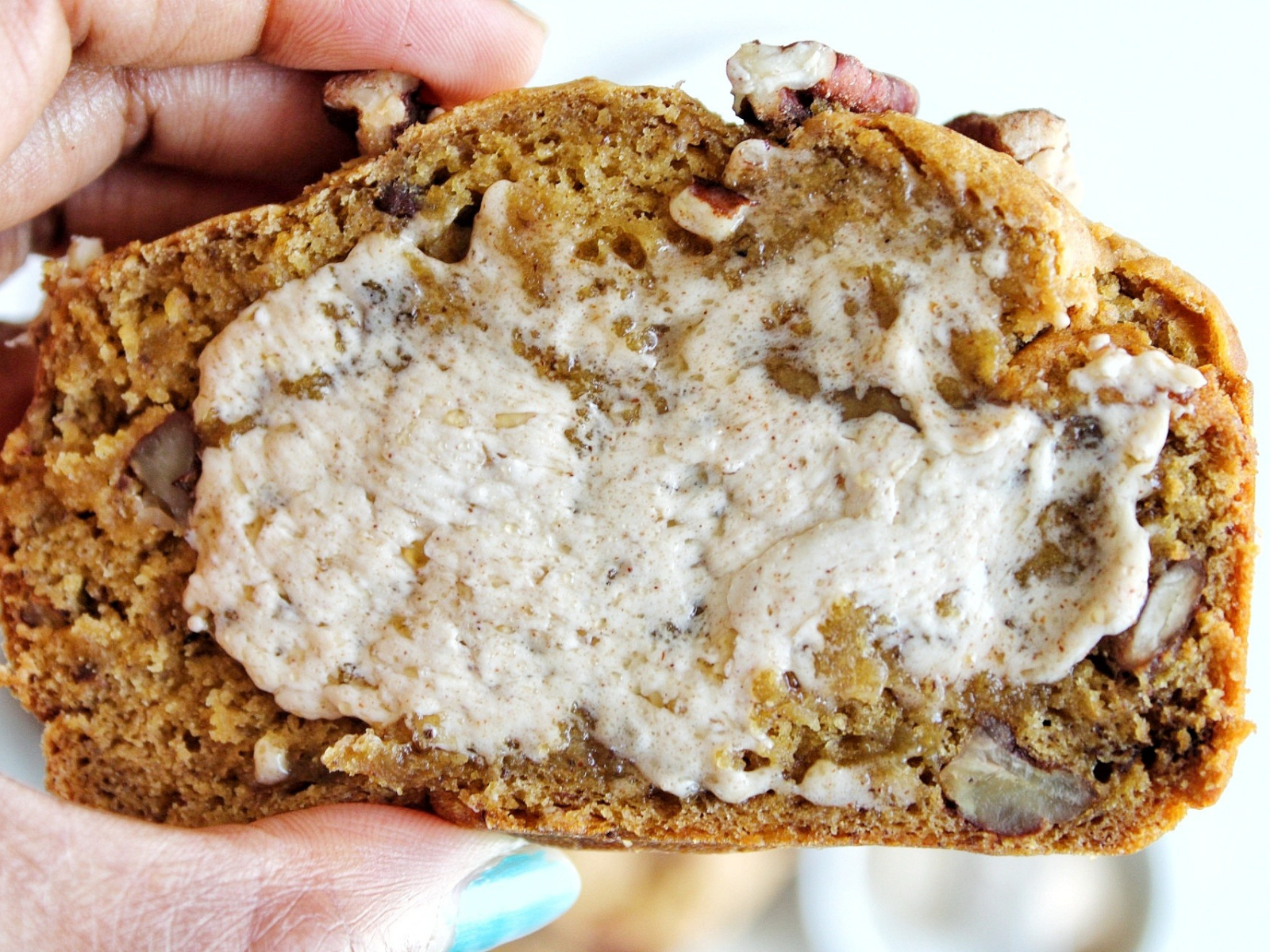 We're going oil/butter-free for this recipe! GOOD NEWS: This loaf will still be very moist and tender.
This loaf recipe is also eggless & dairy-free.
You'll just need ripe bananas, canned pumpkin, and a variety of pantry-friendly ingredients.
It's the perfect recipe to gear up for the fall season.
It makes for a great on-the-go breakfast treat. Bake the loaf in advanced, then grab-and-go a slice.
Banana bread is a type of sweet, quick bread made with ripened, mashed bananas. For this recipe, we're upping the flavor a notch by joining all of our favorite fall ingredients together.
That includes cinnamon, ginger, pumpkin pie spice, nutmeg, and pumpkin. In addition to chopped pecans.
What To Serve With Pumpkin Banana Bread
My favorite way to serve pumpkin banana bread is with a mug of warm tea with a touch of fall flavors, include cinnamon, pumpkin spice, or apple spice.
For the loaf, I recommend serving with creamy butter, a drizzle of honey, jam, maple syrup, cinnamon butter, or homemade date paste.
More Fall Recipes You'll Enjoy
Recipe FAQs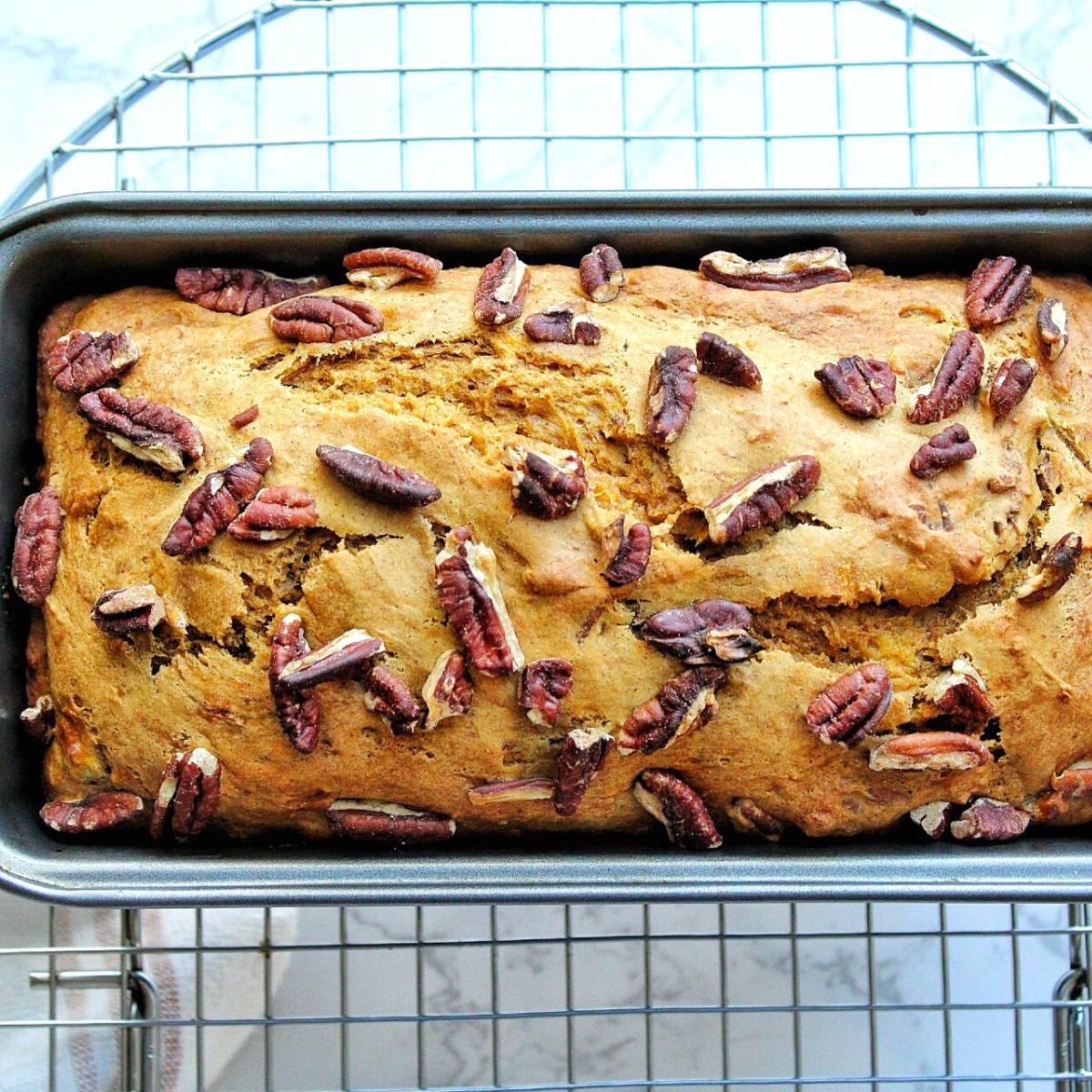 Can Frozen Bananas Be Used
Feel free to use frozen bananas for this recipe. However, you'll want to to first thaw them out and drain any of their excess liquid.
To thaw frozen bananas, set them out at room temperature until soft. It'll take a couple of hours or so until they're fully thawed.
Alternatively, transfer the frozen banana into a plastic bag or reusable silicone bag. Submerge the bag into a bowl of cold water.
Be sure to remove as much of the air as possible, this can be done using the water displacement method. To do this, seal the bag and leave a small gap open. Submerge the bag and the water will push the air out of the opening. Once the air has been pushed out, completely seal the bag.
If your frozen bananas have their peels intact, check out our blog post 3 Ways To Unpeel A Frozen Banana.
Should A Cooling Rack Be Used
100% recommend a cooling rack for an even cool!
The cooling rack will also ensure your pumpkin banana bread loaf is completely cooled without a soggy bottom.
Once the loaf is done baking, allow to cool in the loaf pan for 10 minutes. Then, carefully transfer the loaf onto a cooling rack.
How To Store
After the Pumpkin Banana Bread is done baking, first let it completely cool off. I recommend having it cool on a cooling rack.
If storing the bread in the fridge, first wrap in plastic wrap to prevent the loaf from drying out. It should last for about a week or so.
If storing the bread on the counter, transfer the loaf to a storage container with a lid. It will last for up to 4 days.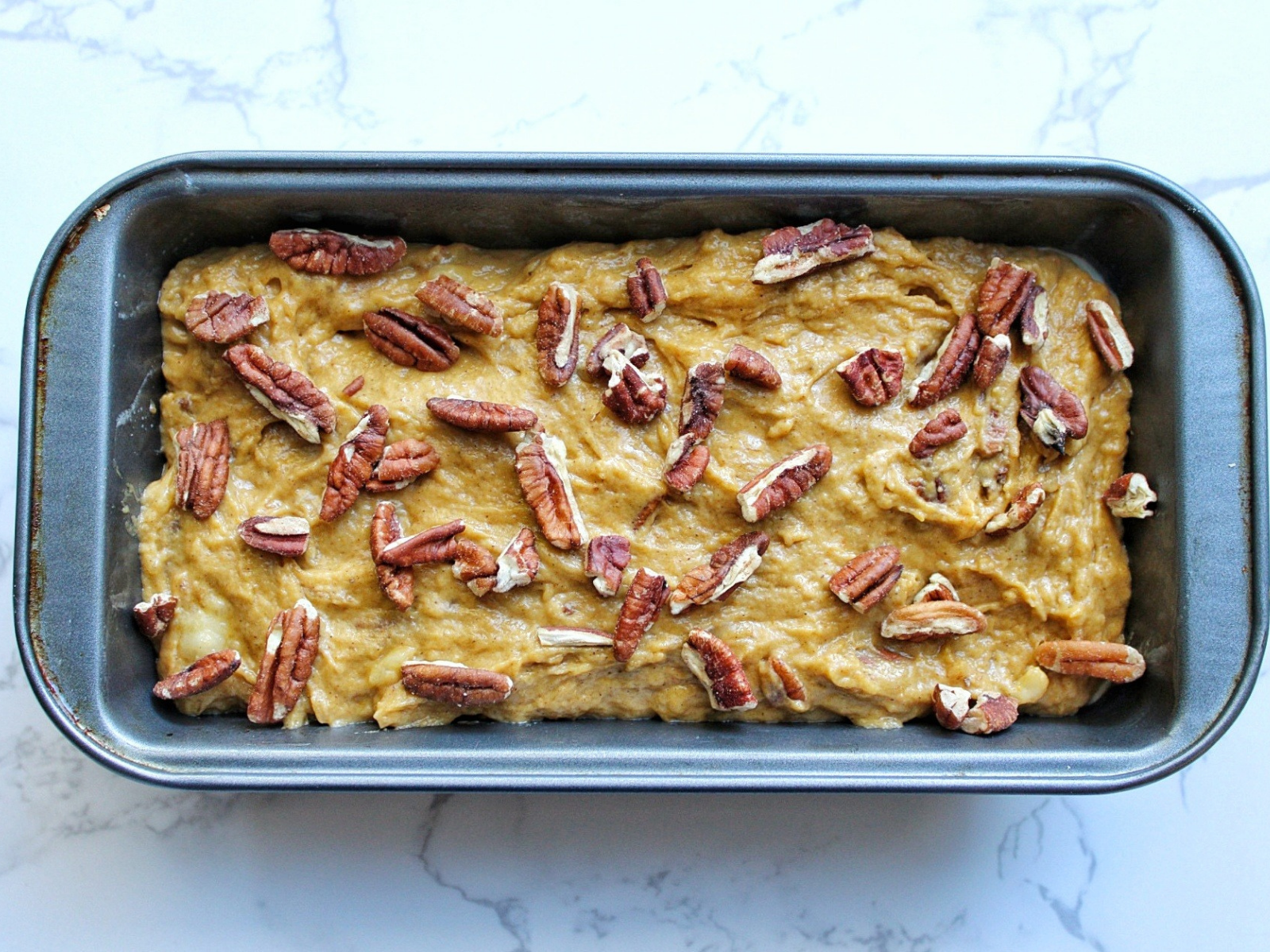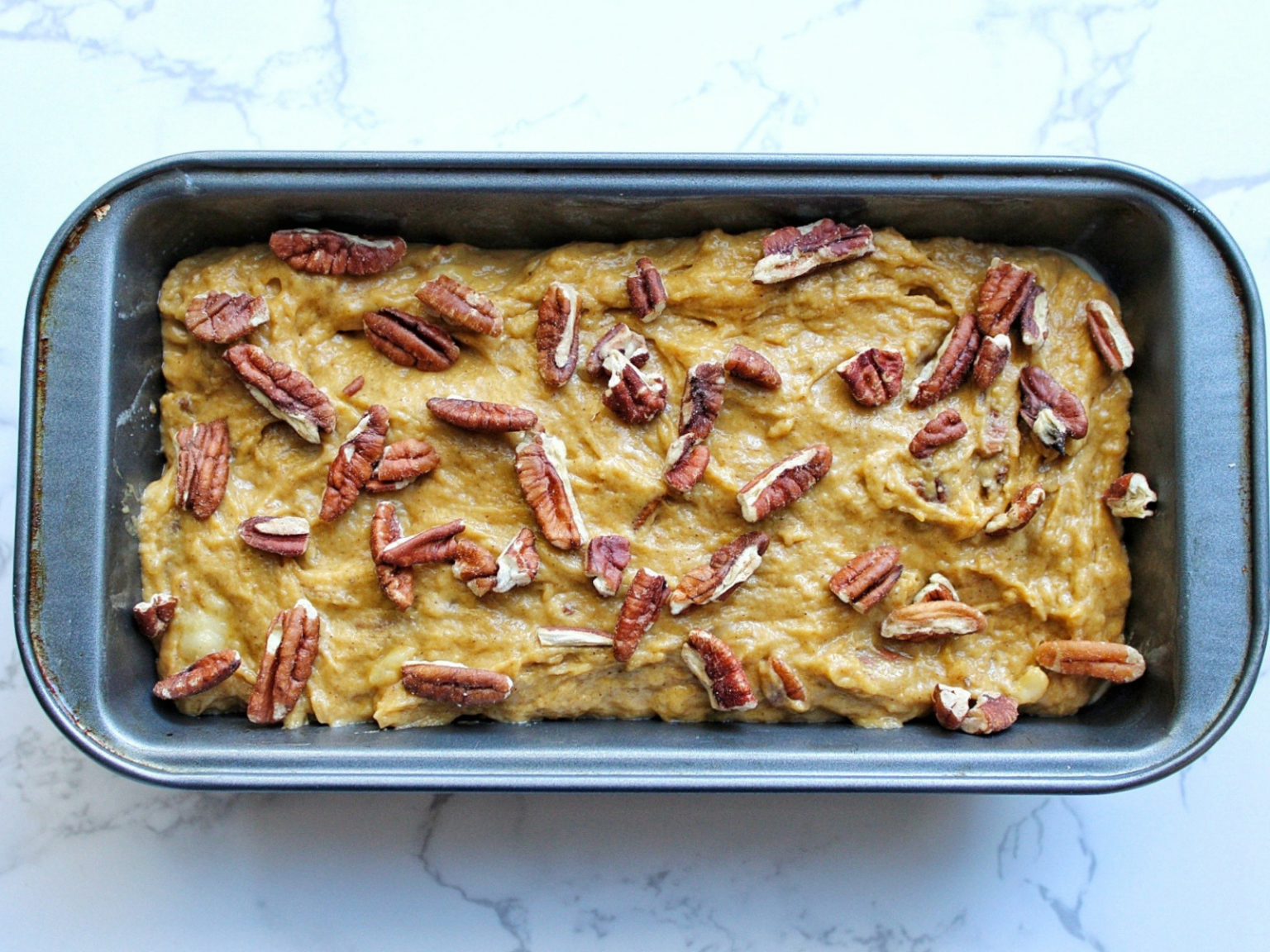 Tried out this Pumpkin Banana Bread recipe?
Please leave a comment below, share it, rate it, or tag a picture @plantbasedandbroke on Instagram and hashtag it #plantbasedandbroke. Show off that creation with us.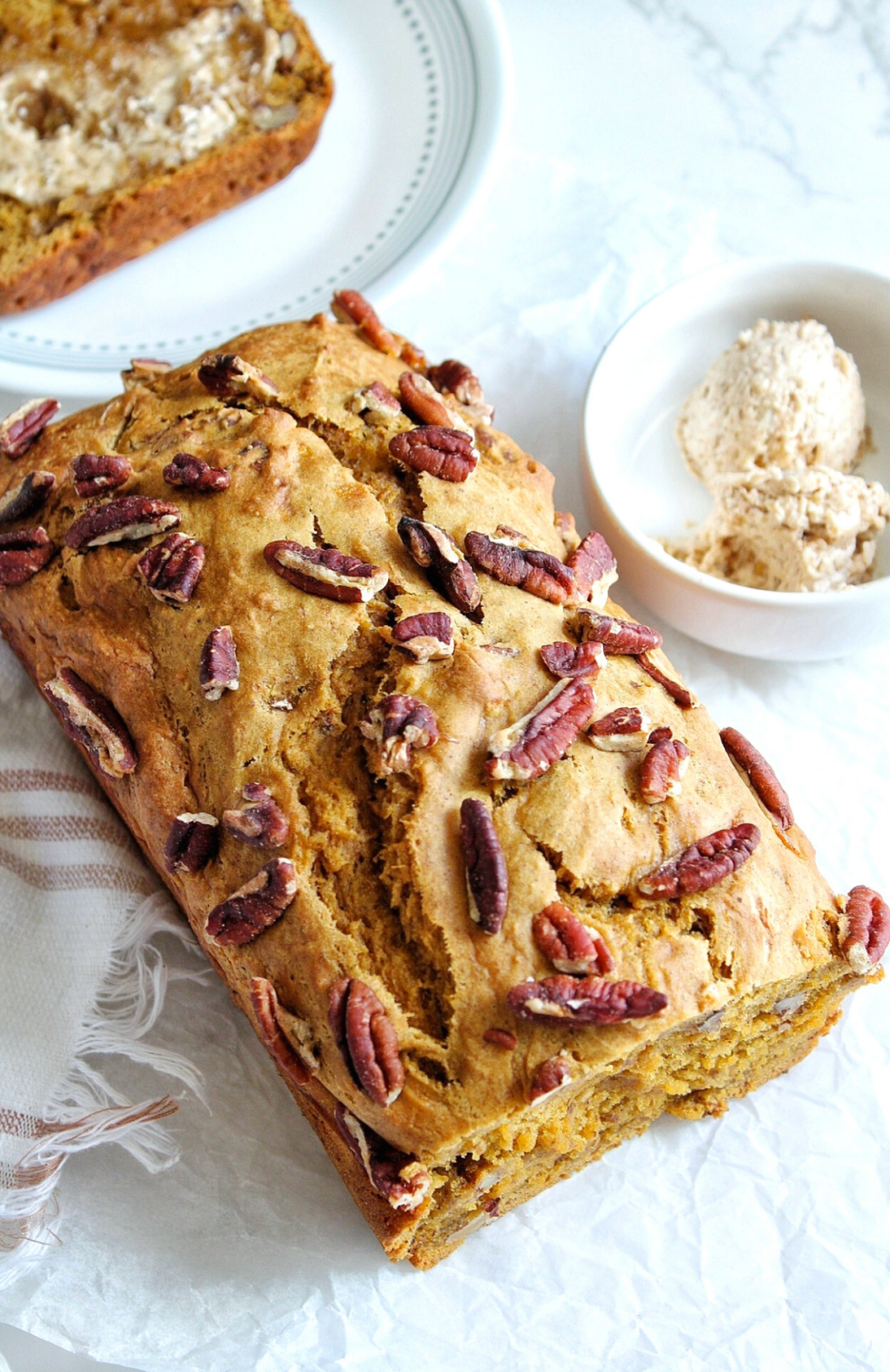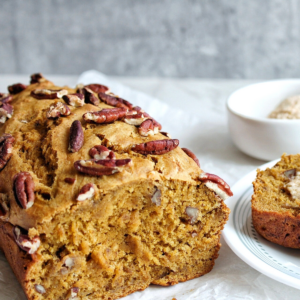 Pumpkin Banana Bread (Vegan + Oil-Free)
Pumpkin season is here and we're kick-starting it with a seasonal Pumpkin Banana Bread. Made with plant-based ingredients, 100% oil-free, and extra-moist that'll please that autumn sweet tooth.
Instructions
Preheat the oven to 350 degrees F. Lightly grease, spray, or line with parchment paper an 8-inch loaf pan. Set aside

In a bowl, mix the flour, baking powder, baking soda, salt, cinnamon, ginger powder, pumpkin pie spice, and nutmeg.

In a second large bowl, combine canned pumpkin puree, brown sugar, and mashed bananas.

Add the wet ingredients to the dry ingredients. Mix with a spatula until well-combined and there are no dry spots. Fold in the pecans.

Pour pumpkin banana bread mix into the prepared loaf pan. Add more chopped pecans on top.

Bake for 50-60 minutes. Bake for an additional 10-20 minutes if the banana bread hasn't cooked all the way through. You can test this by using a toothpick and inserting it into the center. If it comes out clean, it's done.

Cool for 10 minutes, transfer to a cooling rack to cool for another 30 minutes.
Notes
Feel free to add more of your favorites spices (cinnamon, nutmeg, ginger, etc.), or hold back. I am a bit of a cinnamon lover so sometimes I'll add a couple of additional dashes into the loaf! 

If storing the bread in the fridge

, first wrap in plastic wrap to prevent the loaf from drying out. It should last for about a week or so.

 If storing the bread on the counter

, transfer the loaf to a storage container with a lid. It will last for up to 4 days. 
Nutrition
Serving:
1
slice
Calories:
232
kcal
Carbohydrates:
47
g
Protein:
4
g
Fat:
4
g
Saturated Fat:
1
g
Polyunsaturated Fat:
1
g
Monounsaturated Fat:
2
g
Sodium:
185
mg
Potassium:
182
mg
Fiber:
2
g
Sugar:
24
g
Vitamin A:
3826
IU
Vitamin C:
2
mg
Calcium:
70
mg
Iron:
2
mg