(
This post may have affiliate links. Please see my disclosure.
)
Jump to:
When I am in a Puerto Rican food mood (which is always), I like to include a side of sweet, tender plantains.
They are INSANELY good and commonly served with salty foods. Examples include Puerto Rican stewed beans, vegan "beef" stew, vegan pernil, and yellow rice.
Plantains or plátanos (in Spanish) are a type of banana. They are part of a major group of banana varieties (genus Musa).
They have more starch than your common banana fruit and they are often used in cooked recipes.
The same banana plant can be found in 3 different colors: green, yellow, and black. Their color indicates whether they are ripe or not. Green bananas are often used in savory dishes like tostones.
Yellow plantains are slightly sweet. They can be fried, but they aren't a great fit for tostones or maduros. Their texture will be tougher and its flavor will be mildly sweet. It's best to wait until a yellow plantain has turned mostly black and soft.
Although I can never say "no" to fried maduros, I like to bake or air fry my sweet plantains from time to time to cut back on the oil. And guess what? They are still absolutely delicious.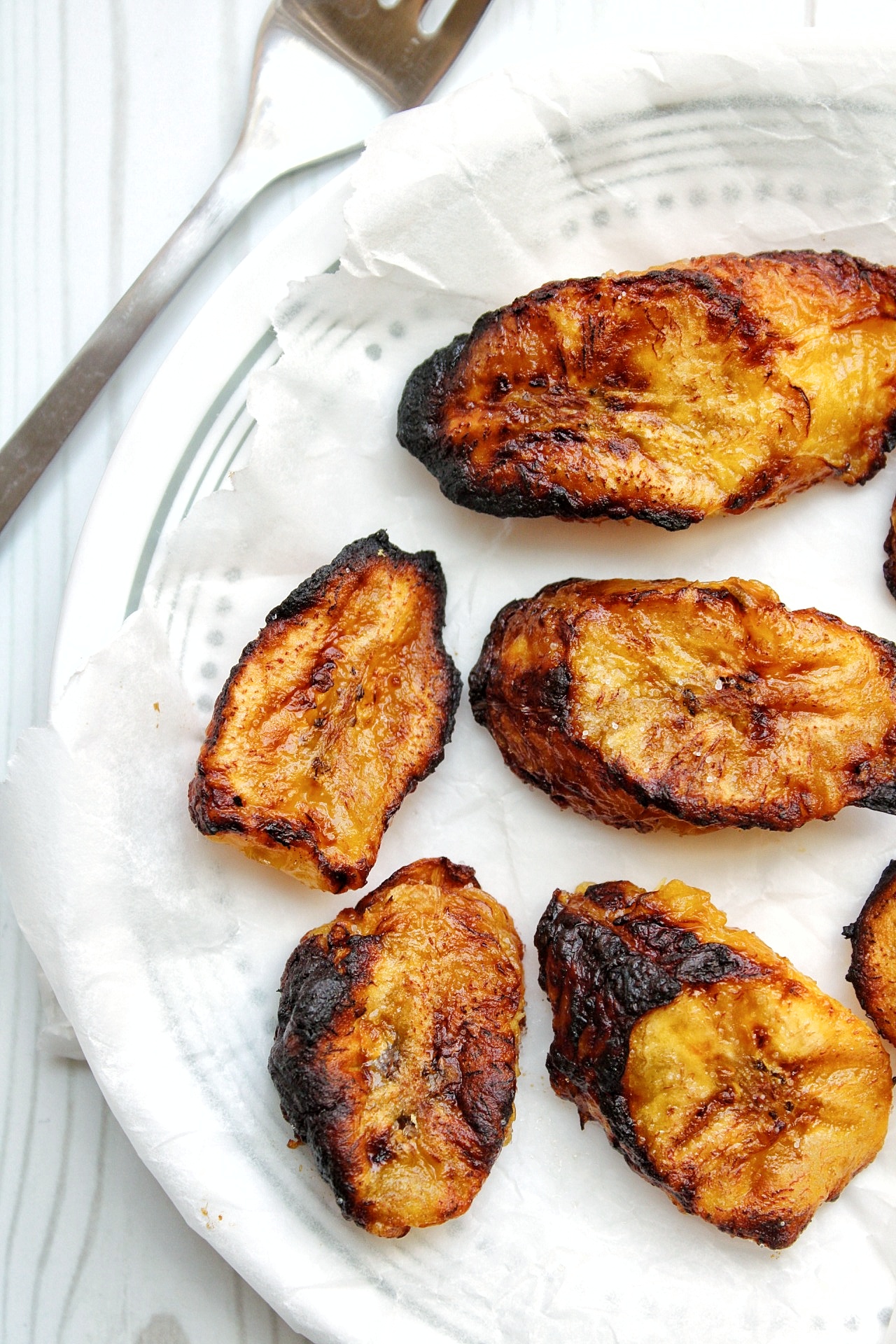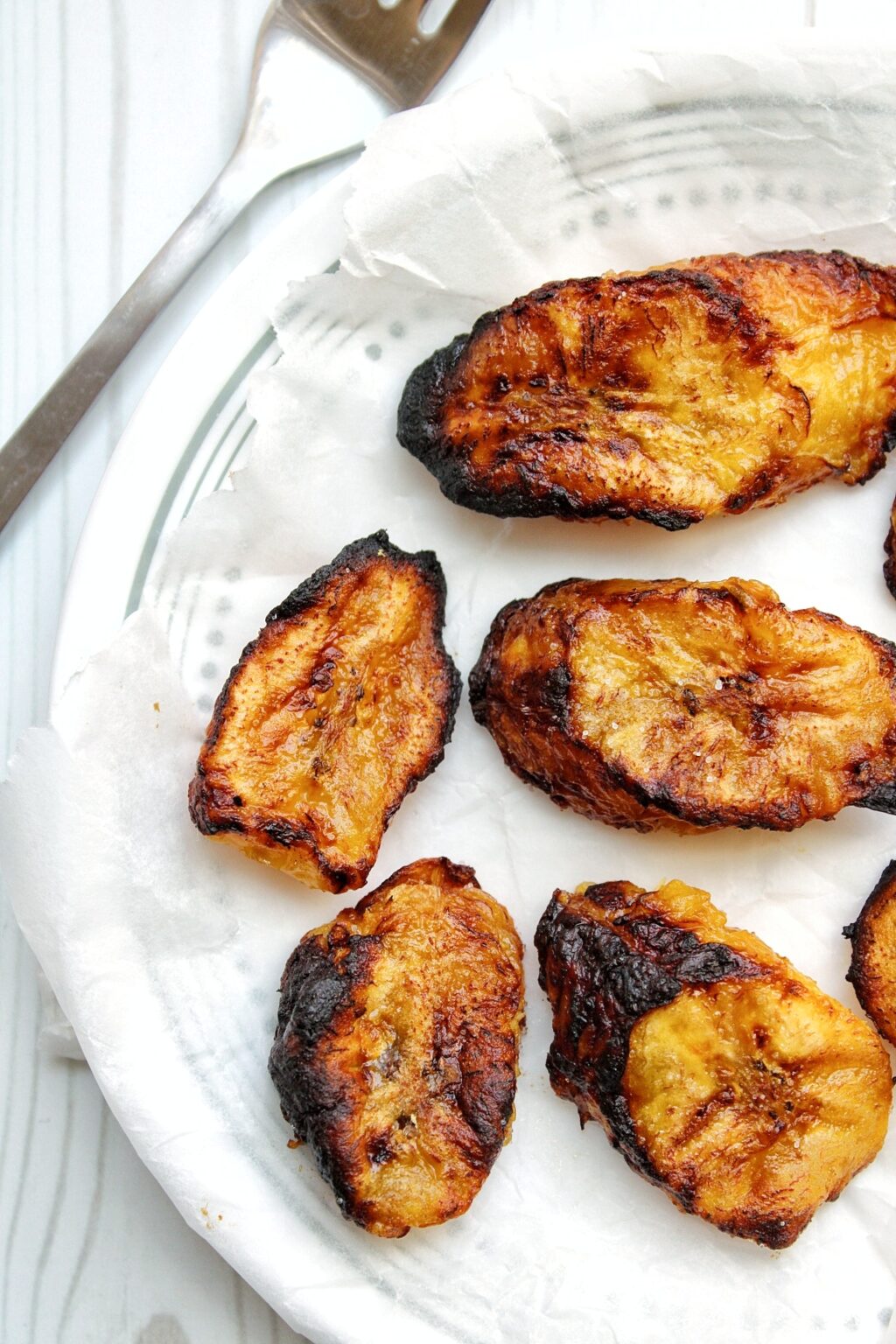 How To Make Baked Sweet Plantains
Remove skins. To remove the skins from the plantains, make a skin-deep cut lengthwise. Then, using your fingers, peel off the skin.
Slice diagonally. Using a sharp knife, cut the plantain at an angle, making them about one-fourth of an inch.
Bake until golden & crispy. Preheat the oven to 450 degrees F for 15 minutes, or until golden, with crispy edges.
How To Make Air Fryer Sweet Plantains
Steps 1 and 2 from how to make baked sweet plantains will remain the same. However, the only difference is that you'll air fry the sweet plantains for just 8 minutes at 450 degrees F.
Air frying the plantains is my favorite way to cook them because they take half the time and this cooking method does not heat up my home - which is very helpful, especially during the summer months.
Air fryer plantains can be cooked with or without oil. I've tested them both ways, and they are both equally delicious.
I found that the plantains brushed with some oil were a tad bit more tender.
How To Tell If Plantains Are Ripe Enough
To get plantains ripe enough for oven-baked plátanos or maduros, they should be tender to the touch – similar to ripe avocado. Also, they should be nearly black or dark in color. The darker in color, the sweeter they are.
It's important that the flesh of the banana is soft. This helps us get a feel if they are ready to be cooked. Sometimes, you can find a plantain banana that's nearly black or dark in color, but it is hard.
This will yield plantains that have a bite, rather than a dish that's soft and sweet.
How To Cut Plantains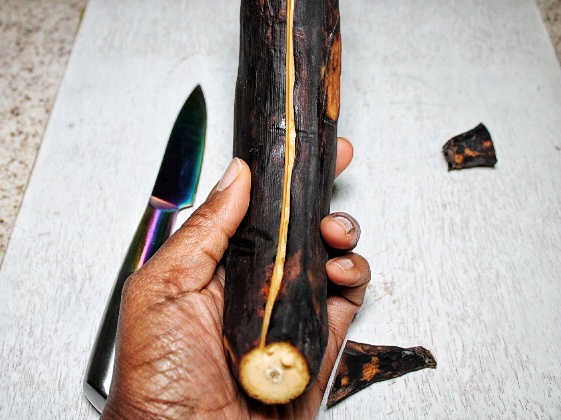 Thankfully ripe bananas are easy to slice open. When they ripen, the fruit's flesh becomes very soft and with a good knife, little effort is needed to peel.
First, you'll want to cut off both ends of the plantains. Then, you'll want to cut vertically from end to end. Next, carefully remove the fruit's flesh.
To cut the plantain, cut it into ¼-inch thick pieces. I like to cut them slightly diagonally. However, you can slice them into coins.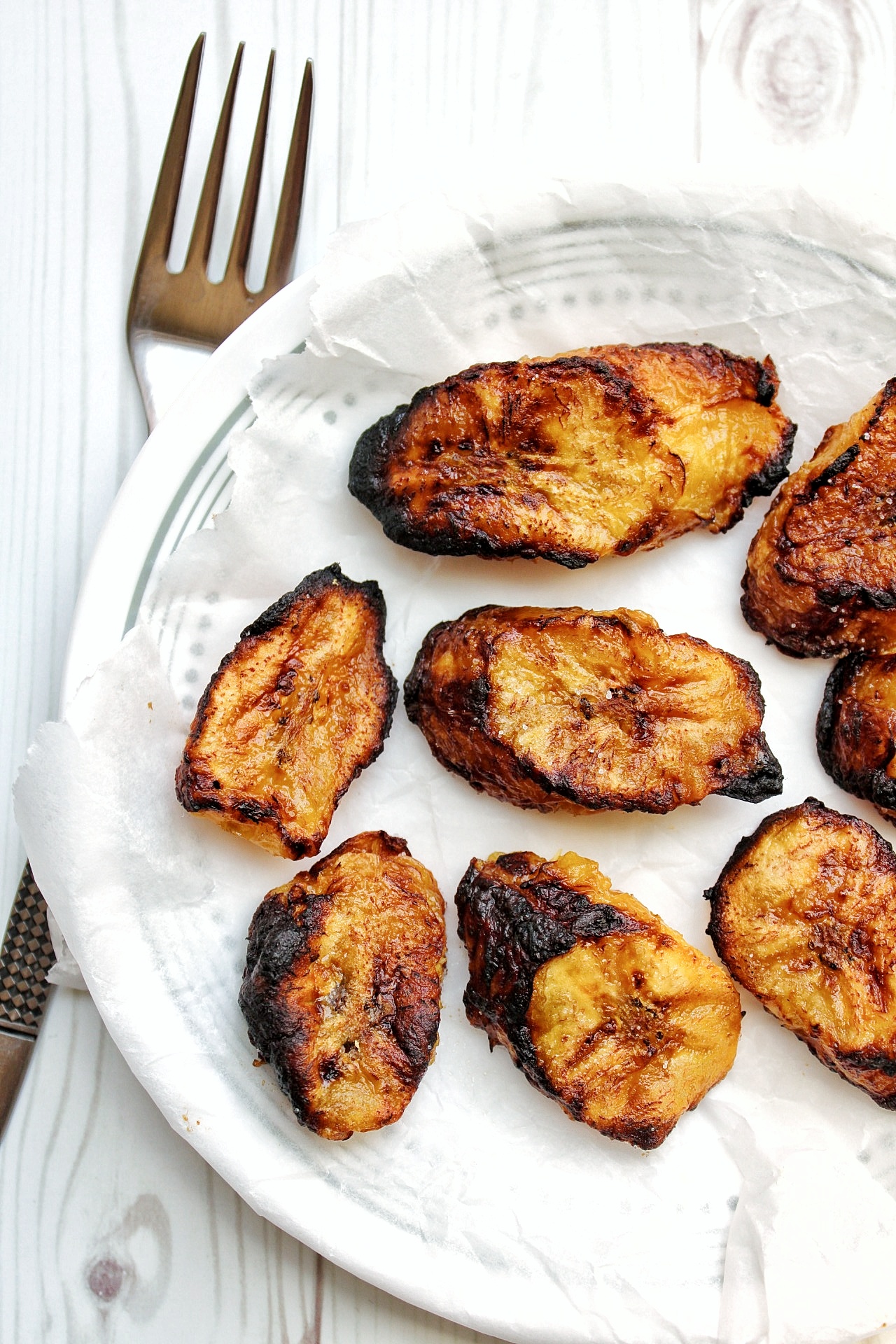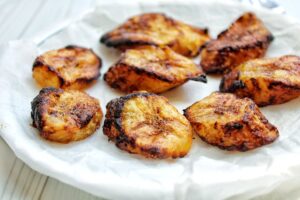 Baked Sweet Plantains (Maduros)
Sweet, tender, and soft - these Baked Sweet Plantains or plátanos maduros are the perfect side dish to pair with Caribbean, West African, or Latin dishes. Healthier than fried and made in just 20 minutes in the oven.
Ingredients
1

ripe yellow plantain

oil/cooking spray

See recipe notes to cook oil-free

Salt

(optional)
Instructions
Preheat oven to 450 degrees F.

Cut off both ends of the plantains. Then, slice the plantains lengthwise, cutting skin deep. Then remove the plantain skins.

Slice the plantains diagonally into ½-inch slices.

Add a bit of cooking spray or brush oil onto both sides of the sliced plantains. Line the plantain pieces onto the baking sheet. Bake for 10 minutes, flip, then cook for another 5 minutes. Serve and add salt.
Air Fry Sweet Plantains
Air fry the sweet plantains for just 8 minutes at 450 degrees F. 
Notes
You MUST use ripe, sweet plantains. If they are mostly black and soft, they are ready.
To go completely oil-free, skip out on the cooking oil. 
Nutrition
Serving:
1
-Serving
Calories:
109
kcal
Carbohydrates:
29
g
Protein:
1
g
Fat:
1
g
Saturated Fat:
1
g
Polyunsaturated Fat:
1
g
Monounsaturated Fat:
1
g
Sodium:
4
mg
Potassium:
447
mg
Fiber:
2
g
Sugar:
13
g
Vitamin A:
1009
IU
Vitamin C:
16
mg
Calcium:
3
mg
Iron:
1
mg
Did you try out this Oven-Baked Plantains Recipe (Maduros)?
Please leave a comment below, share it, rate it, or tag a picture @plantbasedandbroke on Instagram and hashtag it #plantbasedandbroke. Show off that creation with us