(
This post may have affiliate links. Please see my disclosure.
)
Sweet fried plantains are one of my favorite side dishes to have with a traditional Puerto Rican meal. We're switchin' it up and making oven-baked, oil-free plantains instead.
Fried plantains, or "maduros" is a traditional Latin dish. Growing up in a Puerto Rican household, this was almost a daily treat. Sweet fried plantains are cut into thick chunks and fried in a heaping pool of oil until tender and golden.
For this recipe, we're removing the oil and popping the plantains into the oven. It's just another option in your recipe toolbox for when you want to old back on the hot oil.
Important Tips To Oven-Baked Sweet Plantains (Maduros)
Use Very Ripe Plantains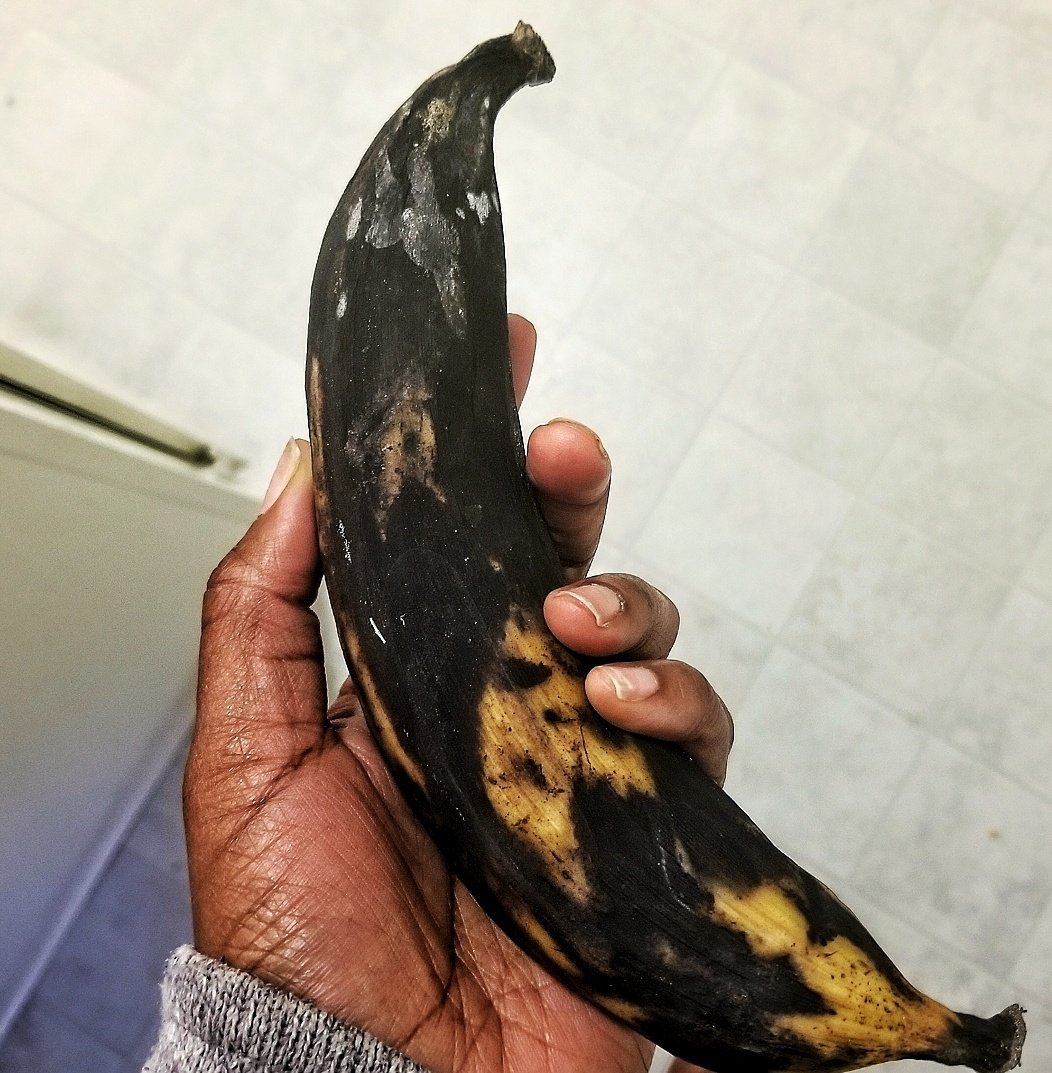 The main component of delicious baked sweet, oil-free plantains is making sure they are ripe. We want these plantains fully black and bruise. The softer they become, the sweeter their flavor.
Patience is important here. If they are not ripe enough, wait a few more days – it's worth it.
Use Parchment Paper
Because we are opting out of using oil, use parchment paper. Parchment paper is non-stick, which will make it easier to remove the plantains from the oven.
What To Eat With Sweet Oven-Baked Plantains (Maduros)
Sweet plantains are typically eaten as a side dish. Here are a few ideas:
This recipe is great if you're going oil-free, or just trying to reduce your oil intake. Yes, you can still have sweet plantains, or maduros, even if you want to skip out on the deep fry swim.
Additionally, this recipe only takes about 30 minutes and will be done as fast as your rice. So, cheers to something easy and fast.
You can slice your plantains in perfect half-inch thick coins. I like to cut them slightly slanted – just because it's what I am used to. It also yields a nice, beautiful shape when cut slanted. By the way, you'll want your plantains to be very ripe. We're using yellow plantains that are bruised with black spots.
Of you want to use a little bit of oil, use non-stick oil spray or brush the plantains with melted vegan butter or oil.
I hope you enjoy this recipe!
For traditional, fried sweet plantains, check out Puerto Rican Fried Sweet Plantains.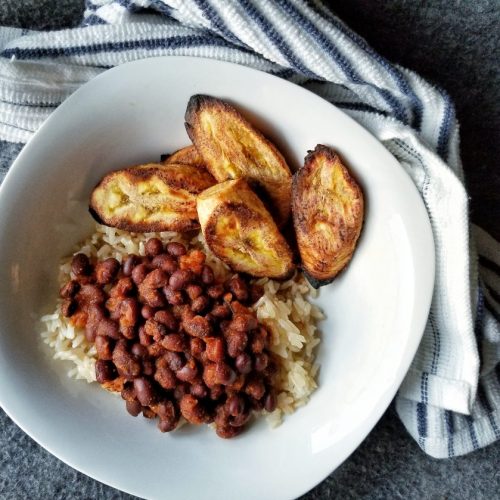 Easy Oven-Baked Plantains Recipe (Maduros)
Oven-baked plantains that's oil-free, delicious, and easy to make!
Ingredients
1

ripe yellow plantain

Salt
Instructions
Preheat oven to 400 degrees F.

Line a baking tray with parchment paper.  

Cut off the ends of the plantains. Then, slice the plantains in the middle –  cutting only skin deep. Then remove the plantain skins.

Cut the plantains in ½ inch thick slices.

Line the plantain pieces on the tray and add a little bit of salt on each piece.

Roast the plantains at 400F for 15 minutes. Then, turn the slices over and cook for another 10-12 minutes.
Notes
You MUST use ripe, sweet plantains. If they are black and bruised – they are perfect for maduros. 
They are typically served as a side with rice, beans, yuca, or protein.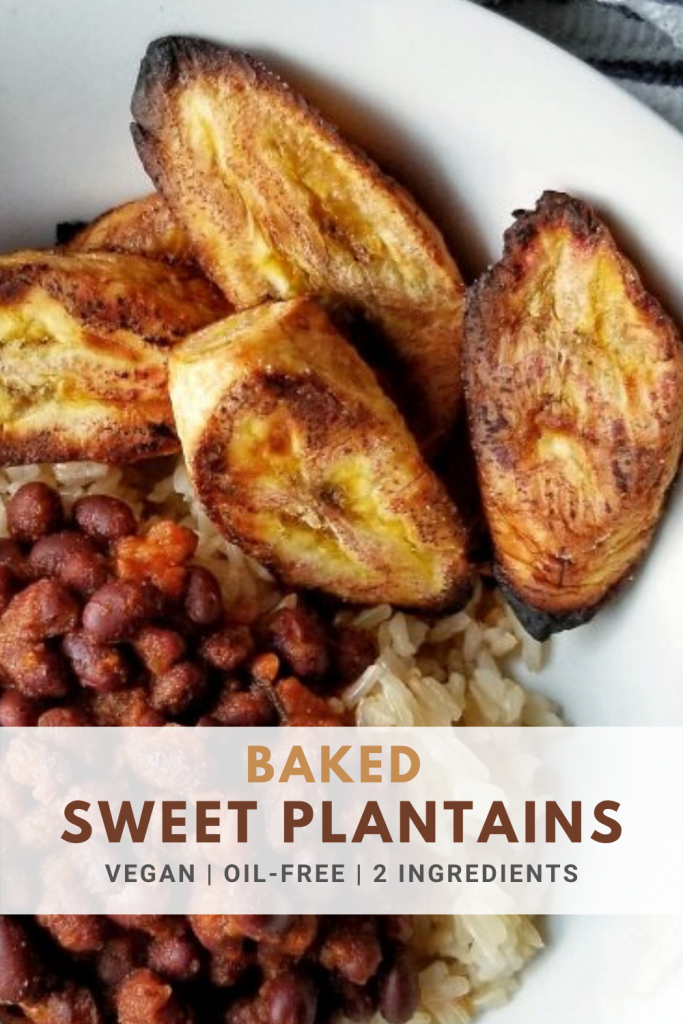 Did you try out this Easy Oven-Baked Plantains Recipe (Maduros)?
Please leave a comment below, share it, rate it, or tag a picture @plantbasedandbroke on Instagram and hashtag it #plantbasedandbroke. Show off that creation with us