(
This post may have affiliate links. Please see my disclosure.
)
Jump to:
This delicious, hot-off-the-skillet, vegan flatbread is the perfect addition for recipes including vegan "butter chicken," palak "paneer," broccoli curry, and vegetable red Thai curry.
If you have soups, curries, pesto, or chili - you need to make this flatbread! Or, if you just want a random mid-day snack, that works too.
Although I try not to eat too much bread (I can eat a whole loaf in the morning if I could), I do make my own bread from time-to-time.
Because I make my own bread, I can control how big of a loaf I want to make, how many servings, and make exactly what I want.
Ingredients for Flatbread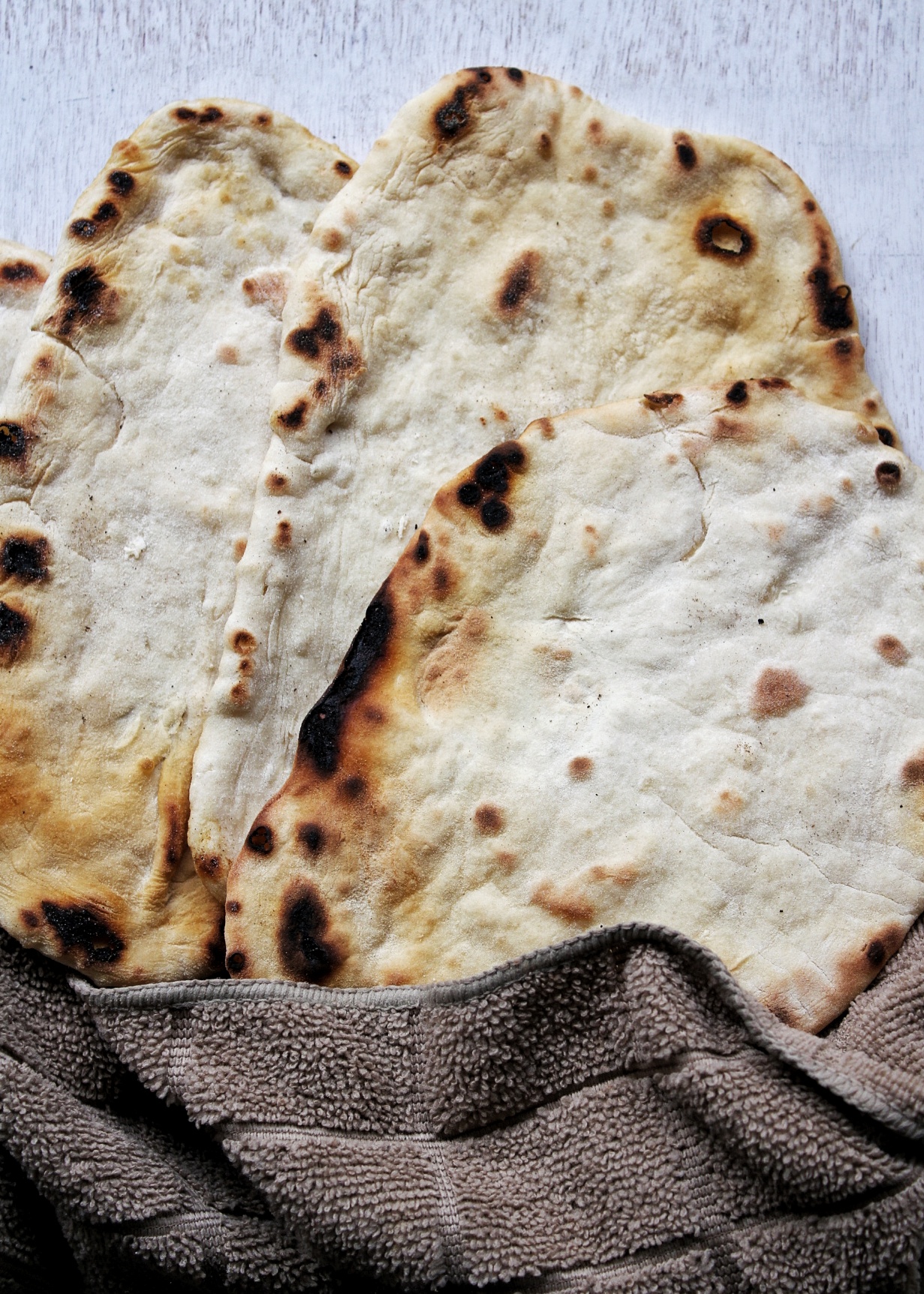 There are many ways to making flatbread and all of them have their benefits. I decided to go for a quick and easy, vegan flatbread that does not require and yeast, yogurt, dairy, or special equipment.
Here are the ingredients we are working with this recipe:
Flour
Baking powder
Salt
Soy milk
That's all. And if you're wondering why we're going for soy milk, that's because the fat from the soy milk makes this flatbread fluffy and soft.
Using water can make flatbreads a little less fluffy. Still delicious, just a different texture. It all depends on what you're going for.
What Is Flatbread?
It's all in the name! Flatbread is a thin bread made with a combination of ingredients, often including flour, salt, and water/milk.
Some ingredients might even call for coconut yogurt - which is one of my favorite ways to making flatbreads. The only problem? Coconut yogurt is expensive and it can sometimes be a challenge to find.
Anyway, flatbread is rolled and flattened and can be cooked by a skillet or oven.
More Recipes For Flatbread:
Difference Between Yeast vs Baking Powder In Flatbread Baking
One thing that baking powder and yeast have in common is that they are all leavening agents often used in baked goods.
Baking powder is activated once moistened. Additionally, the reaction begins immediately.
On the other hand, yeast's reaction occurs much slowly, and often dough will need to rest to benefit from a rise.
I chose to use baking powder in this recipe because I wanted something that could be quickly prepared in a matter of minutes. Especially for weeknights when I want dinner ready in under 30 minutes.
Recipe Notes
Don't be afraid to use more flour when kneading and shaping the flatbread. It should get smooth enough that you're able to handle it without it sticking. Meaning, you will most definitely need more flour.
You can use water for this recipe instead of soy milk, but keep in mind it might not be as fluffy and soft.
Feel free to add spices or herbs to your flour mix, including garlic powder, fresh minced garlic, cilantro, or basil.
How To Store
Flatbread can be stored in an air-tight container or reusable silicone bag, or wrapped in foil and kept in the refrigerator for up to 4 days.
They can also be kept on a counter at room temperature for up to 3 days. Be sure to keep them in a container or wrap them.
To reheat, they can warm up in the microwave for 30 seconds or so. Or, reheat in an oven at low/ warm heat or in a skillet.
New to a plant-based diet? Get started with our FREE guide to going plant-based (the cheap way).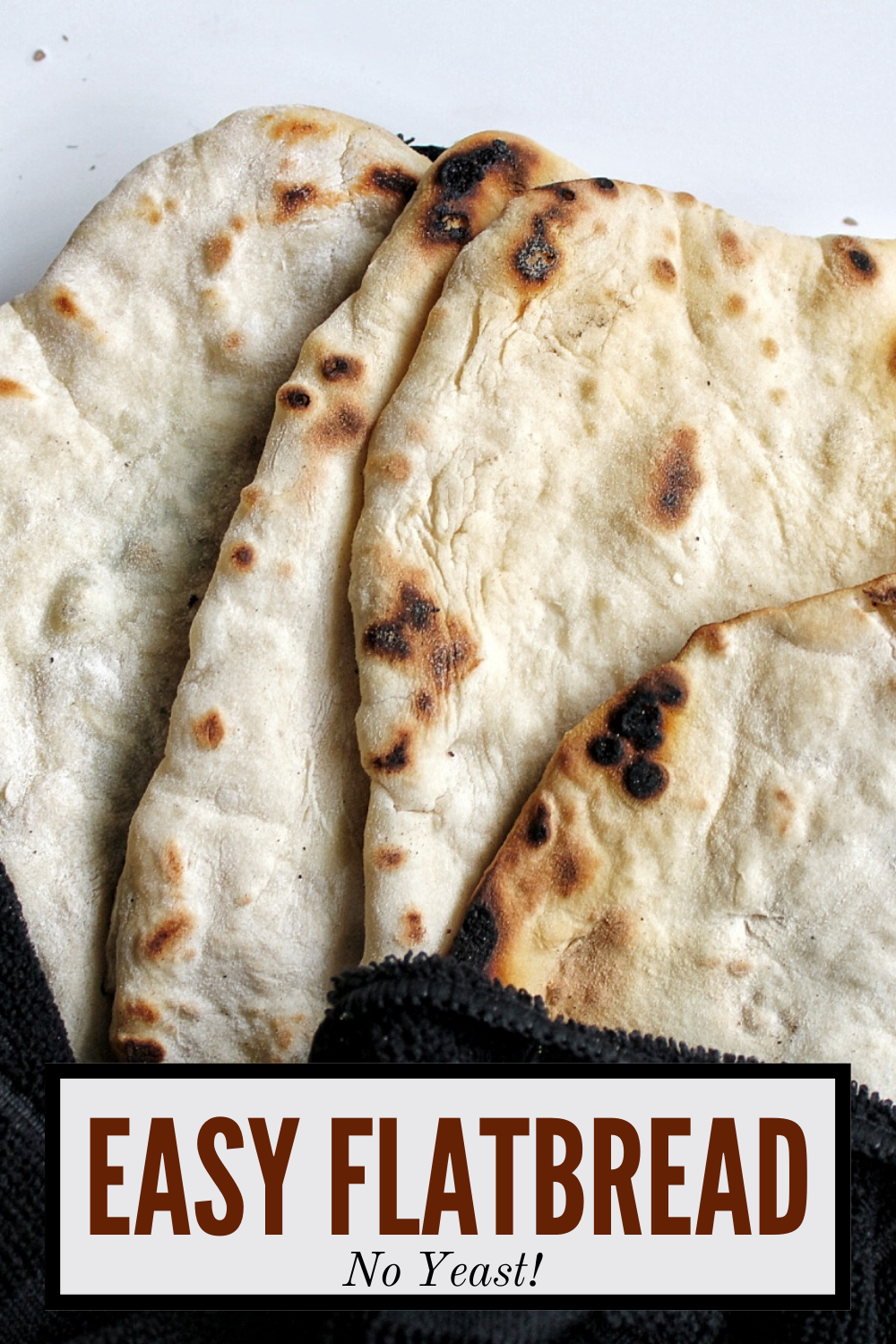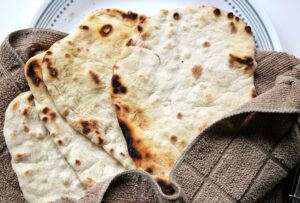 No Yeast Vegan Flatbread
No yeast, vegan flatbread made in just minutes! Made with just yeast, baking powder, salt, and warm vegan milk. A great addition to soup, stews, and curries.
Instructions
In a small mixing bowl, combine the flour, baking powder, and salt. Next, pour in the soy milk. Mix all of the ingredients until a wet ball begins to form. I like to use a silicone spatula because the dough is very sticky.

Cover the mixing bowl and let it sit for 10 minutes. Meanwhile, dust some flour on a clean surface and keep more flour closeby.

Uncover the mixing bowl and transfer the flatbread dough onto the floured surface. Sprinkle a generous amount of flour on top of the dough. Pull the edges of the dough into the center until there is some resistance and a ball begins to form. Add more flour as needed.

Divide the dough into four parts. With each portion of the dough, pull the edges into the center again and create a small ball. Flatten each dough until about one-fourth of an inch thick. Do this with a rolling pin or with your fingertips.

Heat a skillet over medium-high heat. Carefully place the flatbread in the skillet and cook for about 2 minutes on each side.

Once done cooking, place flatbread onto a plate, cover with a tea/kitchen towel to allow the steam to soften them.
Nutrition
Serving:
1
-Flatbread
Calories:
127
kcal
Carbohydrates:
25
g
Protein:
4
g
Fat:
1
g
Saturated Fat:
1
g
Polyunsaturated Fat:
1
g
Monounsaturated Fat:
1
g
Sodium:
214
mg
Potassium:
75
mg
Fiber:
1
g
Sugar:
1
g
Vitamin A:
116
IU
Vitamin C:
2
mg
Calcium:
75
mg
Iron:
2
mg
Did you try out this No Yeast Vegan Flatbread recipe?
Please leave a comment below, share it, rate it, or tag a picture @plantbasedandbroke on Instagram and hashtag it #plantbasedandbroke. Show off that creation with us.