(
This post may have affiliate links. Please see my disclosure.
)
Jump to:
Taking on the challenge of cooking cheap, plant-based meals on a budget is tough in itself, but to feed a large family on it? Seems daunting.
However, I have good news: it's totally doable. It takes a little bit of planning beforehand, but that's the easy part.
Here are some golden rules to cooking cheap, plant-based meals for a large family, or crowd.
Rule #1: Start With Easy Ingredients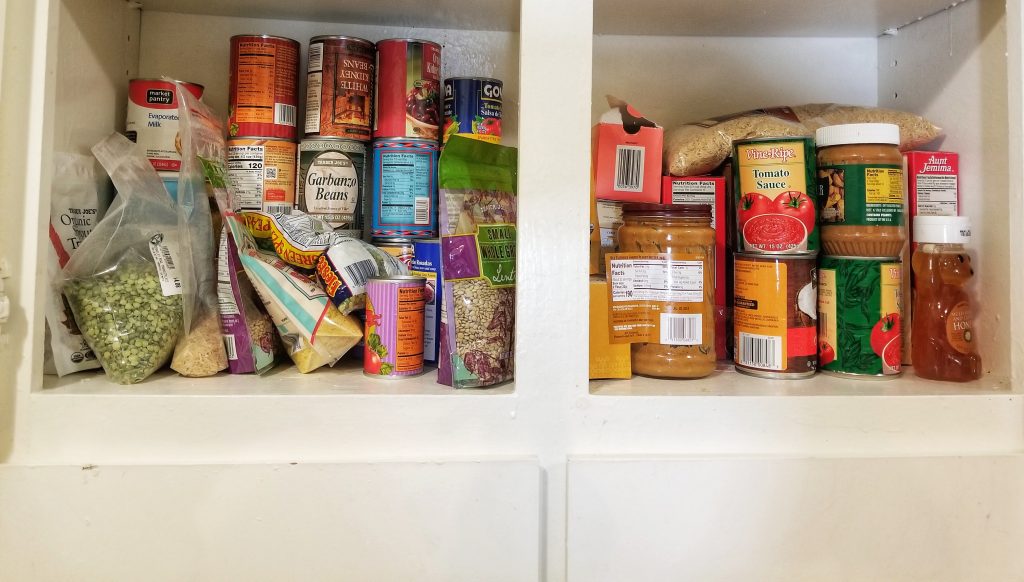 If you're looking at a recipe that calls for 20 different, odd ingredients that you can only find at specialty stores, or at an exorbitant price - trash it.
Take note of what you already have in your home and think of ways to utilize them for your meals. Additionally, there are dozens of recipes out in the abyss that are simple and ask for less than 10 ingredients.
For example, I wanted to make plant-based applesauce the other day and most recipes called for sugar, in addition to so many unneeded ingredients. I didn't want to use sugar or have to go to the store to buy a bunch of stuff. So, I decided to use exactly what I had at home: cinnamon, dates, and apples.
That was it. And it came out incredible. FYI: that was the best applesauce I ever had.
Long story short: stick with what you have and stick with ingredients that are relatively easy to find.
Examples of plant-based ingredients that are affordable and easy to find include
potatoes
beans
frozen vegetables
brown rice
cabbage
onions
bell peppers
bananas
oats
spinach
Rule #2 Cooking In One Dish Or Pot
No need to be a fancy pants, preparing foods with just one cooking equipment is fine.
Examples of these sorts of foods include soups, stews, salads, and stir fry. My favorite way to cook for several servings is with a casserole or a stew. I don't need to use so many different pots and pans. Also, the plus side to this is that I have fewer dishes to deal with. #winning.
The cool thing about making a huge batch of soup or stew is that you can literally drop any food into the pot.
What I love to do is use any vegetables I have in my fridge that is reaching its end of life. Then, I use a tomato base with my favorite seasonings, such as usually garlic powder, chili powder, cayenne pepper, and sazon seasoning.
Nothing complicated, just use what I have. In addition to the soup, I'll make a large pot of rice with my rice cooker, just in case anyone wants to mix that in with their stew or soup.
Another easy recipe idea that you can make a lot of, with whatever frozen or fresh vegetables you have on hand is a Thai-style curry.
#3 Make It "Build Your Own"
So you're probably thinking that means you're going to have to prepare this feast with so many different food options on the menu. It doesn't have to be this way. When allowing your family to build their own, they can use what you already have and it takes the pressure off from cooking.
Examples of this include tacos, burritos, salads, burgers, and rice bowls.
Build Your Own Burrito Bowl
Have you ever ordered a burrito bowl from Chipotle? There are so many options to choose from that either require little to no cooking on their part.
You can use whatever you have in the leftovers bin to use as additions to your burrito bowl. For example, that can be a corn salad, salsa, rice, tofu, mushrooms, lettuce, and beans.
What I love about building your own burrito bowl is that your picky eaters have options and they can choose what they want to add - considering what you have available.
Build Your Own Burger
All you need to do it cook the burger patty and the rest is up to the folks at the dinner table. Cut up some tomatoes, onions, pickles, avocados. You can also have raw lettuce, sprouts, and beans. You'll mostly just need to chop or use what's leftover.
→ Burger idea: plant-based, burger patty topped with onions, avocados, and beans. Yes, please!
Build Your Own Salad
No cooking necessary for this one. Just set out a bunch of bowls with chopped vegetables, along with your choice of greens, like, spinach, kale, lentils, and other legumes, or arugula. Make your own salad dressing, or just use a little bit of olive oil or a squeeze of lemon.
→ Salad idea: Kale, broccoli florets, sliced almonds, shredded carrots, diced red onions, sunflower seeds, and cranberries. Use a salad dressing that includes olive oil, lemon juice, dijon mustard, wine vinegar, minced garlic, and a pinch of salt for taste.
Cheap, Plant-Based Meal Ideas
Breakfast:
Oatmeal is very affordable and there are a lot of different things you can do to with them. You can make overnight oats, oatmeal cookies, or do your old-fashioned oatmeal bowls topped with whatever you want.
I love my morning oats with a variety of textures, so I'll use oat bran for softness, nuts for a crunch, fruits for a juicy burst of flavors, and a drizzle of honey or maple syrup for a light sweetness.
Give your family the choice of how they want to dress their morning oats. You'll just need to make a huge pot of it and then serve.
Snack:
The cheapest and fastest "fast-food" is right out there in plants. Pack up easy-to-eat produce like bananas, apples, carrots, celery sticks, and nuts.
No need to cook snacks when you don't need to. Who likes to save money and time? *raises hand*
Lunch:
Leftovers for lunch is always a great idea.
Or, can also make sandwiches that can totally be plant-based and healthy. For bread, look for something with no added sugar or oil. A great brand for this would be Ezekiel, but if it's not within your budget or you can't find it, use your next best option.
I sometimes grab a bag of whole wheat bread - just be sure to read the ingredients to see what you're getting. Remember, it's not about perfection with a plant-based diet, it's just about including more whole foods into your meals.
My favorite plant-based sandwich → hummus as a spread, sprouts, cucumbers, shredded carrots, and "fakin' bacon" made with tempeh.
Dinner:
A bean stew is always the first choice for me. I always have beans on hand and it's one of those dishes that I just grew up eating with my family. I make a dish called "habichuelas guisadas," which is a Puerto Rican-style bean stew.
All you need is a potato, a can of beans, tomato paste or sauce, seasonings, and if you're feeling bold - olives. It's a hearty stew that is typically served with rice. You can also have a side of boiled, salted yuca.
Pro tip: to save time on cooking yuca, grab the frozen ones. Yuca or cassava can be found in the fresh produce section, but their skins are tough to handle. The skins are thick and fibrous. Save yourself the hassle and buy them frozen - they'll have the skins removed.
Dessert:
Hand down the easiest, cheapest plant-based dessert you're ever going to find is banana ice-cream or what some folks call "nice-cream." It only takes on real ingredient: very ripe bananas, in addition to water. Instead of water, you can also your plant-based milk of choice.
My favorite way to have this "nice-cream"? With peanut butter and nuts. If I am feeling dangerous, I'll sometimes add chunks of dark chocolate.
The Takeaway
Keep it simple, use what you have and get creative. In other words, be flexible and consider all of your options.