(
This post may have affiliate links. Please see my disclosure.
)
Slightly sweet, smoky, and bold – just exactly how I love my chili. This chili will give you the textures and flavors of your traditional chili con carne, but without the meat. We're going sin carne here.
Besides, a little challenge never hurt anyone at Plant Based And Broke. 😉
To achieve a chewy, robust, meaty texture in our vegan mushroom chili sin carne, we will be pan-frying the tofu over high heat. Additionally, we'll be cooking up our chopped mushrooms until the liquid has been cooked off and it darkens to a deep golden brown. Because, you know, maillard reaction makes everything taste better.
Feel free to adjust this recipe to your liking. Just remember the basics:
To balance out the acidity, use a pinch of sugar.
To bring out a umami flavor, add soy sauce, mushroom umami seasonings, or salt-based seasonings.
To thicken up the chili, add a dash of all-purpose flour.
Taste throughout the cooking process.
Get familiar with dry, pantry seasonings and how they can better serve your tastebuds.
To complete this dish, I used Tofutti's vegan sour cream and boxed cornbread mix (because I am very lazy and I just didn't want to make that from scratch).
Just keep in mind that some boxed cornbreads have lard or animal-based products. Check the ingredients label.
Btw: if you're wondering on how you can make boxed cornbread without dairy or eggs – just use dairy-free milk and leave out the eggs. That's it. I just added a bit more melted vegan butter to the batter to introduce more moisture and flavor.
Ready to eat the entire pot of chili? Good. Catch up. Because I already finished mine.
---
Vegan Mushroom Chili Sin Carne Recipe
Recipe Notes:
Be sure to use regular firm tofu. Silken tofu will not work for this recipe.
Common white mushrooms were used in this recipe, but brown mushrooms will work too.
I chopped everything up by hand, but if you're fancier than I am, use that food processor.
Ingredients:
8 oz white common mushrooms, chopped 
1 package firm tofu, drained + pressed 
1 tablespoon chili powder 
1 tablespoon smoked paprika 
1 tablespoon cumin powder 
1 can fire roasted tomatoes 
3 garlic cloves, minced 
1 small sweet onion, chopped 
¼ teaspoon red wine vinegar (optional to bring out more depth in flavor) 
¼ teaspoon sugar (optional to balance out acidity from tomatoes)
Oil 
Salt 
4 cups water
Directions:
First, add 1 teaspoon of oil to a non-stick pan. Set temperature to high.
Then, crumble the tofu and it to the pan.
Add a dash of salt + cook until water has been cooked off and there are golden bits. Set aside aside once done.
In the same pan, lower temperature to medium. Add 1 teaspoon of oil and chopped mushroom.
Cook mushrooms until liquid has been cooked off and has browned. Remove from pan and set aside.
Switch out the pan for a large pot or a dutch oven.
Add a teaspoon of oil and add the onion and garlic. Cook until nearly translucent and tender.
Next, add the dry seasonings to the pan (chili powder, smoked paprika, cumin, 1 teaspoon of mushroom umami seasoning).
Mix together and cook for a couple of minutes until fragrant.
Throw in the roasted tomatoes and mix everything together. Allow to simmer for 1-2 minutes.
Pour in the red kidney beans and white kidney beans.
Add 4 cups of water and increase heat. Once at a boil, lower heat to simmer.
Optional: add red wine vinegar and more salt to taste.
Finally, add the cooked tofu and mushroom. Simmer the chili for 1 hour with the lid slightly ajar.
Optional: to balance out the acidity, add a dash of salt. To thicken the stew, add a bit of flour, 1 teaspoon at a time until it's thick enough to your liking.
Optional:
Once done, add a pinch of sugar (¼ teaspoon) to balance out the acidity from the tomatoes. Additionally, if you want your chili thicker, add about a teaspoon of flour.
I added a pinch of soy sauce and red wine vinegar to add a layer of robust flavor – it's not necessary, but it helps.
Pro-tip: serve your Vegan Mushroom Chili Sin Carne with a dollop of vegan sour cream and a side of corn bread. SO GOOD!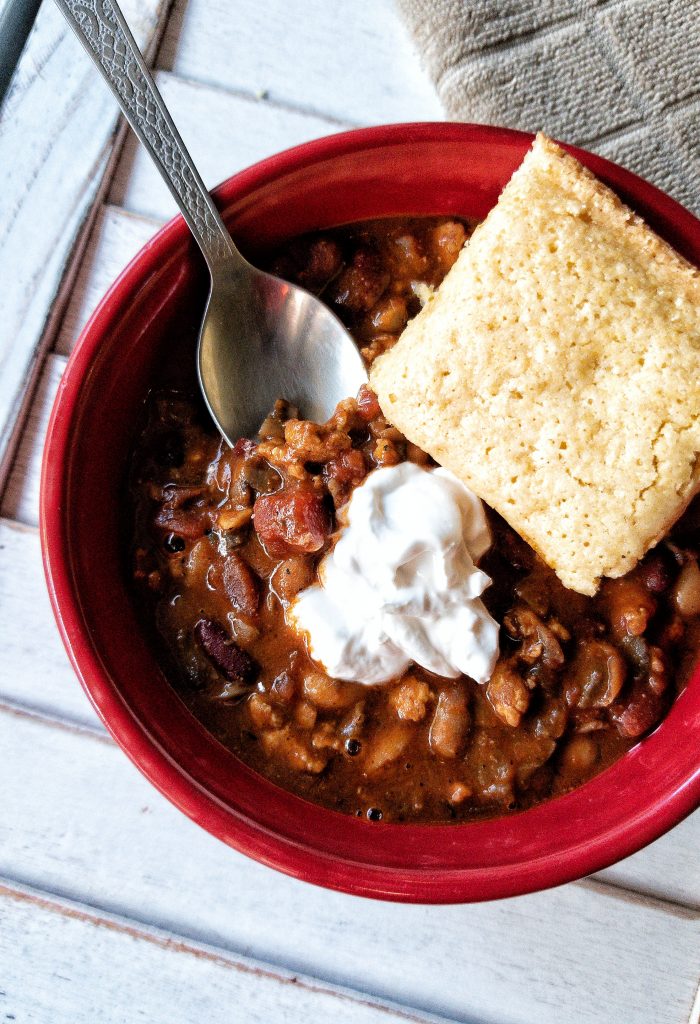 Warm Up Your Soul With These Recipes:
Lentil Soup With Kale And Rice
Did you try out this Vegan Mushroom Chili Sin Carne recipe? Please leave a comment below, share it, rate it or tag a picture @plantbasedandbroke on Instagram and hashtag it #plantbasedandbroke. Show off that creation with us.
How useful was this post?
Click on a star to rate it!
Average rating 5 / 5. Vote count: 2
Please follow and like us: