Jump to:
Hello tofu lovers! We've rounded up the best tofu recipes.
We made sure that they were healthy, simple, and great for any meal - especially for busy weekday dinner planning (we've got breakfast and lunch covered, too).
We've got everything from air fryer recipes, soups & stew, healthy dinner meals, Indian-inspired dishes, and kid-friendly options.
Tofu, also known as "bean curd" is made by coagulating soy milk, which is then pressed into a solid block. There are different types of consistencies and textures of tofu, including silken, regular, firm, extra-firm, and super-firm. The softest texture is silken and the "meatier" texture is super-firm.
They are all bland or mild in flavor and pick up the spices, marinades, and sauces given to them. Frozen then thawed tofu creates a porous block, which makes it easier to soak up the flavors. "Chicken flavored" tofu is one of my favorite ways to go when using frozen tofu.
If you're looking for a good deal on tofu, my best finds have been from local Asian grocery stores. Or, you can make tofu yourself. You can even take a trip out to Trader Joe's for the extra-firm variety.
If you're looking for more of a reason to love tofu, according to the U.S. Department of Agriculture (U.S.D.A.) 100 grams of raw, firm tofu has 144 calories, 17.3 grams of protein, and 8 grams of fat, and 2 grams of carbohydrates. Tofu also has a significant amount of potassium, selenium, folate, and vitamin A.
If you need sides to go with these tofu recipes, check out our plant-based sides.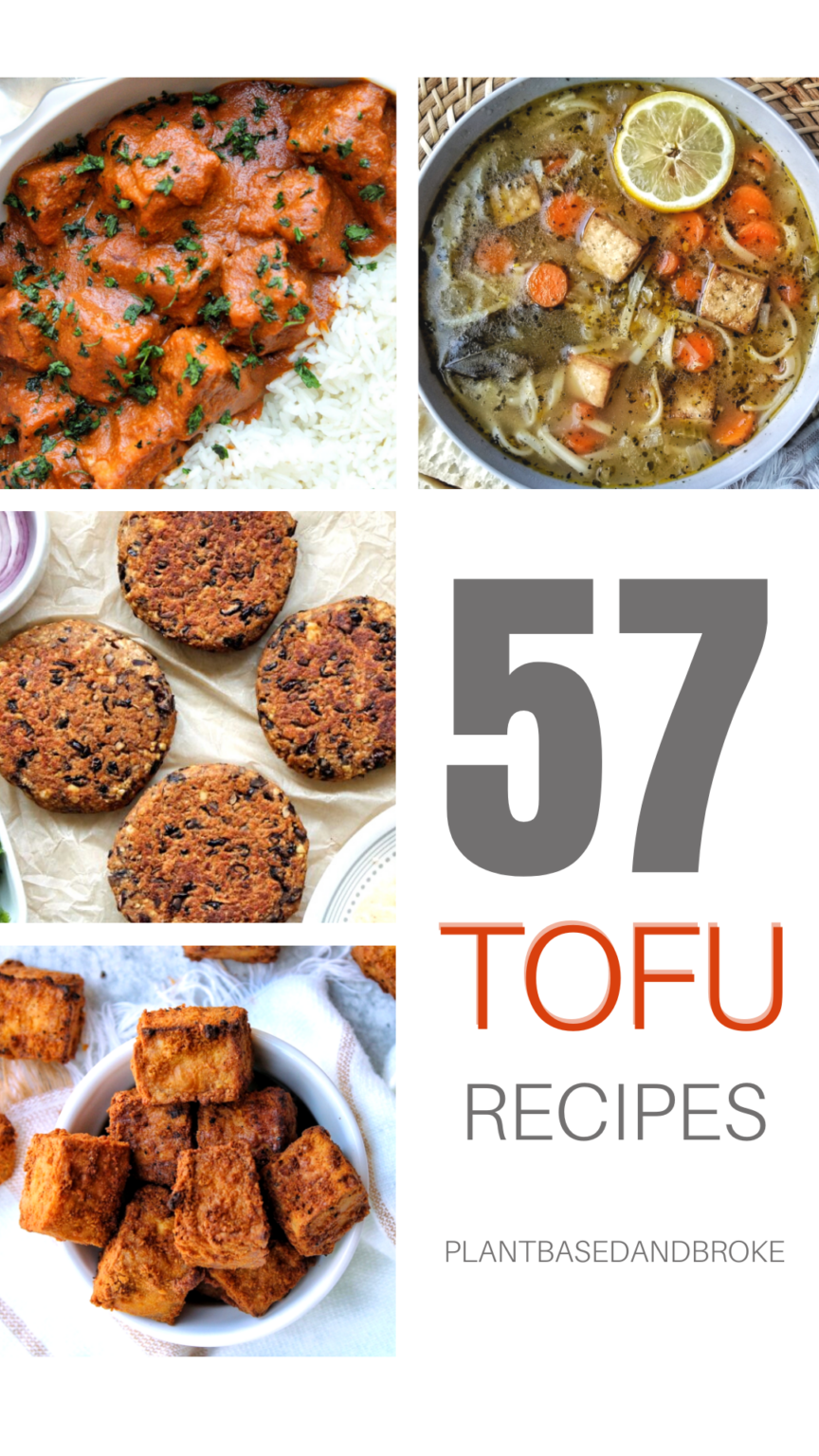 Recipes From Plant Based And Broke
Here are our FAVORITE recipes from our website Plant Based And Broke. We highly recommend our creamy, flavor-packed Tofu "Butter Chicken."
Asian-Inspired Recipes
Whether you are looking for Indian, Japanese, Chinese, or a little bit of something from the Asian continent - this list has it, with tofu, of course.
Soft, Silken Recipes
If you're into creamy recipes - you'll want to utilize silken tofu - especially for spreads and dips!
Mexican-Inspired Recipes
It's Mexican night! Make it good with these Mexican-inspired tofu recipes.
Baked Recipes
Crank on the oven and let's bake some tofu!
Grilled Recipes
It's grilling season all year long and we're making it delicious with grilled tofu recipes. No need to bring on the meat, just light up the fire.
Breakfast Recipes
Get your morning started with breakfast meals for your family. From sweet to savory, we have options.
Tofu Desserts & Sweets Recipes
Have a sweet tooth? Bring in some tofu-based protein to pair with your favorite dessert treats.
Crispy Recipes
A crunch is always a good craving to have and these crispy tofu recipes ar are giving what it's supposed to give!
Dairy-Free Tofu Cheese Recipe
Tofu can make a great dairy-free cheese product. And we have the recipes to prove it. Who knew?!
More Delicious Recipes
You definitely don't want to miss out on these delicious tofu recipes!