(
This post may have affiliate links. Please see my disclosure.
)
Good gracious these burgers are epic!
Perks about lentil burgers: they hold their shape very well and they are totally filling. When I am very hungry, I'll usually cook up about 2 servings of green lentils to make a huge burger.
They are actually easy to make. Just cook the lentils as per the package instructions. I used Trader Joe's small green lentils, which I cook them for about 35 minutes along with some water and spices. Additionally, what you want in your spice mix is totally up to you.
For the spice mix, I used sazon, chili powder, garlic powder, black pepper, and cayenne pepper.
This recipe makes one huge burger, or 2 regular size burgers.
Depends on how hungry you are!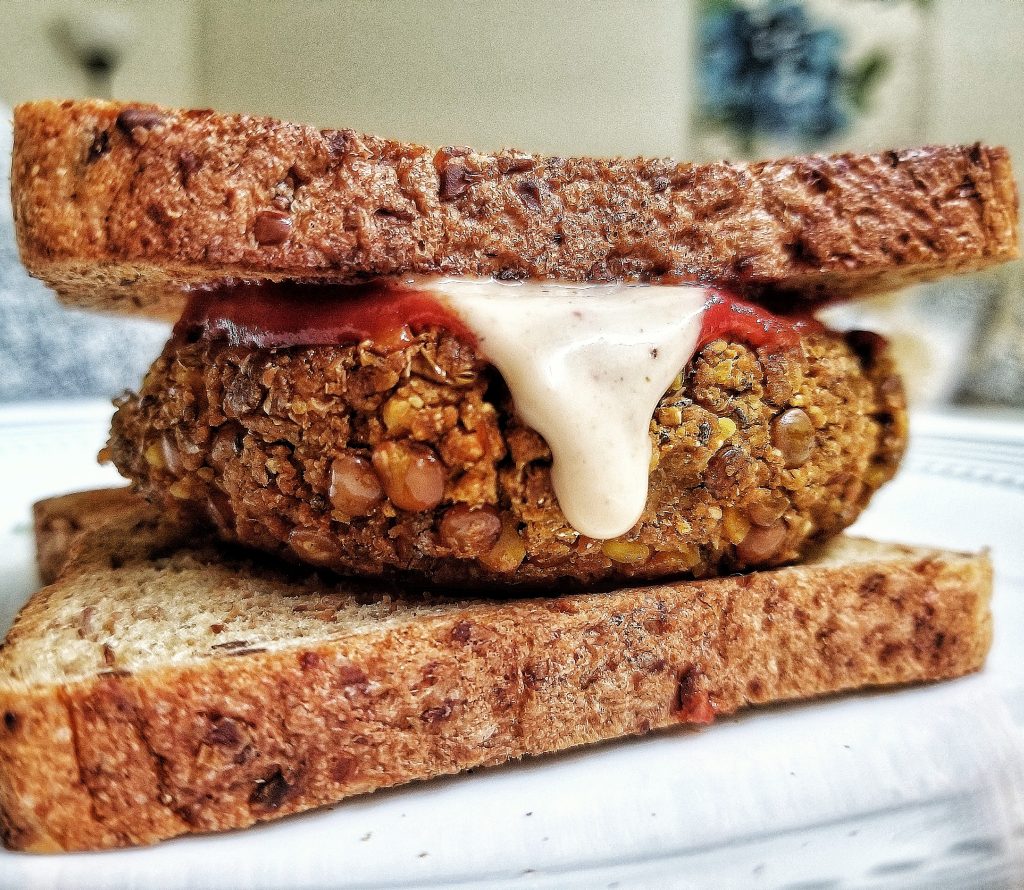 ---
Easy Plant-Based Lentil Burgers Recipe
Ingredients:
Directions:
Add lentils, water, and spice mix into a small pot.
Bring up to a boil, then reduce heat to a low simmer.
Simmer until tender, or about 35 minutes.
Drain water from lentils and transfer to a bowl.
Add the chia seeds and oat flour to the bowl. Mix well.
Transfer the lentils mix to a blender and blend until smooth.
Scoop out the blended lentil mix and shape out burger patties.
Add a little bit of olive oil to a medium hot pan.
Cook burger for about 3-4 minutes on each side.
The texture for these burgers are out of this world – chunky, full of texture, and filling. However, you'll want to dress them up a bit. Add your favorite sauces and toppings. I used ketchup and a vegan chipotle sauce.
Note:
Pre-cook, you'll want the burger patties to be on the drier side to keep them firm and compact.
Need more help getting started with your plant-based journey? Check out our last blog.
Be sure to also check out our growing community!
Please follow and like us: