(
This post may have affiliate links. Please see my disclosure.
)
Jump to:
Plant-based lentil burgers topped with juicy tomatoes, crunchy sprouts, and a creamy vegan mayo is what burger dreams are made of.
If there's one ingredient I never run out of, it's lentils. Stocked up in my pantry, with have pounds of lentils in jars and bags for wherever we want to whip up a cheap, fast, and delicious meal.
Lentils can be found at most big-box grocery stores near the beans. However, if you're unable to spot them at your everyday grocery store, try out a local Asian grocery store if you have one. Or, in a pinch, lentils can be found on Amazon.
I recommend buying in bulk if you want to cut down on costs.
For the sake of ease, time, and cost - these burgers are made with mostly cooked lentils. However, if you're looking for more ideas for veggie burgers, check out black bean tofu burger and potato burger patties (aloo tikki).
How To Prepare Lentils
The focus in this veggie burger recipe are the lentils. If you're using dry lentils, sort out the lentils and pick out any rocks or foreign objects.
As we cook the lentils in water, it's best to use salted water or vegetable stock. Otherwise, your lentils burger may too bland. Additionally, you can add aromatics including a few cloves of crushed garlic, onion, or a bay leaf.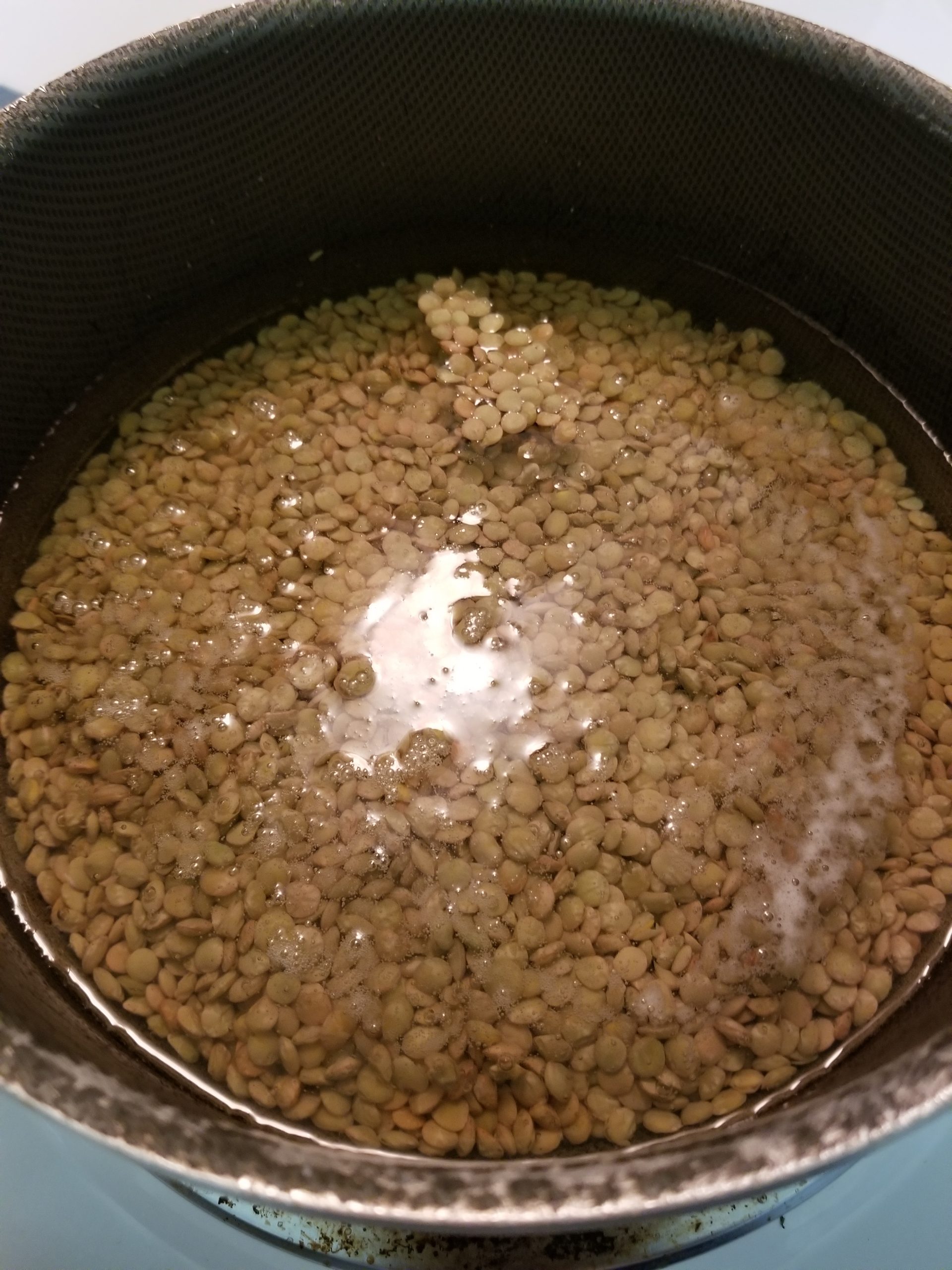 To keep things simple, we'll be using salted water to cook the lentils with smoked paprika.
Mushy lentils are easy to achieve and that's not what we're looking for. We want to make sure the lentils still have a bite. In order to do this, we must not overcook the lentils.
First, what you want to do is bring the water to a soft boil (medium heat), then reduce the heat to low so that the water is at a very gentle simmer. It will take about 10-15 minutes for the lentils will be soft enough with a slight bite.
Can Lentil Burgers Be Frozen?
Lentil burgers may be stored in an air-tight container, freezer-grade bag, or reusable silicone bag in the freezer for up 3 months.
Additionally, the lentil burgers can be stored in the refrigerator for up to 3 days. They can be cooked directly from frozen.
More Recipes With Lentils:
Load up your plates with plant-based sides that pair perfectly with veggie lentil burgers. Try out our potato salad, potato wedges, and avocado summer salad.
How To Make Oat Flour
The only ingredient you need to make oat flour is oats. I love using oat bran, but old-fashioned oats are fine to use, too.
Pour the oats into a blender and blend until flour-like. That's it - you have oat flour!
How To Make Chia Egg
To make the equivalent to one egg, stir together 1 tablespoon of chia seeds with 3 tablespoons of water. Let it sit for about 5 minutes, until gel-like.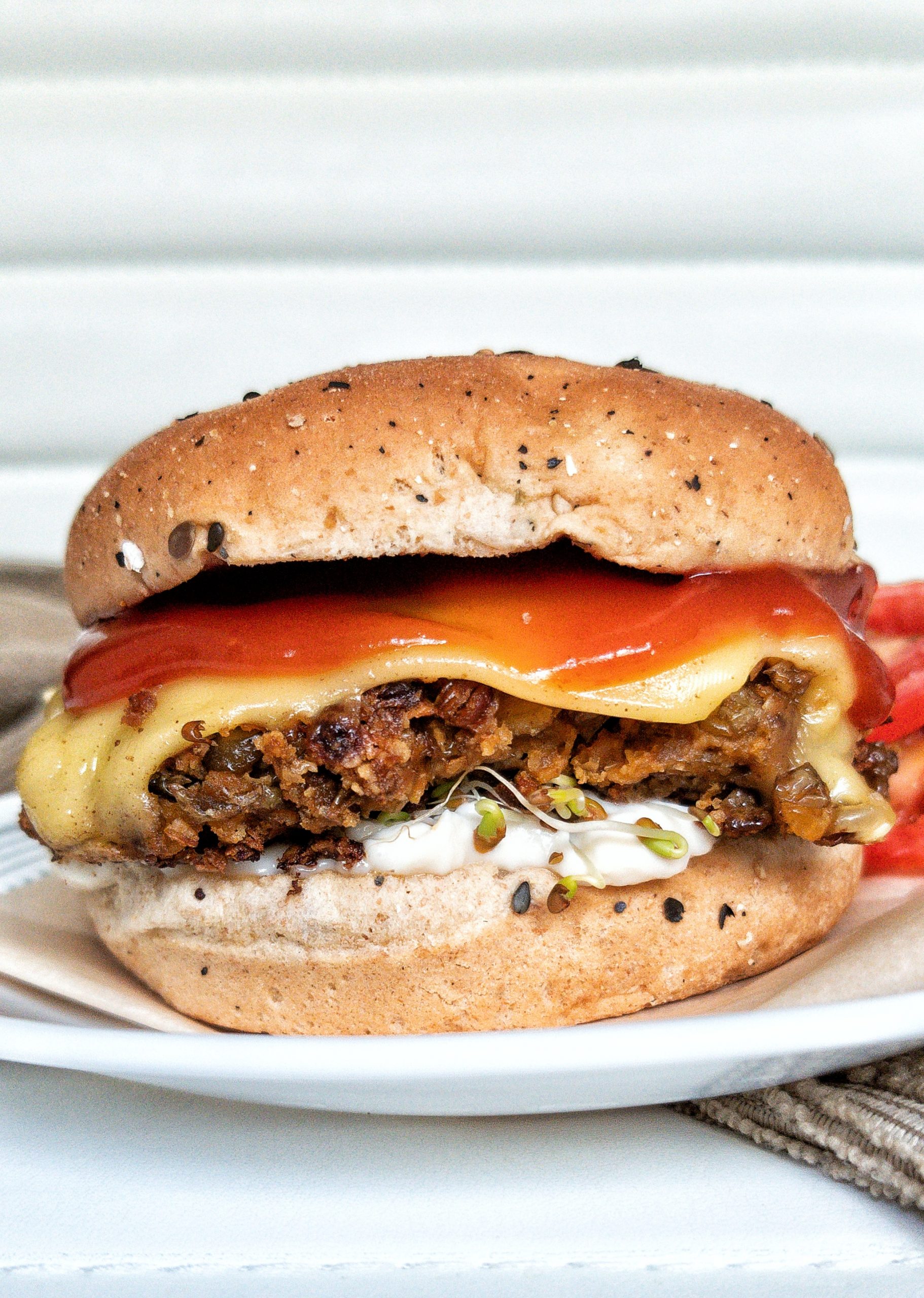 ---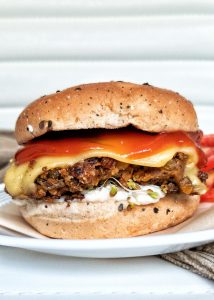 Easy Plant-Based Lentil Burgers
Plant-based lentil burgers packed with fiber, protein, and gluten-free. Dress it up with your favorite toppings including juicy tomatoes and onion.
Instructions
In a saucepan, add green lentils, water, and salt. Set heat to medium-high heat.

Once at a tender boil, lower temperature to a low for a gentle simmer. Cover the saucepan with a lid and cook for about 15-20 minutes.

Drain lentils and allow to cool for five minutes for easier handling.

Transfer lentils to a bowl and mash some of the lentils with the back of the fork, leaving some whole. Next, add tomato paste, and chia egg to the lentil burger batter. Mix well.

Add oat flour and seasonings (smoked paprika, garlic powder, and black pepper). Mix well with the burger. If it's still wet, add more oat flour. Taste it - if it needs more salt, add about ¼ teaspoon at a time.

Form burgers into a tight-packed ball, then flatten into patties. They should be relatively thin and small to prevent crumbling. Freeze for 30 minutes to firm up

Then, in a non-stick pan, heat 1 tablespoon of oil over medium heat. Once hot, add the burgers. Cook for 5 minutes on each side.
Notes
If the lentil burger mix is too crumbly, wet your hands. This will help make it easier to mold into a bowl and then into a patty.
While the burger is pan-frying, allow it to cook on both sides for 5 minutes. Flipping it often will prevent the burger from cooking evenly and thoroughly. 
The patties should be more on the flatter side to prevent from crumbling. 
Nutrition
Serving:
1
serving
Calories:
159
kcal
Carbohydrates:
27
g
Protein:
10
g
Fat:
1
g
Saturated Fat:
0.2
g
Polyunsaturated Fat:
1
g
Monounsaturated Fat:
0.4
g
Sodium:
418
mg
Potassium:
384
mg
Fiber:
11
g
Sugar:
1
g
Vitamin A:
217
IU
Vitamin C:
2
mg
Calcium:
30
mg
Iron:
3
mg
Did you try out this Easy Plant-Based Lentil Burgers recipe?
Please leave a comment below, share it, rate it, or tag a picture @plantbasedandbroke on Instagram and hashtag it #plantbasedandbroke. Show off that creation with us.