(
This post may have affiliate links. Please see my disclosure.
)
Jump to:
I came across baked oats before on my social media feed but hardly gave it much thought. I figured, "how can it be better than stovetop oat porridge?"
But, I read that the texture is less "slimy" and "mushy" and more solid. When I heard this, I was sold. As much as I love oat bran porridge, I cannot get past the texture of traditional old-fashioned oat porridge.
And because I always have old-fashioned oats handy for other recipes including baked goods, oat flour, and cookies - I decided to give protein-baked oats a whirl.
What Is Baked Oatmeal?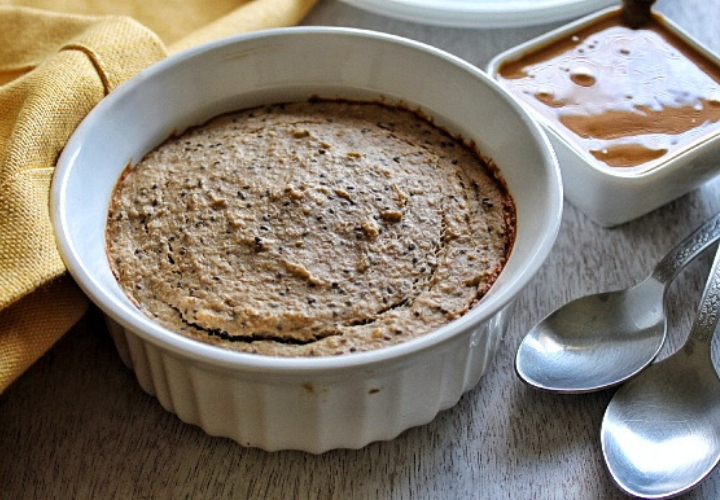 Baked oatmeal is exactly what it sounds like - it's a breakfast oatmeal casserole cooked in the oven. It's a versatile dish the can take up many different flavors, just like porridge or a cooked cereal dish.
Baked oatmeal is soft and textured - comparable to a bread pudding. It's moist, but not creamy like traditionally cooked oatmeal.
What To Eat With Baked Oatmeal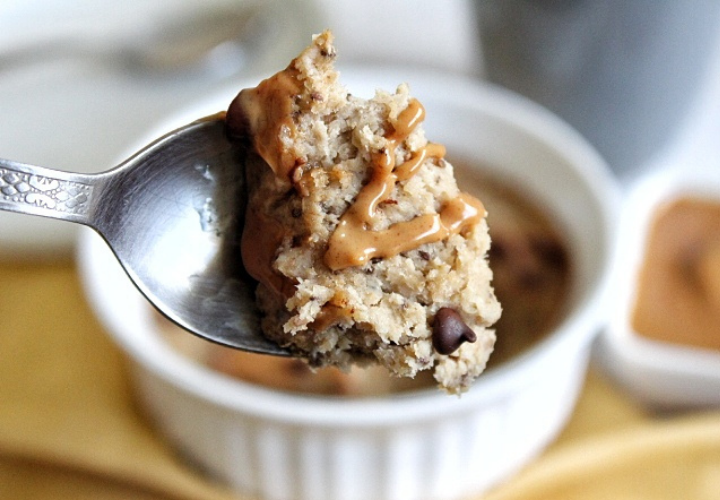 We're taking this baked oatmeal to the next level by adding some protein. We're going for a protein-packed dish that's both satiating and delicious.
In addition to the ingredients mentioned in this recipe, you can add topping and other additions to bring more texture and flavor. Here are some examples to consider:
Peanut butter drizzle on top
Honey
Maple syrup
Granola
Toasted oats
Fruit
Sliced apples
What To Expect From This Recipe
The texture is soft with a similar texture as bread pudding. It will be between the texture of traditional porridge and cake.
This recipe packs a little over 30 grams of protein, 20 grams of fiber, 61 grams of carbohydrates, and 27 grams of fat.
We're going banana-free. Banana adds more of a gooey texture, but I wanted to go for more of a "less wet" baked oat recipe, so we left them out. Additionally, I found when testing this recipe, the banana overtook the flavor of the baked oats. I wanted the flavor from the peanut butter to come forward.
This recipe has only a touch of sweetness. You can leave out the sugar entirely if you prefer. You can also pour some honey or maple syrup on top after the oats are done baking.
Although this recipe is great for breakfast, with a mix of carbs/fats/protein, it makes for a great post-workout meal or snack.
The recipe is gluten-free, oil-free, vegan, plant-based, egg-free, dairy-free, and high in protein & fiber.
Protein Breakdown
Chia Seeds - 6 protein
Soy Milk - 3g protein
Peanut Butter - 8g protein
Old-Fashioned Oats - 5g protein
Protein Powder - 8.5g protein
= 30.5 grams of protein.
Protein breakdown may vary, depending on the type of protein powder used.
For more protein-packed meals, check out our black bean burger, tofu meatballs, and tofu bean chili recipes!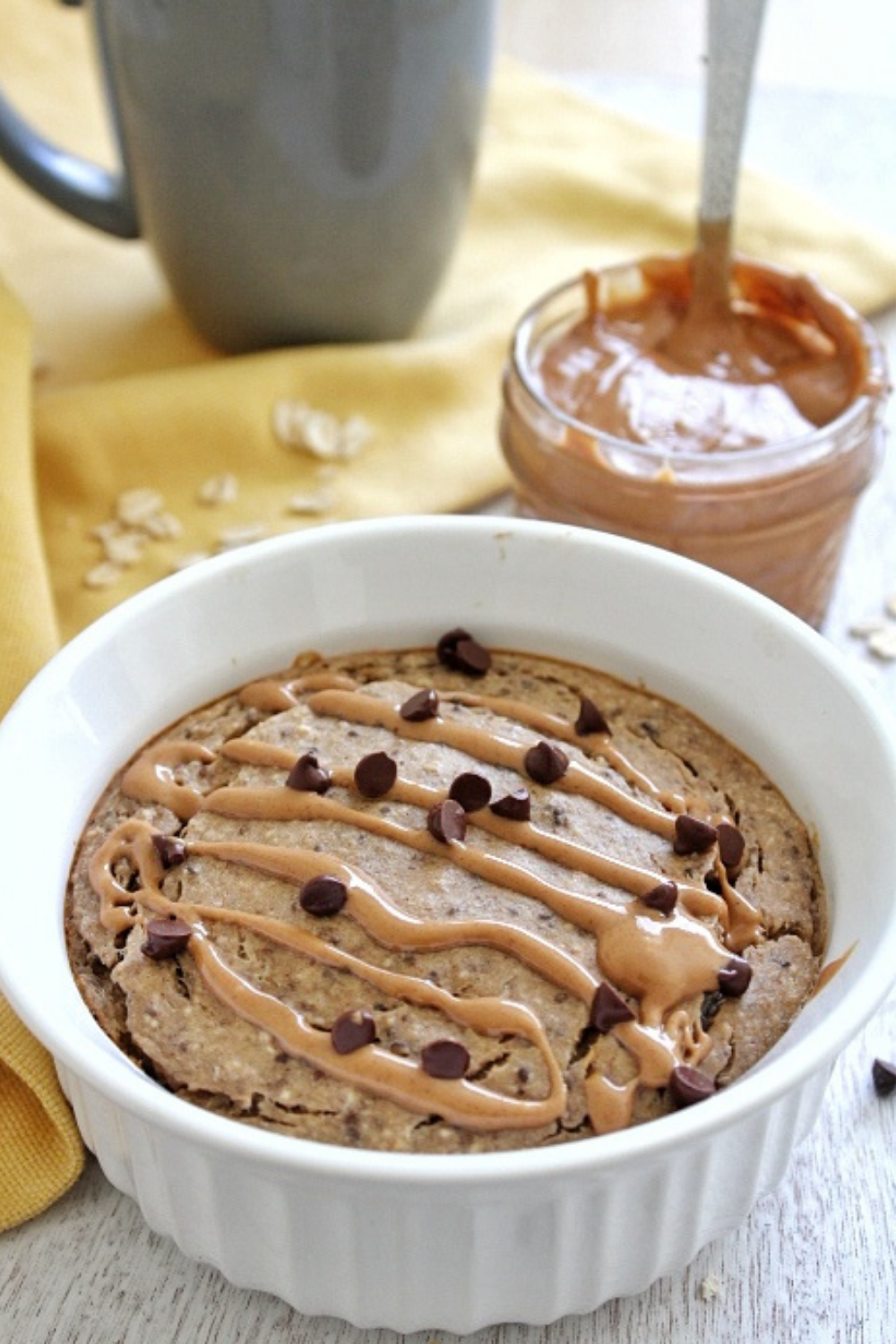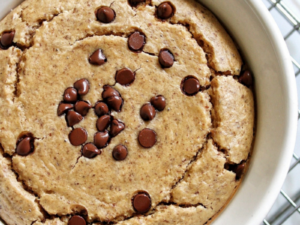 Peanut Butter Protein Baked Oats
Soft, moist, and packed with protein - this peanut butter protein baked oats recipe is a great way to start your morning. This recipe is gluten-free, vegan, dairy-free, egg-free, oil-free, and packed with protein & fiber!
Ingredients
Peanut Butter Protein Baked Oats
Instructions
Chia "Egg"
In a small bowl, stir together 2 tablespoons of chia seeds and 6 tablespoons of water. Allow to sit and gel up for at least 5 minutes.
Peanut Butter Protein Baked Oats
Preheat oven to 375 degrees F.

Pour into the blender the chia "egg," vegan milk, peanut butter, old-fashioned oats, baking powder, vegan protein powder, brown sugar, and salt.

Pour the contents into a small oven-safe dish. Bake for 25 minutes. Cool for 5 minutes, serve. Add toppings like a drizzle of peanut butter and chocolate chips (optional).
Notes
I used a 16-ounce/473-mL oven-safe dish from CorningWare that came in a set.
I used a vegan, flavorless protein powder. 
Use old-fashioned oats or oat flour. 
Nutrition
Serving:
1
-Serving
Calories:
590
kcal
Carbohydrates:
60
g
Protein:
29
g
Fat:
29
g
Saturated Fat:
5
g
Polyunsaturated Fat:
12
g
Monounsaturated Fat:
9
g
Trans Fat:
1
g
Sodium:
402
mg
Potassium:
575
mg
Fiber:
18
g
Sugar:
13
g
Vitamin A:
207
IU
Vitamin C:
1
mg
Calcium:
371
mg
Iron:
5
mg
Did you try out this Peanut Butter Protein Baked Oats recipe?
Please leave a comment below, share it, rate it, or tag a picture @plantbasedandbroke on Instagram and hashtag it #plantbasedandbroke. Show off that creation with us.