(
This post may have affiliate links. Please see my disclosure.
)
---
Sometimes in the morning I just want to literally roll out of bed and shoot out my arm to grab a frosty glass of chocolate peanut butter smoothie.
As you can imagine, I still have to make the effort of whipping up the smoothie together, but it's much easier than chopping, cooking, steaming, and watching a pan of breakfast items trying to come together, while incoherently rambling on about how mornings suck (sometimes).
What I wanted to do with this smoothie was to make something rich and naturally sweet, without moving away from its plant based roots. That meant switching out white sugar for dates, or using pure cocoa powder, rather than something loaded with unnecessary ingredients.
By the way, if you're not familiar with dates, they are edible, sweet fruit. And they are VERY sweet. This is why they are the perfect alternative to sugar. According to Healthline, some of their health benefits include: high in fiber, has a considerable amount of potassium, magnesium, and copper.
Additionally, I wanted something thick with a chilled texture – so that meant using ingredients that were mostly frozen. This is key.
Anyway, you can use this chocolate peanut butter smoothie for breakfast, snack, or just anytime you need a guilt-free dessert. Although this smoothie sounds like the perfect, unhealthy dessert, it's not. And I'll get into that in this post.
My biggest tip for this recipe: use a high-powered blender. I personally use a Nutribullet. Its powerful blades always creates a consistent and beautifully textured smoothie and it's pretty affordable.
Looking for more smoothie recipes? Check these out:
Easy, Alcohol – Free Piña Colada 
---
Chocolate Peanut Butter Smoothie Recipe
Recipe Notes:
Using dates is the perfect, natural way to sweeten up this smoothie.
If you can't find dates, you can use regular sugar.
This recipe makes 1 serving
You can use any type of vegan milk. Soy is usually thicker, which is perfect for smoothies. But, using water works fine too.
Overripe bananas are going to help bring forth a natural sweetness – that's what you want!
Use natural peanut butter with no added sugar or salt. Trader Joe's has some that's VERY cheap. My store goes for about $1.99 per jar of PB.
Ingredients:
1/2 cup of cold vegan milk or water
1 frozen overripe banana
2 tbsp peanut butter (no added salt or sugar)
2 pitted dates
2 ice cubes
Directions:
First, if your dates aren't pitted, you'll need to remove the seeds from them.
Next, roughly chop the dates.
Then, throw everything into a high powered blender and blend until smooth.
Pour into a glass and drink away!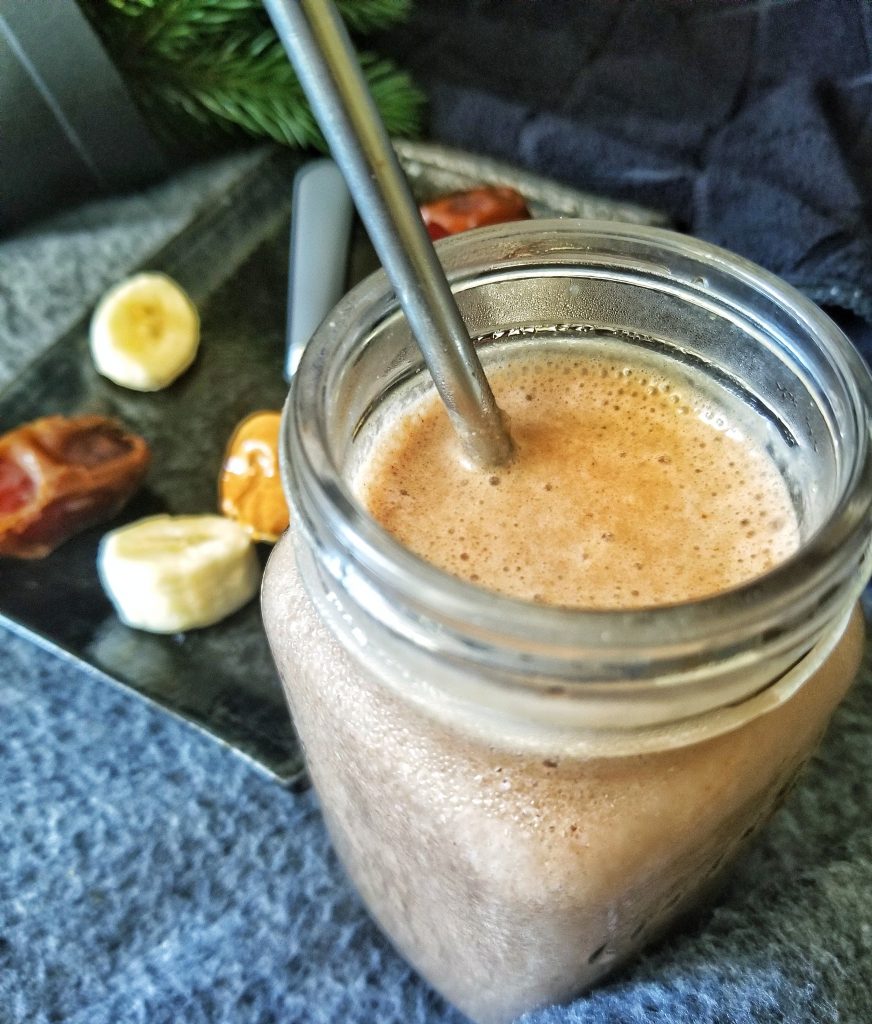 Check out our most popular recipes:
How useful was this post?
Click on a star to rate it!
Average rating 5 / 5. Vote count: 1
Please follow and like us: