(
This post may have affiliate links. Please see my disclosure.
)
---
Is there anyone in the world who loves toast as much as I do? I am literally obsessed. It's filling, versatile, and obviously…it's toasted. And when the toast is loaded with natural fats like peanut butter or hummus – it's game on!
This time around for my breakfast toast, I opted for two slices of toasted whole bread with Spanish green olives and crushed almonds. I didn't have a real plan here. I just looked around my pantry and fridge to see what I could top my toast.
Because bread can typically be bland and it's mostly made of carbs, it was important for me to balance it out with natural fats and deep flavors. For the flavor, it was a no-brainer to go with green olives. Then I thought about texture. Although the bread was toasty, it wasn't exactly giving me a variety of textures. So, I looked in my pantry and found whole almonds that we were gifted not so long ago.
I crushed the almonds with the heel of my knife, then roughly chopped them into small pieces. There goes texture.
For the bread, I used Trader Joe's vegan sprouted flaxseed bread. However, feel free to use what you like or what you have. It doesn't have to be complicated.
Also, I may have made a shortcut, but I definitely did not make my own hummus. I bought this hummus from a local farmers' market. There are some things I don't feel like making, tbh. Any kind of premade hummus will do.
There are no rules here with this hummus toast. Have if for breakfast, lunch, AND dinner. Who cares, you're an adult. 
---
Toast With Hummus, Olives & Almonds Recipe
Recipe Notes:
Use any kind of sliced bread you want.
If you don't have almonds, walnuts, seeds, or peanuts can work too.
Use any kind of hummus you have. I used red pepper hummus.
Ingredients:
2 slices of bread
8 Almonds
2 tbsp of hummus
Directions:
Take two slices of bread and toast them.
With the heel of your knife, crush the almonds, then roughly chop.
Then take your olives and chop in half.
Once the toast is ready, spread about 1 tablespoon of hummus onto each toast.
Next, top the toast with your olives and almonds.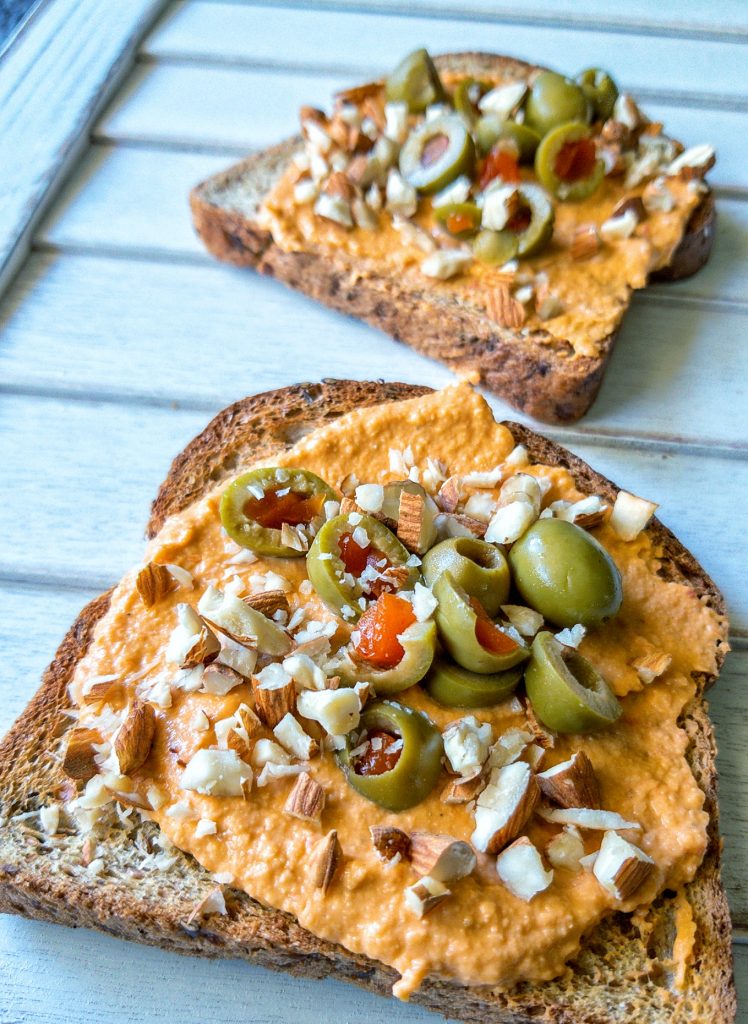 Need more breakfast ideas? Check these recipes out:
Savory Oat Bran Bowl With Tofu
How useful was this post?
Click on a star to rate it!
Average rating 5 / 5. Vote count: 1
Please follow and like us: