(
This post may have affiliate links. Please see my disclosure.
)
On a busy, or let's be honest, lazy day – I just want quick and easy meals. This also means using ingredients that are pantry-friendly and easy to find. 
For quick breakfast recipes, check out our Mushroom Oat Bran Porridge, Tofu Scramble, and Tempeh Bacon. 
A delicious, oil-free healthy vegan fried rice recipe loaded with your favorite veggies along with tofu scramble!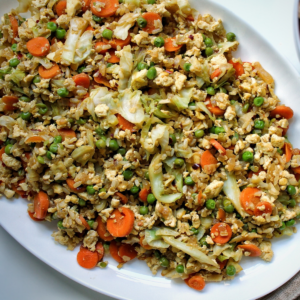 This vegetarian fried rice is the perfect way to go oil-free and feel satiated. Pair this dish with your favorite roasted vegetables or side salad.
Switch it up with a savory, flavorful bowl of oat bran! Topped with pan-fried tofu, tender kale, toasted walnuts, and creamy vegan butter. Insanely filling and packed with plant-based protein and fiber.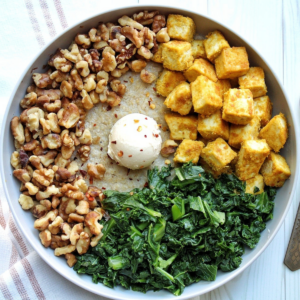 Porridge is often served for breakfast, but this savory oat bran bowl takes this meal to a different level! Loaded with tofu, kale, and walnuts – it's a dish that can be enjoyed any time of the day.
A flavor-packed sofritas recipe that's inspired by Chipotle's version of the dish. Made with adobo sauce, fresh homemade sofrito, and "meaty" firm tofu. A great dish to add with rice, tacos, burritos or a salad.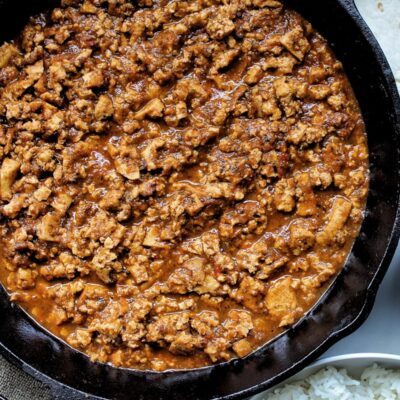 Chipotle sofritas are delicious and homemade is even better! These sofritas are packed with smoky and umami flavors. Feel free to serve with tortillas, Puerto Rican yellow rice, and beans.
Make dinner easy with a 30-minute, One-Pot Pasta with Roasted Tomatoes and Mushrooms. Made with just a handful of ingredients, this is the perfect weeknight meal for the budget-friendly family.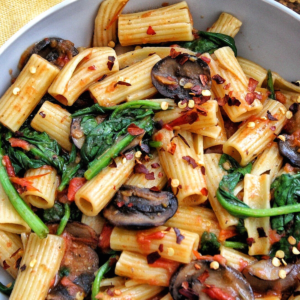 Let's have pasta for dinner! It's the perfect 10-ingredient recipe made in 30 minutes and cooked with one pot.
Need a QUICK and EASY burger? These Cannellini Bean Burgers are made with pantry-friendly ingredients! No need to chop or shred! These burgers are also 100% vegan, gluten-free, eggless, and dairy-free.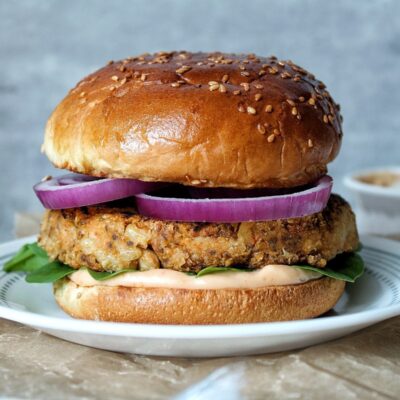 Veggie burgers are always a great hit! With a cook time of 10 minutes – it's worth a try. Serve with your favorite burger sides including fries, potato wedges, mac and cheese, or a side salad.
Quick and easy, creamy rigatoni pasta gently tossed in avocado and fragrant sofrito sauce. Made with a Puerto Rican twist, using adobo. A delicious dinner recipe that's perfect for a busy weekday summer night.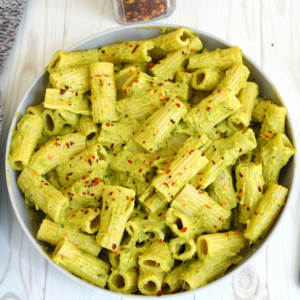 Made with refreshing, homemade sofrito, this is the perfect creamy pasta dish for a warm evening. It's best served cooled.
If you're looking for a healthy lunch recipe, a Creamy Chickpea Salad Sandwich is exactly what you need to add to the menu! This recipe is vegan, packed with plant-based protein, and mayo-free.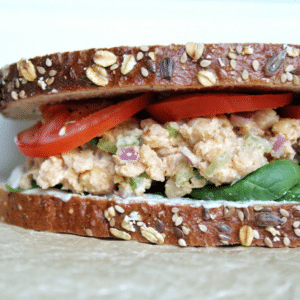 Chickpea salad sandwiches take just a handful of ingredients and the best part is that there is no cooking required. Pop open a can of chickpeas and grab a few pantry-friendly ingredients to arrange this meal. Serve this sandwich with homemade chips or soup.
Flavor-packed, Thai-style vegetable red curry made with sweet red bell pepper, broccoli, and tender potatoes. Cooked in just 20 minutes! Serve with a side of jasmin rice or roti.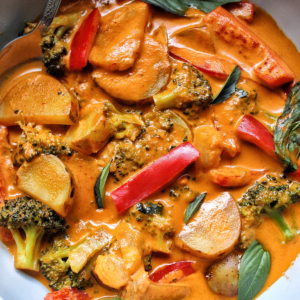 Go for a quick-and-easy flatbread of white steamed rice to pair with this creamy batch of Thai-style vegetable red curry.
Bring on Vegan Lentil Meatballs for tonight's vegan dinner meal! It's 100% meat-free and gluten-free. It also packs a significant amount of plant-based protein and fiber, making this the perfect healthy meal. Serve with your choice of pasta and pasta sauce!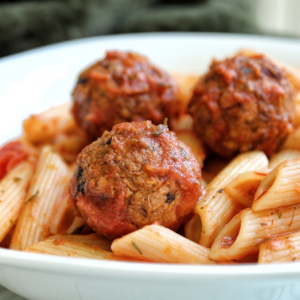 Vegan lentil "meatballs" can be added with pasta, thrown into a sandwich, or served with a side of white rice. Either way, you're winning with these vegan "meatballs."
Start your morning with a cream of rice recipe made from scratch! It's an affordable, creamy, homemade alternative to the store-bought porridge.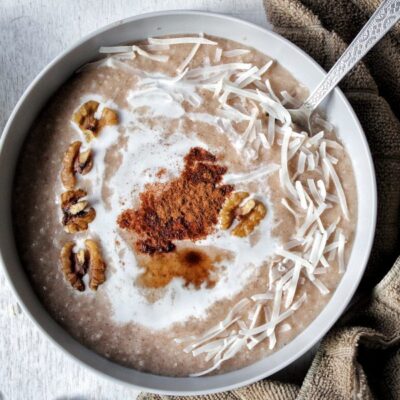 Let's talk about breakfast! This cream of rice is made from scratch – no boxed stuff here. Still easy to make and takes minutes to whip up. Make this bowl with a cozy mug of coffee, hot chocolate, or tea.
This perfect-for-summer Plant-Based Tea Cucumber Sandwich recipe is made with fluffy, traditional, slices of white bread. Additionally, we have a layer of smooth and soft vegan butter painted on each slice of bread with lighly seasoned English cucumber slices.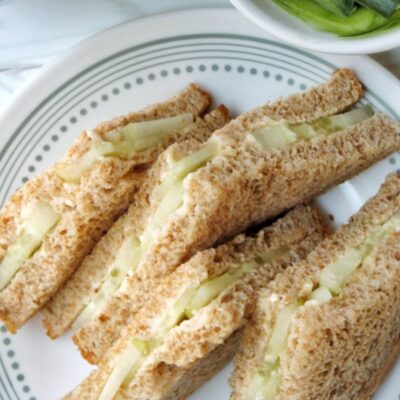 Tea cucumber sandwiches are often served as a snack but can be served as a quick, on-the-go meal along with a cup of breakfast tea
Time to put those dry black beans to work! Here's an easy way on how to cook dry beans from scratch – no soaking needed. These beans are packed with plant-based fiber, protein and they're EASY to make.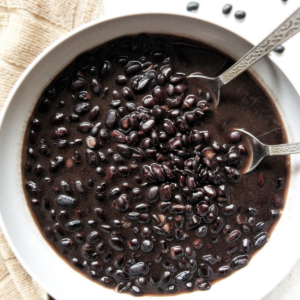 One of my favorite ways of having black beans is in a soup, but this can also be turned into a full meal with a side of white rice and ripe avocado. It's very filling and packed with plant-based protein and fiber.
Fire-blasted vegan Roasted Tomato Basil Soup made with plant-based, healthy ingredients! The perfect, cozy, homemade soup, perfect for a chilly night.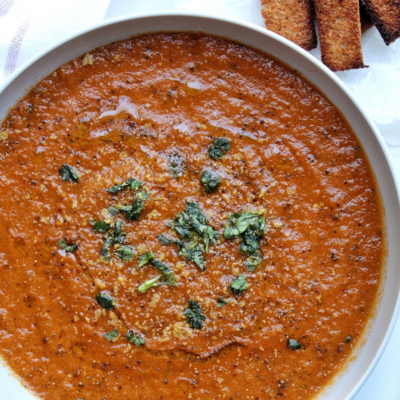 Roasted tomato basil soup is a light and cozy dish when the cooler weather rolls around. Make it complete with toasted fresh bread or a side salad.
Creamy, full-bodies vegan broccoli curry with easy-to-find ingredients. The perfect weeknight dinner recipe, taking only 20 minutes to make!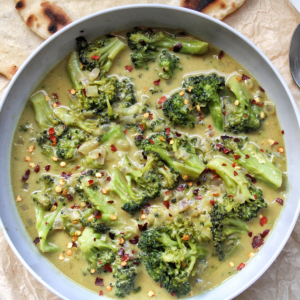 This healthy vegan broccoli curry is a fast and easy recipe that can be served for lunch or dinner. This dish is best served with flatbread brushed with garlic butter.